Last year, we clocked in somewhere between 11,000-12,000 miles on road trips.
That's not including weekend explorations and mini trips.
Needless to say, we spent a LOT of time in the car.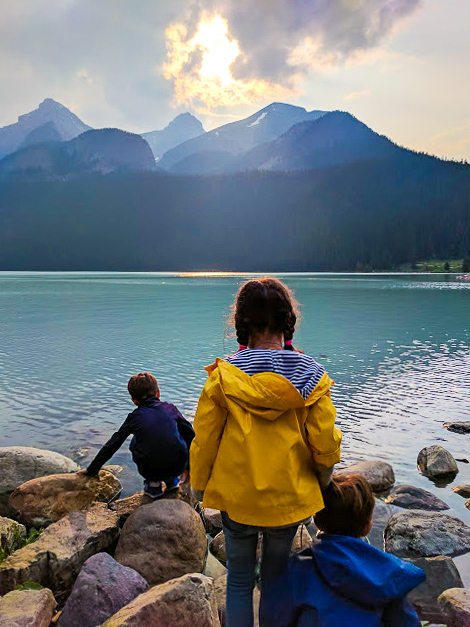 In March, we road tripped through the US Southwest and hit a bunch of National Parks (I blogged about that
here
,
here
,
here
, and
here
). Then in July, we headed north to a bunch more National Parks (US and Canadian). It was fairly magical
We tend to do a lot of eating in the car on road trips, because we like to reserve outside-the-car time for running and getting out wiggles. We VERY rarely stop to eat a meal while road tripping (when we eat out, it's usually when we're stopped for a couple of days, or we'll pick up food to go and eat it in the car). We don't want our kids sitting around and wasting time NOT moving while we're out of the car! (Plus, a couple of our kids are THE world's slowest eaters, so we'd never get anywhere if we waited for them to finish meals…)
Because of this, we got a really good sense of what road trip snacks work, and which ones are more hassle than they're worth.
At home, we try as much as possible to do very few processed foods, so when we pull out fishy crackers on occasions like this, it may as well be Christmas. While we do still try to have a good number of healthful options while traveling, this is definitely the time to be a little more lenient. But that mindset does color what we bring along. We're also vegetarian, so all these recs are in line with that.
Here are some of our favorites!
COOLER SNACKS
We like to bring a couple of soft-sided cooler bags along in the car (Ikea has some
great, cheap ones
). I like this way better than a big hard-sided cooler in the trunk because then it's way more accessible as we drive, and doesn't take up nearly as much room. We just try to restock every couple of days (which honestly, we'd do, anyway, as I wouldn't really want to hang onto the same food in the cooler for much longer).
Here's what we stick in there:
Cheese. We're big cheese fans so we'll usually have a few kinds. Cut up cubes of cheddar, string cheese, or those mini Tillamoo slices of cheese.
Cottage cheese. We like to get the individual containers for road trips. These are nice because they're filling and provide a lot of protein for a quick addition to a meal.
Hummus. If we're feeling fancy/like fun parents, we'll get those individual containers of hummus & pretzels, which our kids think are SO fun.
Cut up veggies. We like to do baby carrots, cut up peppers, celery (which is the ONE vegetable I'm meh on, but the rest of my family loves it and it's pretty sturdy for road tripping), snap peas, and grape tomatoes. We could seriously each eat a pint of those.
Hard boiled eggs. These are another great meal-ish sort of snack.
Edamame. My kids are obsessed.
Yogurt containers. We'll try to do healthier ones like full-fat Greek yogurt with minimal sugar.
Grapes. Is there anything better than cold grapes on a road trip?
Blueberries. This one kind of stresses me out, to be honest, because I have visions of them getting squished into clothing and staining everything purple. But my kids love berries so we try to just give the kids small portions in their containers (more below) and implore them to not spill. 😉 Better than raspberries or strawberries, right?
Avocados. These can't be stored for super long, but they're so filling and such a good mini meal that we like to have some on hand (and the baby loves them now). All of us love just scooping avocado out with a spoon and it makes PBJ seem more satisfying with half an avocado on the side.
Some sort of green. I like to have baby spinach or baby kale or something to stick in tortillas. We all tend to feel a little gross on road trips, and it always feels good to have something green to eat.
Bowtie pasta. This is an easy one that kiddos can eat with their fingers and not make a giant mess. I refuse to do red sauce, but it's good with just butter and salt and pepper and some veggies and/or cheese mixed in.
DRY SNACKS
Peanut butter and a loaf of bread. I can't tell you how many times we thought we'd make it to a city/restaurant for a meal and either didn't have time to stop or our kids got hungry sooner or we decided we wanted to push through to get to our destination quicker than planned. Having a big jar of PB and bread on hand has saved our bacon more times than I can count. Get bread that's not too squishy, but also that isn't so hard that it will make a zillion crumbs.
Speaking of PB, we also like to have a few squeezable packs of peanut or almond butter. These are great for grabbing to go hiking or something, too.
Nuts. We always have multiple ziplock bags of different kinds of nuts to pass around. Our favorites are cashews and almonds (we love pistachios, too, but they tend to get too messy with all the shells).
Tortillas. These are another great thing to have on hand for quick meals when you can't stand the thought of another PB sandwich. We'll fill them with hummus and cheese and some of the baby spinach from the cooler.
Kind bars. I'd recommend against the chocolate kind unless you plan to keep them in the cooler.
Apples. Sturdy and won't spoil easily. (We avoid bananas for this reason.)
Clementines. I could eat a whole bag of Cutie oranges by myself. Plus, there's something so refreshing about that scent while on a road trip, and they can help combat any carsickness (I know this from experience).
Cans of chickpeas. I know this sounds weird, but I'm serious, my kids could eat these all day. Sometimes, we'll rinse out the can in the morning and dump the chickpeas into a ziplock bag. Other times, we'll just have the cans and rinse on the side of the road. It's not perfect, but it gets the job done. My kids (and I!) think they are so yummy, and they're filling and healthy.
Cans of cannellini beans. These go great in the wraps with hummus.
Canned corn. Same deal. My kids love it. I can't explain it. Corn is much easier to just drain and serve.
Seaweed. Is anyone else's kid obsessed with those packages of dried seaweed?
Fig bars. More on the treat side, but a fun snack. We love the blueberry ones.
Dried fruit for a treat. Dried mango is a big hit, as are banana chips.
Fruit leather.
Pretzel sticks. Love them on their own or dipped in hummus.
Veggie straws and fishy crackers. Like I said, these are a total treat for my kids, and we'll pull them out if they're getting to the end of their ropes.
Mini packs of olives. You know those ones in oil with red pepper and spices? I love them. Just be careful to not get oil all over your clothes…
We mostly do water while driving, but we like to have a few fun drinks, too. We love those Hint waters, as well as coconut water (my fave). We love these sparkling waters, or the La Croix ones.
A few packs of squeezable applesauce are always good to have on hand.
Also a few gummy or fruit snacks. Because my kids think they are better than dark chocolate, which I do not understand, but to each their own.
We avoid graham crackers because they make a giant mess, but animal cookies are a decent substitute. We also like those cinnamon letter cookies from Trader Joe's.
OTHER ITEMS
Baby wipes. Bring a zillion of them. Even if you don't have a baby. You'll need them, trust me.
Hand sanitizer.
Trash bags (we put one in the front and one in the back of the minivan).
Ziplock bags. We bring a fresh box of them because they are just so useful for containing things, holding leftovers, concealing dirty diapers if you need to do a side-of-the-road change, etc.
Plastic utensils.
A giant roll of paper towels.
I find that with kids, paper plates don't work as well in the car because they tend to spill. So we usually bring some sort of reusable container with sides. I like to get a pack of something like these Ziplock containers – that way, if they get lost or destroyed, it's no big deal. But we can still reuse them if we want. If there's food leftover, we can stick a lid on it and write someone's name on top and put it in the cooler for later. And it really cuts down on the mess versus a paper plate (or nothing at all). We've also done Snapware or taken the kids' school Planetboxes, and those have worked fine, too, but we just have to be a bit more diligent about washing each night.
A can opener. For all those cans you brought.
A few of your favorite treats. You probably don't need my help here. 😉
What am I missing? Tell me what I need to add to our arsenal for the next road trip!