Do you get stressed trying to figure out what to include in your kids packing list without overpacking? Here's our ultimate baby travel checklist, as well as everything you need for the toddlers, kids, and adults. so you have everything you need without overpacking. Keep reading for a printable packing list for kids and babies!
Babies and Kids Packing List
When traveling with kids, it can be so tempting to pack all the things to cover every potential situation. It can feel overwhelming trying to figure out how to pack light with kids! I know I've definitely wanted to pack the kitchen sink when making a packing list for babies.
A family travel packing list for kids and babies can be key in not forgetting essentials but also resisting the temptation to overpack.
Although frankly, the overpacking temptation isn't just with a kids packing list. A year after Dan and I got married, we built in a summer of travel before we had to return to school and jobs. We took two large checked suitcases. For two people. When traveling across multiple continents and using multiple modes of transportation.
I'm horrified just writing it.
Baby Travel Essentials without the Excess
After 8+ years of lots of travel with kids, we've managed to get our packing system down pretty tight. Having a kids packing list for a trip has been so helpful in feeling confident we have the baby travel essentials.
Last summer, when we spent 10 weeks in Europe with our family of 6, we took 1 large suitcase and 2 backpacks, plus a lightweight stroller and car seat. Then last month, we spent almost 3 weeks in Spain, Portugal, and Morocco. Our entire family and kids packing list fit in 2 carry-on suitcases and 2 backpacks plus stroller/car seat/baby cot – largely because we stuck to our family vacation packing checklist.
If you're looking for a kids packing list that has every single thing you could possibly need, this is not it. Because honestly, if you really end up needing that Ace bandage or whatever, you'll be able to buy it wherever you are. This baby travel checklist gets us through 95% of situations on trips ranging from 3 days to 3 months.
Kids and Baby Travel Checklist
Here's the kids packing list we always use to cover our needs but still stay super lightweight and agile.
Scroll down to see the web version of our packing list for kids with tips and product recs. Or click HERE and HERE for the printable baby travel checklist!
This kids packing list post contains affiliate links, but all opinions are 100% my own. That means I may earn a small commission if you purchase through my link, but doesn't increase your price. Thank you for supporting this blog!
Packing List for Kids: Clothing by Individual
I recommend 4 full outfits per person for family and baby travel essentials. It's enough that you have plenty of options, especially when mixing and matching, but a small enough number that everything gets plenty of use.
Little Girl Packing List
(Based on girl who prefers dresses – adjust if that's not the case with yours. More detail on what items I chose for her little girl packing list last summer HERE.)
3 dresses
1 pair of pants/top (I like to do a pair of stretchy ponte pants that can also be worn under a dress as leggings if needed – then she can wear either these or her base layers under, or both if it's quite cold)
Bike shorts for under dresses
A couple small hair accessories
Little Boy Packing List
(adjust packing list for kids based on weather)
2 pairs of pants
2 pairs of shorts
4 tops
Baby Packing List
(Adjust packing list for babies based on weather)
2 long-sleeved bodysuits
2 short-sleeved bodysuits
4 tops
2 pairs of pants
2 pairs of shorts
1 one-piece outfit
1 extra pair jammies
Diapers (If we're traveling somewhere and staying in one place, we'll take enough for one day, then buy them there. If we're going to be moving around a good bit, we take about a week or two worth, since we'd have to make room for them at some point, anyway.)
Mom Packing List
(I personally prefer skirts and dresses when it's warm. If you don't, trade the skirt and/or dress for lightweight pants or shorts. More detail on which items I chose for my mom packing list last summer HERE.)
Dad Packing List
Clothing for the Family
Underwear 3-5 pairs (We never take more than 5 pairs, and sometimes as low as 3 if we have quick dry undergarments, in which case we wear one and wash one).
3 pairs of socks (again, I like wool ones so we can rewear if needed)

Our kids each have a couple pairs of these and while they're not quite as durable as Smartwool, they've held up pretty well and are very warm

1 pair of wool base layers. These are amazing for wearing as pajamas, wearing as a base layer if it's cold, or wearing as leggings for hiking or under a dress if it's chilly. Plus, since they're wool, you can wear them for many days without washing. So great when trying to stay minimal on a packing list for kids!
1 swimsuit
1-2 cute sweatshirts, sweaters (again, I love the wool because it can be worn and worn without being washed!), or thick/washable/slouchy cardigans (depending on the weather)
1 lightweight down jacket (we love the Uniqlo ones for adults and kids – they smush down well, add barely any weight, and are perfect for layering or wearing alone)
2 pairs of shoes: comfortable walking shoes and sandals (we usually wear the former and pack the latter)
Specialty clothing: for hiking, snow, exercise, etc.
Kids Packing List: Toiletries
Toothbrush/toothpaste/floss
Soap
Face soap (in a mini bottle)
Mini shampoo/conditioner
Deodorant
Razor
Coconut oil (I take a tiny container and use it as moisturizer, lotion, and even diaper cream)
Hand sanitizer
Makeup
Mini hair brush and hair cream
Ponytail holders
Mini dry shampoo
Lip balm
Small resealable plastic bag of powdered detergent (for hand washing, if needed)
Baby Travel Checklist: Medical Items
Wipes (trust me, you'll want some even with older kids)
Bandages (the only kind worth buying)
Anti-bacterial ointment
Prescription medicinesj
Vitamins
Glasses/contacts/contact solution/contact case
Pain reliever (children's and adult)
Melatonin (children's and adult)
Icy Hot (growing pains come up more when you're walking a ton!)
Anti-nausea ginger chews or kid's dramamine if prone to motion sickness
Small tube of hydrocortisone
Bug spray (we loved THIS lotion with Deet when we were in tropical areas)
Sunscreen
Tweezers
Lice comb (Trust me, it's one of those things you hope isn't one of the baby travel essentials. But it's small and you'll be so glad to have it if you need it.)
Small thermometer
Family Travel Packing List: Electronics
Cable to transfer photos from DLSR to camera
Portable charger + charging cord
Laptop + charger
Cell phones + charger
Earphones (we just take those cheap earbuds because they're tiny and we're not super concerned if we lose them)
Car vent cell phone mount if you'll be driving (to view GPS)
USB car charger (we love our 4-port one)
Aux cable (in case your rental car doesn't have Bluetooth, then you can still play audiobooks/music; here's one that goes Aux to lightning port)
Watch
Baby Travel Checklist: Baby & Kid Items
One stuffed animal for each child
Baby carrier (THIS is our very favorite carrier and has been since our oldest was a baby)
Car seats and/or booster seats – recommended on baby travel checklist if driving at destination
Stroller (THIS is our beloved one that's been to many many countries with us)
Baby cot if needed (THIS is our favorite super lightweight one)
Nursing cover if needed (THIS is my favorite kind that can also cover a car seat, burp cloth, blanket, etc.)
Bib (THIS is the only bib that does a thing – we just take one and wipe it down)
Pump if you need it (I never travel with one if I have baby with me)
White noise app on your phone (one that will run in the background so you can still use your phone if needed)
Pacifer + clip
Bottles + formula if needed
Kids Packing List: Entertainment
One small bag of Click-a-Bricks
One small bag of paper and crayons
Small bag of toy cars
2-3 small board books and/or early readers
Tablet (loaded with several audiobooks, e-books, and movies – we rarely end up using the movies, but the books are great for fun and for getting prepared for our trip. We don't do many electronics at home but so useful on a kids packing list.)
Baby Travel Essentials: Travel Documents
Passports
Driver's license
2 credit cards
1 debit card
Some cash
Copies of passports stored digitally and in a separate bag
Copies of birth certificates stored digitally or in a separate bag (airports occasionally ask for proof of baby's birthdate even when flying domestically so this is good to have on your baby travel checklist)
Confirmation numbers for airlines, hotels, rental cars, etc.
Kids Packing List: Extra Items
SNACKS. So many snacks. More snacks than you think you could ever consume in a lifetime.
Packing cubes. Absolute must for organization and for fitting everything into a small amount of space. We love these for the kids, and Dan and I share THIS amazing luggage organizer that we leave in the suitcase.
Toiletries case (THIS is my very favorite)
Sunglasses
Knit hats if it's going to be cool
2-3 lightweight folding backpacks (I cannot overstate about how enormously useful these are on a packing list for kids, especially when traveling light. If you need to rejigger weight, carry some extra food, whatever, they're so useful to pull out and then stuff back in when you're done.)
Inflatable foot rest (these are so great for kids to sleep on planes…definitely a kids packing list essential)
Make sure you've downloaded offline Google maps on your phone (not specific to baby travel essentials, but incredibly useful)
Ziploc bags (a few each of quart size and gallon size)
1-2 small quick-dry travel towels
KIDS PACKING LIST
FREE

PRINTABLES:

ULTIMATE FAMILY PACKING CHECKLIST – 1

ULTIMATE FAMILY PACKING CHECKLIST – 2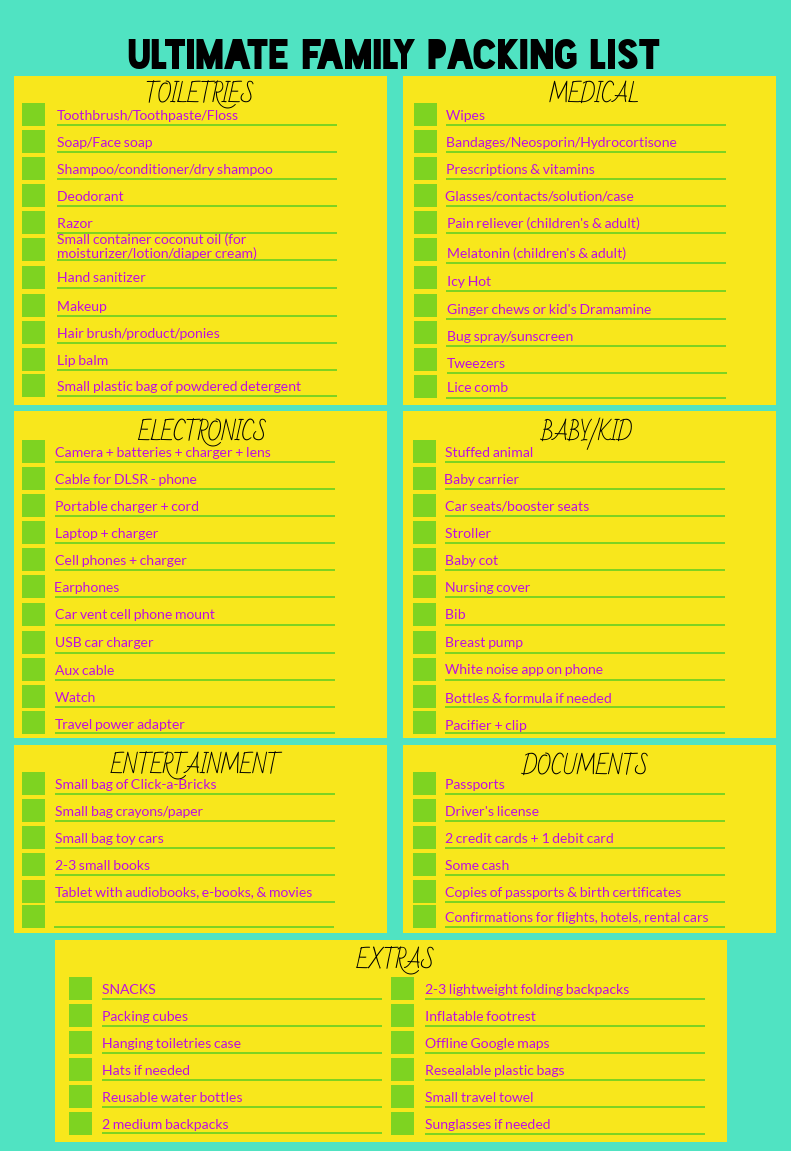 MORE TRAVEL TIPS WITH KIDS
IF YOU LIKED THIS KIDS PACKING LIST, YOU MIGHT LIKE THESE POSTS, TOO: