Welcome to F is for France for the Global Children's Book Club! Today we'll be going on a virtual tour of France for kids. Get ready for a fun and inspiring France virtual field trip – perfect for global education at home or for a France homeschooling unit.
You can find the full list of countries for the book club right HERE. Be sure to sign up for the email list to get all the information in advance and to receive fun extras!
This France virtual tour contains affiliate links, but all opinions are 100% my own. That means I earn a small commission if you purchase through my link, but doesn't change your price.
F is for France: France For Kids Virtual Tour
Featured France Book
The Little Prince Read-Aloud Storybook by Antoine de Saint-Exupéry (Author), Vali Tamm (Translator)
Read Aloud (Not by the Author)
The Little Prince Read Aloud Storybook Discussion Questions
What is the difference between real and make believe?
Are some things in this story real? Are some things make believe?
Have you ever met anyone like the king, who demands that everyone obey him?
The vain man wants to be admired. Why do you think that is? Do you want to be admired? Do you admire anyone else?
The businessman owns the stars just to count them. Why do you think he would want to do that? Have you ever wanted to own something just to have it?
Does something become less important just because there is another like it?
What makes people important to us?
Other France Books for Kids
France Facts
The capital of France is Paris.
The official name is the French Republic (République Française).
Emmanuel Macron is the current President of France.
France is located in Western Europe.
France borders 11 countries.
French is the official language of France.
The currency in France is the Euro. 1 Euro ~ $1.13 USD.
France has a temperate climate, with the southern part of the country being more Mediterranean (lots of sunshine, with somewhat damp but mild winters).
France adheres to freedom of religion and there is a wide range of religions practiced.
The primary industries are energy, manufacturing, transport, and tourism.
Most French residents live in urban areas, but many aspire to live or spend time in the countryside.
The life expectancy in France is quite high at about 83 years!
France is the most visited country in the world!
Many people in France now are descendants of Gallo-Romans and Germans.
France History

France was ruled by a series of monarchs. One of the most famous was Louis XIV, the "Roi Soleil" (the Sun King).
The French Revolution took place in 1789.
Napoleon Bonaparte led a coup to overthrow the government. He named himself the first emperor of the First French Empire.
Another monarchy, followed by a series of emperors, followed.
Many French were killed in the First and Second World Wars, and Germany occupied France for a time.
After Liberation, a series of governments follows.
Color in France on this map of France!
France for Kids: Flag Activity
Flag from HERE
HERE is a fun printable France flag coloring sheet!
France Virtual Tour to a Featured Landmark
Eiffel Tower
The Eiffel Tower is an iron tower located in Paris, France. It is named after Gustave Eiffel, who designed the tower. The tower took just over 2 years to build, and was built in preparation for the 1889 World's Fair (it was the entrance to the fair!). It is the most visited paid monument in the world! When it was built, it was the tallest human-made structure in the world.
Lyon
Lyon is a city in south central France. Its old city, Vieux Lyon, has beautiful medieval and renaissance architecture. It is considered the gastronomic (food) capital of France. The old city also has a number of traboules, or covered passageways. They were primarily used by silk manufacturers to transport their products.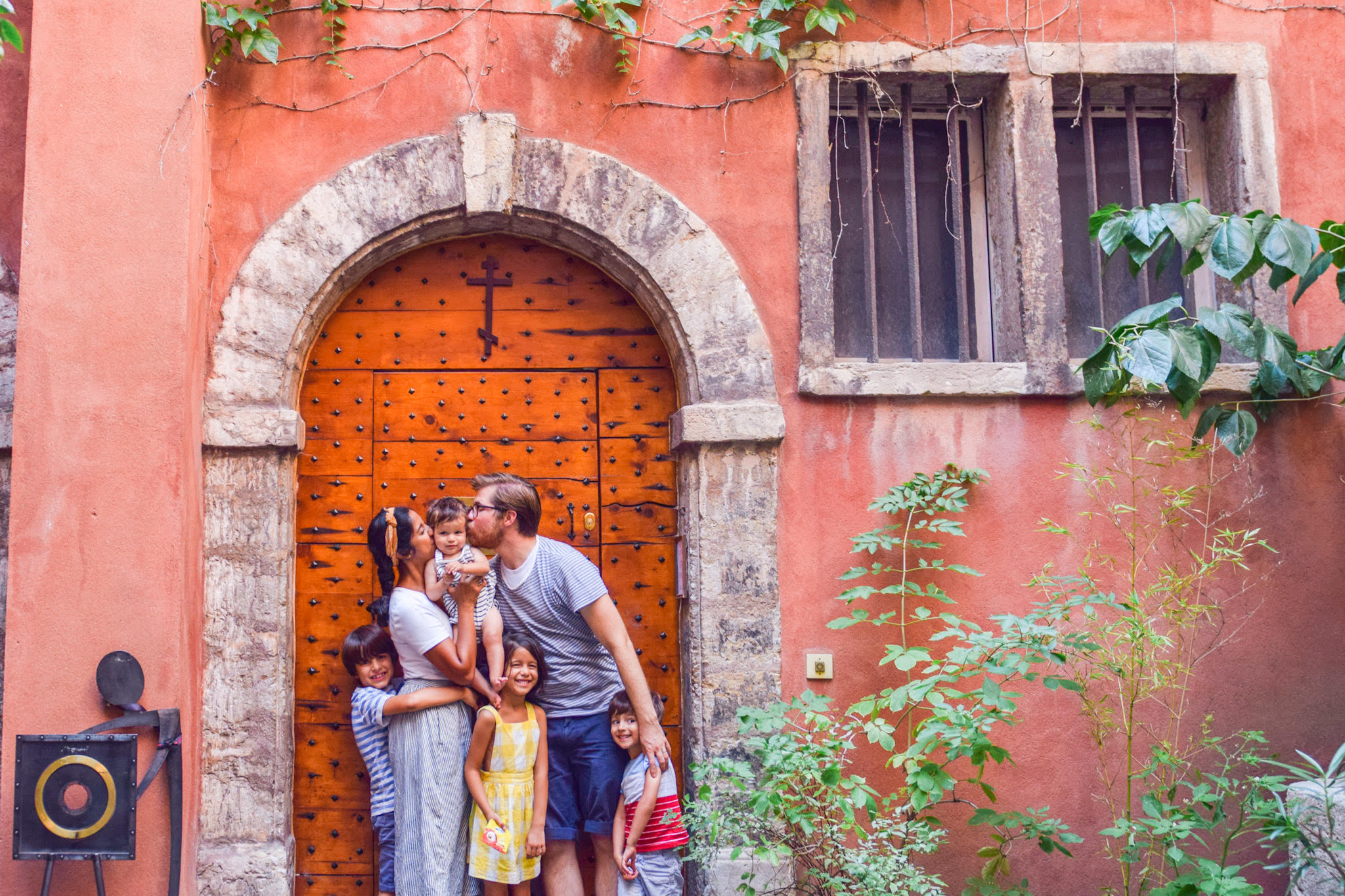 Featured French Artist: Claude Monet
Impressionists in France created art that showed an "impression" of things they saw in real life, such as nature and light. (Here's more about Impressionism for kids!) (Here are some more guides to impressionism for kids!)
Claude Monet was a French painter and was one of the founders of Impressionism. He created more than 2,500 paintings and pastels in his life. Monet was born in Paris, but his family moved to Normandy in the north of France when he was young. He didn't like some of the traditional styles of art and wanted to do something a little different. The name of the Impressionism movement came from his painting, Impression, soleil levant (Impression, sunrise).
Monet often painted the same scenes over and over to show how light and seasons could change. Some of his best-known paintings are of water lilies at his home in Giverny, and often included a Japanese bridge, especially in early paintings. He would go on to paint water lilies for 20 years.
France Art Books for Kids
Featured Important French Persons: Marie Curie & Joan of Arc
Marie Curie
Marie Curie was born in Poland and became a French citizen later in life. She was a scientist in physics and chemistry, and did very important work into radioactivity. She was the first woman to win the Nobel Prize, and was also the first person to win it twice – in different subjects!
Joan of Arc
Joan of Arc was a French heroine during the 100 Years War. She was born as a peasant girl. England had invaded during the war and had forced many people to leave their homes. When Joan was 13, she felt guided by God to serve her country. She successfully led several French attacks. She was eventually taken into captivity and burned at the stake.
Featured French Food: French Recipes for Kids
French Craft & Culture Activity for Kids
Watercolor Monet Water Lilies
You can make a watercolor in the style of Monet! Here's what you'll need for this project:
Cardstock (you can use construction paper but cardstock holds up better to the paint)
Tear off small pieces of tape to place on the cardstock in the shape of Monet's Japanese bridge.
Dab paint on in overlapping shades and hues. Try putting similar colors (like darker blue and lighter blue) together, with brighter colors dabbed on top. Cover the entire page.
Let your artwork dry completely.
Carefully peel off the tape to reveal your bridge!
Inspiration for the project from HERE
Notre Dame Cathedral Tissue Paper Craft
This Notre Dame Rose Window tissue paper craft also looks really fun! For that, you'll need the following materials:
French Music
Here's a fun French music playlist while you do your activities. Or you can learn Frere Jacques, a French nursery rhyme!
Other France for Kids Facts & Activities
France Movement Activities
Or best of all, join us to learn a French folk dance right from home!
Kids Movies About France
The Utah Opera will have a free streaming of The Little Prince from 22 June – 5 August 2020!
Plan a Trip to France with Kids!
After having all this fun, consider planning a virtual or real trip. What sites or cities would you visit? What food would you eat? Here's a list of our very favorite things to do in Paris with kids.
France Conversations with a Local: Culture, History, & Food Discussion Video
France for Kids Discussion Questions
Many people didn't like the look of the Eiffel Tower at first. What do you think?
There has been some controversy over many North Africans coming into France because of unrest in their home countries. Do you think France should welcome them all? Why or why not?
What are some of your favorite French foods?
Do you prefer painting "impressions" or making your paintings look more realistic?
The English captured Joan of Arc partially because she dressed like a man. Do you think her outcome would've been different if she were not a girl?
Thanks for Taking a Virtual Visit to France With Us!
We've loved putting together this resource to virtually visit France. We'd love to hear if you do any of these activities for a homeschooling France unit, or if you visit in person!
We hope to inspire curiosity and connection through exploring and learning, and we hope this guide helps you and your families. Please share any activities you do with us over on our Instagram. And we'd be delighted if you passed this France for kids virtual tour and homeschooling resource along to others, as well!
MORE POSTS
IF YOU LIKED THIS POST ABOUT FRANCE FOR KIDS, YOU MIGHT LIKE THESE POSTS TOO:
NOT READY FOR A FRANCE HOMESCHOOLING UNIT QUITE YET? PIN THIS POST FOR LATER!