Welcome to the C is for Cambodia for the Global Children's Book Club! Today we'll be going on a virtual tour of Cambodia for kids. Get ready for a fun and inspiring Cambodia virtual field trip – perfect for global education at home or for a Cambodia homeschooling unit.
You can find the full list of countries for the book club right HERE. Be sure to sign up for the email list to get all the information in advance and to receive fun extras!
This Cambodia virtual tour contains affiliate links, but all opinions are 100% my own. That means I earn a small commission if you purchase through my link, but doesn't change your price.
C is for Cambodia: Cambodia For Kids Virtual Tour
Featured Cambodia Book
The Cambodian Dancer: Sophany's Gift of Hope by Daryn Reicherter (Author), Christy Hale (Illustrator), Bophal Penh (Translator)
Author Read Aloud
Here's a read aloud of The Cambodian Dancer: Sophany's Gift of Hope
The Cambodian Dancer: Sophany's Gift of Hope Discussion Questions
What was the evil that Sophany had to escape?
Sophany was able to take her pain and let it out through the art of dance. Have you ever expressed and released pain through art?
Sophany kept her message and gift alive through sharing it with others. Is there a talent you can share with others, too?
How do you think you would have felt if you were Sophany and continuing your art form in a new place? Scared? Sad? Happy to continue?
What are some ways you can investigate your own family's cultural heritage and keep it alive?
Other Cambodia Books for Kids
Cambodia Facts
The capital of Cambodia is Phnom Penh.
The official name is the Kingdom of Cambodia. Under other governments, the country has also been called the Khmer Republic, Democratic Kampuchea, and the People's Republic of Kampuchea.
Norodom Sihamoni is the current king of Cambodia.
Cambodia has a very young population. 50% of the population is under 22 years old! This is largely because of the killings from the Khmer Rouge during their time of power.
In Cambodia, you should never sit with your feet facing someone else because it is considered disrespectful.
Over 90% of the Cambodian population is ethnic Khmer.
The official language in Cambodia is Khmer. Over 95% of the population is Buddhist.
People do not traditionally celebrate birthdays in Cambodia. In fact, many older people don't even know their birthdays!
Cambodia is located in Southeast Asia and is bordered by Thailand, Laos, and Vietnam.
Cambodia has a tropical climate. It has 2 main seasons – a rainy season and a dry season.
History

Prince Jayavarman II founded a new empire in 790 called the Khmer Empire. It lasted nearly 700 years. The center of the Khmer Empire was the city of Angkor, with the Angkor Wat temple.
Thailand, Vietnam, France, and Japan all had ruling influence in Cambodia until Cambodia became independent. After just a couple of decades of independence, there was a Cambodian civil war.
The Khmer Rouge (with its leader Pol Pot) won the war. They killed any opponents and any educated people they could. In just 4 years, they killed about 1-2 million Cambodians, about 1/5 of the population.
Today, Cambodia is a very peaceful country.
Color in Cambodia on this map of Asia!
Cambodia for Kids: Flag Activity
Flag from HERE
HERE is a fun printable Cambodian flag coloring sheet!
Cambodia Virtual Tour to a Featured Landmark
Angkor Wat
Angkor Wat is a huge temple complex, or group of many temples, in Cambodia. It is the biggest religious monument in the world! The original temple was built to honor the Hindu god Vishnu. It later transitioned to become a Buddhist temple.
You can learn more about Angkor Wat here, or in the below video!
Tonle Sap Floating Villages
This is a lake and river system that houses a number of floating villages. It is the largest lake in Southeast Asia and has a number of unique plants and animals that live there. Many of them are endangered, though, because of overfishing and pollution. Most of the families that live there need to fish for their work, though, and provide food for much of the country.
Featured Cambodian Artist: Dina Chhan
Dina Chhan was born in a refugee camp when the Khmer Rouge was in power. She learned to carve buffalos and toy dolls by using mud that was very wet during the monsoon season.
Dina paints and sculpts everyday activities and musical scenes. She also does some abstract work.  She teaches art to children in orphanages in Phnom Penh, the capital of Cambodia.
One of the refugee camps where she lived, Poipet, had many unexploded landmines nearby. She wanted to do something to stop this destructive, hidden problem. So she made sculptures to share the stories of the mines.
You can see some of her work here!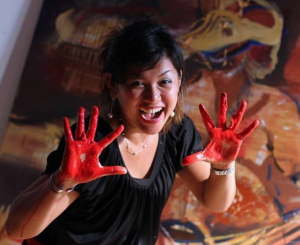 Featured Important Cambodian Person: Preah Maha Ghosananda
Preah Maha Ghosananda was called "the Gandhi of Cambodia." He served as a Buddhist "temple boy" as an 8-year old. He received his higher education in India and studied under one of Mahatma Gandhi's Japanese disciples.
During Pol Pot's "Reign of Terror" during the rule of the Khmer Rouge, Maha lived and served in refugee camps at the border of Thailand and Cambodia. He founded 30 temples and distributed copies of Buddhist scriptures. In 1980, shortly after the communist government had been replaced, Maha represented Cambodia at the United Nations. In 1992, he led a 16-day, 125-mile peace walk across Cambodia.
Featured Cambodian Food: Cambodian Recipes for Kids
Amok is one of the most common Cambodian dishes. It's a curry with a hint of sweetness and lemongrass flavor that can have different types of vegetables or meat. It is served with rice.
Here's a recipe to make a simple amok at home. It uses fairly standard ingredients you likely have at home (you may need to search a bit for lemongrass, though)!
One of my favorite recipes that a dear Cambodian friend (featured in a video below) makes often is Cambodian spring rolls. Here's a great recipe for them!
Cambodian Craft & Culture Activity for Kids
Start by watching THIS VIDEO on the bas reliefs at Angkor Wat. Bas relief, or low relief, is an art form where the artist raises the artwork up from a flat surface, but does not raise it very high. Overall, they have a shallow depth. Coins are a great example of bas relief in everyday life!
Next, chose your medium, or your material that you'll use to make your own bas relief. Some examples are modeling clay (here's our favorite inexpensive clay, or here is great colored clay!), play dough (or you can make your own!), or carving out of a bar of soap.
Finally, choose a story from a bas relief at Angkor Wat and recreate your own bas relief. This details the Churning of the Ocean Milk, or you can choose another story. The below books on world religions and Hindu deities are especially helpful!
Cambodian Music
Other Cambodia for Kids Facts & Activities
There are a number of types of traditional dance in Cambodia. Cambodian dances often convey different stories.
Cambodia Movie for Kids
Cambodia Conversations with a Local: Culture, History, & Food Discussion Video
Cambodia for Kids Discussion Questions
Why do you think the Khmer Rouge was scared of educated people?
What were the two religions that were represented at Angkor Wat?
If you were to make art from everyday materials like Dina Chhan, what would you use? Or would you do another art form, like Sophany?
Who are some people in your own home country who may also be oppressed? What is something you can do to help them?
What are some common fruits and vegetables used in Cambodia?
Thanks for Taking a Virtual Visit to Cambodia With Us!
We've loved putting together this resource to virtually visit Cambodia. We'd love to hear if you do any of these activities for a homeschooling Cambodia unit, or if you visit in person!
We hope to inspire curiosity and connection through exploring and learning, and we hope this guide helps you and your families. Please share any activities you do with us over on our Instagram. And we'd be delighted if you passed this Cambodia for kids virtual tour and homeschooling resource along to others, as well!
MORE POSTS
IF YOU LIKED THIS POST ABOUT CAMBODIA FOR KIDS, YOU MIGHT LIKE THESE POSTS TOO:
NOT READY FOR A CAMBODIA HOMESCHOOLING UNIT QUITE YET? PIN THIS POST FOR LATER!