This past Sunday was our favorite husband/dad's bday so we decided to head off on a little mini trip for the tail end of spring break to celebrate Daniel. I'm fairly comfortable heading out exploring without him but it is always especially fun having him along (especially on things like hikes so we can tag team carrying babies and backpacks ;)).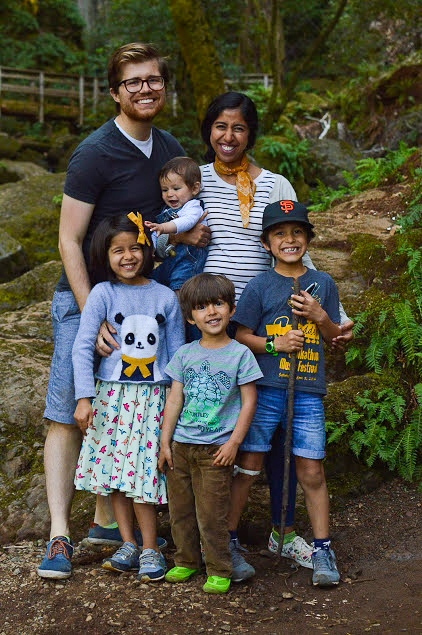 Some friends in Marin County had invited us to come up and explore a few times, so we decided to finally take them up on it. Bless them, they were so so kind and hospitable (with a new baby, no less!) and the kids all had a total blast. Toone and their middle girlie were especially enamored with each other, and he made sure to maintain her favor by complimenting her outfit, giving her options on flowers, etc. (Heart eyes.)
On Saturday, they suggested heading over to Cataract Falls in the Mt. Tamalpais Watershed area. You know how sometimes someone will tell you about a place and build it up and even if it's great, it falls a little flat just because your expectations were already so high?
This post may contain affiliate links, which means I may earn a small commission if you click my link but does not change your price. See my affiliate policy here.
This was not one of those times.
Our friends had mentioned this was their favorite hike in the area, but I just didn't really think all that much about it since we'd been on lots of pretty ones.
This blew every other hike we've done in the area completely out of the water.
The entire hike goes along a stunning waterfall, which, with all the rain they've had up there this spring, was gushing.  It was really a series of waterfalls, all dropping down into tons of pools, and surrounded by the most lush and gorgeous greenery. It truly felt as beautiful as a few of the waterfalls we saw
when we were in Maui
.
The entire out-and-back hike is about 2.7 miles round trip, but we only did about 1/2 – 2/3 of that, I'd say (we were pushing dinner/bedtime). The nice thing, though, is that you're hiking up stairs along the waterfall for almost the entire time, so you can decide to do the whole thing or just a part without sacrificing a big final reward. We got up to the waterfall that several hikers told us was the best one (just past the bridge made of two planks that crosses over the falls), and then turned around.
We ended up hiking for maybe 30-40 minutes up, and it took us about 15-20 to get back down. As I mentioned, it's rocky stairs/incline almost the whole way up without much flat area at all, so it's probably not the best hike if you have bad knees, or if you're super out of shape. While not overly strenuous, it definitely has noticeable elevation gain that had us breathing harder than normal (as the kids ran in front of us). Otherwise, the 3-, 5-, 6-, and 7-year old walkers in our group all did it just fine without needing to be carried at all. For something so doable with kids, it's definitely a big bang for your hiking buck.
We also spent about an hour stopped just below the bridge while the kids climbed rocks over the falls (and while certain mothers had mild panic attacks while certain dads supervised…) and threw rocks in the water. And ate snacks. Of course.
From what I can tell, once you get to the top, it connects to a bunch of other trails if you'd like to extend the hike, as well. The whole area is gorgeous, especially after the spring rains.
Parking at the bottom is a little tricky – there are pullouts on the side of the road but I'm a wuss about parking on the side of a cliff, so we were glad to find a spot on the non-cliff side that was a bit wider. Whew! I suspect getting there early would help with that, as well (we arrived by about 3 or 3:30).
One final note – since it's so lush, I'd recommend long pants and long sleeves and bug spray. Our 3-year-old actually got bitten by a tick, which we fortunately found later that evening and removed (but that required a quick ER trip, as the head had burrowed deep enough to require a scalpel). Honestly, it didn't even occur to me to prepare for that or even check, but thank heavens it was in a obvious place, and we immediately and thoroughly checked everyone else, as well. So be sure to take proper precautions and do complete checks after.
Overall, it was just such a gorgeous, fun hike. The falls and the watershed were so lovely, and it was one of those amazing hikes that's interesting, challenging, and beautiful enough for adults to want to do on their own, but still very doable for kids. Definitely put this one on your list whether you're local or visiting the area!