This post on visiting Portugal with kids contains affiliate links, but all opinions are 100% my own. That means I may earn a small commission if you purchase through my link, but it doesn't affect your price at all. Thank you for supporting this blog!
This post may contain affiliate links, which means I may earn a small commission if you click my link but does not change your price. See my affiliate policy here.
Portugal has been a hot travel destination for a little while now. Before we went, it appeared photogenic and culturally rich, but I wasn't sure if it would be overrun with tourists. I also didn't have a good sense for how amenable Portugal was to families.
Turns out, Portugal is extremely family-friendly! It felt like such an easy destination to travel with little ones.
Here are some tips we found useful for visiting Portugal with kids: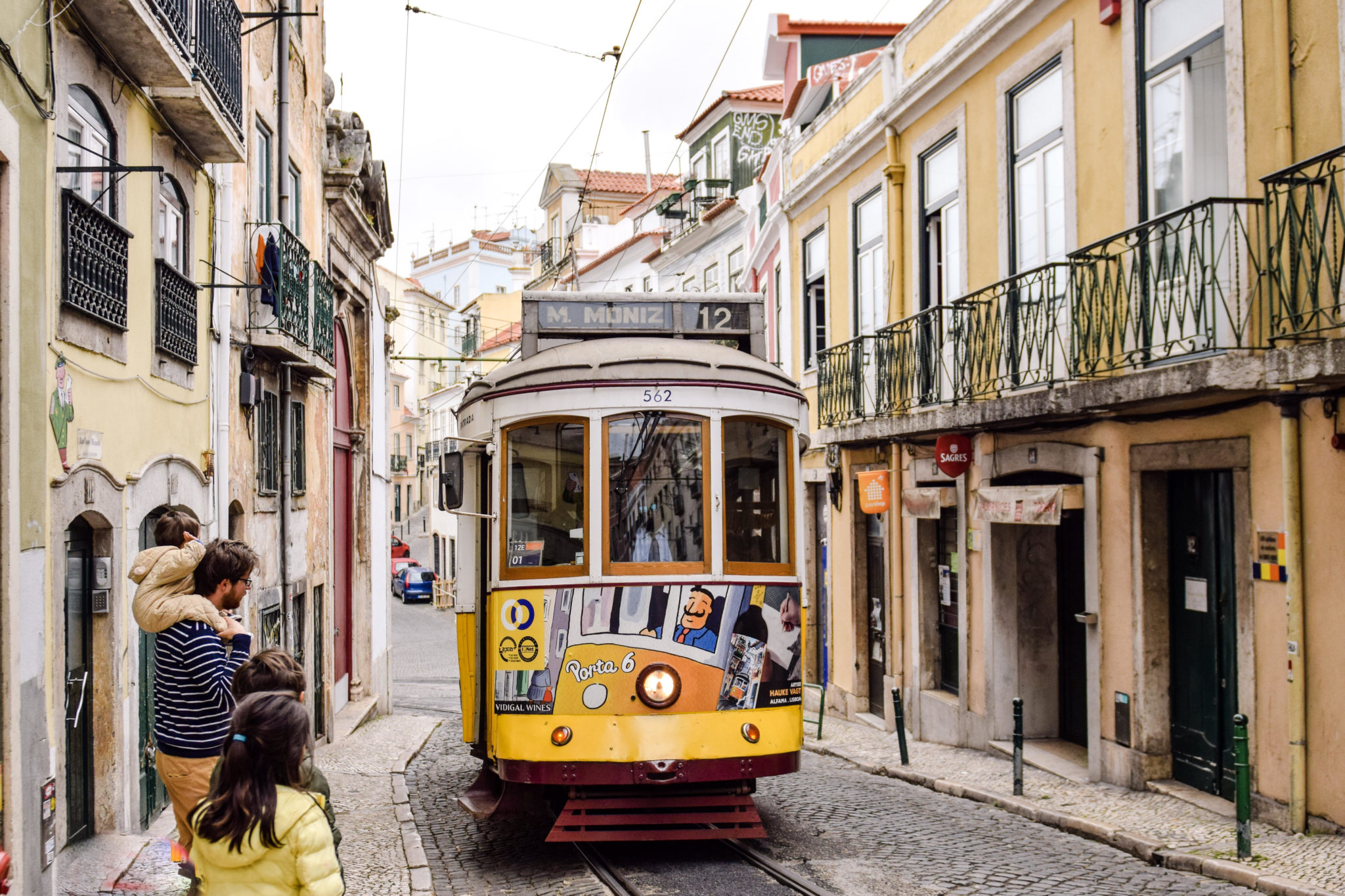 Top 10 Tips to Visit Portugal with Kids:
1. You Can Drink the Water in Portugal, but it's not usually Offered in Restaurants.
Like much of Western Europe, the tap water in Portugal is just fine to drink. This makes things like filling water bottles and brushing teeth easy. It's not the very best tap water you'll ever have, but we weren't bothered by it at all. However, most restaurants will not provide tap water, even when asked, so either plan to purchase drinks or bring your own water bottles.
2. Stick to Public Transportation in Big Cities, but Rent a Car to Get Further Out.
While in big cities like Lisbon and Porto, there's really no reason to have a car – the streets are narrow, parking is tricky, and public transportation is efficient. We stayed in central areas in both cities, so we could walk most places. We loved the atmosphere and being able to get around on foot. It was also super easy to take the train between the big cities.
We did, however, rent a car to go down to the Algarve. There's not really a good way to access the beaches there without a car, so if you want to head there, definitely plan on having your own vehicle. It was an easy drive and while it was quick, it was doable as a day trip. The roads were smooth and driving was uncomplicated.
Even for a place like Sintra outside of Lisbon, public transportation was available but lengthy. We would've had to take a bus to the train station in Lisbon, then the train ride, then another bus up to Pena Palace. All in, it would've taken nearly 2 hours from our Airbnb – which was right in the heart of Alfama (a central area). Instead, we opted to take a taxi, which took about 40 minutes. We were tight on time, so that just made sense for our family. It would've been easier if we'd still had our car, and given us more flexibility to stop at other sites.
3. Stay in a Walkable Area.
We tend to fluctuate between staying in the heart of things for easy accessibility, and staying further out in a more residential area for a more local feel. In Portugal, we opted to stay in the historic areas, and I'm so glad we did. Portugal felt much less sites-and-museums-intensive than other places we've been. We felt ourselves leaning toward wandering and strolling and getting lost. This was so much easier and more enjoyable when we could just walk out our front door and dive right into the beautiful neighborhoods and walls and churches.
4. Ride Standing Up on the Lisbon Cable Car, or Board Elsewhere on the Line.
By the time we got to the end of the Lisbon cable car 28 queue at Martim Moniz, it was over 2 hours long – and we even got there in the morning! I do think it's worth riding the 28 – it will take you by so many classic views and sites, but most kids would be losing their minds after waiting that long.
After waiting bit, we realized there was a standing room-only line going out from the other direction of the start. It was hard to tell from afar as it looked like the normal line just kept extending in that direction. But once we figured it out and hopped in line, we waited less than 5 minutes to board. Each car has only 20 seats but 30 standing-room spaces. The vast majority of those waiting either really want a window seat or don't realize there's a standing room option. It was especially fun riding in the back of the car and looking out!
Another option if even the standing-room line is long is to hop on a stop or two after Martim Moniz – while the conductor didn't let more folks on at the start, he let several people on at each of the next several stops.
5. Get to Major Sites Really Early, or Consider a City Pass.
Portugal had some of the worst lines for big sites of any place we've visited in Europe. However, the city pass did seem to be doing its job, unlike some other countries we've visited. The line for the city pass was almost zero in several places we went! If the pass isn't useful for you (we didn't do it), be sure to get to big sites early to avoid waiting for a long time. Places like the Jeronimos Monastery/Belem Tower in Lisbon and the Clerigos Tower in Porto get busy quickly!
6. Be Ready for Hills.
We'd heard Lisbon compared to San Francisco a number of times, and we found that to be pretty accurate. The vibe felt very similar – as did the hills! If you take a stroller, I'd highly recommend a lightweight umbrella stroller (our stroller has been with us for many moons and is basically like a 5th child). We were very happy to NOT have a double stroller, and instead wore the baby in our favorite carrier.
7. Dress in Layers when Visiting Portugal with Kids.
The weather can change quite quickly, especially in coastal cities. It can go from sunny to windy to rainy to gray and cloudy in a matter of hours – or minutes. Take layers, especially if you're going near water where wind can pick up.
8. Visit Portuguese Bakeries (Pastelarias).
The Portuguese make terrific baked goods, both savory and sweet. They're perfect for quick lunches or snacks, and there's a wide variety of fillings for picky palettes. Pastelarias are ubiquitous, so no need to overload at one stop. Don't forget to try what is practically the national dessert: pastel de nata, a delicious egg custard in a flaky pastry shell. Our favorites were the ones from Manteigaria!
9. Experience the Water.
Water is such a big part of Portuguese history and culture. It's wonderful to be able to experience the country from that perspective. You can find anything from a boat tour of a city from the river to a ride on the Mediterranean. Whatever you choose, you'll love the freedom and fresh air from some time out on the water.
10. Spend some Time Out of Tourist Areas and Get to Know Locals.
I recommend this anywhere you go, but especially in Portugal. I'm sure the recent influx of tourism has become somewhat tiresome for locals (at least, that's the feeling we got).
However, when you talk to them outside the major tourist zones? They're warm and friendly and open. It also helped that Daniel speaks Portuguese, which felt like an "in" with many. Get to know these wonderful people – it will be the highlight of your travels.
Loving these tips on traveling to Portugal with Kids? Click here now for our Portugal Learning Guide!