"This blog post was produced in partnership with Travel Nevada. All opinions are my own."
This post may contain affiliate links, which means I may earn a small commission if you click my link but does not change your price. See my affiliate policy here.
If you've been around for a minute, you know we LOVE road tripping with kids. We've road tripped through the 48 contiguous US states and more than 50 national parks. We love seeing cities and mountains and farms. And yet nothing else we've seen is quite like taking a Nevada road trip with kids on the Loneliest Road in America.
US-50 Nevada was dubbed the loneliest highway in America back in the 1980s by Life Magazine, which claimed there was nothing to see along the way and even less to do. Well, it turns out that this epic highway where you can see for miles and miles actually has quite a few amazing stops. A Route 50 road trip is sure to provide small town charm and sweeping views. Not too shabby for a route with a stamp booklet called, "I Survived Highway 50" (which you can order in advance if you'd like).
Nevada hwy 50 is truly one of those hidden gems in Nevada. It is a family friendly scenic drive road trip through Nevada, that doesn't take you through Las Vegas. Highway 50 in Nevada has enough things to see to be interesting (and to not get nervous about running out of gas), but is still filled with wide open spaces and freedom. Put it on your list of what to do in Nevada!
Here are some of our very favorite stops along Nevada Route 50 for families!
Where To Stay on Your Nevada Road Trip Along The Loneliest Road in America
While there's plenty of solitude to be found, there are actually a number of small towns and hotels available for families along Route 50 Nevada. We always like to check Booking.com so we can make sure we find a space that fits our family.
For this trip, we loved this Nevada state road trip in our RV. Road trips in our RV give us flexibility for how long stayed in certain areas and limited the amount of unpacking and repacking we had to do. If you're renting an RV, RV Share is one of the best ways to do it and has a wide variety of rigs.
Finally, we also really love choosing home rentals when staying a bit longer and when we want more space. They're perfect when traveling with a large family and so relaxing on a road trip.
15. The Shoe Tree
Legend has it that a newlywed couple long ago was taking a Route 50 Nevada road trip and got into a bit of a tiff. The woman threatened to walk the rest of the way, and the husband shot back that if she did, she'd have to do it barefoot. He then proceeded to toss her shoes up in a tree and drove off. He was persuaded by a nearby bartender to return to his wife, which he did and with whom he reconciled. They then returned time and again to toss a pair of shoes up in the tree to remember their love standing strong.
While vandals unfortunately cut down the original Nevada Shoe Tree, locals designated a new shoe tree a few years ago. It's a fun stop to offer up a pair of old shoes and one of those quirky and great Nevada hidden gems!
14. Churchill County Museum & Archives
If you're interested in learning a bit more about the human and natural history of the area, the Churchill County Museum is the perfect place to start. With permanent exhibits on local indigenous tribes and pioneer living, as well as rotating temporary exhibits, a visit here is a wonderful way to understand a bit more about the area and a nice stop for a Nevada route 50 road trip when visiting Nevada with kids.
13. Middlegate Station – US Route 50 Nevada Road Trip
Are you into quirky roadside stops? Well, this unique Nevada road trip stop is just the ticket. Situated between Fallon and Austin on US route 50 Nevada, this little truck stop is also home to the Middlegate Monster Burger. If you eat the whole thing, you'll win a t-shirt! The rest stop, which is certainly one of the weirdest places in Nevada, also used to be a Pony Express station. It's fun to see even if you're not into eating a large quantity of beef!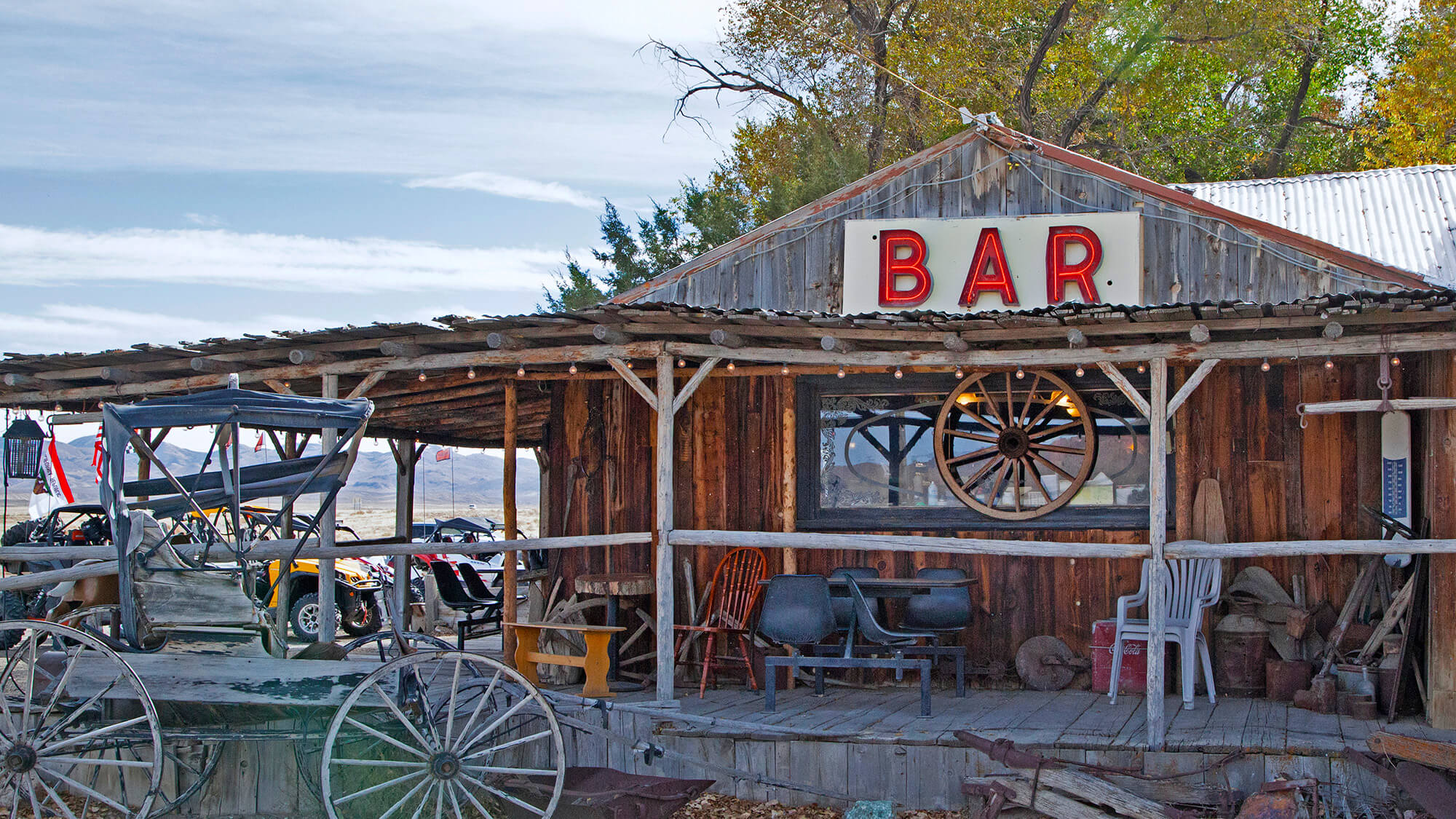 This old turquoise shop located in Austin is the picture of small-town charm for any Nevada route 50 road trip. All the turquoise is both locally sourced and locally crafted. So it's a wonderful Nevada hidden gem if you'd like to pick up some special authentic Nevada souvenirs!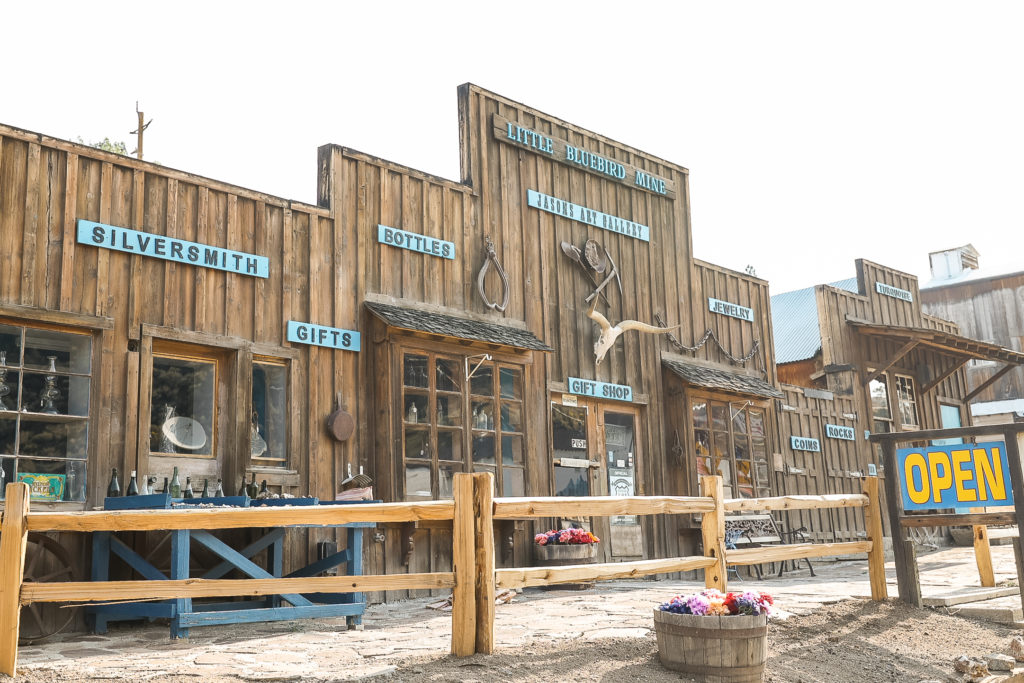 11. Stokes Castle
While in Austin on your Nevada road trip with kids, don't forget to pop over to Stokes Castle. It was built by a mine developer and banker in the 1890s and modeled after a real Roman tower. The three-story tower was built entirely of native granite and was opulent on the interior. It eventually fell into disrepair but is free to visit today! If you're looking for hidden gems in Nevada, this is a great pick. On your way to the next stop in Eureka, there are also lovely hot springs nearby at Spencer Hot Springs.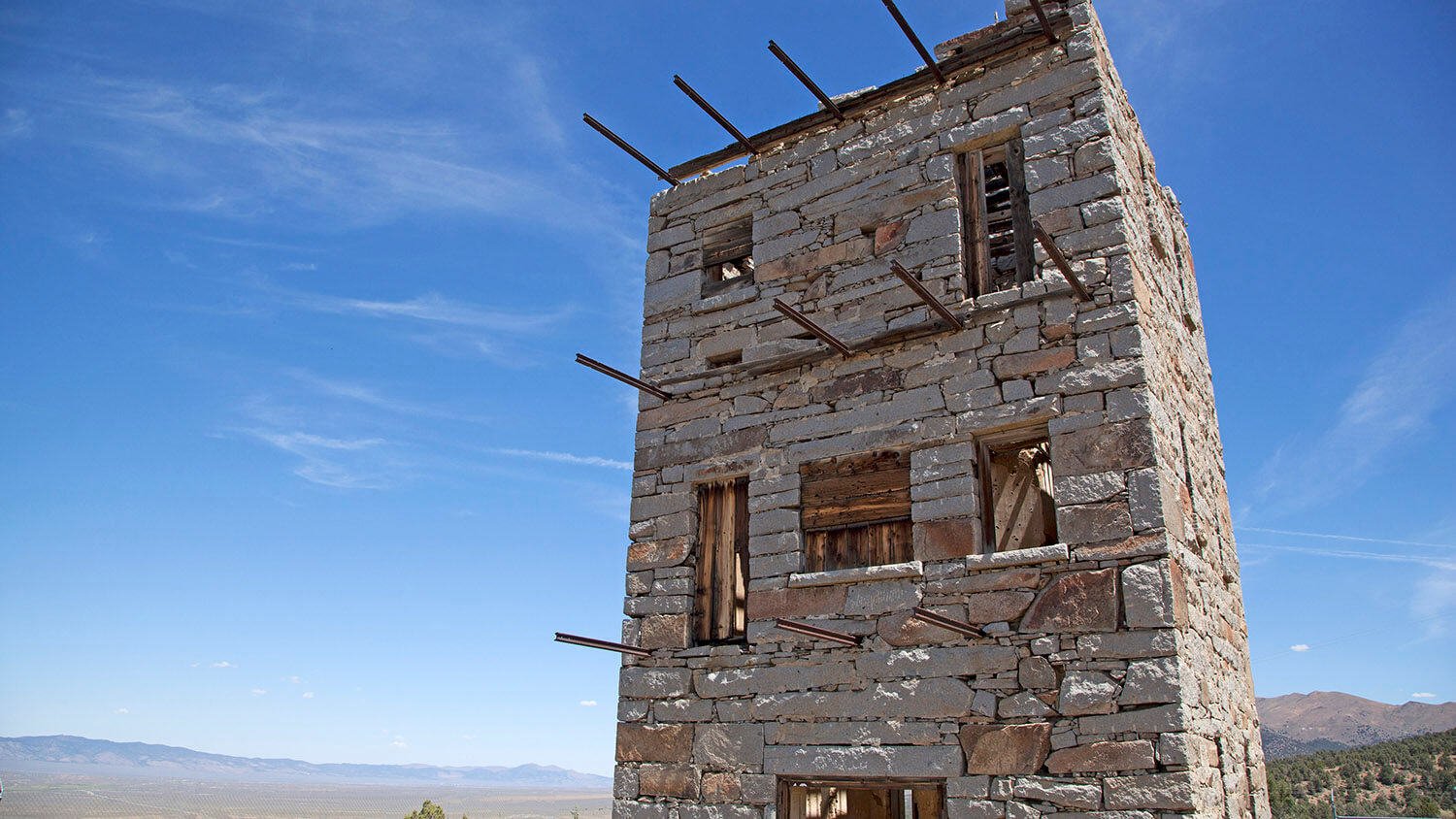 10. Eureka Sentinel Museum & Eureka Opera House
There's something just fascinating about old printing presses and this Nevada road trip stop has plenty of fascinating items. The Eureka Sentinel Museum, which formerly housed the newspaper's office, contains lots of old original printing paraphernalia and tools. Plus, you can head to the second floor to catch a glimpse of early pioneer life in the Silver State. You'll find replicas of school life and sports and a family kitchen!
Just around the corner is the Eureka Opera House, which has been restored to its original 1880 glory. It's so fun to take a peek and appreciate its old elegance!
9. Ward Charcoal Ovens State Park
Driving along the loneliest highway in America will bring you close to Ward Charcoal Ovens State Park. This area has 6 giant charcoal ovens used in the silver mining process (and one of the best things to see on a highway 50 Nevada road trip). The ovens efficiently burned juniper and pinyon pine into charcoal for use in smelting the ore in nearby silver mines. Today, the beehive-shaped ovens are fun to walk into and imagine days of yore with stagecoach bandits hiding inside during foul weather.
8. Garnet Hill
Have you ever gone rockhounding for your own gemstones before? Well, that's exactly what you can do at Garnet Hill just outside of Ely when on a Nevada road trip! Anyone can go and hunt for garnets, which are sometimes just lying on the ground for the finding on this Nevada off the beaten path stop. Such a fun thing when visiting Nevada with kids!
Other times, you'll need to dig deeper. Walk along the hiking trails and try digging about a foot down in a divot or water wash area or even use some tools like a hammer and chisel to get the stones out of the rock. We actually met someone who found a stone bigger than the size of a quarter!
Either way, it's one of the best stops on the Loneliest Road Nevada road trip. Little ones will love playing with the rocks when visiting Nevada with kids!
7. Ely Mural Tour
There are few stops on the loneliest highway Nevada that I loved as much as the Ely Mural tour. Most of the dozens of murals around the city were commissioned by nearby artists and reflect something about the cultural and natural history of the area. Some themes include various immigrant groups coming together to build a community, the millennia-old natural resources and animal life, and unity and friendship. They're just beautiful and some of the greatest outdoor things to do in Nevada.
Many of them are close together, so it's a perfect opportunity for a stroll as you walk through the city on a Nevada road trip stop and take them all in. Don't forget to stop in at Economy Drug & Old-Fashioned Soda Fountain for a milkshake or a Lime Rickey. The plain was my fave, but my kids loved the watermelon, which tasted like a watermelon Jolly Rancher! Then take them along while you walk around one of our favorite places to visit in Nevada with kids!
6. Sand Mountain on Nevada Road Trip with Kids
If your kids are anything like mine, they absolutely love any opportunity to slide down sand. It's pretty amazing driving up to see this 600-ft tall sand dune in the middle of such wide open spaces. It's even more amazing to go play on them! This area of Nevada really does make it seem like the loneliest highway!
This area is a hotspot for ATVs, so if you're into adventure sports, it's the perfect chance. But if you're not, just be aware of the vehicles while playing – make sure to stay in highly visible areas and not just over the crest of any hills where oncoming vehicles may not see you.
5. Grimes Point Archaeological Area or Hickison Petroglyph Recreation Area
What's better than a short hike to a beautiful vista and incredible prehistoric rock art? Doing all that with really cool jets flying overhead. We absolutely loved finding some of the rock art in this area. The hiking trail is only about 1/4 mile, so it's very doable for most. It was also Nevada's first National Recreation Trail after Youth Conservation Corps members constructed it in 1978. It boasts some of the oldest forms of indigenous rock art in Nevada! And in addition to the petroglyphs, my kids loved watching the naval practice going on overhead. Such a neat Nevada road trip stop!
If you miss Grimes Point, head to Hickison Petroglyph area. The rock art is distinct and beautiful, and includes a short but beautiful walk. It's also a great place to camp and see the dark night sky when doing a Nevada road trip with kids or without!
4. Republic of Molossia
Have you ever heard of a micronation? Well, that's exactly what the Republic of Molossia is. An independent nation, every member of the Republic is a member of the family (they just increased their numbers by 1 with the birth of a new grandchild). We loved visiting on a private tour and it was one of our favorite things to do in Nevada with kids!
And while you can actually get your passport stamped and there are connections to other micronations, much of it is good family fun. The Molossia navy often takes trips to the nearby lake with their inflatable raft, and the micronation doesn't allow onions and walruses inside since the citizens dislike them. There's even a "jail" if you bring in contraband items! (Fortunately, the hosts are generous with the get-out-of-jail-free cards. It's a great opportunity to think of how you'd set up your own personal nation and what rules you would or wouldn't have!
3. East Ely Railroad Depot and Nevada Northern Railway Museums
There's just something so darn cool about an old steam train. This Nevada steam train along the Loneliest Road is no different! The real, century-old steam trains still provide passenger rides, or you can just check out the exhibits in the museum. The Nevada Northern Railway is one of the few standard-gauge short-lines left in North America. It's definitely one of the best stops on the Loneliest Road Nevada road trip!
2. Great Basin National Park Along Nevada Road Trip
Forget about crowding onto a park with a bunch of other folks! Instead, head to one of the least visited national parks in the contiguous 48 U.S. states and some of the best outdoor things to do in Nevada – Great Basin National Park.
Though uncrowded, Great Basin National Park has something for a variety of tastes, especially when seeking things to do in Nevada with kids, including incredible cave tours, hikes to some of the oldest living things on Earth (bristlecone pine trees), camping, alpine lakes…there's even a glacier! Definitely an amazing stop on any Nevada road trip and one of the best things to see in Nevada with kids.
1. Wide Open Stretches of Road
Perhaps the best stop of all on any route 50 road trip when visiting Nevada with kids is taking in the majesty of wide open spaces and roads. This Nevada road trip has no flashy lights from Las Vegas or crowds like in Valley of Fire State Park or Lake Tahoe. There are occasionally other cars, so definitely be aware, but there's still something majestic about gazing out either window and seeing the flat, straight, open road (or pulling to the side for a better look). It's truly a quintessential stop when searching for what to see in Nevada with kids.
And if you need even MORE amazing reasons, check out this video!
MORE POSTS
IF YOU LIKED THIS POST ABOUT NEVADA ROAD TRIP ON THE LONELIEST ROAD IN AMERICA WITH KIDS, YOU MIGHT LIKE THESE POSTS TOO:
DON'T NEED A LIST OF THINGS TO DO ON A NEVADA ROAD TRIP WITH KIDS QUITE YET? PIN THIS POST FOR LATER!