This post may contain affiliate links, which means I may earn a small commission if you click my link but does not change your price. See my affiliate policy here.
We loved experiencing a day trip to Plitvice Lakes National Park with kids on our recent trip to Croatia. Here's what we did on our one day Plitvice Lakes itinerary and the best things to do in Plitvice Lakes with kids!
What Time of Year to Visit Plitvice Lakes with Kids
Plitvice Lakes is, by far and away, most popular in summertime. The weather is more predictably warm and sunny during those months and it's a lovely time to explore the park. That said, it gets extremely crowded and is also more expensive during that time.
We visited Plitvice Lakes National Park near the end of October, and it felt pretty darn near perfect. It was still warm enough that everything was open, but we weren't roasting while exploring the park (many of the boardwalks are quite exposed). And while it was still reasonably busy, it definitely wasn't packed, especially after we got past the Program A route. I imagine if we'd gone further (or started earlier), it would've been even quieter.
That said, rain is definitely a risk this time of year. We were fortunate that we had a bit of flexibility in our schedule so we could choose a day with pleasant weather (the day before we went poured the entire day). I'd try to build in a bit of wiggle room for weather if you can, and definitely pack along some rain gear.
What To Pack for Plitvice Lakes National Park
Here are some things I'd definitely recommend packing when visiting Plitvice Lakes in Croatia:
Backpack
We love this backpack to carry our food and extra clothing, as well as any baby items. (It's also terrific as a travel carry on.) We wore the baby in this baby carrier, but if you're spending a longer time or have an older/bigger baby, we absolutely love this baby and toddler hiking carrier. It also has plenty of storage room to carry all your gear in there without needing. a separate bag.
Layers
This is especially important if visiting in shoulder seasons. I highly recommend packing along waterproof layers – it's no fun walking around when sopping wet. I like this rain jacket (here's the version for men, kids, toddlers). If you're confident in rain happening, we really like using rain pants to keep everyone dry and happy when outside for extended periods. (Here are the rain pants we have for women, men, kids, toddlers, and a one-piece.)
Water
Always important when out hiking. THIS and THIS are great travel water bottles for younger kids when out hiking.
For older kids and adults, we love this water bottle for hiking and anything else – it's a great size, fits in a side pocket, and keeps drinks cold for forever. We also love THIS one and THIS one. (You can often find them on sale here.)
This is my personal favorite mineral facial sunscreen (use code LPF15 for 15% off). I also love this sunscreen for my kids. It's a mineral (zinc-based) sunscreen, so it protects the skin on top instead of soaking in, and rubs in so easily (so many zinc suncreens don't). I also love this mineral sunscreen that smells amazing (or here is the spray version).
Hat
I love this hat for babies, and this one for myself.
Footwear
Since we knew we were going on a day that didn't have rain planned, I took a chance and wore my beloved white tennis shoes and was totally fine. All the paths are on boardwalks, so you definitely don't need super rugged hiking shoes. If there were a quick, light drizzle, I think they would've held up fine.
Still, if there's a chance of consistent or heavier rain, I highly recommend wearing something a bit sturdier or waterproof. For traveling, I love these boots because they're cute with regular clothing but also hold up well for walking and are also quite water resistant. If you're doing any more serious hiking, I really love these hiking boots – super sturdy, really comfortable, and waterproof.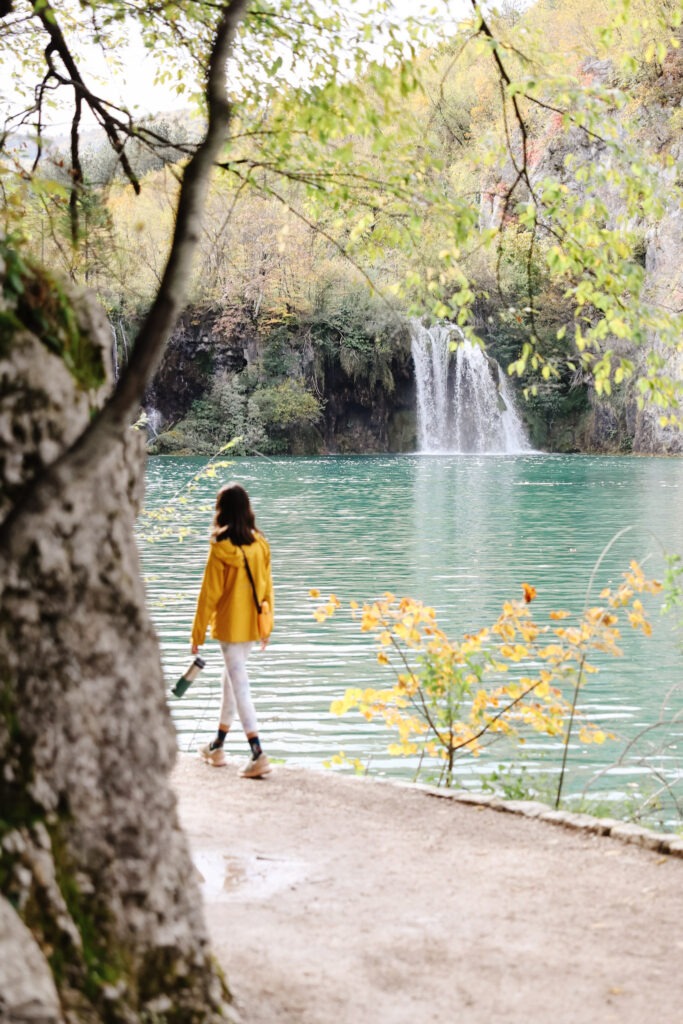 Where to Stay for a Family Plitvice Lakes Trip
Since we were only doing a day trip to Plitvice Lakes, we opted to stay in Split. This allowed us to spend a couple days in Split, a day trip in Plitvice Lakes, and then leave Split the next morning for Dubrovnik more easily. Especially when traveling with kids, it made it much easier to not need to move around to different hotels. When staying in Split, I highly recommend staying as close to the Old City as possible – we loved being able to easily walk into town.
Split Lodging Options with Kids:
And here are some wonderful apartment and home rentals if you need more space:
If you'd like to stay closer to Plitvice Lakes, here are some good options:
How to Get to Plitvice Lakes National Park
We chose to rent a car when visiting Croatia with kids and it made it really easy to drive to Plitvice Lakes National Park. The roads were excellent, and the toll road made it a quick, easy drive. We always look for rental cars here to get a great rate.
We left our Airbnb in Split at around 9am – it was a bit later than we wanted, but we were all tired from the day before and the time difference of an hour from London meant it felt like 8am to us. After a gorgeous drive surrounded by autumn leaves, we arrived at the Plitvice Lakes and parked in the lot near entrance 1. (Don't forget to pay for parking in the lot!)
Even being there near the end of October, it was reasonably busy, though I imagine nothing like it is in the middle of summer. We built in a Because of this, the lot was still quite full, so Dan dropped the rest of us off near the entrance to the car park while he parked further away. From the entrance to the car park, it's only a 3 or so minute walk to the park's ticket booth. There, we purchased our tickets (when we went, adults were 23 Euros and children ages 7-18 were 6 Euros) and entered the park. We also purchased a map for a couple Euros.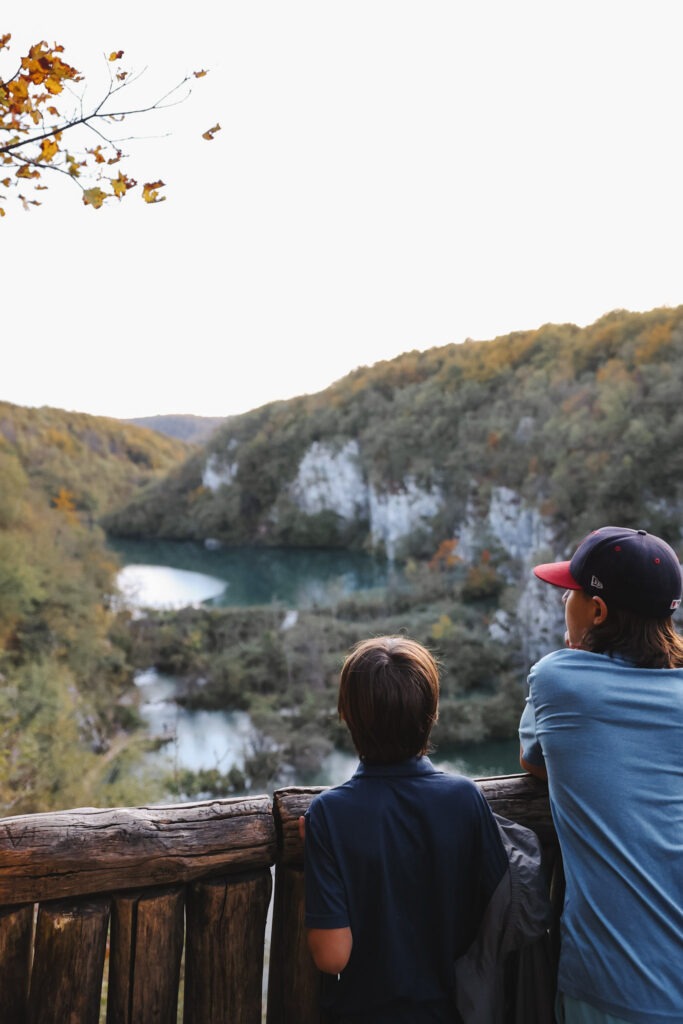 Which Plitvice Lakes Program with Kids?
Plitvice Lakes has several different "programs," or routes, to explore the park. We debated between a couple and were mainly thinking of doing Program B or C. We really hoped to do C so we could see the Upper Lakes, as well, but we weren't confident we would have enough time since we weren't really getting going with hiking until about 12:30 after purchasing tickets and taking bathroom breaks. The last bus from the end of that route would be leaving at 5pm, and since we knew we would need a picnic stop, as well, we weren't sure if we'd make it.
While we would've really loved to do Plitvice Lakes Program C with kids, it was definitely a good choice to pick Plitvice Lakes Program B. Our kids are great hikers, but even with that, it was still reasonably crowded so it was impossible to go any faster than we did. We could've really hustled for the second part from our lunch stop (before the boat ride), but it would've been a push to make it to the bus in time – and we definitely didn't want to add 4 extra miles in the dark.
So in the end, we're glad we chose Plitvice Program B with kids, but if I were to do it again, I'd make sure to get up early, leave Split by 7am, and start hiking by 10am to have enough time for Plitvice Program C.
Tips for Visiting Plitvice Lakes with Kids
Here are a few tips that were helpful to us in our visit to Plitvice Lakes National Park with kids:
Take Food and Water
There are very few places to purchase food and drink in the park. There's a little bit right at the entrance, and then there was an extremely overpriced cafe before the boat ride for Program B. We were really happy we brought our own food! There also aren't many places to fill water, so I highly recommend taking some along.
Start Early
If there's one thing I regret from our visit, it's not starting much earlier in the day. We would've needed to wake significantly earlier so it was tricky with our arrival schedule, but I'd push to get there by 10am if at all possible to make time for Program C to see the upper lakes, as well.
Plan Extra Time
The biggest issue with going to the upper lakes was not actually our walking speed, but rather the soverall speed of walking of groups on the boardwalks. Even if we wanted to rush through (which I don't recommend – it's beautiful and really nice to take a leisurely stroll to enjoy all the beautiful views), it would be really difficult to do that with crowds and narrow pathways. This is even more true in summertime!
Visit In Shoulder Season
As I mentioned, we loved our time there in October. I wouldn't want it to be more crowded than it was for us, and we loved seeing the autumn leaves.
Practice Eco-Friendly Practices
This includes packing out any food and trash, not feeding animals, and generally being respectful of the surroundings.
Have you visited Croatia's Plitvice Lakes with kids? I'd love to hear your experience and favorite spots!
IF YOU LIKED THIS POST ABOUT VISITING PLITVICE LAKES WITH KIDS, YOU MIGHT LIKE THESE POSTS TOO:
NOT QUITE READY FOR A CROATIA WITH KIDS ITINERARY? PIN THIS POST FOR LATER!