Are you visiting Yosemite with kids but have a limited amount of time? Here's a one-day itinerary with tips on Yosemite lodging, as well as some family-friendly highlights of things to do in Yosemite Valley.         
Let's start with the disclaimer that one day in Yosemite with kids is NOT enough. But sometimes that's all you have! So event hough you know it's not enough, you go anyway, because you figure experiencing it for a day is better than not experiencing it at all. That's what happened to us a couple summers ago. While we've visited Yosemite with kids a number of times since, we still look back fondly on that one magical day.
Yosemite Lodging
One of the trickiest decisions is where to stay in Yosemite. Yosemite lodging is notoriously difficult to reserve. We love camping at either the Upper or Lower Pines campgrounds, but it takes some quick footwork to get a site. Reservations open on the 15th of the month 5 months prior to the date, and you have to be on within seconds. If you can snag a spot in the Valley, absolutely do! We've also camped in Wawona, which while nice, is about an hour outside the Valley and doesn't have close to the same ambiance (Upper Pines sits directly underneath Glacier Point; it's pretty magical waking up to that view). We've also heard good things about the Housekeeping sites (semi-permanent lodging with beds provided), but have not personally stayed there.
There are also some Yosemite hotels, as well as everything from yurts to covered wagons. Just be aware that when deciding where to stay in Yosemite, anywhere outside the Valley will require a drive time of anywhere from 30-90 minutes. When choosing Yosemite lodging in the Valley, we love bringing bikes to easily get around.
The day we visited was smack in the middle of summer in the height of tourist season, when it was also quite warm. There are so many things to do in Yosemite that it's hard to choose the top activities, but here's what we felt comfortable enjoying with a day in Yosemite with kids.
One Day in Yosemite with Kids Stop 1: Visitors' Center + park video
If your Yosemite lodging is in the Valley, consider getting around on bike or foot. If you're staying in Yosemite hotels or other accommodations outside the Valley, be sure to get in as early as possible to get a parking spot. (This is why it's useful to already be in the Valley when deciding where to stay in Yosemite!) We started our time at the Yosemite Visitors' Center and watched the excellent and moving video there. Adults and kids alike loved learning about the history of the National Park Service and how Yosemite inspired its creation. From there, we popped into the museum and learned a bit more about the history and background of the park.
One Day in Yosemite Stop 2: Cook's Meadow Picnic, Merced River
Next, we walked over to the Yosemite Valley Chapel. We happened to be there on a Sunday, and we attended a brief
LDS
service. It was really fun being in that historic building, and there are gorgeous views of Yosemite Falls from there, as well. The kids loved climbing atop a huge rock out in the meadow behind the chapel. We had a picnic lunch in the shade there. There are tons of things to do in Yosemite, but it's well worth taking a little time to just be still and soak in the beauty and majesty.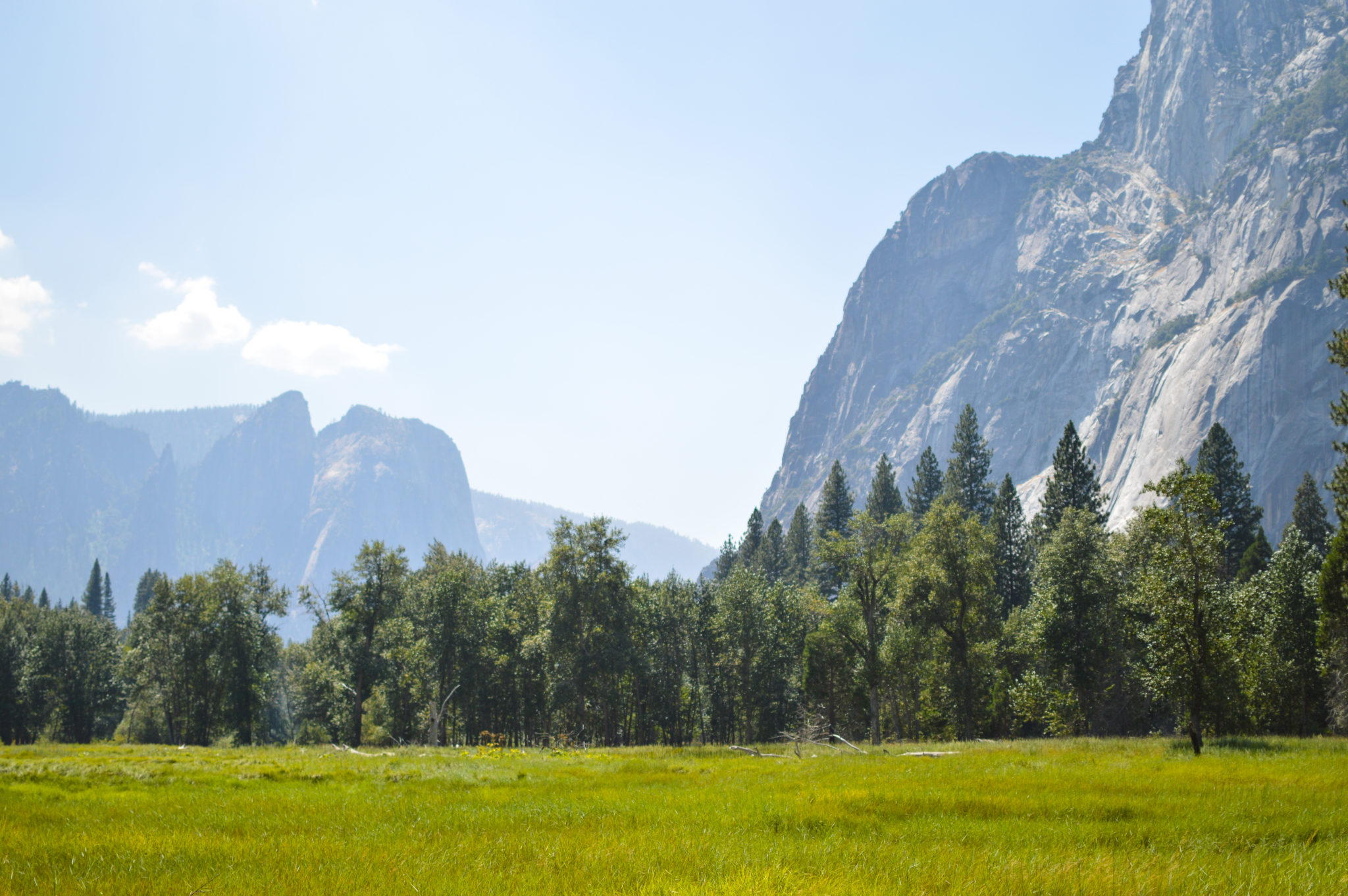 Then we walked through Cook's Meadow, which has spectacular views of Yosemite Falls and Half Dome. The kids loved running through the meadow and across the Merced River. Since we were there in early August, this was a perfect stop to splash in the water and throw rocks. Is it just my kids, or can other families spend hours just throwing stones in water? If you have more time, it would be really fun to do some floating down the river.
One Day in Yosemite with Kids Stop 3: Lower Yosemite Falls Trail
From there, we hiked the Lower Falls trail, which is very kid-friendly. It's pretty short and offers great views of the falls. Plus, once you get to the base of the falls, you can scale some rocks if you're feeling intrepid. Our kids love to climb, well, anything, so this was a big hit and we climbed right up to the spray, which was very fun. It wasn't particularly strenuous and all of us could manage it (even me with my giant belly and maternity dress…).
We stopped back by the visitors' center to turn in Junior Ranger booklets and get badges (be sure to get them right at the beginning of the day so the kids can be working on them throughout), got some food in the village, then headed to pick up our car (we walked pretty much this entire time as even the shuttle bus waits were insane).
One Day in Yosemite Stop 4: Choose Your Own Adventure
This post may contain affiliate links, which means I may earn a small commission if you click my link but does not change your price. See my affiliate policy here.
There are a number of other terrific hiking options when visiting Yosemite with kids. One favorite is Mirror Lake, which may be full early in the season if you're lucky, or will be dry and fun to climb around later into the summer. If you have bikes, we love the ride down since much of the road is protected for pedestrians and bikes.
Another favorite hike is Sentinel Dome, which is about 2 miles round trip and gives you a 360 degree view, including Half Dome and El Capitan. It's very doable with kids, and has a fun climb up a giant rock at the end. The drive from the Valley is about an hour.
If you're not in the mood for a hike, you could head to Glacier Point, not far from the Sentinel Dome trailhead. It also provides a terrific view of the Valley, although not a 360 degree one.
One Day in Yosemite with Kids Stop 5: Tunnel View
On our way out, we stopped at Bridal Veil Falls to catch some beautiful rainbows in the mist. Then we headed up to Tunnel View for a spectacular view of the entire valley at sunset. While it was hazy on our way into the Valley in the morning, it was perfect on the way out. We had gorgeous views of Half Dome and El Capitan on our drive out. We left feeling very appreciative of the beauty we'd experienced.
Again, one day wasn't nearly enough time to do Yosemite justice. We obviously needed to stick to the main parts of the Valley. However, it really was a wonderful day overall. It provided a great overview of where to stay in Yosemite and what to do in Yosemite with kids. It was great preparation for future trips, since we already had an idea of things to do in Yosemite.
What are your favorite stops in Yosemite with kids?