Still, I figured I could more easily rewear clothes while in cold weather than in hot, sweaty weather (and we could also layer more easily there), so I brought more warm weather clothing.
A COMPLETE MOM CAPSULE WARDROBE TO TRAVEL IN SUMMER:
5 tops

Plain white tee (that I promptly trashed when we returned because it lived a good life)
Blue Everlane linen tee (nice drape, held up great and didn't get overly wrinkly)
Lemon v-neck top
Coral floral v-neck button down top
Orange Uniqlo linen button down

5 bottoms

2 elastic waist skirts with pockets
1 button front Madewell skirt with pockets
1 pair of Madewell jeans
1 pair chambray pants with elastic waist

1 cardigan (slouchy, soft, machine-washable Madewell sweater)
1 pair pajamas
2 pairs of socks
2 pairs of shoes
1 swimsuit
1 neck scarf
5 pairs of undies
(I'll go over toiletries and makeup in a separate post.)
Honestly, this felt like more than enough clothing. This included the one set which I wore. On the long-haul flights (where we had more checked weight wiggle room, I wore my soft pants and cardigan. On short flights where we were close on weight, I tended to wear my heaviest items – sneakers, socks, jeans, cardigan, jacket.
MOM CAPSULE WARDROBE: COLORS & PATTERNS
I tend to gravitate toward bright colors and pattern mixing. While traditional minimal packing tends to lean toward a bunch of neutral basics, I knew I'd get bored really quickly with wearing just neutral solid colors. If that's what you enjoy, go for it! But I knew I wouldn't feel like myself. So I brought three tops in bright colors, two of which were patterned, and just made sure I felt comfortable wearing them with my various bottoms. I ended up mostly wearing certain tops with certain bottoms, but it worked out fine with our laundry schedule, anyway.
MOM CAPSULE WARDROBE: TOPS
The lemon top and floral top were both hand wash, and I was a little concerned about that. But it turned out that they were actually great. While a little more delicate, they were also very lightweight and cool, which meant they were excellent for hot weather. Hand wash items also tend to dry much more quickly than machine dry items, which was very helpful since dryers are a rarity in Europe.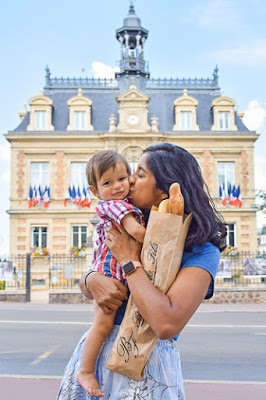 MOM CAPSULE WARDROBE: BOTTOMS
I tend to wear a lot of skirts and dresses, especially when it's hot. I HATE wearing jeans when it's warm out, so I decided at least 3 of my bottoms should be skirts (I considered bringing a dress, but skirts and tops tend to be more versatile).I honestly only wore one of my pair of pants for long-haul travel – I wanted something soft and comfortable with a stretchy waistband. I typically find skirts way more comfortable for travel, as well (bathroom ease!). But for lengthy flights where we'll all be trying to sleep, I prefer soft and loose pants so I can stick my legs up if needed without my skirt flying up. Maxi skirts/dresses are also great for long hauls (and are my preference while pregnant!), but those are hard to find with pockets, which I really wanted this time.
I also wanted one pair of jeans for the cold weather. I was glad to have both of those, but I could probably count on one hand the number of times I wore each. It was uncharacteristically warm for much of our time in Europe, so I felt most comfortable in my skirts.
I also only brought midi skirts with pockets, which are perfect for travel. The midi length meant I was never tugging on my skirt, and was fine bending and playing with kids and could easily sit on the ground. In general, I tend to avoid skirts without pockets, but especially for travel, pockets were absolutely necessary.
MOM CAPSULE WARDROBE: SHOES
I pretty much live in my Saltwater sandals over the summer and have walked miles and miles in them. I knew I wouldn't get blisters walking all over in them, and they would work for sun, rain, or beach. But I would highly, highly recommend wearing what you know will be comfortable and what you've tested over many miles. Kind of like pants, I tend to hate wearing closed-toe shoes in hot weather, so I knew this would make me most comfortable, but my husband really preferred wearing sneakers for all the walking we were doing. To each his (or her) own!
(Saltwaters, good for rain or water play.)
MOM CAPSULE WARDROBE: ACCESSORIES
I brought 2 pairs of wool ankle socks (similar to these), which were perfect. I loved that they were wicking and warm, but also didn't take a lot of space. I brought my Madewell bandana, which worked great either in my hair or as a neck scarf for a little bit of interest. Then I had my Uniqlo ultra light down jacket, which folded really small and was quite warm. It wasn't waterproof, but it definitely provided a bit of rain protection the couple times we needed it.
All of this fit in one large packing cube, which was an absolute necessity. Each of our kids had a medium cube and Dan and I each had a large one, and most of us had a bit of room to spare (Dan's clothes are bigger so he didn't have extra space, and Nat's clothes were the biggest of the kids, so they filled out the medium-sized cube). We had all extra pairs of shoes in a separate packing cube, and had a few extra cubes for dirty laundry. We just stuffed our jackets into the suitcase separately, which was nice for filling in gaps (and they added barely any weight at all).
WASH ROUTINE


We tended to do wash about every 4-5 days. This worked well for us because we stayed in a lot of Airbnb properties with washing machines (you can use the search function to filter for places with a washer). There were just a few times when we couldn't wash within that time frame (in London, for instance, where we stayed in a hotel for 6 nights). For those times, we had a small bit of laundry detergent, and we washed undies in the sink and hung to dry (most places didn't have dryers, anyway).
We tended to rewear clothes, anyway, unless they got super dirty, since the washing machines were tiny and we couldn't wash everything every time. We figured, it's travel and it's hot and it's Europe, no one will think twice if we need to wear an outfit twice. 😉 I also made sure to lay all my clothing out to air out after wearing just in case it needed to be reworn.
We did have enough outfits for the baby since he tended to get messier with eating, but I'll talk about that in another post!
And that's about it! What questions do you have about putting together your mom capsule wardrobe? How would you have done things differently? I'm always curious for others' packing preferences, so let me know in a comment below!