Are you traveling to France and wondering what to do in Paris with kids?
Read on for 16 must-do activities in Paris with kids!
This post may contain affiliate links, which means I may earn a small commission if you click my link but does not change your price. See my affiliate policy here.
Are you headed to Paris as a family? Luckily for you, Paris is magical with little ones and grown ups alike. While I've lived in France previously, and my husband and I had traveled there either alone or with a newborn, we'd never taken all 4 kids with us. Fortunately, there are tons of things to do in Paris with kids!
Here is our list of the best things to do when visiting Paris with kids that you can't miss!
16 of Our Favorite Things to Do in Paris With Kids
16. MONTMARTRE/SACRÉ COEUR.
This entire area is a blast with kids. Little ones will love taking the funicular up to the Basilica du Sacre Coeur, observing the artists in Place du Tertre, or just running up and down steps while you do some people watching and take in the sweeping views of the city. You can see the Eiffel Tower far off in the distance. It is a very family friendly area during the day. It's a great and interesting way to get the blood flowing to stave off jet lag if you're just arriving in Paris, too. (Here are some tips for getting over jet lag with kids!)
15. PARC DES BUTTES CHAUMONT.
Perfect for a Sunday (or any day, really) stroll, this public park is ideal for families. The suspension bridge (designed by Gustave Eiffel) is lovely to cross, the path to Temple de la Sybille is lush, and while it won't be tourist-free, you'll likely spy more Parisians than foreigners. Visit the Parc des Buttes Chaumont to let the kids run loose and enjoy the family friendly atmosphere. It's a nice break from museums and one of the most relaxing things to do in Paris with kids.
14. NOTRE DAME CATHÉDRAL.
Notre Dame Cathedral is located on the Île de la Cité on the Seine River and is not to be missed on your holiday to Paris with kids. While the inside of Notre Dame is not currently open to the public, the famous cathedral is still worth a stop. Gaze at the still-standing towers, or observe it from the side on its island while you stand on the banks of the Seine. Kiddos will love counting the flying buttresses of Notre Dame Cathedral and imagining ways to fix its broken parts is always fun for kids visiting Paris.
13. MARAIS.
If you're looking for tasty, inexpensive, casual food, the Marais is your neighborhood. Eating is our favorite way to explore a city and the Marais is a great place to do that in Paris. It's great for families with young kids wishing to eat dinner earlier than the typical French time, as many eateries here are open all day. Known for ethnic cuisine, Middle Eastern and Mediterranean food is easily available in the Marais. Or if you want something typically French, stop into Breizh Cafe for the best crepes in town. Just be prepared to go early or wait in a likely-long line.
12. CHANTILLY.
When visiting Paris with kids, it sometimes is nice to get away from the city for a bit. A short and easy train ride from the center of Paris is Chantilly. Chantilly boasts a chateau, horse stables, the 2nd largest collection of antique paintings (after the Louvre), and the best (and most original) whipped cream around. It's a smaller and far less busy chateau than Versailles, but feels classically French. Kids will be delighted by walking through the castle-like grounds and watching the horses. Then don't forget to cap off the visit with gobs of delicious chantilly cream in the place where it was invented!
11. MUSÉE DE LA MUSIQUE. Hidden Gem Things to Do in Paris with kids!
This was very much a surprise hidden gem in Paris for our family, but all of us aged 10 months to 81 years were delighted by it. Nearly 1,000 instruments are on display in the permanent collection, and the very excellent audioguides provide ample information. The child audioguides were particularly excellent, with lots of examples of instruments being played in a kid-friendly presentation. Plus, the hands-on exhibits were excellent. Despite being a bit off-the-beaten-path, it's one of the best things to do in Paris with kids. I highly recommend this family friendly Paris museum.
10. VERSAILLES.
It's difficult to visit Paris without heading out to this iconic palace. Keep in mind that it will be crowded and the place is big. We loved going out to the more peaceful Queen's Hamlet and Petit Trianon, but they can be a bit of a trek when visiting Paris with kids. I recommend coming early and visiting the main palace first, then purchasing a ticket on the Little Train to visit the other stops. Be sure to take sunscreen and lots of water as you'll do a fair bit of walking outside if you'd like to enjoy the gardens. (Here's a full family packing list that we use on trips from 4 days to 4 months!)
9. MUSÉE DU LOUVRE.
The Louvre is an icon, and for good reason. As the largest art museum in the world, the museum houses countless important works of art. And the glass pyramid outside is fun to see in and of itself! The experience can also be completely overwhelming, however – especially when visiting the Louvre with kids. On top of being enormous, it's typically crazy crowded, especially if you're there in high season (which sometimes feels like all the time). Here are a few tips on how to visit the Louvre Museum with kids.
The best way to do it, in my opinion, is to do an active morning activity, then take late afternoon naps, and visit the museum during its evening hours (on Wednesdays & Fridays). We had the Mona Lisa almost completely to ourselves for 10 whole minutes on a Friday night near closing!
If you do go during the day, limit yourself to a couple hours and try to get out to lesser visited parts of the museum. We love the underground fortress area, the Napoleon III apartments, and the regalia. The gift shop has an excellent family guide that has short, fun activities to visit different sections of the museum. After your visit to the Louvre, your kids may need to run around and the Jardin des Tuileries at the front of the museum is a great place for that.
(And here are some more tips for taking your kids to a museum.)
8. SAINTE-CHAPELLE.
There are few more visually stunning buildings in all the world, in my opinion. That blue stained glass is just breathtaking. Adults and kids alike will be awed as they walk up the steps and enter into this gorgeous cathedral. While this may not be the most family friendly thing to do in Paris with kids, it is one of the most beautiful things to do in Paris with kids.
7. BATEAUX-MOUCHES. Best Things to Do in Paris With Kids!
What kid doesn't love a boat ride? (Well, there probably are some, but not many.) These wide, sturdy Bateaux Mouches boats are a perfect way to experience the magic of Paris from the water and get an overview of some main landmarks. Buy your tickets then hop on the next boat.  You will travel down the Seine river right near the Eiffel Tower which will allow for some unique views. It's a great way to get a quick tour while on your trip to Paris with kids.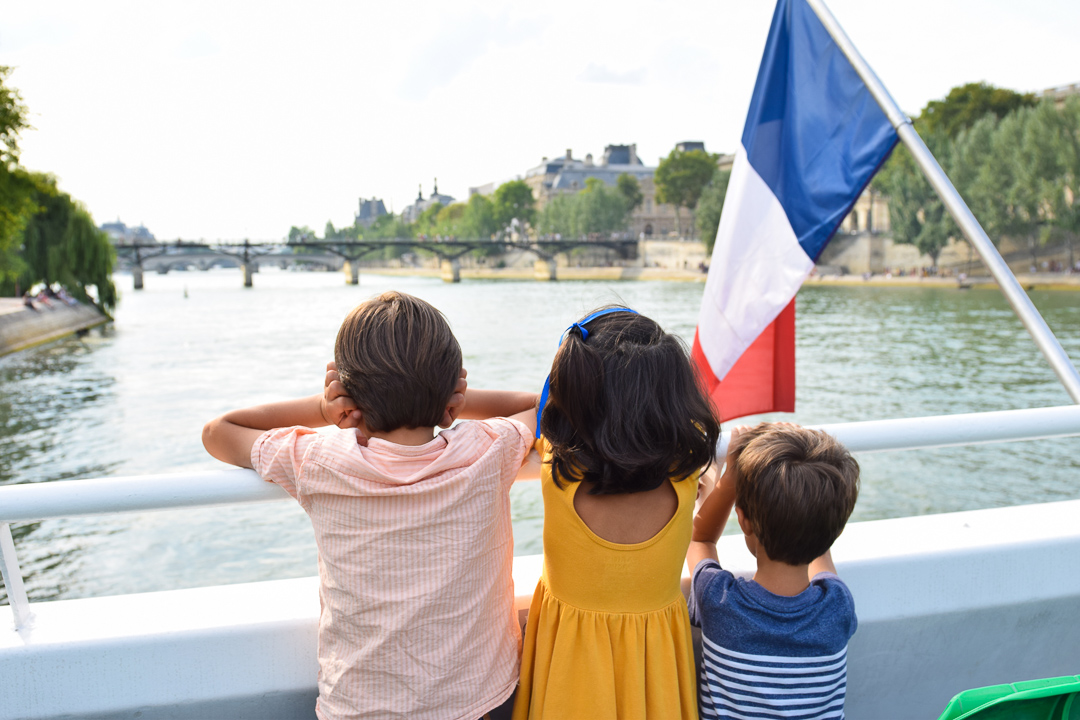 6. MUSÉE DE L'ORANGERIE.
While there are certainly many bigger museums in Paris, Musée de l'Orangerie is one of my very favorite for kids. Its small size makes it very family friendly. As it is small enough that it's doable in an hour or two, and the giant Monet paintings are both visually impactful and resonate with children, who may even be familiar with the artist. Plus, the museum houses one of the best gift shops in Paris!
5. ÎLE SAINT-LOUIS.
This lovely island in the Seine has managed to hold onto some of its typically Parisian charm. Primarily a residential neighborhood, Île Saint-Louis is perfect for wandering without an agenda of sites to see. Best to do it with a cone of Berthillon ice cream, a contender for the best ice cream in Paris. Lots of shops claim to sell it, but best to go to the original. A stop here is always on our list of things to do on a trip to Paris with kids.
4. MUSÉE D'ORSAY.
While the Louvre is a must do for its important works (my kids never would've forgiven me if we'd skipped the Mona Lisa, which they'd heard all about in school) and for the fun pyramid, the Orsay, I think, has a much better user experience. Make no mistake – it's still a LARGE museum. The building (a renovated train station) is a bit more open and fun, making the Orsay Museum with kids a much more pleasant experience. Plus, the Impressionist collection is one of the best in the world, and kids are often familiar with and excited about a few of those works. Be sure to make a stop at the Musée d'Orsay on your trip to Paris with kids.
3. JARDIN D'ACCLIMATATION.
You'll note that Disneyland Paris is notably not on this list. Truthfully, we considered visiting. We like Disney. But at the end of the day, we decided that we weren't willing to give up a truly Parisian day for a day that is inherently crafted through an (at least partial) American lens. So on this trip, we skipped Disneyland Paris. We'd heard of Jardin d'Acclimation, a local amusement park, and decided to give that a shot instead. Turns out it was just what we wanted. Our kids loved this Paris park. There were amusement park rides (although nothing huge – it's not for major thrill seekers), as well as a couple water play areas, a darling Guignol puppet show, and tons of local families (not tourists). It was a delight.
2. EIFFEL TOWER + CAROUSEL + TROCADERO FOUNTAINS.
I know there are people out there who think the Eiffel Tower is lame. I'm not one of them. And neither were my kids. They were all awed by the Eiffel Tower, and loved going to the top. We couldn't reserve enough tickets in advance by the time we checked, so we just went there the morning of and were able to walk to the landing, and easily take the elevator to the very top. Dan purchased the 2nd elevator tickets while we hung out by the Trocadero Fountains on the Champs de Mars; we played in the spray, although we did see some people in swimsuits hopping in the fountains at the bottom (no idea if that's legal).
Our entry time was about 45 minutes later, and there was no line to walk up (in July). At just shy of 700 steps, it took us a little over 10 minutes, and our 7, 5, & 3 year olds managed just fine (I wore the baby).
Then on a different day, we came at night to ride the carousel and see the Eiffel Tower sparkle. I may or may not have had a child who claimed it was the best experience of his life. We all loved visiting the Eiffel Tower with kids!
1. Favorite Thing to do in Paris with Kids: JARDIN DU LUXEMBOURG.
On our last day after nearly a month in Paris, we let our kids choose whatever they wanted to do. And they voted to repeat the boats at the Luxembourg gardens. If there's something more quintessentially Parisian childhood, I don't know what it is. It is, in our opinion, the very best of all the things to do in Paris with kids. The pond is regularly surrounded by local and foreign families alike pushing wooden boats with long sticks in the shadow of Luxembourg Palace. It's charming and simple and perfect with a side of baguette.
I hope this list of the best things to do in Paris with kids is helpful! I'd love to hear – what's your favorite kid-friendly Paris activity?
IF YOU LIKED OUR FAVORITE THINGS TO DO IN PARIS WITH KIDS, YOU MIGHT LIKE THESE POSTS TOO:
PIN THIS POST ABOUT THE BEST THINGS TO DO IN PARIS WITH KIDS FOR LATER!