Welcome to W is for Wales for the Global Children's Book Club! Today we'll be going on a virtual tour of Wales with kids. Get ready for a fun and inspiring Wales virtual field trip – perfect for global education at home or for a Wales homeschooling unit.
You can find the full list of countries for the book club right HERE. Be sure to sign up for the email list to get all the information in advance and to receive fun extras!
This Wales virtual tour contains affiliate links, but all opinions are 100% my own. That means I earn a small commission if you purchase through my link, but doesn't change your price.
W is for Wales: Wales Virtual Tour for Kids
Featured Wales Book
Slop!: A Welsh Folktale by Margaret Read MAcDonald (Author), Yvonne LeBrun Davis (Illustrator)
Author Book Chat
Slop!: A Welsh Folktale Picture Book Discussion Questions
What do you do with leftover food?
How would you like it if other people couldn't see you?  Do you ever feel that way?
If someone had been pouring slop down your chimney, how would you respond?  Would you be as patient in your appeal as the wee man and woman?
Have you ever reciprocated kindness for kindness?  Has someone does something nice to you that made you want to do something nice back to them?
Other Wales Books for Kids
Wales Facts
Basic Facts
The capital of Wales is Cardiff.

The official name is Wales.

Though Wales is part of the United Kingdom of Great Britain and Northern Ireland, it is considered its own country: "Wales is not a Principality. Although we are joined with England by land, and we are part of Great Britain, Wales  is a country in its own right."
Though Wales is a country (one of 4 comprising the UK), it is not a sovereign state, so is not a member of the United Nations.

Mark Drakeford is the current First Minister of Wales.

Wales is located in the southwest of the United Kingdom.

Wales is bordered by England to the east, the Bristol Channel to its south and the Irish and Celtic Seas in the west.

There are two official languages in Wales: English and Welsh.

The currency in Wales is Pound sterling. $1 USD = 0.81 Pound sterling

Wales has four distinct seasons.

Christianity is the largest religion in Wales.

Wales primary industries include Agriculture, airplane manufacturing and renewable energy.
Interesting Facts
Llanfairpwllgwyngyllgogerychwyrndrobwllllantysiliogogogoch ("St Mary's Church in the Hollow of the White Hazel near a Rapid Whirlpool and the Church of St. Tysilio near the Red Cave") is a 58-letter* name of a town in Wales.  And yes, the train station there actually has a sign long enough to write out the whole stop name. (*Actually only 50 characters in Welsh, though, since ll, ng and ch are treated as single letters).
Wales has more castles per square mile than any other European country.
The corgi dog comes from Wales "Cor-ci" and means "dwarf-dog.
Welsh is a proud, but difficult language – only about 11% of Welsh are fluent.
The first radio message in the world happened in South Wales in 1897.
Donald Davies, a Welshman, is in the Internet Hall of Fame for inventing packet-switching computer network (which is key to making the Internet possible).
Eisteddfod has hosted a poetry, music and literature festival every year since 1176.
St. Patrick of Ireland was actually Welsh and first journeyed to Ireland after being enslaved by some Irishmen.
Color in Wales on this map of the United Kingdom!
Wales with Kids: Flag Activity
Flag from HERE
HERE is a fun printable Welsh flag coloring sheet!
Wales Virtual Tour to a Featured Landmark
Cardiff Castle
English invaders led by William the Conqueror built this castle in the 11th century on top of a 3rd Century Roman Fort.
In 1404 Welsh nationalist Owain Glyndŵr stormed the castle, with the support of Welsh students at Oxford University and Welsh veterans of English wars with Scotland and France. In the 19th century, William Burges, rich from selling coal during the Industrial Revolution, restored the castle to its beautiful, Gothic roots.
Pontcysyllte Aqueduct and Llangollen Canal
This is the highest canal aqueduct (a river built by people) in the world and the longest in Great Britain.  It took ten years to build the 126 ft. tall canal out of cast iron and stone. UNESCO recognized it as a significant feat of engineering and named it a World Heritage Site.  You can even ride in one of the narrowboats – just don't look down!
Featured Welsh Artist: Kyffin Williams
Kyffin Williams is a landscape painter and one of the most important Welsh artists of the 1900s. Kyffin contracted epilepsy in school as a youth. He later called that "his greatest fortune" because it led to him failing a British Army's Medical Examination in WWII and allowed him to enroll in Art School instead.
At first, his tutor in school told him he was not good at drawing, but he worked hard and won the school's Portrait Prize before graduating. Kyffin loved to teach art, and found joy teaching and encouraging young artists as the senior art master of Highgate School in London from 1944-1973. He also won the Winston Churchill Fellowship's Scholarship for painting.
The beauty of Wales always inspired Kyffin: "I was lucky that I was born into a landscape so beautiful I had no need to go elsewhere. There was never any question of what I should paint." He mostly painted the Welsh landscape, sheep farmers, waterfalls, and almost anything in Snowdonia and Anglesey.
Featured Important Welsh Person: Owain Glyndwr
Owain Glyndwr wanted Wales to be independent from England and lead a revolt against King Henry IV. Owain and his army fought British forces to quickly gain control of major parts of Wales.  He ran out of artillery, though, and eventually lost to the British. His followers remained loyal, and helped him hide from British soldiers trying to capture him. Henry V, the new King, offered to pardon him if he apologized but he still believed in the cause of Independence and did not apologize.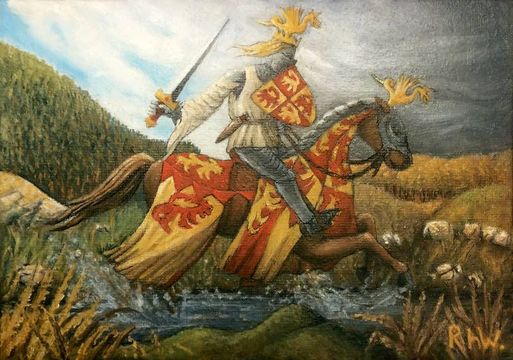 Featured Welsh Food: Welsh Recipes for Kids
Welsh Cakes (cookies) are a real treat.  You can substitute allspice for "mixed spice" and raisins for currants if you don't have them.
Bara Brith is a simple bread, usually with raisins or other fruit. If you use hot tea instead of water when you are making the dough, it makes the flavor even better!
Welsh Craft & Culture Activity for Kids
Welsh Love Spoons Craft
Adapted from here
In Welsh tradition going back to the 1600s, young men would give intricately carved wooden spoons to young women in whom they were interested. If the girl accepted the spoon, she was also accepting a signal of romantic interest. The carver used a single piece of wood and showed off his skill through his carving. They were also given as gifts between family and friends. You can "carve" your own love spoon out of clay!
Materials:
Shape the spoon part (the rounded part at the bottom) of your love spoon out of clay.
Pick 2-3 symbols to incorporate into your love spoon. (You can check out this site for some inspiration on how they might look.) Mold them out of clay and then attach them together on top of the spoon by pressing the clay together.
Paint the entire thing brown and wait for it to dry.
Gift it to a friend!
Dragon Corner Bookmark
Inspired by here
Materials
Take your sheet of square origami paper and cut it in half to form 2 rectangles.

Alternately, take a piece of construction paper and fold one corner until it meets the other side, creating a triangle, and cut off the bottom rectangular part. Open to form a square piece of paper, then cut the square in half to form 2 rectangles.

Fold the rectangle in half lengthwise.
Next, fold the rectangle in half the other direction and open it again.
Fold half of that rectangle at a 45 degree angle, so the edge aligns with the center
Take the other half of the rectangle and fold another 45 degree angle towards the center (this looks almost like a heart)
Fold in the corners to create a heart shape
Crease the edges and glue or tape down the flaps
Tape the middle on the back of where the two longer pieces meet, but don't tape down the triangular flap
Using your colored scraps, draw and cut out an ear, a wing, an eye (coloring in with colored pencils), triangular spikes, and a tongue with fire for your dragon
Glue on all the pieces
Once you have all of the dragon's features glued on, let it dry and start using your bookmark.
Name your dragon.  Here are some Welsh names for consideration.
Welsh Art Books
Other Wales Kids Activities
Celebrate St. David's Day, the patron saint of Wales, with leeks and a daffodil head bopper.
Make a red dragon mask!
Build a castle out of bricks, rocks, sand, legos, blocks, or anything else you can imagine.
Animals in Wales
Polecat – cute ancestors of the Ferret who almost went extinct due to hunting and habitat loss when forests were chopped down.  They spray a stinky liquid when they are scared, so watch out!
Raft or Jesus Spider – can run on top of water, eats small fish, and can survive completely underwater for a while to hide from predators.  This spider was only discovered in Wales about 10 years ago!
Ghost Slug – When it was discovered less than ten years ago, this creature was named a "ghost" slug because of its color and because it is really rare to see it, since it spends almost all of its time about 3 ft/1m underground.
You can learn more about Welsh animals here.
Wales Movement Activities
Rugby
Rugby is the national sport and the most popular sport in Wales.  Wales even won the first Rugby Grand Slam in 1908 against Ireland.
Welsh Folk Dance
Welsh Folk Music: Ancient Celtic Lullaby
Kid Movies About Wales
Wales Conversations with a Local: Culture, History, & Food Discussion Video
Wales with Kids Discussion Questions
What inspires you about where you are from?
What is something about you that others might think is a disadvantage but which actually helps you to be better in other ways?
Imagine a new communication technology.  How would it help the world?
Is there a piece of history, like an old landmark, you would preserve if you had a lot of money?
What is a cause you feel passionate about that needs something to change? Is there a way to achieve your goals for change without fighting?
Thanks for Taking a Virtual Visit to Wales With Us!
We've loved putting together this resource to virtually visit Wales. We'd love to hear if you do any of these activities for a homeschooling Wales unit, or if you visit in person!
We hope to inspire curiosity and connection through exploring and learning, and we hope this guide helps you and your families. Please share any activities you do with us over on our Instagram. And we'd be delighted if you passed this Wales for kids virtual tour and homeschooling resource along to others, as well!
MORE POSTS
IF YOU LIKED THIS POST ABOUT WALES FOR KIDS, YOU MIGHT LIKE THESE POSTS TOO:
NOT READY FOR A WALES HOMESCHOOLING UNIT QUITE YET? PIN THIS POST FOR LATER!