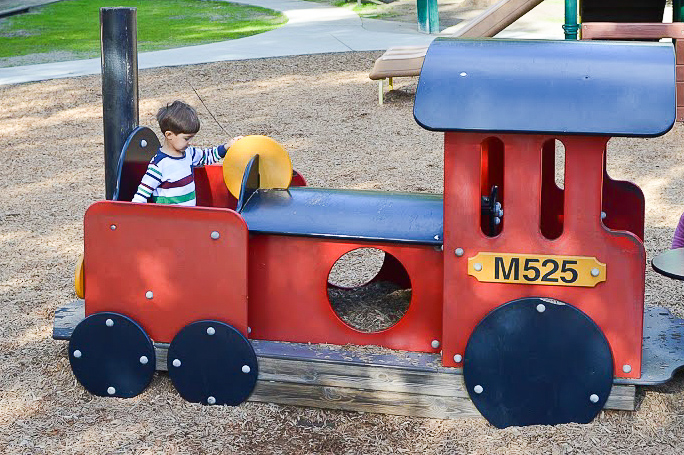 Vasona is such a gem of the South Bay area. It's a pretty big park, complete with a lake, lots of grassy areas, and an excellent holiday lights display in December (more on that below). It also provides access to the lengthy Los Gatos Creek Trail. It's connected to the Oak Meadow Park, managed by the town of Los Gatos. There's a darling little
steam train
that goes through both parks, as well as a restored antique carousel (tickets are $3 each for both the train and carousel).
Oak Meadow also has a terrific playground. In addition to the normal playground equipment, it has a play fire truck and train that kids can climb in and "drive," as well as a real, decommissioned US Air Force T-33 jet that was designed for training purposes. My kiddos LOVE climbing in and on top of the plane!
The holiday lights display is truly one of the best in the area. There's a walk-through for a couple of days, but I highly recommend the drive-through, as you get to see a bit more and it ends up being cheaper if you have several people. Walk-through tickets are $10/adult, $5/youth, while the drive-through is $20/car. The lights themselves are fantastic – lit tunnels, dinosaurs, and lots of holiday creatures. For the past couple of years, we've used this for our "Polar Express" night. It's so fun listening to the music (synced on a radio station) and driving through all the displays. You can also ride the train through! Be sure to buy tickets several weeks in advance as they tend to sell out, especially for the prime times/days.
*For this special holiday night, we put the kids to bed, having hidden a "golden ticket" under their pillows earlier (we always make sure to have read The Polar Express book several times before this night). We give them a few minutes to lay quietly while we make hot chocolate and pour it in thermoses, then play a train whistle from our phones and surprise them. Everyone runs to the car and we drink hot chocolate while looking at all the lights. It's the best!