1. THE PEOPLE LOVE KIDS. Truly, the people we met in Istanbul were some of the warmest we've met on our travels, and they tended to really love children. We've been a few places where, while we're definitely still glad we took our kids along, it took a little more management in terms of keeping them quiet and polite enough for local expectations of kid behavior.
Istanbul, on the other hand, felt very easy in terms of kid behavior. The culture really seemed to welcome them warmly, and no one seemed surprised or put out by having them around. In fact, in several of the places we went, people seemed even MORE friendly because we had kids in tow! We had several people give them treats or offer to let us through/to the front of a line because we had little ones with us. Beware that they have less of a need for personal space than we tend to need in the US, but try to go with the flow and they'll love you for it.
2. IT'S BUSY.  You know how when you go to London, even in the middle of tourist season, everything is very orderly and neat? Istanbul is…not like that. In fact, having grown up visiting India (where my parents grew up), it felt very similar in terms of pace. Lots of people shouting, lots of crowds and haggling, lots of scents and spices and colors. This made it very vibrant and fun for kids because it was extremely visually stimulating.
3. IT'S EXTREMELY WALKABLE. Most of the major sites are within easy walking distance, even for littler legs. We loved strolling everywhere, especially since there's so much to see all around. Since it was so crowded and busy when we were there, it hardly felt worth it to take a taxi or public transportation, and we were very happy to have the flexibility of just walking to get somewhere instead of waiting for traffic or figuring out bus schedules. We did take the T-1 tram line a few places, as well, which our kids loved. You can also purchase a prepaid Istanbulkart that will allow you to ride any form of public transportation.
4. IT'S NOT GREAT FOR STROLLERS.
Lots of bumpy, cobblestoned/cracked streets and sidewalks means that it's tricky to push a stroller around, but not impossible. We did take our
double stroller
with us when we were there because we had two napping children. This particular stroller was great for being narrow and fitting into small spaces and aisles (like in the spice market). The trade-off is that it's small profile relies on small wheels, as well, so it doesn't take the bumps quite as well as something with larger wheels. Still, we managed, and both our kids slept for a few hours, so it felt worth it. Just be prepared to put some muscle into your stroller pushing, or take a baby carrier or two instead (we love
this one
and also its
smaller, more lightweight travel version
).
5. EVERYONE NEEDS A VISA.
While many countries don't require visas for short visits, Turkey does. It's a simple and relatively inexpensive process, though, that can be completed
online
. Each person in your party needs one, including children.
6. DON'T EAT FOOD OR DRINKS FROM THE STREET. It will be tempting. But there are plenty of restaurants and cafes available if you get hungry. Trust me – Daniel got incredibly sick from some orange juice off the street (after the sweet little vendor boy helped him get the stroller up on the curb) and couldn't keep anything down for a week after.
7. BUT DO TRY LOTS OF LOCAL FOODS. Istanbul has a truly fantastic food scene. Many hotels and bed & breakfasts will provide a full Turkish breakfast, which is insanely delicious. So many spreads and cheeses and fruits and yogurts. Definitely fill up for a full day of sightseeing.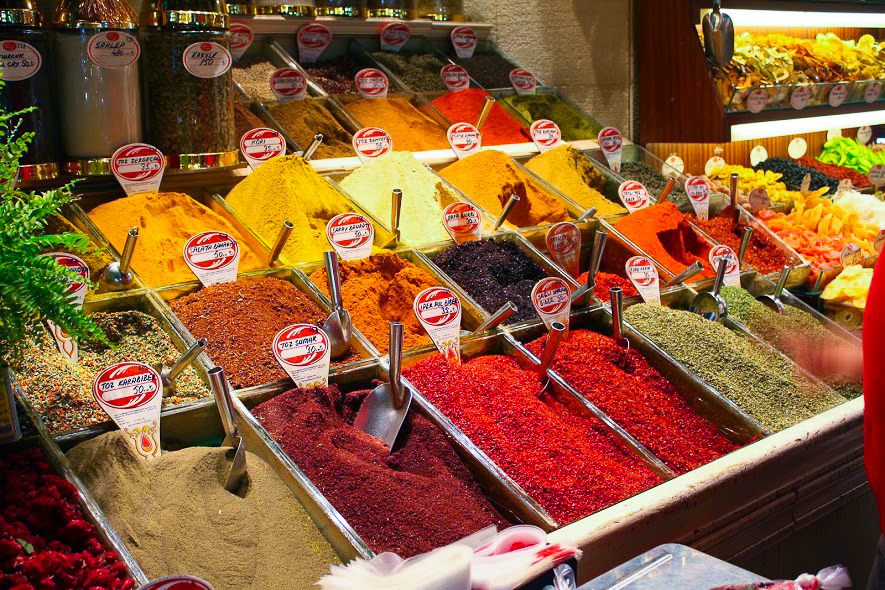 8. IF YOU'RE FEMALE, BRING A SCARF. Most mosques will request that you cover your head with a scarf. They'll usually have something available for you to use if you forget, but it's nice to come prepared. For the same reason, wear long pants or a long skirt inside religious structures, as well, and be sure to cover your shoulders. You may also want to wear socks, as you'll need to remove your shoes before entering a mosque.
9. REMEMBER THERE ARE TWO INTERNATIONAL AIRPORTS. The bigger one, Atatürk is on the European side, while Sabiha Gökçen is on the Asian side. The latter usually has much cheaper flights as most of the budget airlines fly there. Although it will seem significantly less expensive, keep in mind that you will likely have to travel to the other side of the city, so be sure to factor in ground transportation costs/convenience (especially with kids in tow).
10. DON'T BE AFRAID TO HAGGLE. It's definitely expected and part of the experience at the bazaars, and you won't offend anyone by trying. Know your price, be reasonable, be kind, be firm.
11. MOST TURKISH BATHS WON'T ALLOW SMALL CHILDREN. If your child is over the age of 4, you may be able to take them, but very few baths allow children younger than that, especially if you want one of the beautiful, historic ones. We visited the gorgeous Çemberlitas Hamami, which is super close to the famous Grand Bazaar. Daniel and I took turns in the baths while the other stayed with napping kiddos in the stroller while eating a snack and strolling the Bazaar.
12. USE STREET SMARTS. As a foil to #1, people can sometimes be OVERLY friendly. We found that it actually helped traveling as a family with small children, as we were far less likely to encounter catcalls and stares, and somehow having children with us made us feel even a bit safer when we were there (August of 2014). Still, even if you do, try to ignore the attention and make it clear that you're not interested in engaging. Also, especially after the terrorist attacks a couple of years ago, I'd recommend staying away from any border areas and being vigilant. Overall, though, I still believe Istanbul is safe for a family to visit, especially if you're staying in the main tourist areas.
Istanbul truly is an historic, beautiful city filled with incredible culture, food, and sights. I'd love to know if it's on your list!