This post may contain affiliate links, which means I may earn a small commission if you click my link but does not change your price. See my affiliate policy here.
Are you traveling to Italy with kids? There are so many things to do in Rome that it's a perfect starting point. Here's a perfect three-day itinerary when visiting Rome with kids!
Ever wondered, "is Rome kid friendly?" European cities don't get much more magical than Rome with kids. There are tons of fun and historic activities, it's super walkable, and, let's be honest, there's gelato after (or in place of) every meal. Kid (and adult) heaven! There are so many things to do in Rome with family that it's hard to narrow down the list for a perfect Rome itinerary.
How much time should I spend when visiting Rome with kids?
If you're wondering how many days in Rome with kids, three days is a nice amount of time to be able to see quite a few of the main attractions. Of course, you could spend years exploring, but three days in Rome gives a nice overview and allows you to eat some great food.
There are so many options for things to do in Rome in 3 days, but below are some of our very favorites in Rome for families. It's a Rome itinerary that will allow you to see the highlights of the city without being so exhausting that you don't enjoy your visit.
So are you wondering what to do in Rome during your time there? Here's how our family with 4 little ones would spend three days visiting Rome with kids, including what to doing in Rome with kids and the best Rome activities for kids!
Best Things To Do With Kids in Rome: 3-Day Rome Itinerary
This post on visiting Rome with kids contains affiliate links, but all opinions are 100% my own. That means I earn a small commission if you purchase through my link, but doesn't increase your price. Thank you for supporting this blog!
3 Days in Rome with Kids Itinerary: Day 1
Colosseum with Kids
Hit the ground running on your Rome itinerary by visiting the Colosseum with kids. Make sure you buy tickets in advance, and try to get an early time slot before it gets crazy crowded. We paid just a tiny bit extra to get a short tour. The tour was only about 30 minutes, which was perfect as far as things to do in Rome with kids, and we learned some interesting facts. Plus, what kid doesn't love having headphones?
Spend about 2-2.5 hours here walking around, exploring the various levels and areas, and talking about gladiators nonstop. I was surprised by how much my kids loved imagining here – it's one of the very best things to do in Rome with kids.
After finishing up at the Colosseum, head out to go find some lunch. We liked the Celio neighborhood that's sort of on the back side of the Colosseum (opposite the Forum). Even though it's very close, it was quiet and calm and perfect for sitting outside and enjoying a meal.
Roman Forum with Kids
After lunch, wander through the Roman Forum and go up to Palatine Hill for a great view. It's a lot of history in one day, but the climb up and through the ruins make it fun for little ones. Plus, the sites are so close to each other that it's worth doing them both in the same day and a must-see for 3 days in Rome with family.
The hill also tends to be less crowded on top than the Forum below. There's a nice garden maze that's fun for kids to explore. There's lots of space to run around and burn off some energy without risking running into thousands-of-years-old columns. 😉 Plus, there's some nice shade at the top.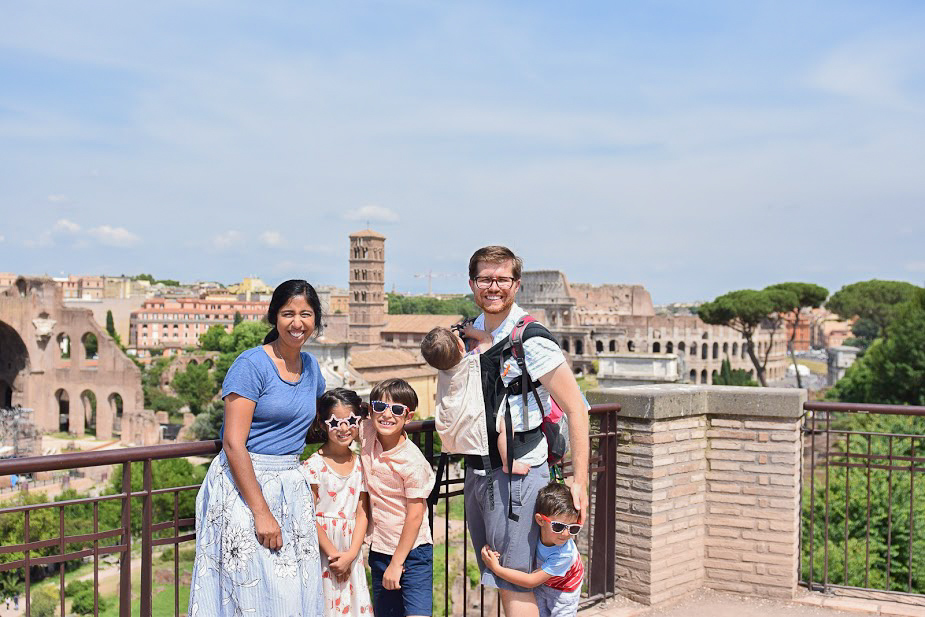 Dinner in Rome with Kids
Finally, finish the first day of your Rome itinerary with kids by heading over to Sora Margherita in the Jewish Ghetto for dinner. The fresh pastas are amazing and the waitress we had was the most Italian person I've ever met – she was feeding the kids by hand within seconds of us being seated. Make sure to get the cacio e pepe (a Roman specialty – eat it as many times as you can while here) and the fried artichoke. (Make reservations in advance.)
After dinner, go crash into bed! There are tons more potential additions to the list of things to do in Rome in 3 days, but it's worth getting some rest on your first night. Visiting Rome with kids can be exhausting and everyone will surely sleep well tonight.
Rome with Kids Itinerary: Day 2
Trevi Fountain
Pantheon, San Luigi dei Francesi, Piazza Navona, Gelateria del Teatro
Campo de' Fiori market
Borghese Gallery & Gardens
Come il Latte gelato
Trevi Fountain with Kids
Get up bright and early and head straight to the Trevi Fountain. If you manage to make it early enough, you may even avoid some crowds! Either way, grab a coin to toss with your right hand over your left shoulder. Try (but possibly fail) to keep your kids out of the fountain, but do let them drink out of the many ancient drinking fountains. If you push the right spot, it will shoot up like a modern drinking fountain! Even though it's touristy, it's still one of those really fun things to do in Rome.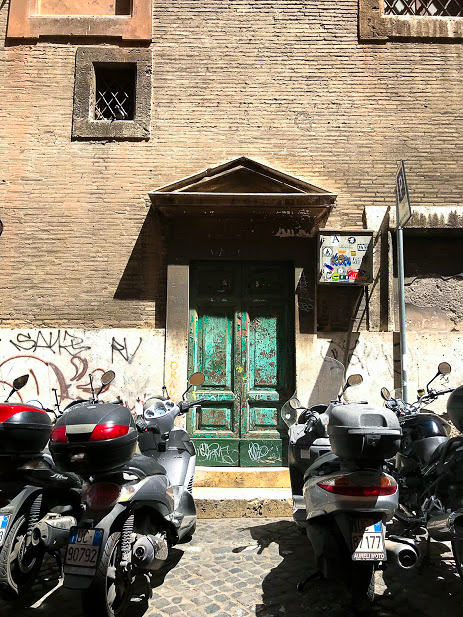 Pantheon and Piazza Navona with Kids
No Rome itinerary would be complete without the Pantheon and Piazza Navona. Despite often being crowded, they're still some of the best things to do in Rome in 3 days for their awe-inspiring structures and history. While you're in this area, be sure to stop into the church San Luigi dei Francesi, which has a set of 3 moving Caravaggios of St. Matthew. It might not be top of mind when considering things to do in Rome with kids, but the nice thing is that it's not a full museum – it's just a few pieces of art! Perfect for a short visit when traveling to Rome with kids, or to trade off with a friend or partner.
If you need something kid-friendly and air conditioned, the little Gladiator Museum in Piazza Navona is worth a short stop. Our kids loved looking at all the armor! It won't take you long, but it's fun for little ones if you need to stop and cool down. Don't forget to grab some gelato at Gelateria del Teatro.
Lunch In or Near Campo de' Fiori  Market
From there, head over to Campo de' Fiori market, which is bustling and fun. Grab some lunch and eat it picnic-style as you sit or wander. Fresh fruit will make a perfect treat. If you want a bigger meal, try Roscioli just down the way, which has fantastic handmade pasta.
Borghese Gallery with Kids
After lunch, head over to the Borghese Gallery. If you were smart, you got tickets well in advance. If you procrastinated (like we did), then you may want to rearrange your day to try to get there right at opening. There's a decent chance you'll get in if you visit early in the day (we did). We arrived first thing in the morning and didn't have a problem purchasing tickets.
It gets very busy (and unlikely to get tickets) later in the day, especially during busy season. The Borghese was one of our very favorite things to do in Rome in 3 days as well as one of the best museums with kids in all of Europe, so it's worth the effort when visiting Rome with kids.
Before heading in, stop at the gift shop to pick up the I Am the Artist book. It has about 15-20 works of art with just the right length description for preschoolers/early elementary kids. Plus, then they get to color in their version later! This is the museum from which my kids learned and remembered the most, and this book was a big reason why, and was largely responsible for why the museum topped our Rome itinerary. Plus, having a set number of pieces to find really helped focus our time and help us to not feel overwhelmed. It was one of our favorite things to do in Rome with kids!
Borghese Gardens with Kids + Gelato
Even if you don't get in, the gardens are delightful and are one of the best places to visit in Rome in 3 days. You can rent bikes, take a carriage ride, or just meander. In fact, if you don't want an art stop, I'd highly recommend spending the afternoon in the Borghese Gardens – there are several playgrounds and lots of room to run and play for little ones. There aren't many places better places in Rome with kids.
Walk over to the area near Como il Latte gelato, our very favorite gelato in Rome (and likely all of Italy). Grab something for dinner first, or just…have gelato. 😉 I mean, when in Rome…
Rome with Kids Itinerary: Day 3
Vatican Museums/St. Peter's
Trastavere
Vatican Museum with Kids
Head over to the Vatican bright and early. (Make sure you reserve tickets in advance.) While it's sure to be crowded and hot, it's still incredible and is a must see on the list of things to do in Rome in 3 days. Be sure to pace yourselves, though. Unless you are a museum superhero, you should be in there no more than 2-3 hours, or everyone will be grumpy and exhausted. It is, in my opinion, on the can't-miss list of things to do in Rome, but we definitely had to set some limits for ourselves so the Vatican with kids stayed a positive experience.
We enjoyed doing a tour when visiting the Vatican with kids, but it's doable without. Audioguides are accessible and informative, and everything is well-labeled if you just want to google along the way. Be prepared for sensory overload – there is just So. Much. (Incredible) Art.
Trastavere for Wandering and Dinner
Spend the rest of the day wandering around the darling neighborhood of Trastavere. Take in the atmosphere, eat, and, of course, get gelato. (Are you seeing a theme here?) You'll see lots of tiny and charming restaurants as you wander. Consider finding a pizza-making class that will be fun for all ages. I've heard it's one of the most fun things to do in Rome and we were sad to not be able to schedule one in!
There you go – three amazing days in Rome with kids. There are so many more amazing things to do in Rome in 3 days! But this 3-day Rome itinerary helped us manage our time and still be able to wander and enjoy the magic of the city.
How about you? What are your favorite things to do in Rome? Let us know in a comment below!
With only 3 days in Rome, I'd highly recommend spending some more time in Italy with kids and traveling to a different part of the country.
For a first visit, we love going North – the mountains are beautiful, or you could spend some time in the amazing city of Florence (check out all these Instagrammable places in Florence!). Or if you'd like to see some beautiful scenery and beaches, check out this guide to Cinque Terre. You can't really go wrong when traveling to Italy with kids (or kids-at-heart)!
IF YOU LIKED THESE RECOMMENDATIONS ABOUT THINGS TO DO IN ROME WITH KIDS, YOU MIGHT LIKE THESE POSTS, TOO:
Planning a trip to Rome with your kids? Pin this 3 day itinerary in Rome with kids to save for later.