Are you looking for some vegetarian camping food that's simple but also delicious? These vegetarian camping meals are foolproof favorites for the whole family. They're perfect for making out in the woods or even just in your own backyard!
This post may contain affiliate links, which means I may earn a small commission if you click my link but does not change your price. See my affiliate policy here.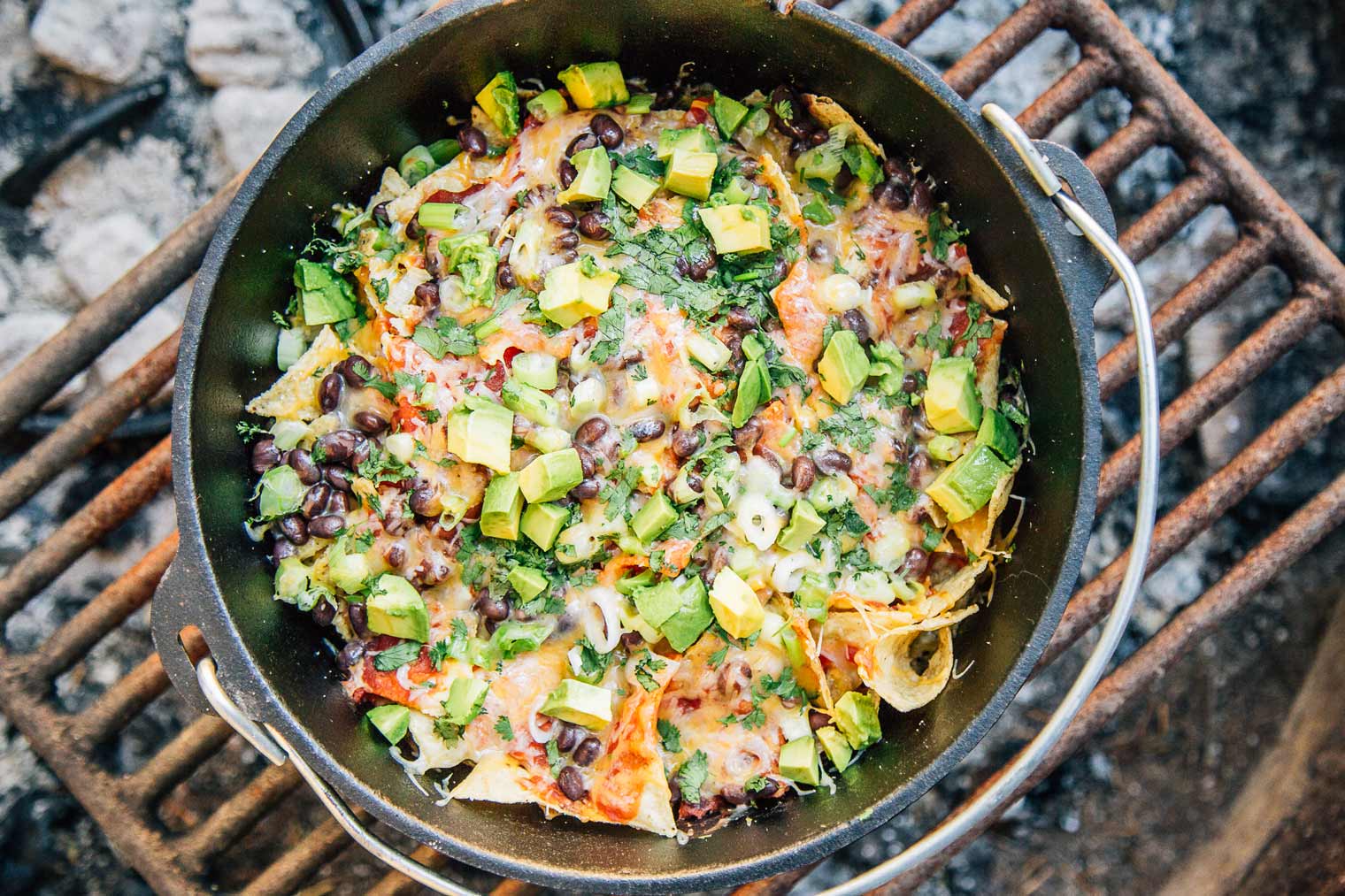 I've been a vegetarian my whole life. Back when I was growing up, some kids at school thought it was odd, but it's become much more commonplace now. Despite the fact that my parents were vegetarian and I'd grown up on a vegetarian diet, I never had any vegetarian camping food until I got married.
That's probably because I never went camping until I got married.
My husband grew up in a family of campers. He lived minutes from stunning mountains and canyons, and would regularly head up with little notice on weekends. I've always really enjoyed the outdoors, so I loved the idea of making camping part of our family culture once we had kids.
Delicious & Easy Vegetarian Camping Meals
Now, nearly 12 years later, we've been camping countless times, both with and without kids. We've also made countless vegetarian camping meals. Some have been delicious and others…were less so. Some of the vegetarian campfire meals were so good that I want to make them even when we're not camping. Now THAT is the sign of good vegetarian camping recipes.
It's also important to me that our camping meals are simple and fast. I have no interest in hanging around the campsite all afternoon getting food prepped when we could instead be out hiking and enjoying nature. I want something that is simple and quick to prepare after returning to the campsite, but still warm, hearty, and filling.
Read on for our very favorite simple vegetarian camping food, whether you're heading out into the middle of nowhere, or just doing some backyard camping with kids!
This post about our favorite vegetarian camping food contains affiliate links, but all opinions are 100% my own. That means I earn a small commission if you purchase through my link, but doesn't change your price.
Our Favorite Simple Vegetarian Camping Food
(From a Lifelong Vegetarian)
VEGETARIAN CAMPING FOOD: BREAKFAST
Vegetarian Breakfast Burritos
We make breakfast burritos at least once almost every time we go camping. They're perfect for any meal morning or night, they're simple to make, and they're easy for each person to customize. They make for ideal camping food for a group! Here's how we make them.
EQUIPMENT NEEDED: Nonstick pan, camping stove, spatula. You could also use a cast iron skillet or cast iron dutch oven to use over a campfire.
Scrambled eggs (We often scramble our eggs in advance, pour them in a heavy duty Ziploc, and freeze, then thaw before cooking)
Flour tortillas
15oz can of black beans
1 tomato, diced
1 can corn
Avocado, diced
1 jar salsa
Shredded cheddar cheese
Sour cream
Cilantro
Lay everything out and let everyone build their own breakfast burrito!
Vegetarian Egg & Cheese Biscuit
EQUIPMENT NEEDED: Nonstick pan, camping stove, spatula.
Biscuits (I love this simple biscuit recipe if you want to make them in advance, or you can just buy them)
Sliced cheddar cheese
Eggs
Fry eggs. Cut biscuits open like a sandwich and toast on the same pan. Assemble with egg & a slice of cheese.
VEGETARIAN CAMPING FOOD: LUNCH
We keep our lunches simple when camping. We almost always do basic sandwiches like peanut butter and jam. Occasionally, we may cook frozen veggie burgers back at the campsite. Either way, we try to keep the prep as minimal as possible for lunch.
VEGETARIAN CAMPING FOOD: DINNER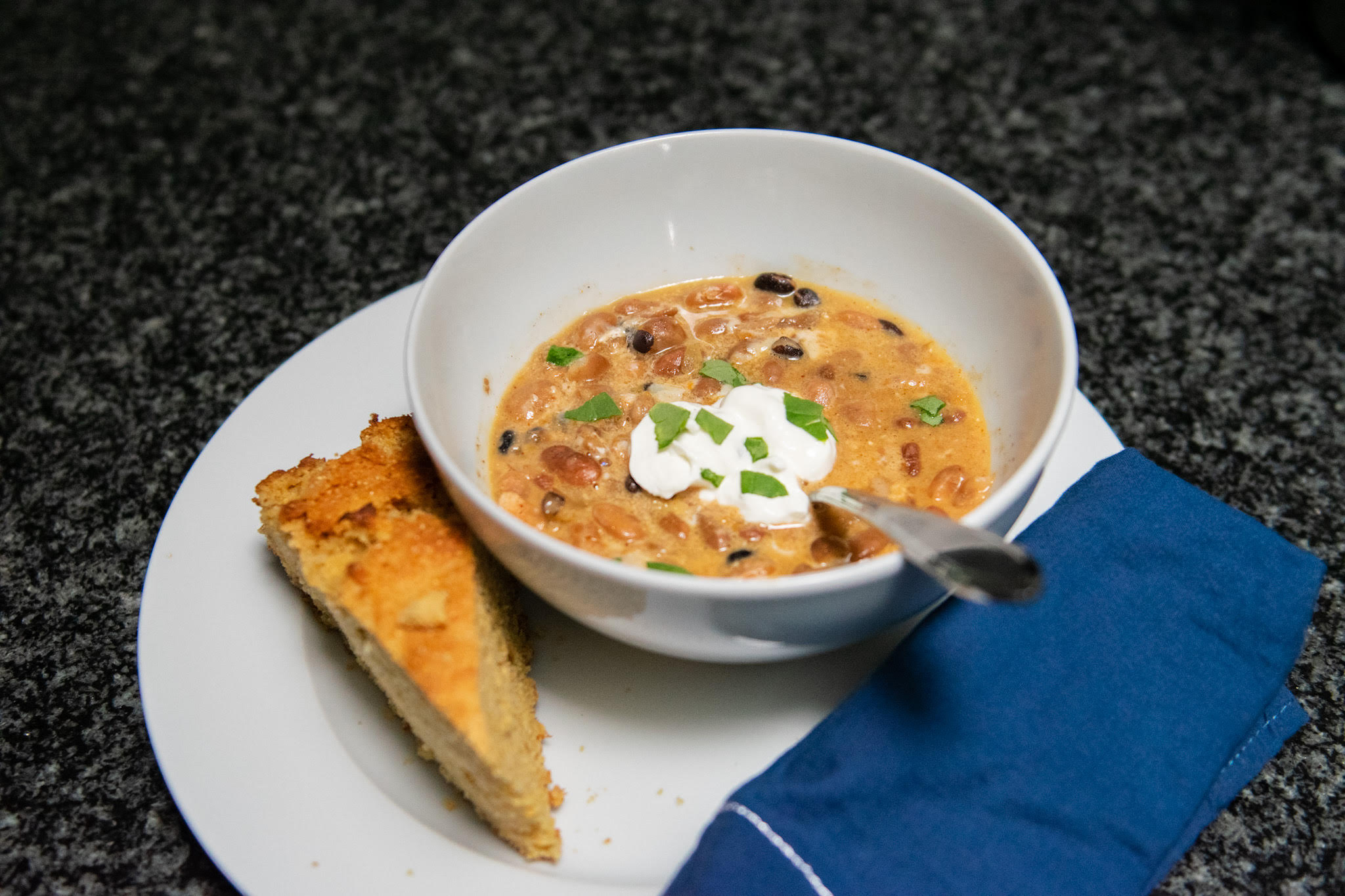 This is our favorite vegetarian chili recipe that's perfect at home or while camping. It's super easy to make in the Instant Pot ahead of time. If you prefer to make it at the campsite, I would pre-mix the spices and use canned beans to make it in a dutch oven over the campfire.
We love serving them over campfire baked potatoes! (Don't forget to use heavy duty foil!)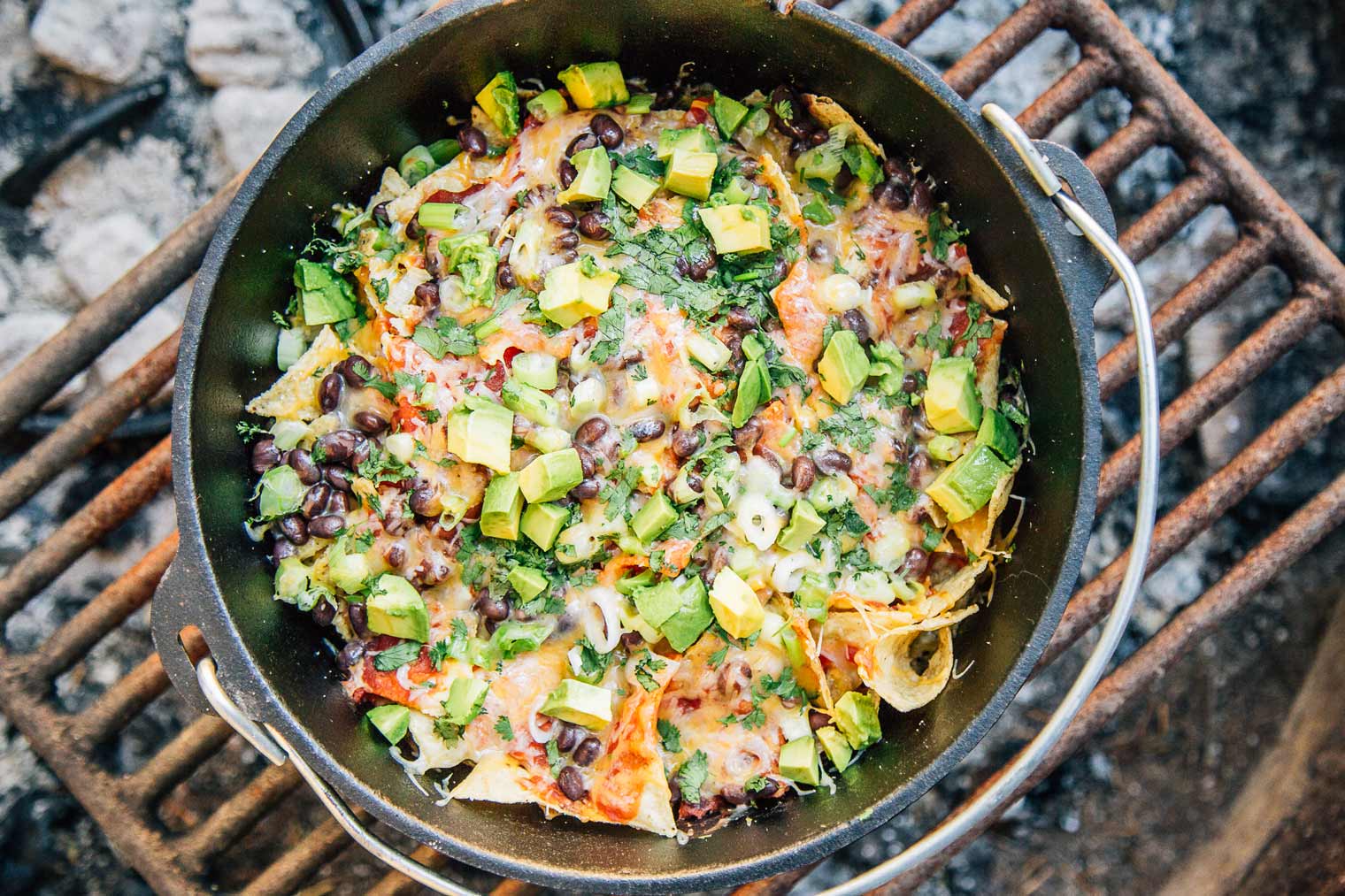 EQUIPMENT NEEDED: Cast iron dutch oven, large spoon for scooping.
We love making this cheesy, yummy dinner. A great one to let everyone choose their own toppings.
We love making this Instant Pot burrito filling in advance and filling tortillas. Then we wrap them in foil, and they're all set to set over a campfire grill. Perfect and so simple! Make sure you use heavy duty foil so it doesn't tear.
We love these as a perfect side for any vegetarian campfire meal! Make sure you use heavy duty foil so it doesn't tear.
IF YOU LIKED THESE VEGETARIAN CAMPING MEALS, YOU MIGHT LIKE THESE POSTS TOO:
DON'T NEED VEGETARIAN CAMPING MEALS QUITE YET? PIN THIS POST FOR LATER!