Are you looking forward to doing a National Parks road trip with kids but can't travel there quite yet? Come join us as we head out on some National Parks virtual tours!
This post may contain affiliate links, which means I may earn a small commission if you click my link but does not change your price. See my affiliate policy here.
Come along with us as we take a virtual trip to the United States National Parks and explore from home! Perhaps you're planning a trip to National Parks with kids in the future, or maybe you just want to learn more about the beauties of nature and conservation right from home. Either way, this is a guide to learn about history, culture, food, people, as we enjoy our homeschooling National Parks unit.
This guide is a great way to connect via heart and mind with those of diverse backgrounds from around the world. It's perfect for preparing for future family travel, to help with homeschooling, or just for fun. We can't wait to learn more about the beauty and diversity of America's National Parks with kids.
Our family likes to spend 1-2 weeks on each virtual field trip. We typically spread out these activities and pick a couple each day. I hope you enjoy learning with us as we explore these National Parks activities for kids!
This post about National Parks virtual tours contains affiliate links, but all opinions are 100% my own. That means I earn a small commission if you purchase through my link, but doesn't change your price.
The Best National Parks Virtual Tours with Kids
Fun Facts for National Parks Virtual Tours
The United States has 62 National Parks and over 400 National Park operated sites (including monuments, recreation areas, etc.)
The first National Park was Yellowstone, in 1872.
The National Parks were first managed by the U.S. Army, and later transferred to the Department of the Interior.
The official National Park Service was not created until 1916.
Death Valley National Park has some of the hottest temperatures ever recorded on earth.
Indiana Dunes National Park is the newest National Park.
See this list for fun facts about all of the US National Parks!
Best National Parks Books for Kids
We've read a LOT of books about National Parks. Here are some of our favorites about the National Park System, about a few individual parks, and our favorite few activity books.
National Park Virtual Field Trip Resources: Language Arts & Science Activities for Kids
Online Junior Ranger Books – exploring parks virtually or in person
Online Activity Guides – scavenger hunts, matching games, and lots of other fun activities
Parks Through Your Screen – virtual tours, videos, web cams
History & Importance of National Parks Assignment
Choose one park and read about its history, creation, weather, and important sites. Write about why you believe it is important to protect that site. Or read this kid-friendly history of the National Parks!
Design Your Own Park Assignment
What would your park look like, and what would be unique about it? What would the climate be like, and what sorts of animals would live there? Would you have any special rules or regulations? Would you permit vehicles within the park? Create your Park out of a variety of resources – draw, write, build with blocks (we love these and these) or magnetic tiles, create with old cardboard boxes or stuffed animals or anything else.
Conservation vs. Recreation Assignment
Read and discuss the National Park System Mission, Role & Purpose.
National Parks are intended to preserve and protect public lands for use by humans. But what is the appropriate level of human involvement? For instance, most National Parks do have roads going through them, as well as buildings such as visitors' centers and bathrooms.
Should buildings and roads be constructed on these lands? Or should National Parks be left completely wild? What is the right balance between conservation and recreation, and does that vary by Park? How would you make decisions about conservation?
National Parks Virtual Field Trip Activity Ideas
Find your favorite National Park on a map.
Do a backyard campout. Set up a tent, bring out pillows and blankets, and, most importantly, make s'mores!
Have a bird watching demonstration. Look up different varieties of birds near you online, then lay outside and look for them and sketch them.
Go on a nature scavenger hunt.
Memorize a basic Junior Ranger pledge.
Go on a bike ride.
Create a family history museum exhibit with photos. Write up a memory for each member of the family.
Play I Spy with flowers around your home or neighborhood.
Do some stargazing.
Learn how to tie a knot.
Discuss a family first aid kit and either assemble or purchase one.
Choose an activity from this list of Virtual National Park Week activities.
Or take a Virtual National Parks Day Trip!
Decide what are the best National Parks with kids for a future family trip!
(Printable National Parks activity map HERE)
Links to National Parks Virtual Tours
General National Parks Virtual Tours
All the Nat Geo Kids National Parks resources, including photos and facts about each park, videos, activities, and more
Google Arts & Culture Virtual National Parks Tours
Virtual tours of National Parks
Individual National Parks Virtual Tours
Channel Islands National Park Virtual Tour
Crater Lake National Park Virtual Tour
Grand Canyon National Park Virtual Tour with Sesame Street
Yellowstone National Park Virtual Tour
National Parks Virtual Tours Videos
Food: National Parks Camping Recipes for Kids
Food is a perfect way to "travel" to the National Parks without ever leaving home! Try making some simple backyard camping meals (or even order takeout and just eat outside!). Perfect practice for your next National Parks road trip!
Here are some ideas:
Be sure to review Leave No Trace Principles, including packing in and packing out your own materials (or properly disposing of them at the camp). And remember to talk about proper food storage for food[[ safety, as well as keeping food away from wildlife. You could even make a pretend bear box to practice putting away everything animals could get!
Art Activities: National Parks Art Activities with Kids
Rock Painting Activity for Kids
Materials
A few large, smooth rocks
Discuss the type of rock that may be found in your favorite National Park. Would it be smooth or bumpy? Would it be found down low or up high? How old would it be and what colors would it have?
After discussing your rock's origin, paint a picture of your favorite natural scene on it to display outside.
National Parks Coloring Sheets
There are plenty of National Parks coloring sheets available. You can find a few here. And here are some of our favorite National Parks coloring books!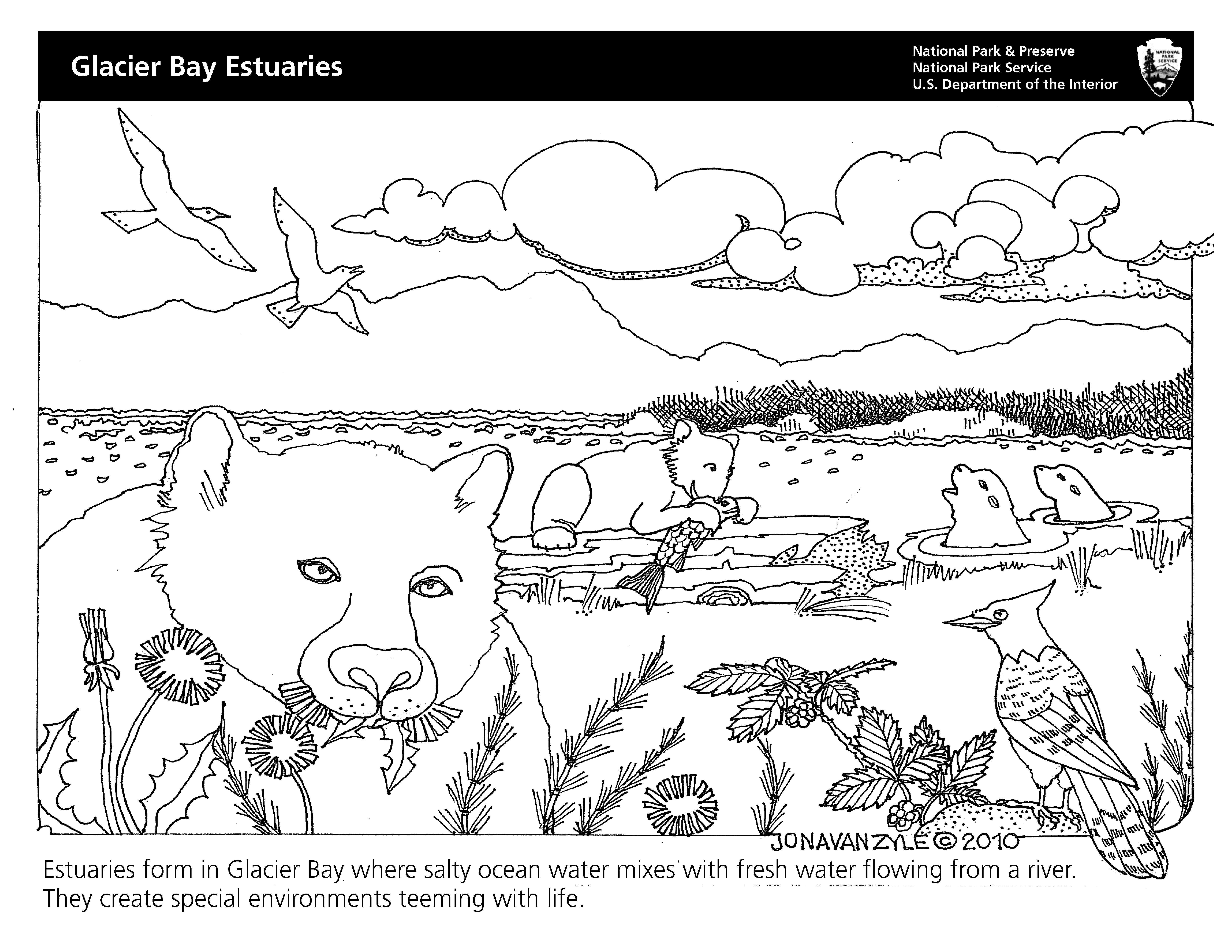 Animals in National Parks: Questions to Ask
Choose a park and investigate an animal that lives there. There are so many options with this!
What does your animal look like?
Can you play an imagination game and pretend to be that animal?
Can you make a costume to look like your animal?
What does your animal's scat look like?
What does your animal eat?
Does your animal take care of its young?
How old does your animal typically get?
What kind of weather does your animal like?
Does your animal live in a group?
Music in National Parks
Go outside and see what noises you hear. Do you hear birds? Wind rustling leaves? Water? Other animals?
Do you think you would hear any of those same noises in National Parks?
Can you move your body to those sounds?
Sports, Games, Movement, and Safety Skills in National Parks
National Parks offer lots of opportunity for sports, games, and movement! Here are some of our favorites that you can simulate at home.
Virtual Hiking + Hiking Safety for Kids
Hiking is, of course, one of the most common activities. If possible, try to find a nearby hike or walk to enjoy nature. If you're not able to get out on a hike, try walking around your neighborhood. Or you could try jogging in place or on a treadmill while doing a virtual hike (here's a beautiful Bryce Canyon National Park virtual hike!)
Don't forget to discuss proper hiking safety, such as emergency supplies to carry on a hike, and always hiking with a buddy.
Water Activities + Water Safety
Another option could be to do some water activities to simulate playing in a creek. Set up a hose or sprinkler (here's a great and inexpensive one) or slip n slide, or just play with some buckets of water and rocks. When we did our backyard camping, we pulled up some National Parks trivia, and our kids got to get sprayed every time they got one correct. They loved it!!
This would also be a great time to review water safety. Remember to always be around water with other people, and ALWAYS wear a life jacket when in a boat or near open water! You could also review swimming pool safety, such as strokes, kicks, having a grown up around, what to do in an emergency, etc.
Knot Tying for Kids
We love this knot tying book for kids. It's straightforward with clear pictures and explanations. It's the perfect opportunity to build some of those skills!
Pocketknife tips/Knife Safety for Kids
Speaking of skills, this would be a great time to learn some basic knife skills for camp cooking, or even to learn a bit of whittling or proper pocketknife usage. (This is a terrific book with whittling projects for kids.) You could discuss things such as:
Always closing your pocketknife when not in use
Cutting away from your body
Curling your fingers away from the blade
How to chop vegetables
Using a peeler
There are so many other knife safety tips to discuss. You could even use a pocketknife as a prize for older children at the end of your national parks virtual visit. My oldest LOVES his and it's so exciting for kids to use!
Backyard Camping + Camp Games + Fire Safety for Kids
Backyard camping is a must when learning about National Parks. Even if you end up sleeping in your own beds, take some blankets and pillows outside and play some games or watch a movie (here's our favorite projector, or you could just watch on a laptop).
You could always just sit out and play some card games, just like you would at the campsite! Here are a few of our favorite card games for kids.
Finally, if you have a small fire pit, you could roast marshmallows to make s'mores for your backyard campout! (Or you could roast them over a gas stove, or even in the oven.) It's a great opportunity to learn how to build a fire, as well as fire safety procedures!
National Parks Around the World
A National Park learning week can also be a wonderful time to branch out of just United States National Parks. There are so many wonderful ones around the world! You could explore Waterton Lakes in Canada (a joint International Peace Park with Glacier National Park), Fjordland National Park in New Zealand, Plitvice Lakes National Park in Croatia, or anywhere in between. There are tons of options!
Thanks for Taking a Virtual Visit to America's National Parks With Us!
We've loved putting together this resource to virtually visit the US National Parks. We'd love to hear if you do any of these activities for National Parks virtual tours, or if you visit in person!
We hope to inspire curiosity and connection through exploring and learning, and we hope this guide helps you and your families. Please share any activities you do with us over on our Instagram. And we'd be delighted if you passed this National Parks virtual tour and homeschooling resource along to others, as well!
IF YOU LIKED THIS POST ABOUT NATIONAL PARKS VIRTUAL TOURS WITH KIDS, YOU MIGHT LIKE THESE POSTS TOO:
NOT READY TO TAKE A VIRTUAL NATIONAL PARKS ROAD TRIP QUITE YET? PIN THIS POST FOR LATER!