If you're looking for some new family dinner ideas, these 20 hearty vegetarian soup recipes are simple and delicious!
This post may contain affiliate links, which means I may earn a small commission if you click my link but does not change your price. See my affiliate policy here.
I love a good vegetarian soup recipe – they're some of my favorite things to make and to eat. Soups are simple, filling, and delicious. It's easy to make large batches and it generally reheats like a dream. Not to mention it's easy to make a full meal with hearty vegetarian soup recipes by pairing them with bread and salad! We love making hearty vegetarian soups not just when it's cold, but year round with a salad on the side.
There are a lot of vegetarian soup recipes out there, though, that use unusual and obscure ingredients or take a long time to make. I generally don't keep specialty cooking ingredients on hand, so I like vegetarian recipes that use everyday kitchen staples (especially when it's 5pm and I've forgotten to meal plan). Plus, when cooking with a bunch of little kids, I want to make simple but delicious meals that my whole family will love.
All of these meatless soup recipes are filling and satisfying, while still being simple to make and delicious to eat. They're perfect vegetarian family dinner recipes or for feeding a crowd. Our whole family loves them, and I hope you do, too!
These hearty vegetarian soups contain affiliate links, but all opinions are 100% my own. That means I earn a small commission if you purchase through my link, but doesn't change your price.
20 Easy & Hearty Vegetarian Soup Recipes for Family Dinners
Smitten Kitchen is often my go-to when searching for a recipe, and her broccoli-cheddar soup doesn't disappoint. I love that it uses a large quantity of broccoli. A fantastic vegetarian soup recipe.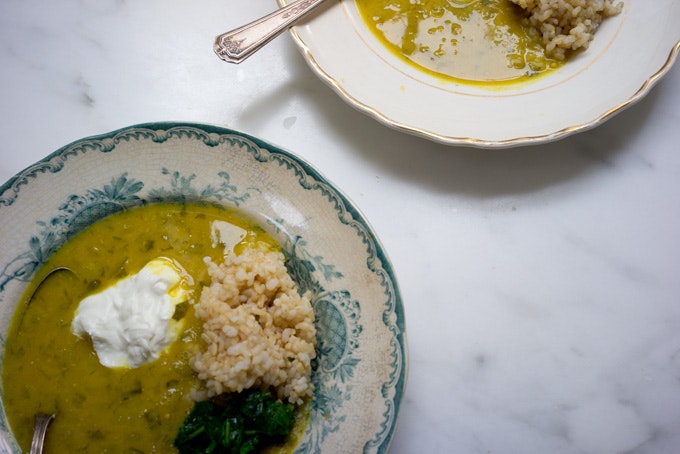 This soup is one of those terrific and filling vegetarian meals that isn't overly heavy. It's perfect with some rice or quinoa mixed in, or just some crusty bread and salad on the side.
I've made this tomato soup recipe for at least a dozen different gatherings over the years. I've never had a single time where at least one person hasn't asked for the recipe. It's delicious, simple, and perfect with grilled cheese. It's easy to make in either the Instant Pot or a slow cooker (here's our favorite slow cooker). It's for sure one of our favorite easy vegetarian soup recipes!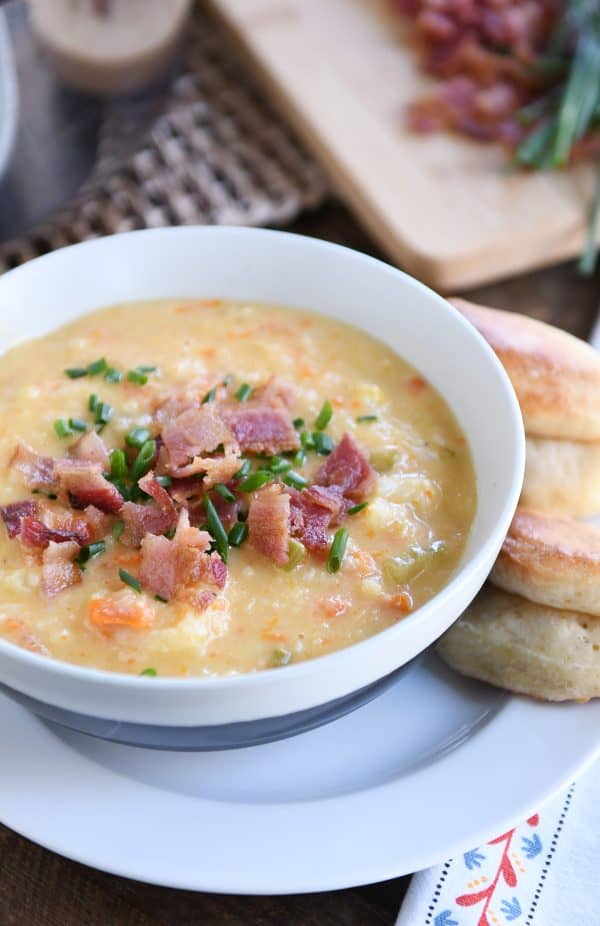 This soup is chock full of vegetables, so even with being cheesy, feels fairly healthful. The cauliflower bulks it up, too. I leave off the bacon when serving to turn it into a fantastic vegetarian soup recipe.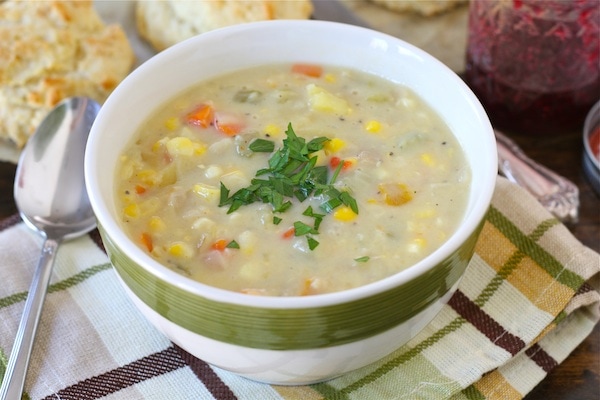 This is another one of those vegetarian soup recipes that I've made about a gazillion times. It's just so good. I always add some extra potatoes, and double it in a big dutch oven.
This is another long-standing household favorite. The flavors are rich and umami-filled. I do the steps a bit differently (I typically use brown rice, and cook it in the same pot as the mushrooms after they've cooked down), so this is one I'll have to write up to share my variation!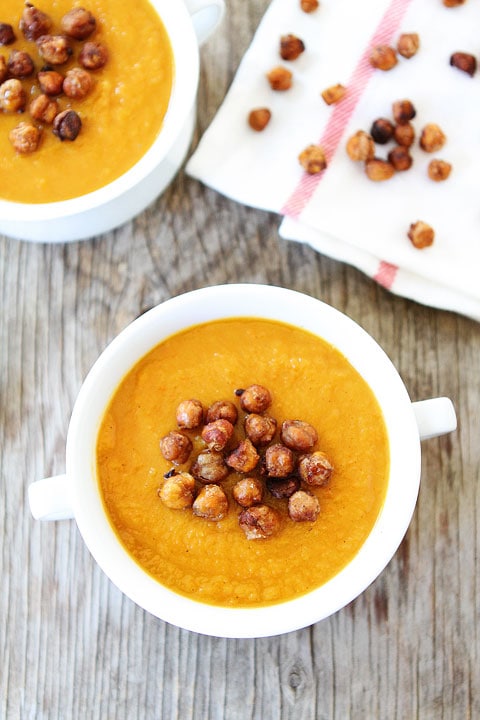 Who doesn't love a creamy butternut squash soup recipe, especially one that can be made in the slow cooker?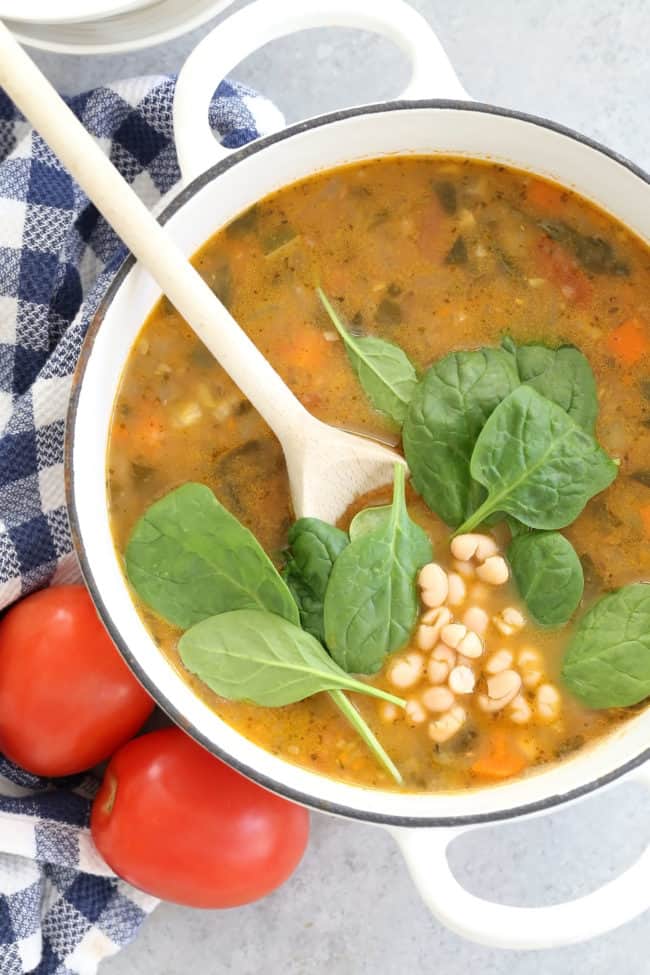 This is a newer vegetarian soup recipe for our family and we loved it. I made it with dry navy beans (cooked in the Instant Pot) instead of canned.
Another classic that's always a winner. Don't skimp on the toppings with this one.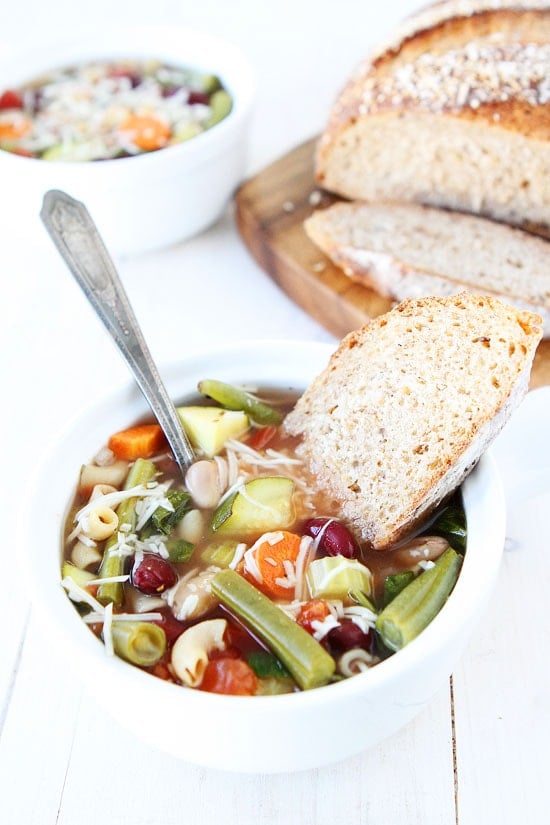 I love that minestrone is so customizable, so it's easy to switch out the veggies with whatever you have on hand. Delicious and simple.
I love the flavors of lemon and orzo together, and here's it's combined in soup form. And chickpeas are always a welcome addition for some bulk and protein.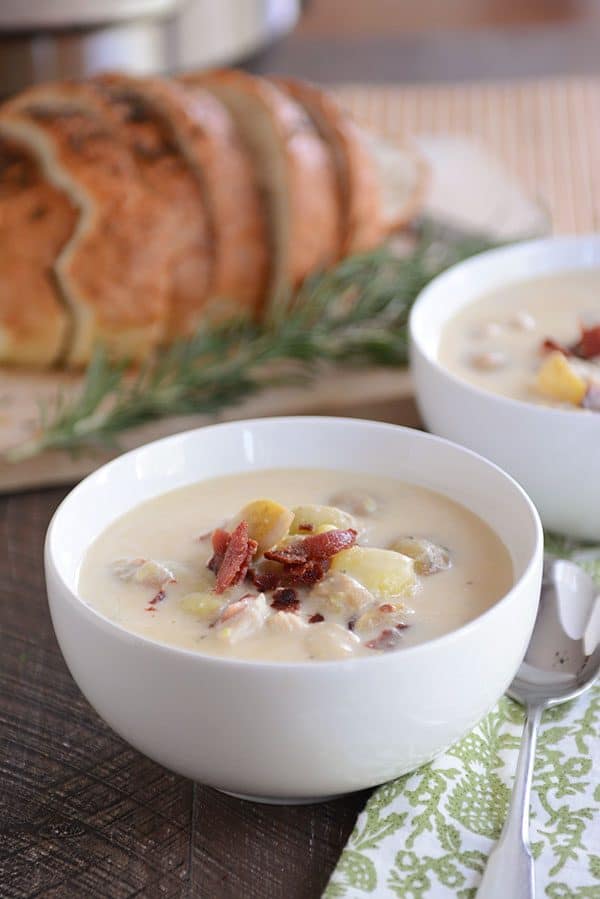 This is a great, basic and easy vegetarian potato soup recipe. I like that it's simple so I can make additions or sides based on what I have available. It's a great "starter" recipe. I leave out the bacon and chicken, and use vegetable broth.
As Mary Berry would say, this soup just looks so inviting. All those colors and flavors pack a punch, and it's as perfect for a winter evening as it is after a day at the beach.
CHIPOTLE & BUTTERNUT SQUASH VEGETARIAN CHILI RECIPE
What chili lacks in appearance, it makes up in taste. This vegetarian chili is delicious and cooks all day the slow cooker since it uses dried beans. No need to remember to start it midday!
I'm a pho lover through and through – all those bright flavors are so delightful. This is a great vegetarian soup recipe that is still hearty and satisfying.
I've been making this recipe from a cookbook for years. It's amazing how much flavor with a touch of sweetness you can get out of simple carrots, and the potato is great for adding a bit of creaminess.
Chilled soups are such a nice vegetarian summer meal. It's a great way to change things up, and they're perfect with a dinner salad!
This is another meatless soup recipe that has quite a few ingredients, but feel free to adapt to what you have or leave things out if needed. The flavors are sure to still be delicious!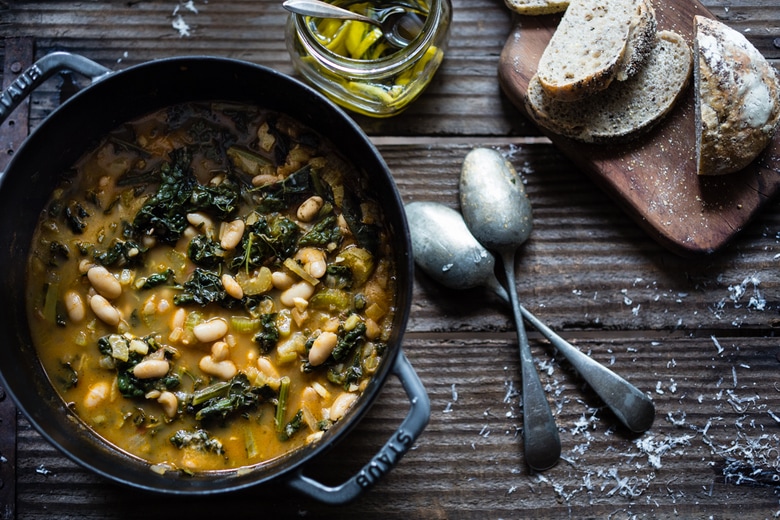 Another Tuscan soup recipe! This one, however, has a less tomato-y profile but is an equally delicious vegetarian soup recipe.
Pumpkin curry soup is a Thanksgiving favorite for us, but since this recipe uses canned pumpkin, it's easy to make year round.
IF YOU LIKED A VEGETARIAN SOUP RECIPE, YOU MIGHT LIKE THESE POSTS TOO:
NOT READY TO MAKE THESE HEARTY VEGETARIAN SOUP RECIPES QUITE YET? PIN THIS POST FOR LATER!