Welcome to CHINA for the Global Children's Book Club! Today we'll be going on a virtual tour of China for kids. Get ready for a fun and inspiring China virtual field trip – perfect for global education at home or for a China homeschooling unit.
You can find the full list of countries for the book club right HERE. Be sure to sign up for the email list to get all the information in advance and to receive fun extras!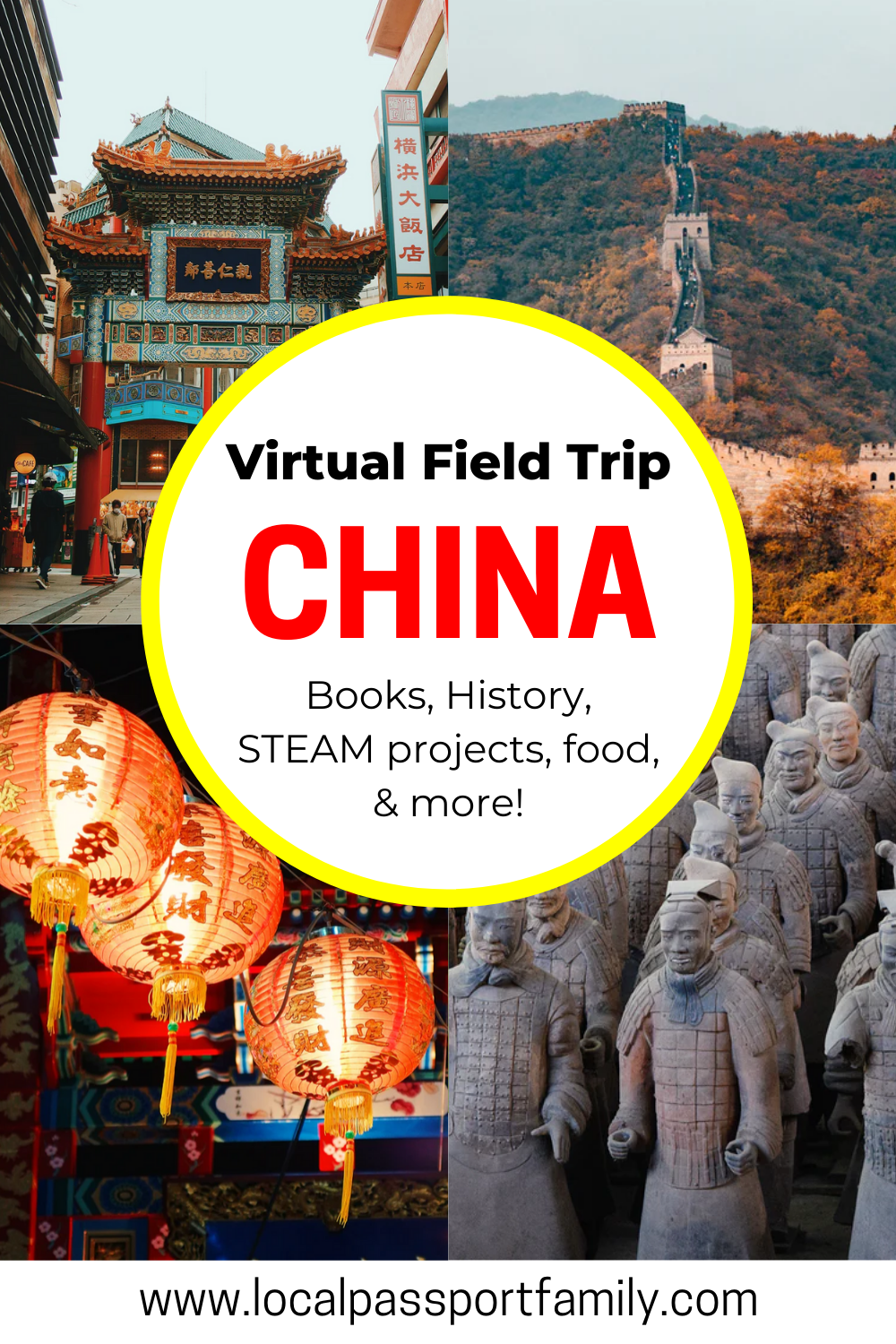 This China virtual tour contains affiliate links, but all opinions are 100% my own. That means I earn a small commission if you purchase through my link, but doesn't change your price.
Virtual Tour of China for Kids
Featured China Book
This post may contain affiliate links, which means I may earn a small commission if you click my link but does not change your price. See my affiliate policy here.

Where the Mountain Meets the Moon by Grace Lin
Where the Mountain Meets the Moon Discussion Questions
Other China Books for Kids
China Facts
Basic Facts
The capital of China is Beijing.

The official name is the People's Republic of China (PRC), or 中華人民共和國 in traditional Chinese.

Xi Jinping is the current President of China.

China is located in Asia.

China borders 14 countries – the most of any country (tied with Russia).

Mandarin is the official dialect of China, but there are many other dialects. Some major ones are Yue (Cantonese) and Xiang (Hunanese).

"The renminbi is the official currency of China, and one of the world's major reserve currencies. The yuan is the basic unit of the renminbi, but is also used to refer to the Chinese currency generally, especially in international contexts where the "Chinese yuan" is widely used to refer to the renminbi." (Source)

The climate in China varies greatly from region to region since the country is so big. Some areas are very hot and dry with cold winters, while others get lots of rain. It has the biggest range of temperatures of any country on earth, with parts in the tropics and parts very cold (it has the biggest ice festival in the world!).

China officially recognizes 5 religions: Buddhism, Catholicism, Daoism, Islam, and Protestantism. People are not allowed to practice other religions (although some traditional Chinese beliefs are allowed).

China's main industries are mining, metals, machinery, and consumer products.
Interesting Facts
China had a long series of dynasties, or periods of time when emperors ruled. It ended with the Qing (1644-1912), which was replaced with the Republic of China, and then with the People's Republic of China in 1949.
China is a communist state.
China has one of the earliest cradles of civilization (one of places where earliest humans were – three spots are thought to be Ancient China, Ancient India, and Ancient Egypt/Mesopotamia).
The Yangtze and Yellow Rivers are the most important of the thousands in China.
One third of China is made up of mountains! Mt. Everest, the tallest mountain in the world, is on the border of China and Nepal. China has the greatest altitude difference on earth!
China has more people than any other country on earth (nearly 1.4 billion).
Calligraphy was invented in China, as was paper!
The Gobi is the 3rd largest desert in the world.
More than 96% can read and write.
Although China is very big (it's the 4th largest country in the world), it only has 1 time zone.
The Hongkong to Zhuhai-Macao bridge is the world's longest sea-crossing bridge (and tunnel system).
Color in China on this map of Asia!
China with Kids: Flag Activity
Flag from HERE
HERE is a fun printable China flag coloring sheet!
China Virtual Tour to a Featured Landmark
Great Wall of China
The Great Wall of China is actually a group of walls built to protect the northern border of China from separate nomadic groups. The original builders started some in the 7th century BC! Then the first Chinese emperor began to join some together. The ones built during the Ming dynasty, from 1368-1644, are the most famous. In total, the wall measures over 13,000 miles, and is considered one of the most important architectural accomplishments in history. (Source)
Emperor Qinshihuang's Mausoleum Site Museum & Terracotta Army
Emperor Qin Shi Huang was the first emperor of China. In 1974, some local farmers found a number of terracotta sculptures depicting his army. Estimates say the sculptures were created in the 3rd century BCE. There were a number of military and non-military figures who were supposed to protect the emperor in his afterlife.
Featured Chinese Artist: Fan Kuan
Fan Kuan was a Chinese landscape painter. He was part of the Song dynasty and lived from about 960-1030.
Travellers among Mountains and Streams is one of his most famous works, and is done in ink on silk. It is painted on a large scroll. In classic Chinese painting, there were three planes, which Fan also used in this painting. (Near, middle, and far.) Unlike older paintings, though, this one only focuses on the nature instead of only using it as background.
Featured Important Chinese Person: Confucius
Confucius was a Chinese philosopher and politician. People who follow his teachings practice Confucianism, or a tradition or philosophy. He is considered one of the most influential people in history. He advocated for morality and justice. Confucianists believe that people are good at heart and have the capacity to improve. Confucius believed in cultivating virtue, and showing respect and kindness to others.
Featured Chinese Food: Chinese Recipes for Kids
Here are a few staples of Chinese food, most of which are eaten every day:
Rice
Chinese Noodles
Leafy greens
Tofu, eggs, meat
Simple and kid-friendly vegetarian fried rice recipe
Or here's a simple mooncake recipe with kids!
Chinese Craft & Culture Activities for Kids
There are many different forms of Chinese art, including clay sculpture, bronze work, porcelain pottery, and more. We'll be focusing on Chinese brush painting, which is influential in both painting and in calligraphy.
Materials
Follow the instructions here to create your own bamboo Chinese brush painting!


Chinese Zodiac Character Activity
You could also draw your Chinese zodiac character. Here's a great Chinese picture book for kids that shows the animals for the different years!
Chinese Art Books
Other China Kids Activities: China STEAM Activities for Kids
Animals in China
The Giant Panda only lives in a few mountain ranges in south central China. You can learn more about Giant Pandas in China with this National Geographic Kids Primary Resource!
Chinese Movement Activities
Learn How to Hold Chinese Chopsticks
Chinese Traditional Dance
Chinese Music for Kids: Learning the Pentatonic Scale
Traditional Chinese music uses a pentatonic scale (5 notes instead of 7 in a Western scale)
Chinese Music Activity:
Play the black notes on a piano or keyboard to hear a pentatonic scale
Listen to traditional Chinese music while you read or do a craft
Sounds of the Silk Road with sounds of different traditional Chinese instruments. You can learn about the instruments and also create your own music!
Languages in China
About 70% of China's mainland population speaks Mandarin as its first language. Cantonese, Tibetan, and Mongolian are major languages in certain parts of the country.
China Literature & China Folktales: China Writing Prompts for Elementary & Middle School Children
Read the fables & proverbs HERE & figure out and discuss the lesson
Older children can write their own fable or proverb
Confucianism, Taoism, Buddhism –

How would you behave if you were a follower of each of the above teachings? (Prompts found HERE)
Kid Movies About China
China Conversations with a Local: Culture, History, & Food Discussion Video
China with Kids Discussion Questions
Thanks for Taking a Virtual Visit to China With Us!
We've loved putting together this resource to virtually visit China. We'd love to hear if you do any of these activities for a homeschooling China unit, or if you visit in person!
We hope to inspire curiosity and connection through exploring and learning, and we hope this guide helps you and your families. Please share any activities you do with us over on our Instagram. And we'd be delighted if you passed this China for kids virtual tour and homeschooling resource along to others, as well!
IF YOU LIKED THIS POST ABOUT CHINA FOR KIDS, YOU MIGHT LIKE THESE POSTS TOO:
NOT READY FOR A CHINA HOMESCHOOLING UNIT QUITE YET? PIN THIS POST FOR LATER!