This post may contain affiliate links, which means I may earn a small commission if you click my link but does not change your price. See my affiliate policy here.
We recently enjoyed a wonderful visit back to what still feels like our "home" state of Virginia. While we lived in Northern Virginia for 7 years, we didn't spend a ton of time in other parts of the state. It was so fun exploring some more of the outdoor activities in Virginia with kids!
Especially right now, we wanted to stay outside while exploring. Plus, the outdoors feel like an extension of our home while we're RVing, so we love taking advantage of our natural playgrounds. From Virginia hikes to Virginia RV parks to Virginia water play, There are so many amazing Virginia family vacations and outdoor things to do in Virginia. We hope outdoor adventures in Virginia help you plan your own Virginia vacation with kids!
Here are 21 amazing outdoor activities in Virginia with kids, including Northern Virginia activities and Southern Virginia activities.. We hope you love them as much as we have! (And don't forget to check out this amazing family road trip through the Virginia mountains!)
21 Outdoor Activities in Virginia with Kids
Check out an 80' waterfall in the heart of the Alleghany Highlands. The viewing area is only a few steps from the parking lot so you can get a great view, no hiking required. It's beautiful with mountains in the background!
What is DC without Key Bridge Boathouse? There's something so magical about kayaking out from right under the Key Bridge in Georgetown – it's one of the most fun things to do in Northern Virginia. We love exploring the little islands and see the city from the water. Plus, the water is typically calm, so there's no navigating rapids or anything complex – just paddle and enjoy. It's one of our favorite fun things to do in Virginia!
19) Fruit Picking in Virginia
Virginia is filled with orchards and other places to pick fresh, local fruit. Whether for peaches or apples or just going to the cute little outdoor markets for jam and pie, there are plenty of places to choose from. We love this one near Charlottesville for its rolling hills, beautiful views, filled market, and amazing produce, but can also be a great idea for activities in Northern Virginia.
Virginia has a number of Lovework statues – fun public art that celebrate all that Virginia represents. This one is our very favorite! The one at Humpback Bridge uses natural materials specific to the area and its history to create a giant L-O-V-E. Such a fun one to add to the list of family things to do in Virginia.
Plus, the historic bridge is a beautiful treasure to explore. It's the oldest covered bridge in Virginia that's still functioning, and hearkens back to times past. Plus, the river right near the bridge is pleasantly shallow near the shore, making it perfect for little ones (and their parents) to get their feet wet. It quickly became one of our favorite things to do in Virginia!
A Northern Virginia gem, this trail system is so fun and has plenty of options of varying difficulty. You'll be rewarded with terrific views and fun hiking as you head along part of the C&O canal. It's one of the best places to hike in Virginia! I love that it has both very easy and quite strenuous parts, so it's easy to satisfy any physical level. It's one of our favorite things to do in Virginia with kids!
It can be tricky to find trails that are suitable for younger kids and bike trailers, but the Jackson River Scenic Trail is it! With small gravel and a flat trail making for an easy ride even for new riders, it's quiet and serene and perfectly suited to families.
You'll find plenty of green in the summer and stunning foliage in the fall, so grab your helmets and get ready for a peaceful and easy ride the whole family will enjoy. And there's plenty of parking near there so it's great if you're wondering where to RV in Virginia!
As far as kids activities in Virginia, Gravelly Point is located adjacent to Reagan National Airport is definitely a Northern Virginia highlight. Be sure to bring some snacks and a blanket so you can spread out and watch the planes take off and land overhead. Don't forget earplugs if you're sensitive to noise – it gets LOUD! Still, definitely one of the best places in Virginia and also one of the best things to do in Northern Virginia.
This popular ski area is equally fun in the summer. Check out the hiking and mountain biking, and then come back in wintertime to enjoy the white stuff! It has tons of fun things to do outside in Virginia in all seasons.
Virginia's newest state park boasts a 215 foot high natural bridge. Once owned by Thomas Jefferson, the area now includes a beautiful hike past the bridge to a waterfall. Kids will love seeing all the rocky rapids, getting their feet wet at a few points, and crossing a small bridge to peer into an old cave. There are several great Virginia RV parks nearby, as well, if you're planning to camp and organizing family vacations in Virginia.
This beautiful area is a refuge for a large variety of migratory birds. Check out the wildlife, go hiking or biking, or you can even bring your own boat or kayak to paddle. We love this inflatable boat – it's lightweight, easy to carry, and easy to set up, and fits our entire family!
11) Playing at the beach at Lake Moomaw
The beach at Lake Moomaw is small and clean with ropes marking off the swimming area, making it perfect for families with younger children. It's the perfect place to relax, build a sand castle, and splash in the water! The Morris Hill Campground is operated by the US Forest Service, is minutes away, and beautiful. It's a perfect place if you want to RV in Virginia and is one of our favorite kid friendly vacations in Virginia.
Super popular amongst cyclists, the Creeper Trail is perfect to do as much or as little as you want when experiencing the outdoors in Virginia with kids. The trail follows an old railway bed and you can rent bikes or bring your own.
Speaking of the Jackson River, you can also rent sea kayaks to head down some easy rapids with beautiful cliffs on the sides! Trips are generally 2 hours, but can be shortened to an hour for younger children.
Any rocky parts are shallow, making it easy for even beginners to reset if you happen to get stuck. And our kids loved the excitement of the gentle rapids!
Super popular amongst the nearby Virginia Tech crowd, this hike can get crowded and with good reason. The short distance has a high reward, ending with a stunningly stepped 70' waterfall with a large pool at the bottom.
Brave souls can swim across or even jump in from the rocky edge. If observing is more your speed, there are plenty of beautiful perches to take in the scenery. Definitely one of my favorite Virginia hikes!
7) Climb in the Devil's Marbleyard
A 4.5 mile round trip hike will reward you with an amazing natural playground for kids (and adults!). You'll find a series of small caves and boulders that are perfect for climbing around. Scientists think the field formed more than 500 million years ago after a change in sea level, so it's a perfect place to find fossils, as well!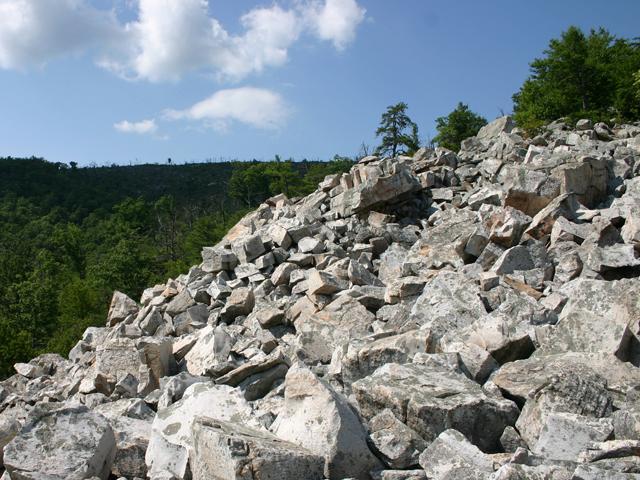 6) Go horseback riding on the beach
Virginia Beach is a perfect place to do it all, and horseback riding is no exception. You can choose to ride your horse on the beach, or you can take other guided trails. It's a special way to get a new vantage point. Perfect for some family fun in Virginia.
What do you get when you combine treetop adventures and zip lines with river floats? ExplorePark in Roanoke, is what. It's a place of safe adventure of all sorts that's perfectly suited to families. Our kids LOVED the different levels of the ropes course, ranging from a small one for kids 4+, to bigger ones that will be exciting even for adults.
After doing the ropes courses, we headed down for some gentle river floating. It was exciting and relaxing all at once and is one of our favorite things to do in Virginia for families.
My sister and brother-in-law (who have done a lot of Virginia hikes) did this hike just a couple weeks before us, and couldn't stop talking about how amazing it was. Since we were going to be in the area, we decided we needed to make it work. It was definitely one of the longer hikes we've done as a family – with 5 kids ranging in age from 9 to 7 months, we tend to do a lot of hikes in the 2-3 miles range.
Still, this one seemed amazing enough that it would be worth the 6.6 miles and 1200+ feet of elevation gain. We'd been hiking pretty regularly, so we felt confident our kids would be able to complete one of the best outdoor activities in Virginia.
And it was worth it, and they did complete it just fine! (Just our 5 year old had a bit of trouble the last mile or so, largely due to an angry blister on his ankle from his shoes.)
The hike itself is nice but nothing spectacular. The first part actually goes through private property and has a gravel road, so not the most nature-intensive. After that, it goes through some pretty forested area, which was nice but not particularly noteworthy.
The end, however, makes the rest worth it. The Channels are a series of giant boulders coming together to create tunnels and slot canyon-like spaces. It's half maze, half giant natural playground. So fun for adults and kids to explore one of Virginia's outdoor treasures!
The hike took us about 2 hours to ascend, we ate lunch and played at the top for about 1.5 hours, and took another 1.5 hours to come back down. Totally worth it!
It's tough to visit Virginia with kids and not head to the historic and beautiful Colonial Williamsburg. Plus, there are tons of outdoor exhibits and museums that will be interesting for families of all ages and sizes. A Virginia must-visit!
While boat and bike tours are fun, the main attraction at Assateague Island is the wild ponies! After a shipwreck in the 1600s, the horses have adapted to the environment and climate there. It's so exciting to stay right there with them and definitely should be added to the list of fantastic Virginia vacations for families and is great if you're looking for some outdoor fun in Virginia.
Virginia's Blue Ridge Mountains are just stunning, and there's no better view of them than from Skyline Drive in Shenandoah National Park. While there, if you're looking for a great, kid-friendly hike in Shenandoah National Park, Dark Hollow Falls is a great one. It's only 1.5 miles long with under 600 ft of elevation gain, but has plenty of beautiful scenery, including a beautiful waterfall. And if you want lots more suggestions, here are 10 amazing things to do in Shenandoah National Park with kids!
There you have it – some amazing outdoor activities in Virginia. There are so many unique, fun, exciting places to explore outside in Virginia. We'd love to hear if you've been to any of these or if you have more you'd add to the list!
IF YOU LIKED THIS POST ABOUT OUTDOOR ACTIVITIES IN VIRGINIA, YOU MIGHT LIKE THESE POSTS TOO:
NOT READY FOR A VIRGINIA FAMILY VACATION QUITE YET? PIN THIS POST FOR LATER!