This post may contain affiliate links, which means I may earn a small commission if you click my link but does not change your price. See my affiliate policy here.
Before we started on our RV with kids adventure, I had zero clue what RV dry camping was, and had never even heard the term boondocking. I had no idea if we'd always have to stay at a campground, or if we could stay anywhere we want, or if we were allowed on city streets. It was all so foreign to me and I definitely needed some schooling in RV boondocking for beginners.
Turns out, there are a lot of different options for where to stay when RVing. Of course, official campgrounds are a great option, but they're not always the best options, so it's great to know a bit about dry camping, as well. If you're wondering, "What is boondocking?", here are all of our best tips for boondocking with kids!
What is Dry Camping Vs What is Boondocking?
If you're wondering, "what's boondocking," dry camping can also known as dispersed camping or boondocking. In turn, the dry camping meaning is fairly simple – it just means staying somewhere without any facilities or hookups. That means no water, sewage, bathrooms, electricity, etc. Dry camping can technically happen at an established campground without any services, whereas boondocking is exclusively at undeveloped campgrounds. The official term for boondocking on public lands is dispersed camping.
While it's certainly possible to boondock in a car, our family has only done RV dry camping. These generally apply as campervan tips for beginners, too. Below I'll share some dispersed camping tips to make sure you have a successful visit, but I hope that answers your question of what is dry camping in an RV!

Why Try RV Boondocking for Beginners?
You might be wondering, why would someone boondock? Here are our top reasons for boondocking with kids:
Cost
The primary reason for most people to consider RV dry camping is cost. While some campgrounds have minimal fees, especially if they don't have hookups, some can get quite pricey.
We stayed at one site near Big Bend National Park in Texas that had full hookups – electric, sewer, and water – for only $21/night. On the other hand, one site near Grand Teton National Park was over $100/night for an RV spot with full hookups! Even dry campsites in established campgrounds can still cost $15-30/night.
Similarly, we stayed in a fantastic dispersed campsite that was just minutes outside of Great Sand Dunes National Park! There was an RV campground 2 minutes away that would have cost our family of 7 $50/night, but instead, we stayed 2 minutes away for free – and the views were way better and more peaceful without a bunch of RVs surrounding us!
A boondocking RV spot, on the other hand, is totally free! If you're traveling for a week, that can save several hundred dollars. If you're traveling for a month, or even full-time, boondocking can save TONS of money!

Views/Environment
Cost isn't the only reason to consider RV boondocking. Established campgrounds might be sparse without much tree cover. That means you'll see – and hear! – any neighbors. You likely won't have a quiet and private experience.
While there's no guaranteeing you'll have a boondocking site all to yourself, it's often possible to find deserted places. You also might have a shaded, tree-covered area, or one near a river. The world is your oyster!
Proximity
Sometimes, a campground just isn't as close to your destination as you'd like. Or perhaps you're driving and you get tired and need to pull over, or decide you just want to stop for the day. There may not be any campgrounds nearby where you can stay. RV boondocking or beginners can be a great option if there are some free spots near where you are or where you're going.
Availability
Finally, campgrounds do fill up. Maybe you still really want to visit a certain place at a certain time, but all the campgrounds are booked solid. And especially when you're a first time RVer, you may not be sure of everything you need to book and how far in advance. You don't have to give up! Instead, consider RV boondocking for beginners even if you haven't planned an "official" spot in advance.
While we were able to get a site at a beautiful campground in Rocky Mountain National Park for one night, we couldn't get anything for subsequent nights. Since we were willing to boondock, we were able to spend several more days in the amazing park!

Disadvantages of RV Dispersed Camping
The biggest disadvantages of boondocking are that you won't have any services. No water to fill up, no dump station, no bathrooms, no electrical, no garbage cans, no rangers. You won't have a picnic table or fire pit or a grill. It's truly off-grid camping.
Still, so long as you're prepared with the essentials, you should be perfectly fine. Here's how we manage all our backup power sources in an RV.

Where To Boondock: Best Spots for RV Boondocking for Beginners
There are a number of options for dry camping. Here are some popular ones.
Parking Lots
Not all boondocking has to be out in the, well, boondocks. There are a number of stores that generally have a policy of allowing overnight camping. Here are a few general rules of thumb if you plan to stay in a store parking lot:
Ask the manager. It's always respectful to ask before staying just to confirm it's okay.
Watch for signage. Some signs may state city ordinances that forbid overnight camping. Some may state certain areas where you can't park. Be aware and be respectful.
Park to the side/back. Don't take up a bunch of room in parking spots right near the store entrance. On that note, look around for whether there's an area where trucks or other RVs have parked, and go near there if possible.
Only stay one night. This isn't like a campground where you can stay for an extended time.
Don't run the generator. Try to keep any noise to a minimum.
Pack out what you pack in. Clean up after yourself.
Don't treat it like a campground. Don't set out your welcome mat and canopy and get out your grill. If you're boondocking in an RV, stay inside your rig, do your cooking and eating in there, and generally try to be inconspicuous until you leave.
Do NOT dump black or gray water or leave your trash. Related to an earlier point, but bears repeating. Be as unnoticeable as you possibly can.
Which stores allow overnight parking
Here are some stores that typically allow overnight parking in their lots. Walmart, for instance, typically does allow boondocking (starting with Sam Walton himself!). This is convenient because there are tons of Walmart locations, and it's easy to pick up supplies while you're there, either in store or with curbside pickup first thing the next morning.
Be aware, however, that not all locations allow this. A number of locations used to allow it but have now stopped. This is largely due to a combination of disrespectful RVers and city ordinances. Always double check with the store manager that you can stay on their property. And if you are allowed to stay, make sure to stay inconspicuous so that boondocking there remains a possibility!
Again, always check beforehand to ensure it's somewhere you can stay. Here's an app that shows which Walmart parking lots allow overnight camping!
Walmart
Cabela's
IHOP
Sam's Club
Costco
Home Depot
Camping World (some of these even have free electrical hookups, and may have free water/sewage dump)
Cracker Barrel
Truck stops and rest areas (some of these have dedicated spots for a fee, and some are just free)
This site has a few other options for where to park when boondocking!
City Streets
So long as there isn't signage forbidding overnight or extended parking, it's generally fine to park on a city street. Most cities have rules that state you may not park for longer than a certain amount of time (often 72 hours), so it's best to keep this to a night or two if possible, especially if you're not moving spots.
US Forest Service or BLM Land
Did you know you're allowed to camp anywhere on US Forest Service or Bureau of Land Management (BLM) land as long as it's not marked otherwise? That means there are tons of dry camping opportunities in these public lands. The western United States has far more options for these spaces than other parts of the country, but it's a really wonderful option there.
This webpage has great info on dispersed camping in Forest Service sites.
Truck Stops and Rest Stops
Most truck stops and rest stops along freeways will allow overnight stays, but not all. Be sure to check with that particular spot – you can often Google for the city rules. Some of these will even have dump stations and water or electrical for your convenience!
Casinos
Did you know that some casinos will allow you to camp overnight? This is usually free and can be convenient. Again, be sure to check with the management before deciding to stay.
How To Find Off-Grid Camping Locations
There are a few different ways to find dry campsites. You could, of course, call any of the above stores to see if they'll allow you to stay overnight.
You can also look on a few apps, which tend to make RV boondocking for beginners much easier. We LOVE the Campendium app, which not only lists boondocking sites, but also has paid campsites, dump stations, and more. This public lands app is also hugely helpful to see where public lands are and where you can stay. This website also allows you to add map layers for BLM land, Forest Service land, and National Park service land with their paid version. You generally may NOT stay overnight in National Park areas that are not designated campgrounds.
How Long Can I Boondock
One of the most important questions with RV boondocking for beginners is how long can you boondock in an RV. This mostly depends on two factors – how long you're allowed to stay somewhere, and how long you can go without services.
Generally, parking lots will only allow you to stay in one place for one night. That said, you can move to a new place each night for as long as you would like! Forest Service areas allow you to stay for a maximum of 16 days in one spot before needing to move (and no more than those 16 within a 30 day period).
As for how long you can last, that depends on your rig and your family's usage. We have a 55 gallon water tank and 40 gallon black water (sewage) tank. Our family of 7 has gone up to 6 days before needing to dump, although we generally prefer to dump every 3-4 days if possible.
We use our our water for dishes, drinking, and (very quick) showers. The adults generally shower every day, and the kids shower most days (whenever they get dirty from playing outside – so most days!). We like to shower frequently to keep sheets clean since we can't wash them as often. With that, we can usually last 3-4 days before needing to fill water. It may be more or less for you depending on how many people you have and your habits.
So that's about how long we can go before needing to refresh, but we can, of course, continue to boondock indefinitely with stopping to do so. And the best RV for dry camping will really vary based on your family size, needs, and travel style!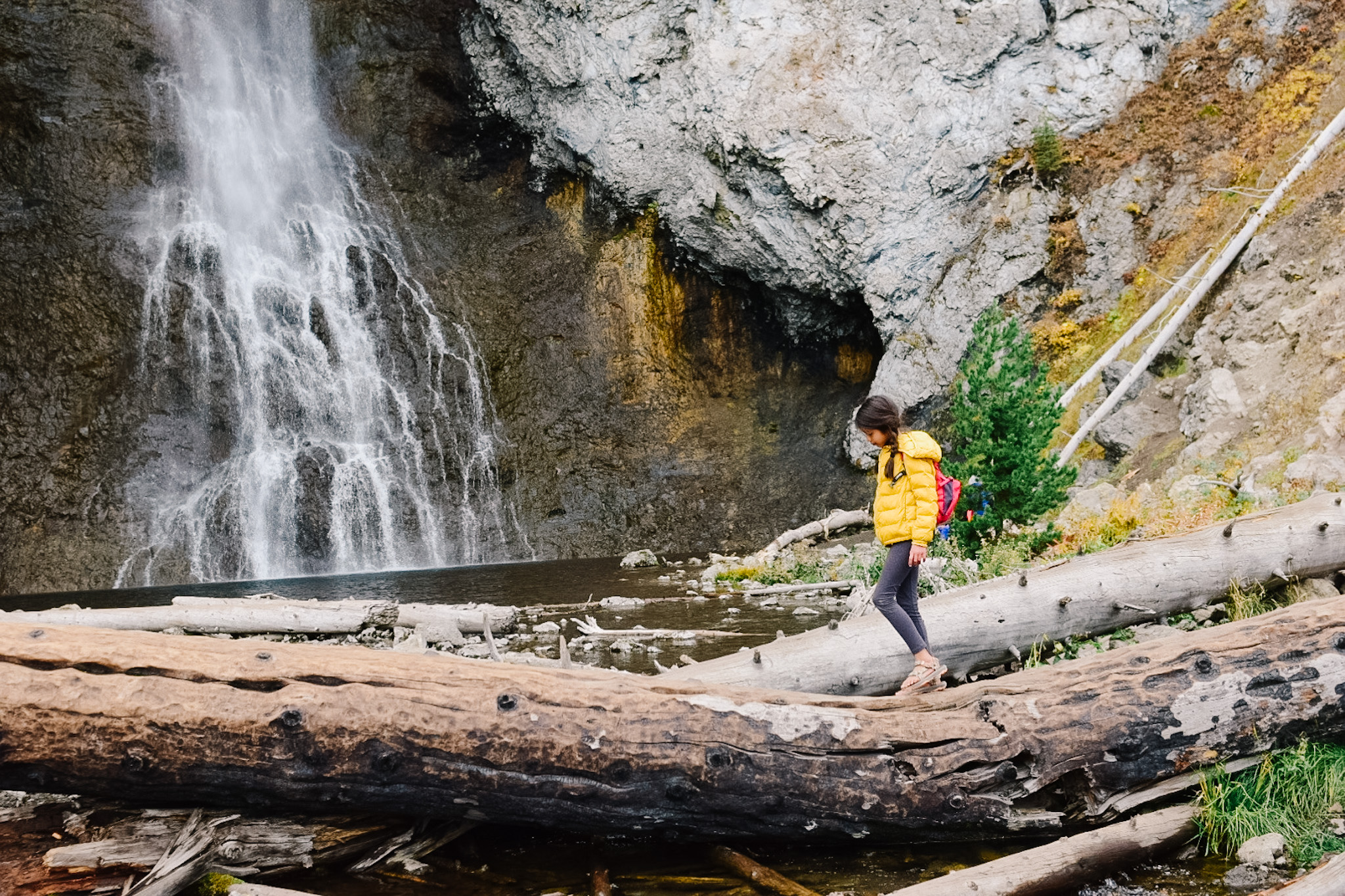 Boondocking Tips for Families: RV Boondocking Tips
There are a few tips for how to dry camp in an RV that have helped us be more successful dry camping in an RV with kids. Obviously, this would be very different if you're in a car, and some will vary even for a camper van. Still, I hope these tips for boondocking in an RV help you feel more comfortable and confident in trying it out.
Fill up water in advance.
If you have a water holding tank, make sure you fill it up before boondocking with kids. All you need is a hose. You can either go to a campground or gas station/dump station and pay to fill water, or you can fill up at home or with a friend's hose.
If you don't have a water tank, make sure you bring plenty of water with you. In fact, even if you do have a water tank, you may want to still bring some extra jugs of water for drinking so you can save your water tank for showering and dishes. It may also be wise to bring something for water treatment, like these tablets or this water bottle. That way, you can filter water that you find.
Plan for waste removal.
Of course, this isn't a super fun thing to think about. But it is necessary! if you're in an RV with a black water tank, be sure to dump before you go dry camping so that you have a clear tank. You can typically pay a minimal fee at a campground just to dump and fill water, or some gas stations have dump stations, as well.
If you don't have a black water tank, make sure you know how to properly dispose of human feces (dig at least 6″ down and at least 100ft from water). Make sure you take a shovel, and pack your toilet paper out with you.
Conserve water.
Of course, not only should you fill water, but you should also conserve it so it lasts while RV dry camping. Be sure to turn off the faucet while scrubbing dishes or your hands, then turn it back on just to rinse. Take quick showers – we always get wet, turn off the water while soaping down, then quickly rinse. We don't wash hair often.
Plan for power if needed.
Are you working from an RV? Then you may have devices you need to charge. Even otherwise, there are a whole bunch of devices you may need to charge. This may include a cell phone, a laptop, a watch, a white noise machine, a kids' tablet, etc. Plan for how you will charge those devices.
We don't like to run our generator much while dry camping just to respect the space and any others around. Because of that, we rely a bit on our solar and also our giant portable battery pack. This thing is seriously powerful and can power everything we need at night. We can charge our devices off of it, and also help run our RV house heater. It's absolutely necessary for cold nights! We also have a power inverter to charge small devices off the engine battery. Both the big external battery and the inverter are absolutely invaluable.
If you have external batteries, make sure they're charged in advance. I also love having a few small external chargers handy.
Determine if you need a cell phone signal.
Again, if you're working on the road, you may need a reliable cell phone signal. We love our signal booster, which is super helpful in amplifying a slight signal. Then, we just work off of our phone hotspot.
Still, even our booster won't create a signal if there isn't one available. Many Forest Service sites, while gorgeous, don't have any signal at all. If you need one, plan accordingly for where to stay. Campendium often has information on the availability of cell signals for different carriers, or you can check this Coverage app.
Try to find level ground.
Some dry campsites are nice and flat. And some are super sloped or bumpy. It's kind of luck of the draw. Still, do your best to try to get as flat as possible when RV boondocking as it will make sleeping much more comfortable. We use a simple level app to help us know when the RV is fairly level at boondocking sites, both backwards and forwards and side to side.
Leave the space clean.
This should go without saying, but leave any space where you are RV dry camping exactly as (or even better than) you found it. Don't dump. Don't litter. Do clean up. Do not leave your trash outside, either when you leave or overnight. You don't want to attract any unwelcome visitors!
Pick up supplies in advance.
When starting out with RV boondocking for beginners, plan your meals and make sure you have enough food with you. It might not be as much of a problem if you're in a Walmart parking lot, but you don't want to get stuck far away from town without the proper supplies.
Add insulation.
If it's hot or cold and you can't plug in and don't want to use the generator all night, it's wise to try to insulate your rig a bit. We use basic blackout fabric that we put over the shower area and over a couple small windows that don't have curtains (which are blackout themselves). We also have a windshield cover that does a great job of keeping in the heat.
If it's hot, try to keep curtains on the sunny side of the vehicle closed during the warmest hours, and leave windows open in the evenings before bed to let in cool air.
Consider heating water or cooking on the propane stove.
Instead of turning on your generator for the microwave, consider cooking on the propane stove instead. You can easily heat water this way! Or you can plug in an electric kettle to heat water using that big battery. This is a great way to conserve energy with RV boondocking for beginners.
Avoid using the generator unless absolutely necessary.
On that note, try to avoid using the generator at all unless you absolutely must. It's generally impolite to use it in a store parking lot. And most people who are dry camping in a dispersed area are not super interested in listening to a generator all night. Try to stay quiet and avoid using the generator unless you absolutely must. (And park far away from others if you really need.)
Enjoy Dry Camping!
I hope that helped answer all your questions about what is boondocking and about RV dry camping. We've really loved our time dispersed camping – it's saved us so much money and has led us to some beautiful, serene places that have been convenient and simple. We hope these tips for RV boondocking for beginners help you head off on a successful boondocking camping trip!
MORE POSTS
IF YOU LIKED THIS POST WITH DRY CAMPING TIPS, YOU MIGHT LIKE THESE POSTS TOO:
DON'T NEED BOONDOCKING TIPS QUITE YET? PIN THIS POST FOR LATER!