This post may contain affiliate links, which means I may earn a small commission if you click my link but does not change your price. See my affiliate policy here.
Just an hour from the southern entrance to Yellowstone National Park, Grand Teton National Park is like the smaller, less famous cousin. But though super different from Yellowstone, Grand Teton is incredible in and of itself, and was one of our kids' favorite parks on our 4 month RV trip. I hope this Grand Teton itinerary helps guide your visit and take advantage of the many incredible things to do in the Tetons.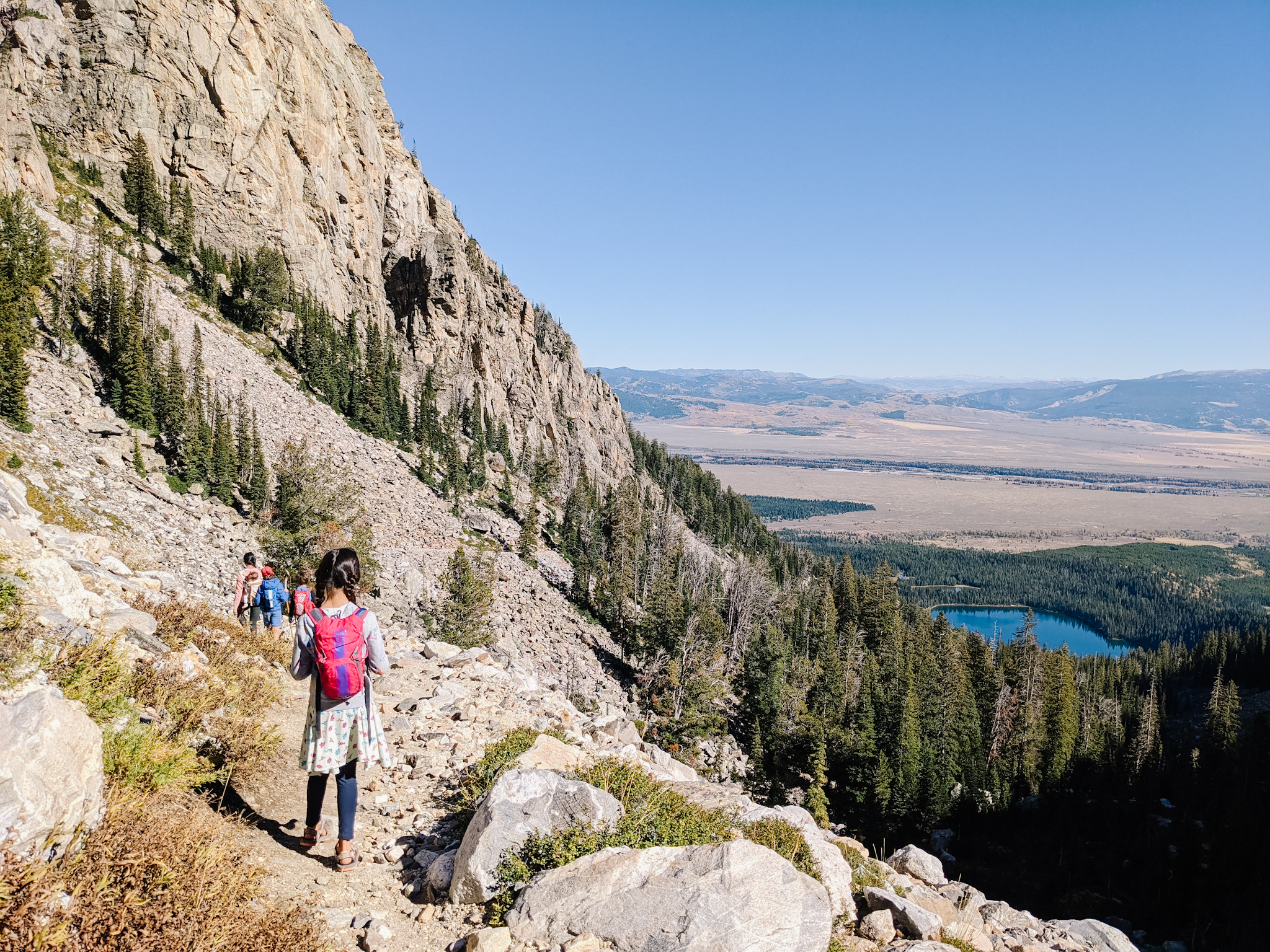 This post with the best Grand Teton itinerary with kids contains affiliate links, but all opinions are 100% my own. That means I earn a small commission if you purchase through my link, but doesn't change your price.
Grand Teton Packing List
In order to have a wonderful Grand Teton visit with kids, it's important to pack the right gear. There are so many wonderful things to do in Grand Teton with kids so it's best to be prepared. Be sure to check out this post on our favorite KIDS HIKING GEAR to make sure you're well equipped with some good basics. Even without any specialty equipment, make sure you bring the following:
Here's the full KIDS PACKING LIST we always use, and also our favorite 20 ESSENTIALS FOR TRAVELING WITH KIDS.
Best Time of Year To Visit Grand Teton
If you're wondering when to visit Grand Teton National Park, I highly recommend going between the months of April-October. The weather is generally favorable during these times, and you'll be able to take advantage of a diversity of activities in Grand Teton.
In general, the summer will likely be quite crowded. My favorite time to visit Grand Teton National Park is in September, when the weather is still warm, but crowds are thinner and fall colors are starting to come out.
Even in the middle of the summer, though, there are plenty of hidden gems in Grand Teton National Park. Though it still gets plenty of visitors each year, many of them only come for a day or two. So if you have a little more time, you'll miss some of those crowds! Even if you don't, there are just SO MANY wonderful places when visiting Grand Teton with kids, so it hopefully won't feel packed.
Grand Teton in winter is still stunning, but beware that some park roads are closed. If you enjoy winter recreation, though, it's a perfect place for snowshoeing, cross-country skiing, and more. Here are some great things to do in Grand Teton in winter!
Where To Stay When Visiting Grand Teton National Park
There are a number of lodging options within the park with options for every travel style.
Camping and RV Accommodations
There are also a number of camping options. We loved staying at Gros Ventre Campground, which is about half an hour from Jenny Lake. While it's not right in the center of things, it's a beautiful area that tends to be a bit less crowded, and often has moose wandering around. Colter Bay Village has a campground, RV Park, and other amenities. Signal Mountain Campground arguably has the best views of all. There are also several other smaller campgrounds.
Staying in Jackson, WY is also a great option while visiting Grand Teton National Park as it's only about 30-40 minutes from many parts of the park. If you're traveling in an RV with kids, you can consider boondocking in Jackson. We parked on the street next to a beautiful city park with playground equipment and a rock climbing wall, where several other rigs were legally parked. It was great, and the kids loved playing in the morning – just be sure to not park in the lot overnight. (Read all our boondocking tips here.)
Lodging Options In Grand Teton National Park and Jackson, WY
There are a few beautiful lodges if you're interested in staying inside the park. Jackson Lake Lodge (reviews here) is absolutely stunning and the most luxurious place to stay in the park. Jenny Lake Lodge (reviews here) is beautiful with lots of cabins and perfectly located within the park.
You can search here for plenty of varied lodging options near Grand Teton! Airbnb is a great option if you'd like a little more space for a group and would like to prepare meals on your own.
A hotel can be fantastic if you'd like to take advantage of the incredible food options in Jackson!
How Many Days in Grand Teton National Park
As you plan, you'll probably wonder how many days to spend at Grand Teton National Park. Truthfully, you could spend months and still not "see it all." While significantly smaller in area than Yellowstone, there is still so much to see and things to do in the Tetons!
Still, if you're short on time, you can definitely get a taste by spending just 1 day in Grand Teton National Park. Even one day in Grand Teton will allow you to see many of the most famous features and get a quick, overview of the different areas.
If you want a more leisurely visit that allows you to spend some time searching for and viewing animals, I'd recommend 3-4 days, especially if it's your first time visiting Grand Teton National Park.
These Grand Teton itinerary suggestions are geared to families with kids with mostly short hikes and family friendly activities in Grand Teton. The best Grand Teton itinerary is the one that caters to your personal interests and activity level!
Grand Teton Itinerary Overview
This Grand Teton itinerary is intended to give you a wonderful and full but deep overview of some of the most majestic sites when visiting Grand Teton National Park with kids. While it includes many sites, it leaves ample time to explore, walk, observe, and play. After all, no one will enjoy the family trip to the Tetons if you're hangry and exhausted!
This family itinerary for Grand Teton will take you to all the major and most famous sites, with a few lesser-visited gems, as well. It's perfect for a variety of seasons and fitness levels, as well!
The Best Grand Teton Itinerary with Kids
Grand Teton Itinerary Day 1: One Day In Grand Teton National Park
Start the day out by stopping at the Jenny Lake Visitor Center. Pick up a guide and check out any ranger programs, and don't forget to pick up Junior Ranger booklets for the kids!
Jenny Lake Boat Shuttle + Inspiration Point Hike (with Hidden Falls Detour)
This is one of the most popular hikes in the park, and with good reason! Taking the 12-minute boat shuttle across Jenny Lake cuts off about 5 miles of hiking round trip, but does have a fee.
Once you've arrived at the boat dock on the other side of the lake, it's about a 2 mile round trip hike to Inspiration Point. While relatively short, the hike does get quite steep and has some dropoffs. Be very careful with young children! Still, you'll be rewarded with stunning 360 degree views so it's well worth the trek. Just a short detour before Inspiration Point is Hidden Falls, a stunning waterfall. Together, they make one of the best hikes in Grand Tetons.
If you're feeling adventurous or have some extra hiking stamina, feel free to continue onto the Forks of Cascade Canyon hike. This 9.7 mile hike is stunning and takes you away from some of the crowds of the shorter trails.
After you've returned on the shuttle, stop and picnic on the shore of Jenny Lake. It's a perfect spot to spread out a blanket and take in the gorgeous views!
Longer Hike Option
If you'd like a longer hike option that doesn't go into Cascade Canyon, park at the String Lake trailhead and hike along Jenny Lake to get to Inspiration Point. It's slightly shorter to hike from this trailhead than from the Jenny Lake trailhead. This is also a great option if the boat shuttle is not running. You'll enjoy a spectacular hike along the Jenny Lake Loop. It's especially stunning in the fall with all the beautiful leaves!
The total distance to Inspiration Point when hiking from the String Lake trailhead is just under 6 miles. Almost all of the elevation gain is on the path up from the Jenny Lake boat dock up to Inspiration Point. It's a gorgeous hike and our kids (age 9, 8, 5, 3, and 8 months) all did great on it!
Jenny Lake Scenic Drive
While you could take the full 42-mile scenic drive through the park, the short, 3-mile one along Jenny Lake is perfect to get a taste. It's a nice and easy drive with beautiful views, so it's perfect even if you're not up for hiking.
Water Play At Oxbow Bend
Now that it's hopefully warmed up nicely, drive over to Oxbow Bend for some water play. Park off to the side in the pulloff, then head down to the river. Our kids loved spending ages throwing in rocks and wading in the water, and then we took out our inflatable boat along the river. It was stunning, especially with the fall colors!
Bike Ride In the Tetons Along Multi-Use Pathway
An incredible flat, paved multi-use pathway goes along the main road in the park. It's a perfect way to take in the incredible scenery of the park as it goes parallel to all the incredible peaks. Plus, since it's a pathway just for walking and biking, it's super safe and easy with young riders, as well.
Sunset at Signal Mountain
Finish the day off by heading up Signal Mountain Summit Road for a fantastic view of the sunset. From there, head into Jackson for dinner!
Grand Teton Itinerary Day 2: 2 Days In Grand Teton National Park
Taggart Lake Hike
Start your day with a beautiful hike in the heart of Grand Teton National Park by heading to the Taggart Lake trailhead. This 3.3-mile hike is perfect for families as it doesn't have too much elevation gain (about 300 feet) and has absolutely spectacular views. It's beautiful all the way up as you'll pass over a river and through fields with views of the peaks.
Snake River Overlook
After your hike, head over to the spot where Ansel Adams took one of his famous photos. See if you can recreate your own! Or head there just before the sun dips down, and you'll see a beautiful glow behind the peaks.
Hike to Leigh Lake Along String Lake
Spend the afternoon on an easy hike with some water play. Head over to hike along String Lake to the edge of Leigh Lake. It's a perfect hike for families as it's just about 2 miles out and back and almost totally flat. Stop once you get to Leigh Lake to throw in rocks or wade in the water. Since String Lake is so shallow, it warms up nicely for some water play!
After your hike, stop and picnic along String Lake. There are plenty of little "beach" areas right near the parking lot where you can spread out a blanket and food. We also loved taking out our inflatable boat!
Look for Moose by Gros Ventre
At dusk, head over near the Gros Ventre Campground. This area regularly has moose, and dusk is a perfect time to spot them! Even better if you decide to camp there. It's a perfect spot for tent camping or RVing! Here's our itinerary from our 4 months of full time RVing.
Grand Teton Itinerary Day 3: 3 Days In Grand Teton National Park
If you have more time in Grand Teton National Park with kids, there are lots of other options for wonderful activities in Grand Teton. These are some of the best things to do in Grand Teton with kids!
Our family loved taking on a challenging hike on this extra day. The Garnet Canyon hike was spectacular! It was about 8.5 miles with 2500+ feet of elevation gain, so it was definitely difficult. But our 3 older kid (ages 9, 8, and 5 at the time) all walked on their own and did great (we carried the 3 year old most of the way and the 8 month old the whole way, of course).
We loved seeing the glacier up close, and climbing near some beautiful boulders. We had spectacular views the entire way up of different lakes. It was stunning. I highly recommend this hike for families who are up for a challenge!
Some other options are continuing with some more biking and water play, or boating on Colter Bay. And here are some of the best Grand Teton hikes with kids, including the ones from above!
Best Grand Teton Hikes with Kids
String Lake to Leigh Lake – 2 miles
Taggart Lake – 3 miles
Moose Ponds – 2.5 miles
Hidden Falls or Inspiration Point via Jenny Lake Boat Shuttle – 2 miles
Lakeshore Trail along Colter Bay – 2 miles
Swan Lake Loop – 3 miles
String Lake to Jenny Lake Loop to Inspiration Point – 5.8 miles
Garnet Canyon – 8.5 miles
Where To Eat in Jackson While Visiting Grand Teton National Park with Kids
Here are some of our favorite spots to eat in Jackson while taking a family trip to Grand Teton!
You could truly spend weeks or months exploring Grand Teton National Park. It is so stunning and diverse. Still, I hope these options for one day in Grand Teton, two days in Grand Teton, or 3 days in Grand Teton will give you some great options for how to structure your visit.
And if you've visited before, I'd love to hear – what was your favorite part? Do you have any absolute Grand Teton must-sees?
MORE POSTS
IF YOU LIKED THIS POST ABOUT THE BEST GRAND TETON ITINERARY WITH KIDS, YOU MIGHT LIKE THESE POSTS TOO:
NOT LOOKING FOR 2 DAYS IN GRAND TETON WITH KIDS QUITE YET? PIN THIS POST FOR LATER!