This post may contain affiliate links, which means I may earn a small commission if you click my link but does not change your price. See my affiliate policy here.
While we've visited many National Parks both in the US and around the world, we've never visited a place quite like Yellowstone National Park. The diversity of natural features, landscapes, animals, and activity options is remarkable. But since it's such a huge park, it's really important to go in with a good Yellowstone itinerary with kids to guide your visit.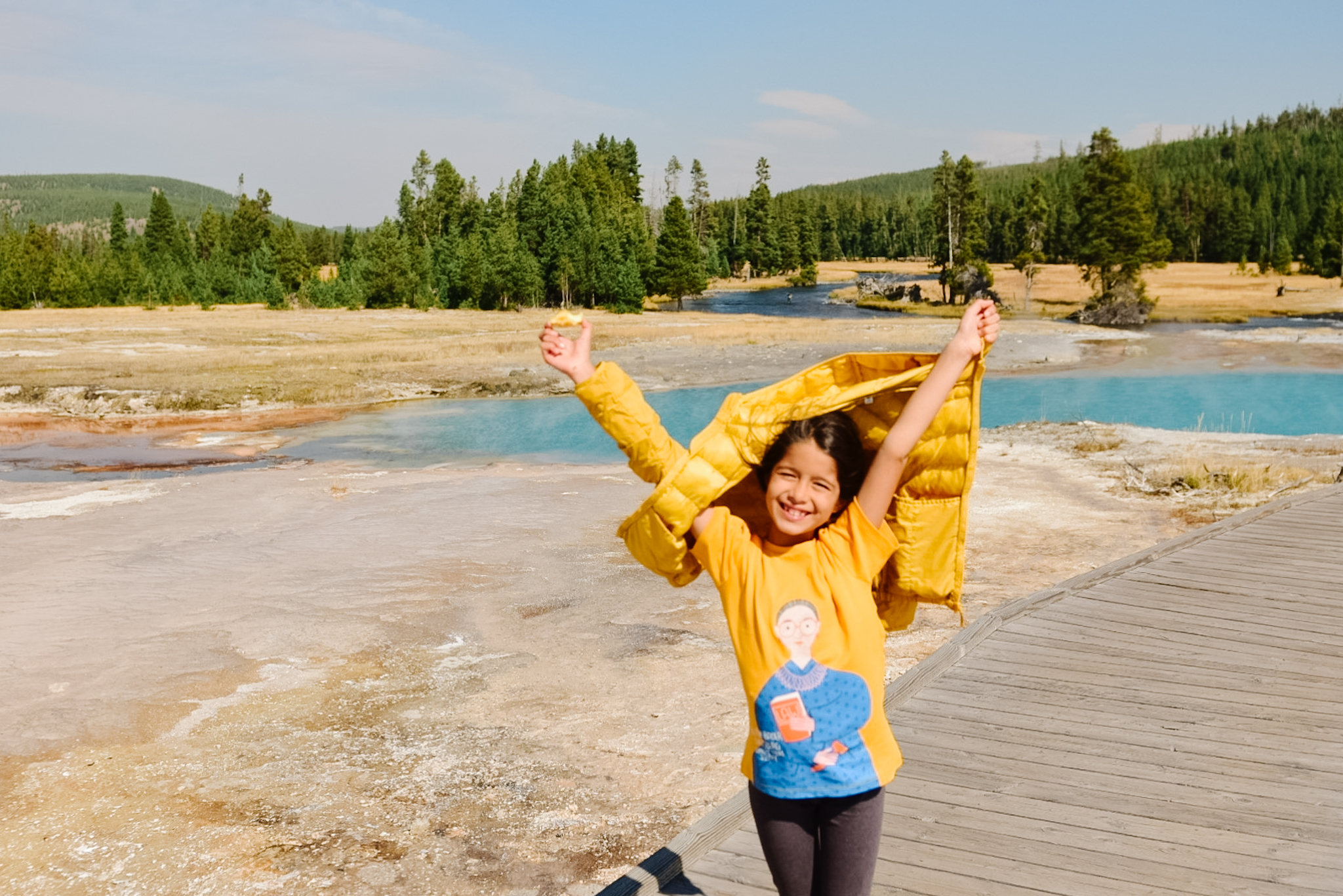 Yellowstone Packing List: Yellowstone with Kids Packing List
In order to have a wonderful Yellowstone visit with kids, it's important to pack the right gear. Be sure to check out this post on our favorite KIDS HIKING GEAR to make sure you're well equipped with some good basics. Even without any specialty equipment, make sure you bring the following:
Here's the full KIDS PACKING LIST we always use, and also our favorite 20 ESSENTIALS FOR TRAVELING WITH KIDS.
Best Time of Year To Visit Yellowstone with Kids
If you're wondering when to visit Yellowstone National Park, I highly recommend visiting in late spring or early fall. The weather is still generally very pleasant during these times, and you miss the extreme heat and crowds of July and August.
Still, if you can only visit Yellowstone during the summer, there are plenty of opportunities to escape the crowds. You can do this by heading to some of the lesser-visited spots below.
Yellowstone National Park in winter is still stunning, but beware that many of the park roads are closed. I would highly recommend hiring a guide during this time to be able to travel safely regardless of weather. This will ensure you get the most out of your visit. Here are some great things to do in Yellowstone in winter, and a whole list of wonderful winter activities in Idaho!
Where To Stay When Visiting Yellowstone National Park
There are a number of lodging options within the park, including Canyon Lodge & Cabins (reviews here), Old Faithful Inn (reviews here), Old Faithful Snow Lodge & Cabins (reviews here), and the Lake Lodge Cabins (reviews here). There are also a number of camping options.
Keep in mind that lodging within the park tends to fill up very far in advance. It can also be quite expensive. If you're not booking sometimes a year in advance, or want to save some cash, consider staying in one of the gateway cities outside Yellowstone National Park.
These include West Yellowstone, MT (the most popular); Gardiner, MT; Cooke City, MT; Cody, WY; and Jackson, WY. The most easily accessible is West Yellowstone, though the others have merits, as well (Jackson, for instance, is very close to Grand Teton National Park). If you have two nights or less, I'd recommend staying in West Yellowstone. If you have 3+ nights, you may want to consider spending 1 or more nights in Gardiner, which is closer to Lamar Valley. This will be helpful to get into the park early for sunrise wildlife viewing in that area!
Here are a few good options for lodging:
West Yellowstone:
Gardiner:
How Many Days in Yellowstone National Park
As you plan your Yellowstone family vacation itinerary, you'll probably wonder how many days to spend at Yellowstone National Park. Truthfully, you could spend months and still not "see it all." Yellowstone is huge and has so much to offer!
On the flip side, you can definitely get a taste by spending 1 day in Yellowstone or 2 days in Yellowstone. If you're really just interested in seeing the highlights and you're not super interested in animal viewing, I'd plan to spend a couple of days exploring the park. That will allow you to see many of the most famous features and get a good, albeit quick, overview of the different areas.
If you want a more leisurely visit that allows you to spend some time searching for and viewing animals, I'd recommend 4-5 days, especially if it's your first time visiting Yellowstone.
These Yellowstone itinerary suggestions are geared to families with kids so I'm not including any strenuous hikes. If that's something that interests you, there are plenty of options to pursue longer adventures. The best things to do in Yellowstone with kids itinerary is the one that caters to your personal interests!
Yellowstone Itinerary 4 Days: Overview of 4 Days in Yellowstone Itinerary
This 4 day Yellowstone itinerary is intended to give you a wonderful and full but deep overview of some of the most majestic sites and things to do in Yellowstone with kids. While it includes many sites, it leaves ample time to explore, walk, observe, and play. After all, no one will enjoy the family trip to Yellowstone if you're hangry and exhausted!
This Yellowstone family vacation itinerary will take you to all the major and most famous sites, with a few lesser-visited gems, as well. It includes all the main hydrothermal features (hot springs, geysers, mud pots, and fumaroles), as well as time for wildlife spotting and relaxing to play.
This post with the best Yellowstone itinerary with kids contains affiliate links, but all opinions are 100% my own. That means I earn a small commission if you purchase through my link, but doesn't change your price.
The Best Yellowstone Itinerary for Families with Kids
Yellowstone Itinerary Day 1: One Day In Yellowstone
For your first day of a Yellowstone trip with kids, I'd recommend driving along the southwest section of the main scenic loop and hitting some of the most popular highlights.
Notes for a shorter trip: If you're trying to squeeze a lot into a short amount of time, I'd try to combine parts of this one day in Yellowstone itinerary with parts of the day 2 itinerary. In particular, if you only have one day in Yellowstone, I would remove the Fairy Falls hike and include Artist Point and Mud Volcano, as well as West Thumb Geyser Basin if you're speedy. (This is easier in the summertime when you have longer daylight hours.)
If you have 4-5 days to spend in Yellowstone, however, here is what I would recommend for a slightly more leisurely 1st day!
Upper Geyser Basin + Old Faithful
Kick off your Yellowstone trip with kids visit by visiting the iconic Old Faithful. The viewing area often gets quite crowded, so it's best to go early in the day. (You can check out this page for the geyser's predicted eruption schedule.)
Biscuit Basin
After you've seen Old Faithful erupt, head north to Biscuit Basin. The loop on a boardwalk is about 2/3 of a mild and passes some stunning geothermal features. The hot springs in this area are particularly vibrant and beautiful. Tiny, heat-loving organisms called thermophiles live in the water and cause the diversity of color. I love it here!
Midway Geyser Basin + Grand Prismatic Hot Spring
After exploring Biscuit Basin, continue north to Midway Geyser Basin, one of the most famous parts of the park. This is where the giant and beautiful Grand Prismatic Hot Spring resides. The boardwalk will also take you to Excelsior Geyser, which has a fascinating history, and you'll be able to walk near one side of Grand Prismatic.
Picnic Lunch
At this point, pull out your picnic lunch to eat along the side of the Firehole River. You'll have beautiful views and can relax while you eat. Remember that swimming and wading are not allowed here!
Fairy Falls Hike
At this point, backtrack just a few minutes to the Fairy Falls Trailhead. The 5.4 mile hike to Fairy Falls is almost all flat and wanders through beautiful trees. The falls themselves are impressive and offer lots of climbing opportunities! The whole hike usually takes about 3 hours.
If you're not up for the full hike, just do the 1.2 mile round trip first part of the trail to the Grand Prismatic Overlook (and be sure to turn left to the overlook even if you're doing the full hike). It's well worth the walk to be able to see the incredible Grand Prismatic from above! (Here's a list of a bunch of other kid-friendly Yellowstone hikes!)
Fountain Paint Pot
If you still have some energy left, head to the Fountain Paint Pot area. This half mile trail (entirely on a boardwalk) will give you a good overview of the geothermal features of the park, as all 4 are contained within this area. It's absolutely fascinating!
Finally, head back to wherever you are staying for dinner and some rest. You'll need it!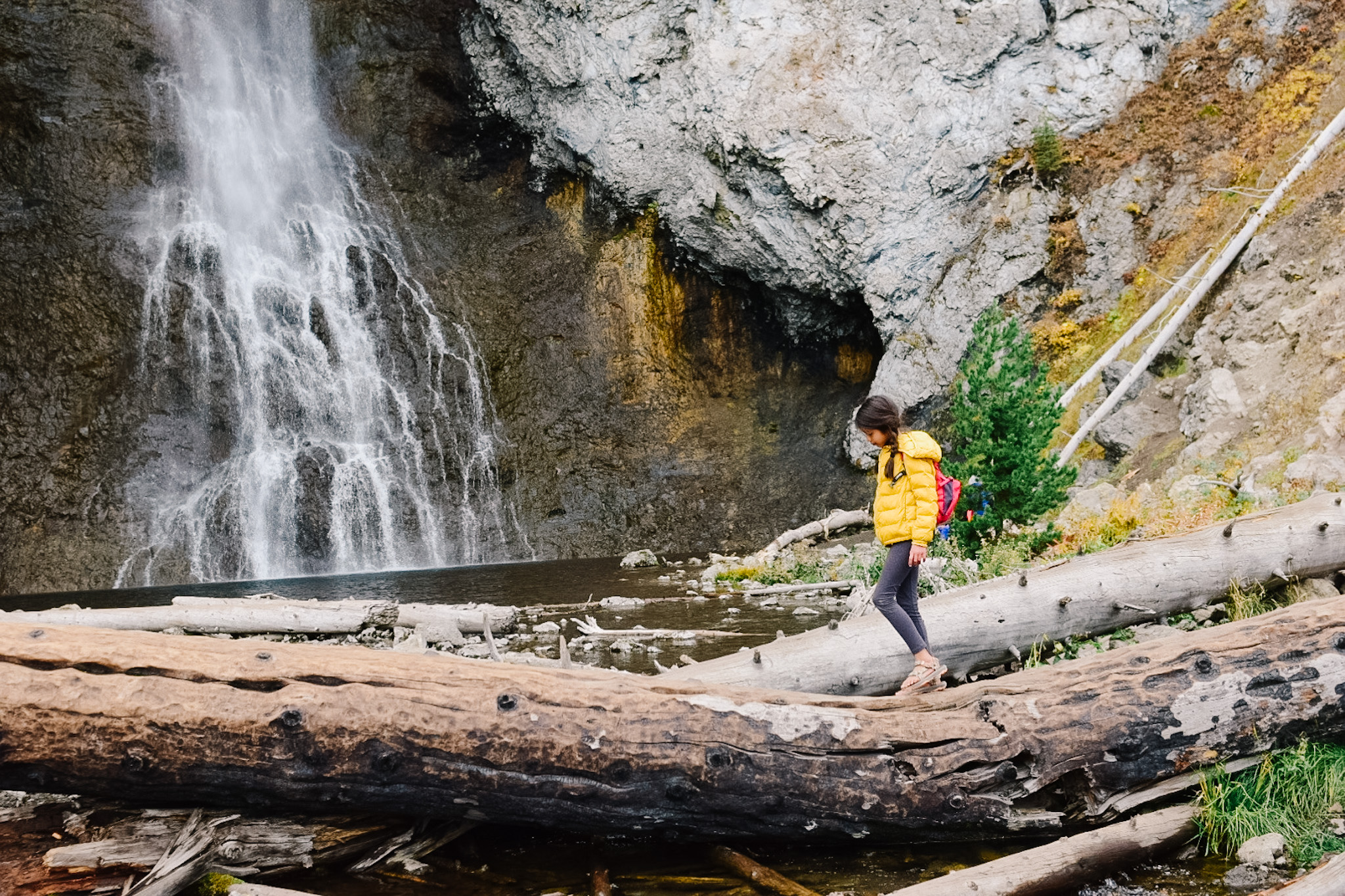 Yellowstone Itinerary Day 2: Two Days in Yellowstone
If you have two days in Yellowstone National Park available to you, I would focus on the first two days of this itinerary. Alternatively, if you would like to include more sites in those two days, you may want to follow the one day in Yellowstone itinerary (including Artist Point and Mud Volcano on that day) for the first day. Then follow the day 3 itinerary for your 2nd day.
Otherwise, if you have a full 4-5 days, here's what I would recommend for your 2nd day in Yellowstone!
Early Morning at Hayden Valley
For your second morning, get up very early and head to Hayden Valley. You'll want to aim to be there shortly before sunrise for the best chance of seeing animals.
Lots of bigger and smaller animals frequent this area, and it's absolutely breathtaking seeing them in the morning light. Sunrise and sunset are the best times to spot them, and the mornings tend to be much less crowded!
Grand Canyon of the Yellowstone + Artist Point
One of the most dramatic and beautiful areas of the park is at Artist Point overlooking the Grand Canyon of the Yellowstone. The gorgeous river in a deep canyon is absolutely worth the short stop. If you're feeling up to it, there are several hiking trails nearby.
Lunch
From there, if you didn't pack food, you can head south and stop by Lake Village to grab some lunch. It's a cute spot to wander around a bit, too!
Mud Volcano
After lunch, head over to Mud Volcano. This is a very active area, with features like the aptly named Churning Cauldron and Black Dragon's Cauldron. The loop is just over half a mile, but you may find yourself spending some extra time looking at the mud pots, hot springs, and other incredible features.
West Thumb Geyser Basin + Yellowstone Lake
Day two will finish up at Yellowstone Lake and West Thumb Geyser Basin. This area is much less frequented than some of the other hydrothermal areas and is absolutely beautiful! The boardwalk here will take you right next to Yellowstone lake and has some deep and stunningly blue hot springs. The whole area is just gorgeous and one of my favorite areas of the park.
After walking around the 1 mile trail (all on boardwalk), you can drive a bit to one of the pullouts on Yellowstone Lake. If you're brave, you can dip your toes in the frigid water. Otherwise, have fun throwing rocks and running around! Also, a number of companies offer boat rentals for scenic cruises, kayaks, and more (Yellowstone National Park Lodges is one of the main ones). Or we love bringing our own inflatable boat. It's relaxing and simple. Don't forget life jackets (adult, kid, baby)!
From there, you can head back for an early dinner and bed after your early morning!
Yellowstone Itinerary Day 3: 3 Days in Yellowstone
Three days in Yellowstone gives you a lot more flexibility to enjoy some of the beautiful spaces without rushing past them. If you have 3 days in Yellowstone, I recommend following the day 1 and day 2 itineraries above, and continuing with this as the 3rd day of your Yellowstone itinerary.
Mammoth Hot Springs with Kids
Start your day by heading up to Mammoth Hot Springs at the northern end of the park. While certainly not undiscovered, this area of the park doesn't get nearly as many visitors as the main scenic loop. This area is filled with travertine terraces that are absolutely ethereal and stunning. Boardwalks wind through the terraces and give you views from above and below.
While the trails are all on boardwalk in this area, there are a number of stairs, so be prepared. Plan to spend a couple of hours wandering around here and seeing all the formations.
Visit Historic Fort Yellowstone + Roosevelt Arch
If you're into history, visit historic Fort Yellowstone, where US Army members came into Yellowstone in 1886 to take charge and put an end to unsavory practices. Don't forget to drive through the Roosevelt Arch, which was constructed by the Army, and whose cornerstone was laid by Theodore Roosevelt in 1903.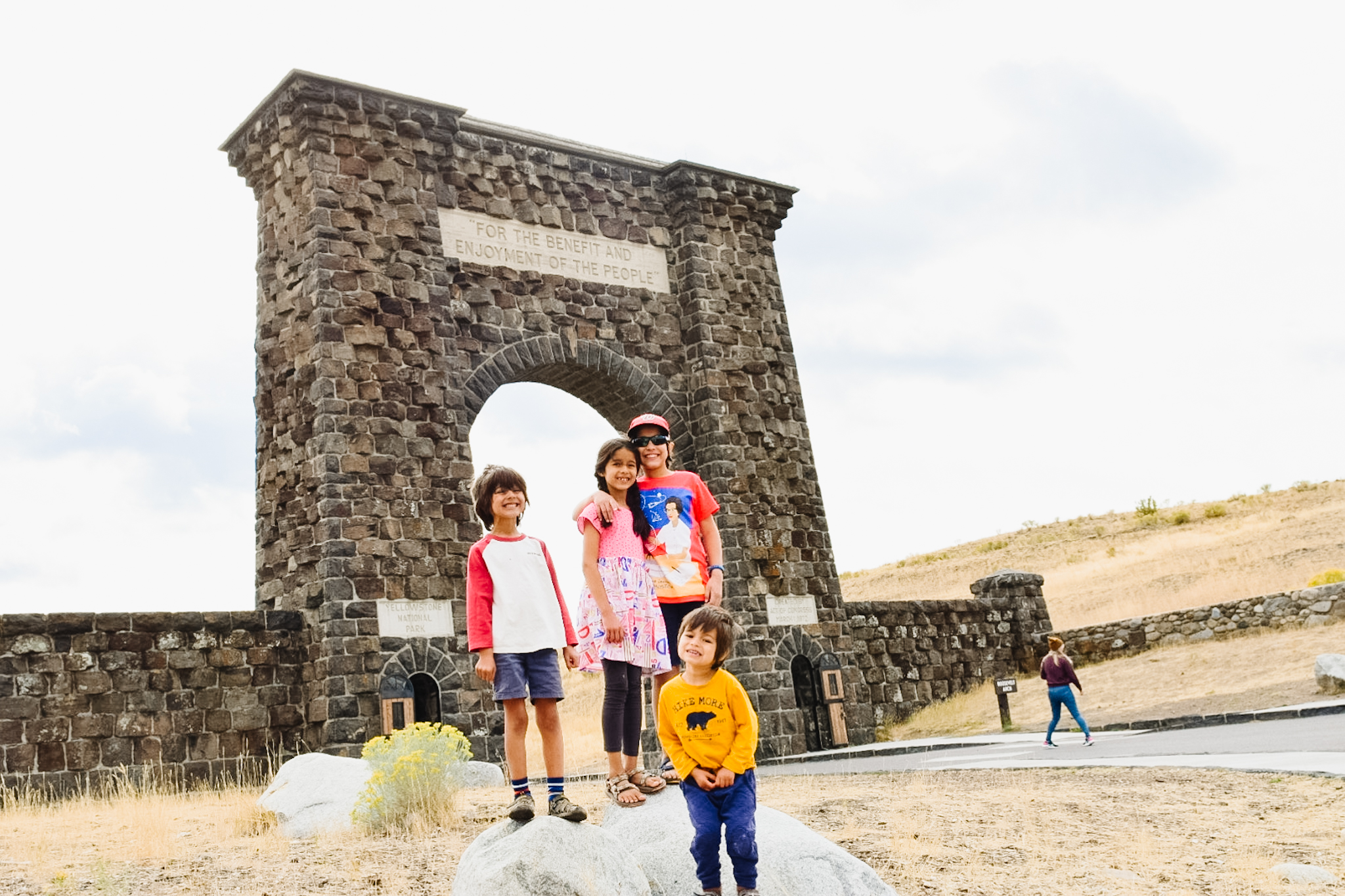 Lunch + Afternoon Soak in the Boiling River
After your morning exploring, head over to the Boiling River swimming area. Here, at certain times of year, you may enter a point of the river where the thermal hot springs warm the water. Be very careful with the current, and make sure the swimming area is open (it's typically closed in spring due to fast currents and high water levels).
If the natural hot springs aren't open, head over to Yellowstone Hot Springs in nearby Gardiner, MT. The natural hot spring water is pumped into pools and hot tubs of varying temperatures. With clean changing facilities and shallow swimming areas, it's perfect for the whole family.
If your kids are anything like mine, you'll happily spend the entire afternoon playing in and near the water. However, if you need something else to keep you occupied, head over to either Lamar Valley or Hayden Valley for some evening wildlife viewing. (Keep in mind that at the time of this writing, the road from Tower-Canyon is currently closed.)
Yellowstone Itinerary Day 4: 4 Days in Yellowstone Itinerary
For this 4 days in Yellowstone itinerary with kids, use this day to focus on spotting wildlife!
Early Morning: Lamar Valley
As I mentioned before, early morning and dusk are the best times for how to see animals in Yellowstone. Take this morning to wake up early – VERY early – for a chance to see wolves and other wildlife in Lamar Valley. Lamar Valley is especially loved by bison, but if you're lucky, you'll see some wolves far in the distance. Other animals, like elk, deer, coyotes, and even bears, are not unheard of. There's a reason this area is often called America's Serengeti – it's truly one of the best places of Yellowstone.
Spotting wildlife takes patience and skill, so be sure you have some good binoculars (this is a great pair, or these are good for a tighter budget). I also highly recommend doing a guided tour. My friend Kady (who is a Yellowstone expert) recommended them. She said they have incredible guides and all the equipment you need to be able to see a lot of wildlife. I didn't hear about them until just after we left and can't wait to return and do a guided tour with them!
Lamar Valley Hike
Lamar Valley has a lot of wide open spaces, so it doesn't have a ton of traditional mountain trails. Still, from a parking area near the bathrooms, you'll find a path that meanders through the meadows and across the river that is just beautiful. It's a fun place to explore stretch little legs. Just be sure to stay very far from any wildlife you spot!
Tower Falls
While you can no longer go down to the falls, the overlook makes for a short and beautiful stop to see this waterfall.
Catch up on any missed or favorite Yellowstone spots for the rest of day 4 and to complete your 5 days in Yellowstone!
Spend the rest of this day and day 5 of your Yellowstone itinerary catching up on any spots that you missed, or revisiting some of the best places in Yellowstone. Personally, I would love going back to wander West Thumb Geyser Basin, and then drive along the road from Norris Geyser Basin to West Yellowstone, MT.  There are often a good number of animals along there, especially elk. It never gets old seeing them! While driving by, Norris Geyser Basin is also a worthy stop on your Yellowstone itinerary.

You could truly spend weeks or months exploring Yellowstone National Park. It's such a stunning and diverse National Park. Still, I hope these options for one day in Yellowstone, two days in Yellowstone, 3 days in Yellowstone, and 4 days in Yellowstone give you some great options for how to structure your visit.
And if you've visited before, I'd love to hear – what was your favorite part? Do you have any absolute Yellowstone must-sees?
MORE POSTS
IF YOU LIKED THIS POST ABOUT THE BEST YELLOWSTONE ITINERARY WITH KIDS, YOU MIGHT LIKE THESE POSTS TOO:
NOT PLANNING A TRIP TO YELLOWSTONE WITH KIDS QUITE YET? PIN THIS POST FOR LATER!