Wondering what to take when hiking with kids? Here's our ultimate kids hiking gear packing list!
This post may contain affiliate links, which means I may earn a small commission if you click my link but does not change your price. See my affiliate policy here.
We loved hiking long before we ever had kids. Since we both spent young years in places with mountains as well as fantastic and accessible trails, it was important to us to make sure our kids felt comfortable and confident on trails, as well. Over the last almost-decade of hiking with kids, we've found some fantastic kids hiking gear that makes our outdoor experiences more enjoyable for everyone.
While we also love camping, but during this phase of life with 5 little ones, we pretty much always do day hikes with kids. The kids hiking gear in this post is all stuff that's excellent for a long or short day hike, but doesn't include items you would need for an overnight.
Read on for the list of all of our day hiking essentials with kids (and don't forget to read this splurge vs. save post on outdoor gear for kids!)!
We've tried a few different pack solutions while hiking with kids, but these kids hiking backpacks are by far our favorite. We got them a few months ago and they have been the BEST addition to our kids hiking gear.
These hiking backpacks for kids are just the right size for an elementary-aged child, and comes with a bladder and long spout. There's a bit of extra room to carry snacks (or small sticks if you're a certain child of ours). It's lightweight, and it's SO helpful to not have to constantly stop to take water bottles out. It's seriously the best kids' hiking backpacks and would be a great addition to camping gear for kids, too!
If you have a tween, I think it could also make a decent youth hiking backpack. My 10 year old still wears his comfortably. Just know that it's really a small pack for water and a few snacks, and not a full-sized kid hiking backpack.
Here are some of the other best hiking backpacks for kids: Osprey Daylite, Osprey Jet 18, Deuter Kikki. They all make really useful kids camping gear, as well! Or here are all the best kids backpacking backpacks if you're planning on a longer adventure!
Available on Amazon, Walmart, REI
Even though we have our 3 older kids (ages 9, 7, and 5) carry their own kids hiking backpack, we also like to have a larger pack for the rest of the family. Since at least one of the adults is usually wearing a baby, it's nice to have the other adult carry the pack.
We love this day hiking backpack SO MUCH. It's great as a day hiking pack, but still roomy enough that we can fit food and snacks for the family. We comfortably pack water, as well as our DLSR camera and big lens inside of its protective case.
There are tons of compartments in the backpack, so it's easy to organize everything, and I love the mesh inside that makes it easy to see everything. Plus, the whole thing unzips flat! It's also perfect for a several day trip for an individual. It comes with a rain cover, but we find it's pretty darn water resistant even without it. It's such an amazing hiking day pack.
Available on Cotopaxi, Amazon, REI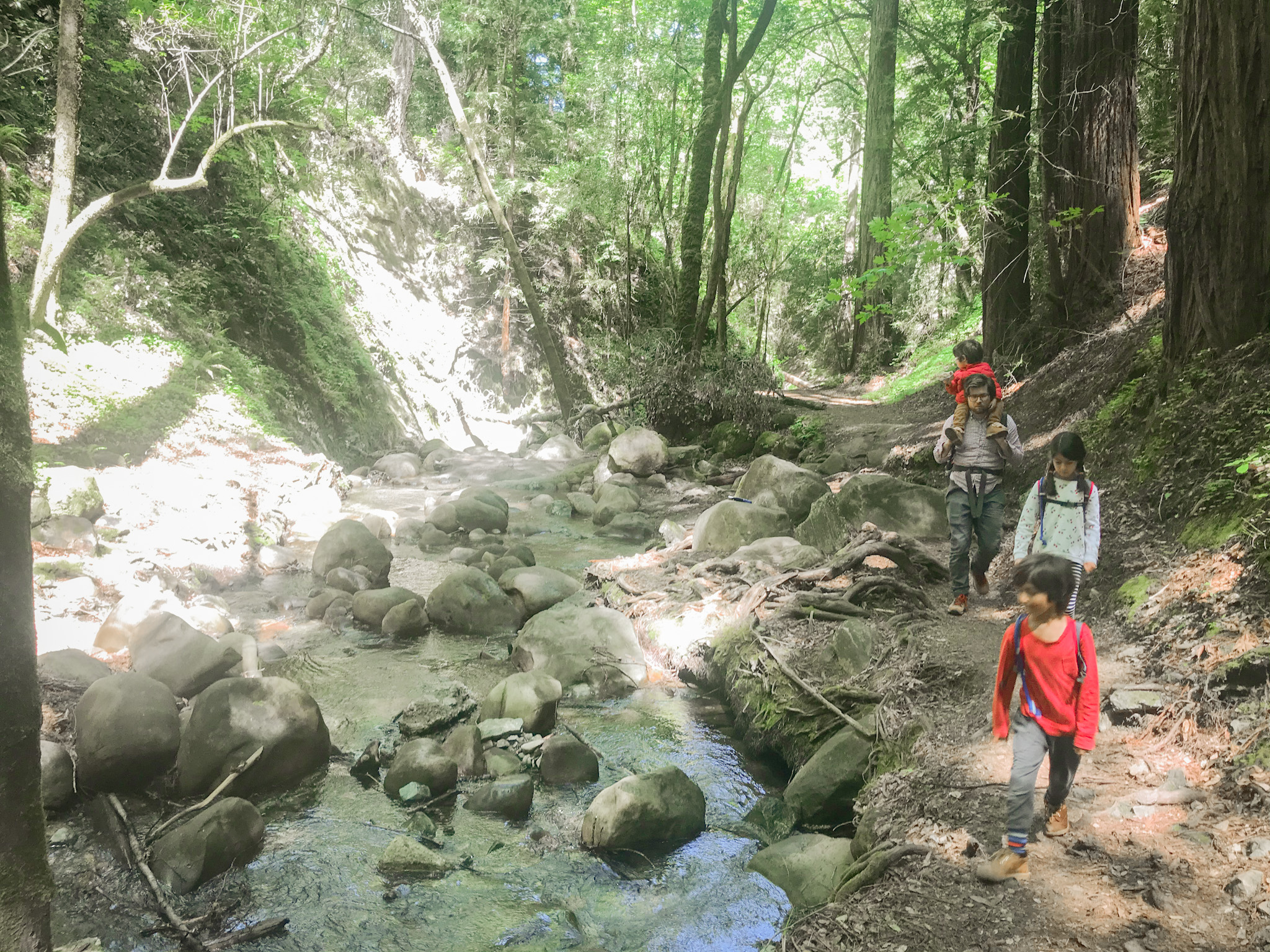 Best Kids Hiking Shoes
Hiking shoes for kids aren't totally necessary, but they are helpful. I like that they provide some extra protection and stability. Our oldest loves this pair for him that's comfortable and waterproof. It's sadly not available anymore, so I'm planning to get him this pair next. Our daughter wears his old pair (love that they're gender neutral!), and it's fun that Daniel has the matching adult pair. ;)) They're still in perfect condition and are some of the best hiking shoes for kids!
My 6 year old wears these shoes, that are a cross between sneakers and hiking boots. They're fantastic both for hiking and for everyday use, and also dry fairly quickly. (This is another great option that's a cross between sneakers and hiking shoes that's also waterproof.) And our 3 year old typically just wears his hiking sandals (see more below) for all our hikes.
We used to have this pair of hiking boots for both of our younger boys, and they were incredible and so durable. Even after a zillion hikes, and an international trip with snow, they still looked brand new before they outgrew them! These girls hiking shoes are also fantastic.
Best Kids Hiking Sandals
For water hikes, we love having hiking sandals. We used to just have our kids remove shoes or possibly wear Saltwaters, but those just didn't provide enough traction to be safe. And if you've ever tried to take kids socks on and off wet feet, you know just how annoying that is. Kids hiking sandals make life so much easier and safer for everyone!
Our older kids LOVE these hiking sandals (girls and boys) – they provide fantastic traction, are really comfortable, and dry quickly. They're perfect for hiking in water or not. Our two younger boys use closed toe hiking sandals (6 year old's pair, 3 year old's pair). They provide a little more protection for little feet, but still dry quickly. We used to have this cheaper pair since they outgrow shoes quickly, but toddler hiking sandals are worth spending just a bit more on. The cheap version quickly frayed and even got holes, while this pair that's only slightly more has lasted SO well. We don't like to accumulate a lot of toddler hiking gear but these have absolutely been worth the spend.
These carabiners are so dang useful for so many reasons! They can clip an extra water bottle onto a pack, they can clip your keys to the top of a bag so they're easy to find, or they can clip a trash bag in place. Our kids love using them to hook their jackets to their children's hiking backpack if they get hot. Trust me. You'll find a million uses for them.
I always like to have an extra water bottle that keeps things cold. This one is my favorite.
This is one of those things that I tend to forget with my brown-skinned kiddos, but is still SO important. This is my very favorite sunscreen that I've started just leaving in our bag so I don't forget it. It's a mineral (zinc-based) sunscreen, so it protects the skin on top instead of soaking in.
While this provides much better protection, most zinc sunscreens are a giant pain to rub in. This one rubs in really easily and is just the creamiest texture. I love it so much.
Speaking of topical skin treatments, bug repellant is so important while hiking. Deet is definitely the most effective if we're in any intense bug areas, especially when we want to protect against malaria and the like. This is my very favorite Deet lotion. It's super effective even though it's not a crazy high Deet percentage, and I prefer the lotion to a spray with kids (especially on faces). We have this Deet spray only for the very buggiest of places if we're super worried about mosquito-borne illness.
I don't love using Deet all the time when not really necessary, though, so this Picardin lotion is effective, cheap, and safe for the family. I'm also curious to try this Deet-free spray – we love the hair products from this line, and it's safe for the family. (If you're in the market for lice-repelling hair care, we LOVE the shampoo, conditioner, and especially the detangler!)
Hard to come by these days, but hand sanitizer is still ultra important. Especially be sure to use some before eating.
I'm a giant fan of wool for the cold, but it's equally effective for hot, sweaty activities. Wool is smells so much less and doesn't feel damp and uncomfortable, thus minimizing blisters. These are my VERY favorite wool socks for kids and adults. These are also these socks terrific.
There are plenty of options for this, but I really like this one for babies. It's great for protecting both the face and neck. This is another fantastic hat that also protects the neck, but works for babies AND bigger kids. Consider some sunglasses while you're at it.
Kids Hiking Clothes
While specific hiking clothes for kids are totally NOT necessary (we've done plenty of hikes in leggings and t-shirts – these are our favorites!), it can be nice to help kids stay dry and comfortable. These are great and convert from pants to shorts, or these are just shorts. These girls hiking shorts dry really quickly, or these are great if your child prefers a legging style. These active tees are also really useful for sun protection and staying comfortable and dry.
If you're hiking in colder weather, base layers are a must. Wool base layers are the very best for moisture wicking, and they can be worn multiple times without needing to be washed. My kids also really like these base layers, which are effective and inexpensive. These are my personal favorite base layers (top and bottom). And these wool base layers for kids are a recent find – they're excellent quality and have super soft designs even for little babies. (You can use the code PASSPORTFAMILY10 for 10% off!)
You never know how the weather will turn when hiking with kids. I always think it's great to add a lightweight jacket to your kids hiking gear just in case. I love these lightweight kids jackets because while they're not waterproof, they ARE water resistant. They're also pretty warm when layered, and can easily be washed. Our whole family has and loves them.
That said, if you know you'll be in consistent rain or snow, you'll want something not just water resistant, but waterproof. This jacket is a great option for that to layer over other warm clothing. You could also do a ski parka that's both warm and waterproof.
A headlamp certainly isn't necessary when hiking with kids, but they love them and they can be really helpful if it's dark (especially if you're camping). A worthy purchase. Here's another powerful one!
While this is definitely for slightly older kiddos, your child will likely feel so excited and grown up with this. We gifted our 9 year old a pocketknife for his 8th birthday (he'd been asking for a while) and he loves it SO much. He uses it to whittle sticks, and is asking to learn the skill of cutting open a can. Just be sure you review knife safety and proper storage!
This pocketknife isn't the exact one we have, but our child's is similar and does have multiple tools on it. Here's another multifunctional folding pocketknife, and here's a classic and simple one.
It feels utterly ridiculous to have strong feelings about something as mundane as bandages, but here we are. These bandages are the only ones I'll buy because they stay on and keep dirt out of wounds. They're also really helpful if someone gets a blister. Don't forget some disinfecting ointment, along with a mini first aid kit.
You do NOT want to totally run out of phone battery while you're out on a hike with kids. While you should, of course, disconnect and focus on your children, you want to be able to call someone in the event of an emergency, or look up directions if needed. I love this external charger so much – it's lightweight and charges multiple devices. I also have and adore the smaller version – it's perfect for just a couple charges to tide you over.
Truly, I shall carry baby wipes around until the day I die. So useful for emergency potty stops (be sure you pack along a spare plastic or resealable bag to pack out your trash, too!!), cleaning up messes, wiping cuts, cleaning hands, refreshing after a sweaty hike, and more. On that note, also be sure to carry some toilet paper with you. Definitely a baby camping gear essential, as well.
Best Baby Hiking Backpack
While we've tried several actual baby hiking backpacks, I personally still prefer using a soft structured carrier when hiking with a baby. There are a few pros and cons to a baby hiking backpack vs. a soft structured carrier.
The biggest advantage of a baby hiking backpack is that you can store quite a bit more than just the baby. There's room for snacks and water. They also typically will stand up on their own when placed down, which is helpful if you don't want to put baby on the ground (it can also work as a high chair to contain baby). Baby doesn't usually sit directly against your body, so they're also cooler, and typically have a built in sunshade.
Baby hiking backpacks also tend to be quite a bit heavier than a soft structured carrier, which is exacerbated by the extra stuff you can carry in it. The child also sits higher up, which means they have a better view, but can also mean you're less balanced overall. Good ones tend to be fairly pricey.
The biggest advantage of a soft structured carrier is that they tend to be extremely lightweight – hardly adding any more weight than the weight of the child. They sit close to your body, which means that while it can get hot, it also hardly affects your center of gravity. They're easy to use, comfortable (way more so than a pack in my opinion!), and you likely already own one.
SNACKS + TREATS
Do I need to say more?
OTHER USEFUL KIDS HIKING GEAR
Here are a few other items of kids outdoor gear that can be useful, but not essential, when it comes to kids hiking gear!
I hope this kids hiking packing list was helpful! And I'd love if you'd share any of your favorite hiking gear with kids – let me know in the comments!
KIDS HIKING GEAR FAQs
Should I Use A Baby Hiking Backpack or Soft Structured Carrier When Hiking With A Baby?

If you're planning on hiking with a baby often without another person to carry a pack, or have a larger child that wouldn't be comfortable to wear on your front while you also wear a backpack, then I would recommend a baby hiking backpack. On the other hand, if you typically hike with another person who could carry the pack, or don't mind wearing baby on the front as well as a backpack, then I love the comfort and ease of a soft structured carrier.

If you do decide that an actual baby hiking backpack makes more sense for you, I recommend this one or this one.
How can I make hiking more fun for kids?
Some great ways are to sing songs, tell stories, and practice, practice, practice. And don't forget snacks!
What to bring hiking for beginners?
Some of our primary essentials are good shoes and a pack to carry food and water. Check out the post for lots of other great kids hiking gear tips!
How do you take a toddler hiking?
There are a few options with either a soft structured carrier or a structured kids hiking backpack with a frame. The former tends to be more lightweight, but the latter will provide better support and storage, especially for longer hikes.
IF YOU LIKED THIS POST ABOUT THE BEST KIDS HIKING GEAR, YOU MIGHT LIKE THESE POSTS TOO:
NOT READY TO GO HIKING WITH KIDS QUITE YET? PIN THIS POST FOR LATER!