This post may contain affiliate links, which means I may earn a small commission if you click my link but does not change your price. See my affiliate policy here.
While we'd traveled to the area before, our previous visit to South Lake Tahoe was very short. So we were super excited for the opportunity to discover some new, fun South Lake Tahoe kids activities and also to discover a bit of South Lake Tahoe in winter!
Why South Lake Tahoe
There are lots of wonderful areas to explore around Lake Tahoe. We really enjoyed our time staying on the Nevada side of South Lake Tahoe this time as it's a little quieter than other areas and very family friendly. We loved that there were easy trails and attractions within a close distance, and that there were plenty of food options nearby, as well.
How Long To Spend in South Lake Tahoe and in the Sierras
We spent 3 days between South Lake Tahoe and Carson Valley, and that felt perfect. We had time to check out restaurants (we only did curbside pickup) and explore outside, and still have plenty of outdoor adventures to want to visit again soon.
If you're not traveling with kids, or if you just want to move at a faster pace, you could definitely do one day in Carson Valley and one day in South Lake Tahoe.
Where To Stay in South Lake Tahoe with Kids
We drove to the area in our RV, and loved staying at the Zephyr Cove Resort RV Park. It was convenient to trails and things to do in South Lake Tahoe, and beautifully situated with lots of trees and big spots.
Things to do in South Lake Tahoe in winter
Since we don't get winter weather in the Bay Area where we live, our kids were super excited to find some snow. There are plenty of "official" winter activities available like skiing, paid tubing areas, ice skating, etc. But some of them were really limited or not happening this year, and some are just tricky with a bunch of little kids.
So we opted to focus on just plain snow play and had a blast. I'll share below a couple of spots that we loved!
Day Trip to Carson Valley
During our visit, we spent the first two nights in Carson Valley and the 2nd two nights in Tahoe South. Since we were in the RV and needed to pack up each day, anyway, we didn't mind splitting our time between the two locations.
If you don't want to move your stuff around, though, the two areas are very close to each other and you could easily visit Carson Valley on a day trip, which is how I'm setting up this 3 day Lake Tahoe itinerary with kids!
Here's a perfect itinerary for a 3-day visit to South Lake Tahoe with kids, with a day trip to Carson Valley!
This 3 day itinerary for Lake Tahoe with kids and a Carson Valley day trip contains affiliate links, but all opinions are 100% my own. That means I earn a small commission if you purchase through my link, but doesn't change your price.
3-Day Itinerary for South Lake Tahoe with Kids (+ Carson Valley Day Trip)
Day 1: Carson Valley Itinerary
Breakfast + River Fork Ranch Nature Walk
Start off your adventure with a day spent in Carson Valley. If you're staying in Carson Valley itself, head over to Katie's Country Kitchen to grab some breakfast. Otherwise, if you're coming from South Lake Tahoe, grab some food to eat along the way.
Once you've filled your bellies, head over to River Fork Ranch to experience the beauty of a nature preserve that is also a working cattle operation. The easy walking trail is perfect for all ages and provides lots of opportunities to spot wildlife.
Town of Genoa + Mormon Station
Once you've gotten some fresh air, head over to the cute little town of Genoa, the first permanent, non-indigenous settlement in Nevada. Located there is Mormon Station State Park, which has wide lawns perfect for running around while you learn about the town's history.
You can head over to the town museum to see original artifacts, or listen for the church bells playing music. If you're there at the right time of year, you may even be able to enjoy the Candy Dance Faire, an arts and crafts festival that started in 1919.
Lunch: Cafe Girasole
At this point, head over to Cafe Girasole in Gardnerville for some of the best lunch of your life. The sandwiches and salads are perfect to pick up to go and eat in nearby Heritage Park for a picnic! Do not forget to buy some of the homemade toffee for dessert.
Carson Valley Museum
When you're done eating, head over to the Carson Valley Museum & Cultural Center. Don't miss the top floor exhibit on the Washoe Tribe that is native to the valley and learn about their incredible weaving and handicraft skills. The lower level has a replica of old shops, so it's a fun place to take little ones!
Dangberg Home Ranch Historic Park
Finish out your afternoon by heading to the Dangberg Home Ranch Historic Park. The ranch was once the home of Carson Valley's most prominent family, and the grounds are still well-maintained and perfect to explore. The museum does offer tours, or you can simply wander the grounds and take in the stunning views. Be sure to keep an eye out for birds in the area as you take in the surrounding mountains!
Dinner: Cook'd
Finish off the day with dinner at Cook'd. If you don't want to sit down to eat there, or if you need to return to your accommodations in South Lake Tahoe, they have easy carry out options so you can eat wherever you wish.
Day 2: South Lake Tahoe with Kids Itinerary
If you decided to stay overnight in Carson Valley, go ahead and pack up to head over for a day in South Lake Tahoe.
Hike to Castle Rock
If the weather is good, head up the Castle Rock Trail for some spectacular views. At 2.7 miles, it's relatively short and only has moderate elevation gain. If you go in winter months, consider taking shoe spikes as the trail will likely be covered in snow. Still, it will be beautiful and will provide a serene walk through the forest to stunning vistas. Definitely a doable trail with kids, too!
In the wintertime, this is also a wonderful area for some snowplay. It's quiet and calm with a decent amount of snow close to street parking. Perfect for experiencing the elements with little ones!
Lunch in South Lake Tahoe
After your hike, go get some fuel in town. My Thai Noodle is a great option with a delicious pumpkin curry!
Bike Ride on Rabe Meadow Path to Nevada Beach
For the afternoon, head over to the Rabe Meadow bike path. Park at the trailhead and bike (or walk!) down the mostly paved and dirt path down to Nevada Beach. The trail itself is relatively flat and very well maintained, so it's perfect with little ones or those who aren't accustomed to hiking.
Once you get to Nevada Beach, take some time to throw rocks in the water, check out the views, or play in the sand. It's the perfect place to let little ones run around!
Dinner: Los Mexicanos
Finish off the day with dinner at Los Mexicanos, a quaint little family-run restaurant with delicious and inexpensive food. Perfect for feeding hungry bellies after a long day outdoors!
Day 3: Lake Tahoe Outdoor Activities: Snow Play in Winter/Hiking in Warm Weather, Drive to Emerald Bay
Breakfast: Red Hut
Start your day off strong with breakfast at Red Hut, a Lake Tahoe institution. The cornmeal waffles are especially delicious, as are the multiple kinds of omelets!
After you've fueled for the day, head out to another area of Lake Tahoe with kids. There's so much to explore within a short distance!
Emerald Bay: Snow Play or Hiking
For this day, go over to Emerald Bay, one of the most beautiful areas of the lake. If you're there in wintertime, this is a perfect area to find some snow to play in. You'll find several pullouts on the shaded side of the bay where you'll find more snow. Once you've parked, you can walk in a short distance to find areas to safely sled away from the street.
Alternatively, the Taylor Creek Sno-Park is a perfect area to go if you'd like to spend some more dedicated time in the snow. The hills are well-maintained and perfect for families to explore!
If you're there in warmer weather, head over to the Vikingsholm parking area. From there, head on the 1.7 mile trail to Vikingsholm castle, a beautiful 38-room mansion. You'll have brilliant views along the way, too!
If you're interested in a longer hike, take the Emerald Point Trail that winds along the bay. You'll be rewarded with stunning views of crystal clear water!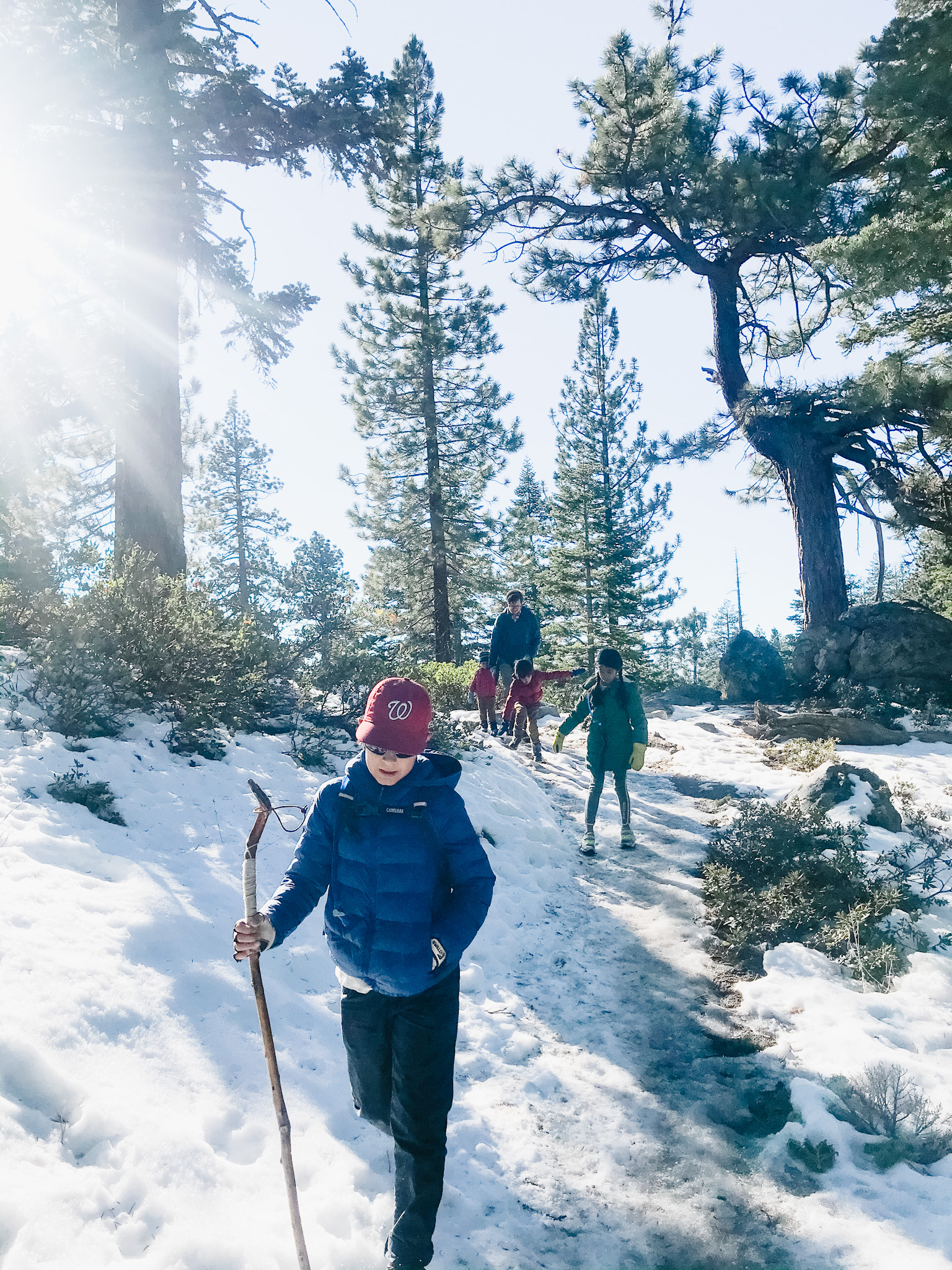 Lunch: Casey's
Head back to grab lunch at Casey's before heading back home, and taking some beautiful memories of Lake Tahoe with kids with you!
Is Lake Tahoe with kids on your family travel bucket list? And does your family love outdoors-focused travel as much as we do?
IF YOU LIKED THIS POST ABOUT VISITING LAKE TAHOE WITH KIDS, YOU MIGHT LIKE THESE POSTS, TOO:
DON'T NEED A LAKE TAHOE ITINERARY WITH A DAY TRIP TO CARSON VALLEY QUITE YET? PIN THIS POST FOR LATER!