This post may contain affiliate links, which means I may earn a small commission if you click my link but does not change your price. See my affiliate policy here.
California truly has endless things to do and places to see. But it's also BIG! It's almost impossible to explore the entire state, or even half the state, all in one go. So here are 5 epic Northern California road trips that will allow you to explore a diversity of natural wonders, climates, and topography!
Northern California Road Trips Packing List for Families
Sometimes the packing seems like the hardest part when taking a road trip with kids. When packing for a road trip in California, the biggest thing is to pack layers. Even in warmer areas, the weather can quickly turn windy and cool, so it's important to be prepared for anything. Here are some of our California road trip packing list essentials:
Ultimate Northern California Road Trip Packing Essential: Layers
We like to take a lightweight but warm jacket (men, women, kids). These are my very favorite wool socks that stay dry, cool, and comfortable. And here are my favorite yoga pants with pockets that I always wear for hikes.
Day Trip Packing Essential: Water
This is an absolute essential for road trips, especially in more remote areas. I always pack this water bottle since it's tricky carrying a hydration pack while wearing a baby if heading out on a hike.
But my kids always wear these kids hiking backpacks with water bladders and they are a literal lifesaver when hiking, but they're also really convenient in the car.
While on fun road trips in Northern California, you'll likely experience a variety of microclimates, including some very sunny ones. This is my very favorite sunscreen for myself and especially for my kids. It's a mineral (zinc-based) sunscreen, so it protects the skin on top instead of soaking in.
Many zinc sunscreens are a giant pain to rub in, but this one rubs in really easily and is just the creamiest texture. I love it so much. Don't forget a hat, too! I love this hat for babies.
Here's are a few posts that will hopefully help you as you choose from the best Northern California road trips!
Northern California Road Trips: Yosemite, Sequoia, and Kings Canyon
Yosemite National Park and Sequoia National Park are two of the biggest and most famous national parks in California and also across the country. They're filled with beauties from the largest living organism to huge granite cliffs to rushing rivers and waterfalls. They're pure California magic. Combining them both with the lesser-known but equally enthralling Kings Canyon National Park is one of our very favorite Northern California road trips.
Yosemite National Park Road Trip
Start in Yosemite and spend a few days soaking in the magnificence of the Valley. Be sure to get out to at least one of the less frequented areas, as well; Hetch Hetchy and Tuolumne Meadows are both stunning. Here's a full Yosemite family guide to learning about the park, things to do, where to stay, and more. And here are dozens more ideas for specific tours and activities. Definitely consider taking bikes along, as it's my favorite way to get around the Valley (here's our very favorite children's bike).
Sequoia and Kings Canyon National Parks Road Trip
After that, head south to Kings Canyon National Park, where you'll see the second largest tree in the world. Head over to the east side of the park for views of gushing waterfalls, a dizzying drive through the canyon, and vistas akin to Yosemite Valley but with fewer crowds.
If you're there in warm weather, take Generals Highway down from Kings Canyon to Sequoia, where you'll find some of the most awe-inspiring trees of all. Don't miss the Big Trees Trail and Moro Rock. This Northern California National Parks road trip is truly a bucket list road trip!
San Francisco Bay Area Road Trip
Though a relatively small area geographically, the Bay Area is packed with stuff to do for everyone of any taste. Outdoors lovers should check out the number of other redwoods groves nearby, as well as the many beaches along the rugged coastline. (The Davenport area is especially beautiful, and do NOT miss the artichoke bread. You could spend your entire time just driving here along Highway 1 and be content!) There are literally hundreds of hikes for every activity level, from short and paved walking paths to multi-day adventures. (Here are some great easy ones in San Francisco and San Jose.) Plus, there are dozens of iconic sites such as the Golden Gate Bridge and Pier 39.
Those who prefer exploring indoors will also find lots to love as San Francisco is filled with museums and cultural activities. Plus, you'll find some STEM gems near Silicon Valley, including the Tech Museum. Don't forget to check out some of these San Francisco hidden gems, and you can find lots more great ideas here.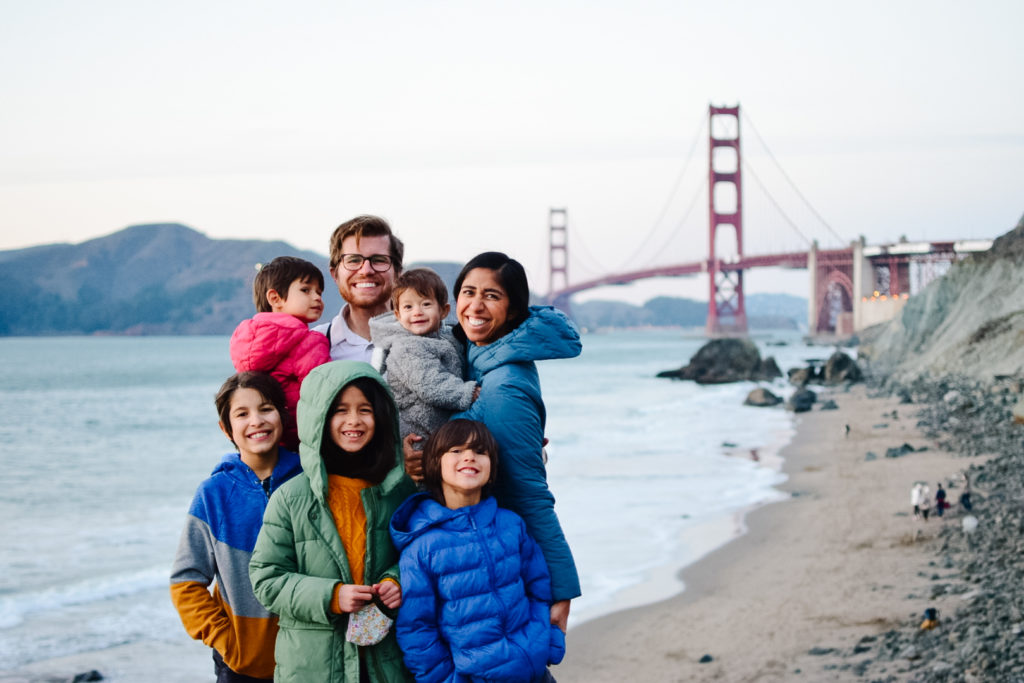 Marin County & Mendocino Road Trip
The "North Bay" and further up to Mendocino is just plain one of the most beautiful parts of the world. The area extends for several hours' worth of drive time, and you'll find plenty to do and see in every pocket. Look out for everything from rocky cliffs dropping into the Pacific to rolling hills filled with vineyards to towering redwoods. It's stunning.
Marin County Road Trip (also one of those can't-miss Northern California day trips)
Situated just north of San Francisco, Marin county is a perfect Northern California road trip from San Francisco. Though just across the Golden Gate Bridge, it feels like entering another world with its jaw-droppingly beautiful headlands and hikes down to the ocean. Make sure to head to Muir Woods, which lives up to its fame. Spend some time in the small towns of Mill Valley and Petaluma, which have great food to tide you over. And be sure to explore the different ecosystems, from fern forests to pathways leading to the sea.
Though you could spend months and years exploring the area, it's really worthwhile even on a tight timeframe and is one of the best Northern California day trips for families.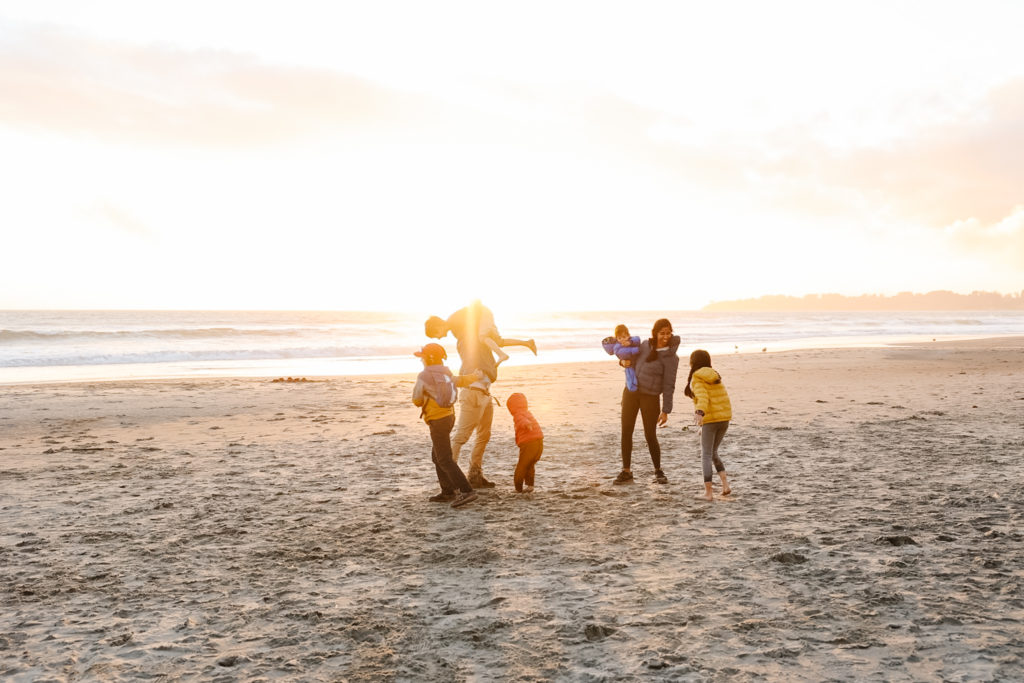 Napa, Sonoma, and Mendocino Road Trip
As you head further north, you'll find countless vineyards if you'd like to do some tastings, and some even offer grape juice for non-drinkers. Then as you near Mendocino, the coastline will become even more jagged and unruly. Be sure to stop at the Glass Beach in Fort Bragg that is filled with smooth and colorful sea glass. From there, you can either head further north or back south. Just try to stick close to the water on Highway 1 as it is such a beautiful Northern California coast road trip.
We also loved this as a Northern California RV road trip!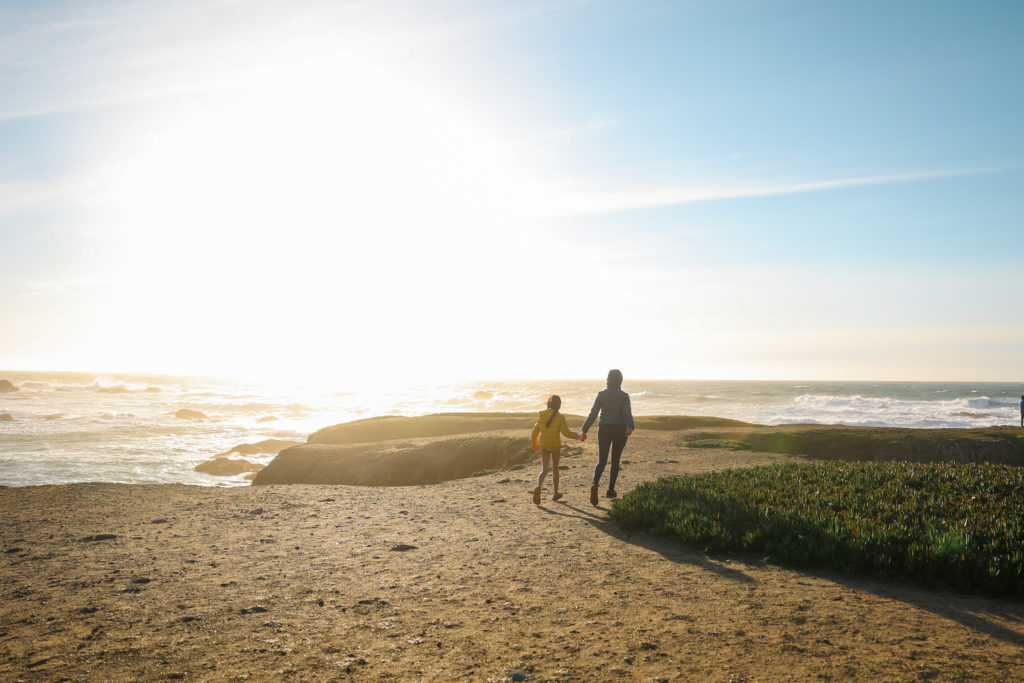 Redwoods & Mt. Shasta Road Trip
If you want something less touristy, there's just nothing in this world quite like the coastal redwoods and a Northern California road trip to see them is truly magical. As the tallest organism on earth, they are awe-inspiring both in their scale and in their mutual support. Instead of deep roots, those of redwoods are shallow but intertwined with all the others nearby, allowing each to remain standing by the strength of the group. While coastal redwoods are scattered along the Northern California coast, they're at their biggest and most impressive at the Redwoods State & National Parks. Here's more about visiting Redwood National Park for a Northern California redwoods road trip.
From there, head further inland to Siskiyou County and Mount Shasta. An area filled with alpine lakes and waterfalls, it's absolutely stunning and a true California (somewhat hidden) gem. Don't miss the famous Burney Falls, but be sure to also check out these other waterfalls.
The landscape is dominated by the 14k+ high Mount Shasta, so you'll see it from anywhere around. This also means there are plenty of hiking opportunities with both short and long trails, and wildlife viewing, as well. It's such a beautiful and more remote area and is one of the best road trips in Northern California.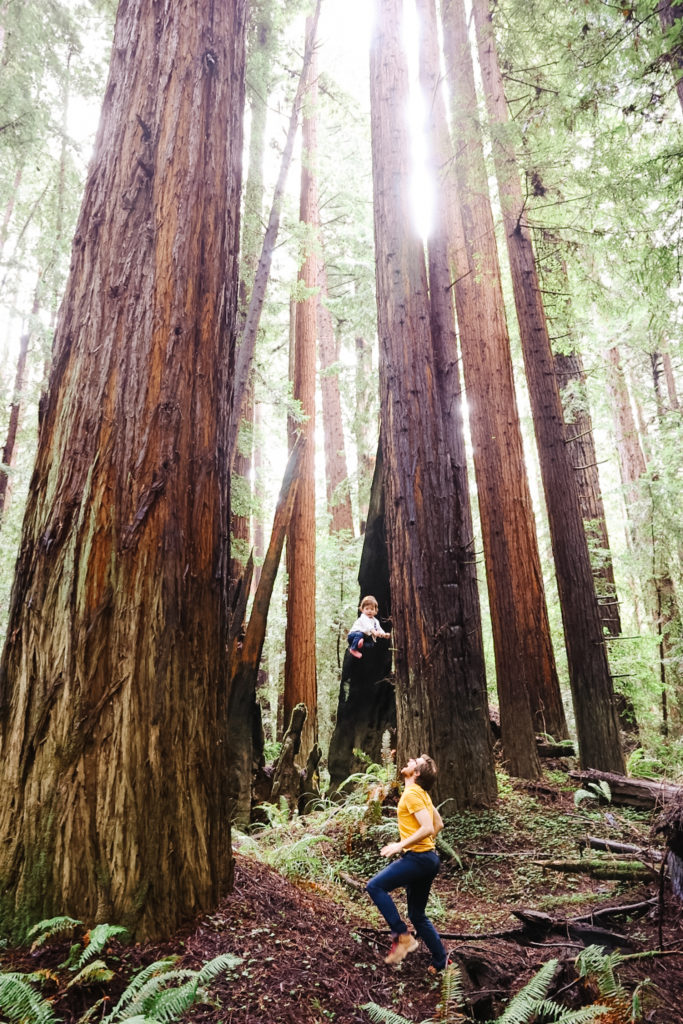 Lassen National Park & South Lake Tahoe Road Trip
California is home to 9 National Parks – more than any other US state – and Lassen National Park may be the most underrated of them all.
Lassen National Park Family Road Trip
This small park is incredibly diverse in its makeup – from winter vistas to hydrothermal areas and volcanic springs. While much of the park is closed in wintertime, it's a paradise for those accustomed to winter conditions and who hope to distance from others. The dark skies at Lassen are also world-class. Be sure to check out ranger programs, and if you have kids in tow, download the Night Explorer Junior Ranger booklet in advance to learn about the midnight wonders of the park.
South Lake Tahoe Road Trip with Kids
After exploring in Lassen, make your way down to South Lake Tahoe, one of the most storied treasures of the state. Early fall is a wonderful time to visit these areas when crowds are low and leaves are exploding with color. The Rubicon Trail along the shores of Emerald Bay are stunning with their blue-green waters. Be sure to make a quick detour to Vikingsholm Castle, modeled after Scandinavian architecture.
Here's a South Lake Tahoe family itinerary. It also has a jaunt onto the equally stunning Nevada side, as well – Carson Valley is one of our favorite Northern California day trips!
Have you gone road tripping in Northern California before? I'd love to hear in the comments!
Where should I go for a weekend in Northern California?
There are endless options for natural beauty, architectural icons, and cultural institutions across the northern half of California. Still, if you only have a weekend and it's a first visit to the area, I'd recommend the proximity of the San Francisco Bay Area. If you really want to get out of the city, you can tack on a trip up to the beautiful Marin County!
What is the best road trip in California?
All of the Northern California road trips on this list are absolutely stunning. That said, if I could only choose one for the rest of my life, I'd pick Yosemite, Sequoia, and Kings Canyon National Parks!
Where should I go for a day trip in Northern California?
If you're tight on time and looking to do a beautiful day trip, head up to Marin or Napa Counties. You'll find stunning hiking trails to the sea and rolling vineyards.
What is the most scenic drive in California?
Highway 1 for sure! You'll find bits of this on the San Francisco Bay Area road trip, the Redwoods & Mount Shasta road trip, and the Marin County and Mendocino road trips.
IF YOU LIKED THIS POST ABOUT EPIC NORTHERN CALIFORNIA ROAD TRIPS, YOU MIGHT LIKE THESE POSTS TOO:
NOT LOOKING FOR ROAD TRIPS IN CALIFORNIA QUITE YET? PIN THIS POST FOR LATER!