This post may contain affiliate links, which means I may earn a small commission if you click my link but does not change your price. See my affiliate policy here.
We've been really fortunate in the Bay Area to explore outdoors a ton. There are truly endless options for hikes, views, nature trails, and more. We've been hiking weekly for the last four months or so and still haven't run out of options! I've written previously on the best easy hikes in San Francisco. Today, I wanted so share some of our favorite, kid-friendly San Jose hikes – hiking is one of our favorite family activities in San Jose!
Some of these are directly in San Jose itself, while others are in the general South Bay area. All are relatively short and are great San Jose hikes for kids and families. Most of the trails, while easy enough for most kids, are not stroller and wheelchair-accessible (I've noted the couple that are).
What to Pack for Hiking with Kids in San Jose
Unlike San Francisco, San Jose tends to be much less variable when it comes to weather. The winters tend to be cool but not cold (and often damp), while the summers are hot and dry. Fall and spring are usually warm and dry. Here is some of our favorite gear when going on some easy hikes in San Jose.
Best Kid Friendly Hikes in San Jose
Distance: 1.6 mi
Elevation: 616 ft
One of our very favorite kid friendly hikes in the Bay Area, Uvas Canyon is absolutely stunning. Much of this San Jose hiking trail area can be dry and brown, so it's a treat to see lush greenery and flowing water. The trail is somewhat steep but definitely doable for kids, and the bridge crossings make it extra fun.
Generally, reservations are required on weekends, but the park is currently requiring reservations at all times. Go in early-late spring for the most water.
Distance: 1.6 mi
Elevation: 265 ft
While I love many of the hikes on this list, Castle Rock is a favorite with our kids. The trail itself is relatively short without much elevation gain, but the real attraction is all of the huge boulders to climb! It basically feels like a giant playground with lots of little steps, huge rocks, tall trees, and tiny cave-like spaces. One of our favorite easy hikes in San Jose.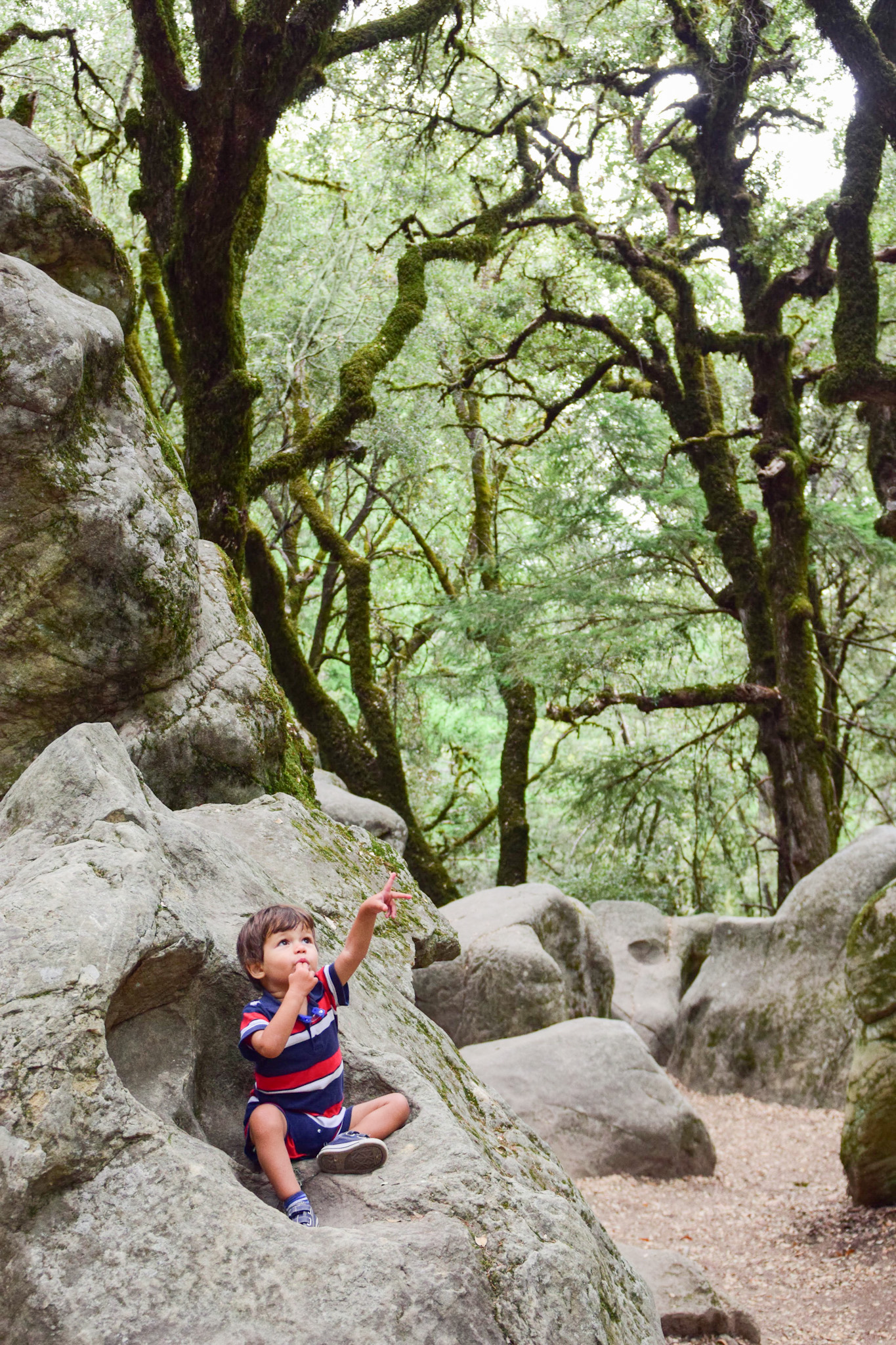 Distance: 5.3 mi in full
Elevation: 1043 ft in full
This newer open space is filled with stunning redwoods and is wonderfully close to San Jose itself, making it easy hike in San Jose to get to. While the full loop is 5.3 miles it's easy to do an out and back of about 2 miles – perfect hike with toddlers. It's great option if you want to quickly hike with kids in San Jose.
Distance: 2.6 mi
Elevation: 633 ft
Almaden Quicksilver County Park has a number of great trails at all levels of difficulty. This one is great for hiking with kids since it's relatively short but still involves some great views. We also like going up the mine trail, and then turning right at the old mine to come back down the shorter path (also about 2 miles for the loop). It's one of our favorite areas for South Bay hikes!
Distance: 2.2 mi
Elevation: 290 ft
This is an easy trail with major bang for your buck. It's one of the furthest from San Jose proper on this list so isn't really one of the San Jose trails, but is worth the drive to Pescadero. The trail itself isn't steep and starts directly from the parking area, then curves up to the summit. You'll enjoy sweeping views of the ocean and green hills the whole way, with plenty of wildflowers in the spring.
I usually prefer loop trails to out-and-back ones, but the views are so pretty here that I don't mind at all. Be sure to enjoy looking at Pigeon Point Lighthouse, and search around for migrating whales in the spring and fall. Definitely one of our favorite kid friendly hikes in the Bay Area.
Distance: 2.2 mi
Elevation: 521 ft
Here's another great trail system that will take you up to views of Lexington Reservoir. There are a few options here – you can make things really short by just going up the Novitiate Trail and back down the currently-one-way Flume Trail for a short 1 mile loop. Or you can continue on down the Jones Trail until you reach the reservoir. There are also plenty of other hiking trails near San Jose nearby here if you'd like to continue to higher elevation, or further along the Los Gatos Creek Trail. It's a perfect area for some Bay Area hikes with kids.
Distance: 1.9 mi
Elevation: 223 ft
This is a beautiful loop through meadows and wildflowers in the spring. It's relatively flat and easy for kids, and is currently a one-way trail on an easy-to-follow path. There are also great views of the city. It's one of the pretty viewpoints from hiking trails in San Jose.
Distance: 3.6 mi
Elevation: 656 ft
Another trail that will get you to some reservoir views! It has enough elevation gain to feel like a hike instead of a walk, but is also doable with kids. It has a nice, wide path with a decent bit of shade.
If you're short on time or energy, instead of doing the full loop, you can just do part of this Bay Area hike. Go up part of the Los Cerritos Trail to part of the Pena Trail and return back the same way you came for an even shorter out-and-back hike.
Distance: 1.5 mi
Elevation: 223 ft
I love this hike for kids who love to adventure. With plenty of stream crossings, water play, and trees to climb, it's a good one for older and younger kids. While you won't get any strenuous climbing or major distance, the fun activities make this San Jose hike worth it! Definitely one of the best hiking trails in San Jose.
Distance: 3.1 mi
Elevation: 570 ft
A really fun loop trail for hiking with kids that has enough elevation to get some exercise, but doable with younger kiddos. The loop has some great views of the valley and you may see some horses along the way (watch out for droppings). Keep an eye out for small animals and prints, and enjoy the shade in the lower elevation parts of the trail.
Distance: 2.6 mi
Elevation: 515 ft
This is one of our favorite beautiful and quiet hiking trails in South Bay that's near Castle Rock State Park. It's pretty exposed so best not in the middle of a hot day. But it has great vistas and nice, wide paths. A great one to get some exercise but still short.
Other San Jose hiking we've enjoyed exploring without completing a full hike:
Shannon Valley Open Space
Enchanted Trail in Santa Cruz (stunning redwoods!)
Saratoga Gap Open Space
Part of the Kennedy Trail at Sierra Azul Open Space
Coyote Creek Trail in Morgan Hill – part of this long trail system is paved
Others San Jose trails we hope to try:
I'll continue updating this post as we explore other hikes, and I'd love to hear your favorite easy hiking trails in San Jose with kids , too!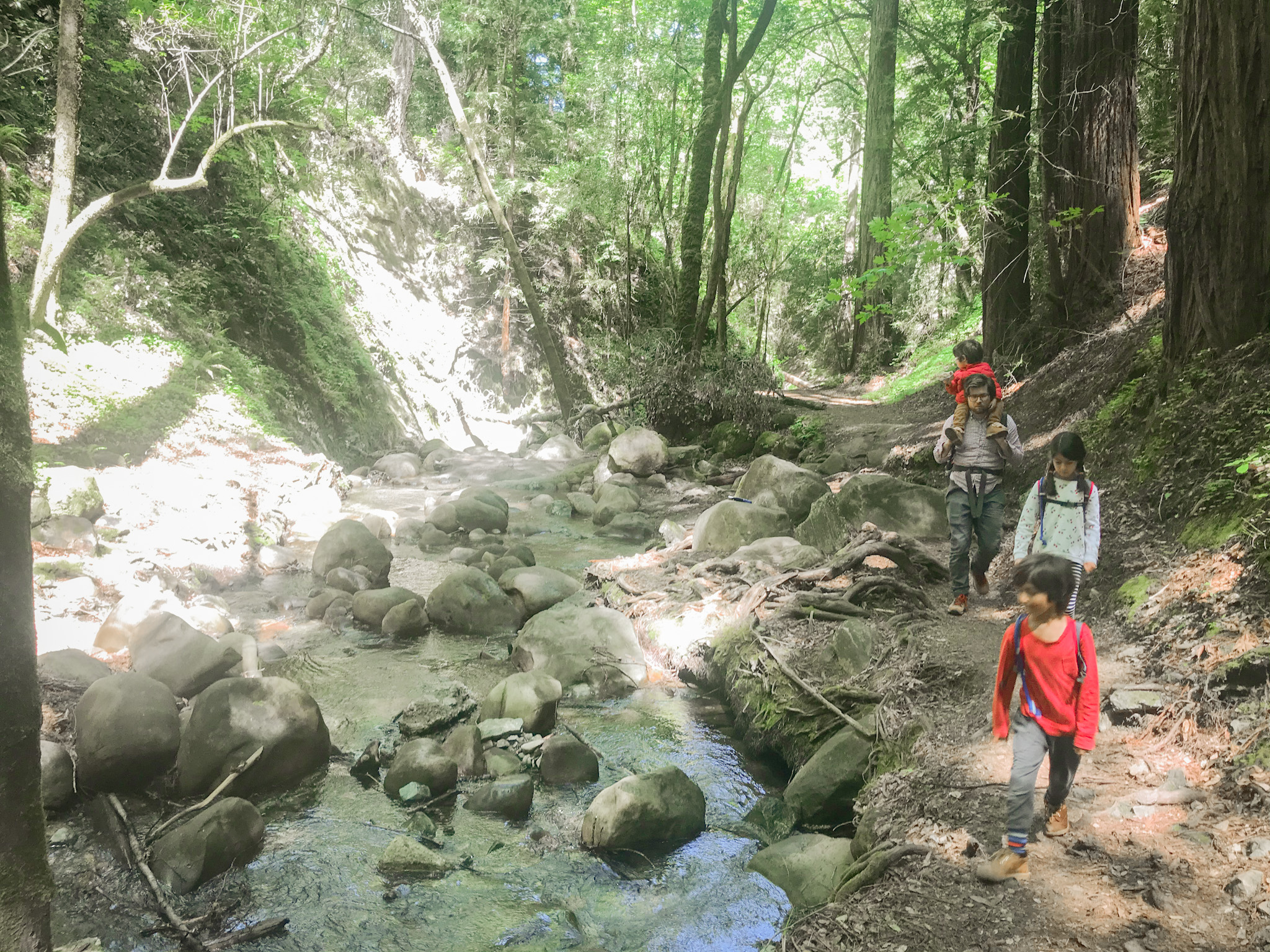 IF YOU LIKED THIS POST ABOUT EASY BAY AREA HIKES, YOU MIGHT LIKE THESE POSTS, TOO:
NOT READY TO START HIKING IN SAN JOSE QUITE YET? PIN THIS POST FOR LATER!