This post may contain affiliate links, which means I may earn a small commission if you click my link but does not change your price. See my affiliate policy here.
This post about hiking in San Francisco contains affiliate links, but all opinions are 100% my own. I earn a small commission if you purchase through my links, but your price stays the same.
San Francisco is filled with green space right in the middle of its urban areas, making nature accessible to everyone, regardless of ability. Whether you're local or visiting, here are some of the very best hikes in San Francisco for all ages!

Not too many urban areas have a plethora of natural space and hiking trails, but San Francisco is one of them. The city has a freshness to it that is assisted by the temperate weather, ocean air, and abundance of green space. Plus, the (in)famous hills create some of the best hikes in San Francisco!
The moderate climate also means that these hiking trails in San Francisco are accessible pretty much year round. Do be sure to check the weather in advance, of course, and always bring layers; San Francisco is notorious for needing clothing for all seasons over the course of a single day.
With 5 little kids who need to burn of plenty of energy, we've explored many trails within the city. These are some of our favorites that are doable for all ages and skill levels, but are still varied and diverse enough to be interesting for kids and grown ups alike. Most of these, while short, have huge bang for your buck either in terms of energy expenditure, views, or both!
Whether you're a lifetime local or just visiting for a weekend, these are some of the very best San Francisco hikes for families and all abilities!

What to Pack When Hiking in San Francisco
As I mentioned, San Francisco can get fiddly with the weather, so it's best to pack for a variety of circumstances. Here is some of our favorite gear when going on some easy hikes in San Francisco.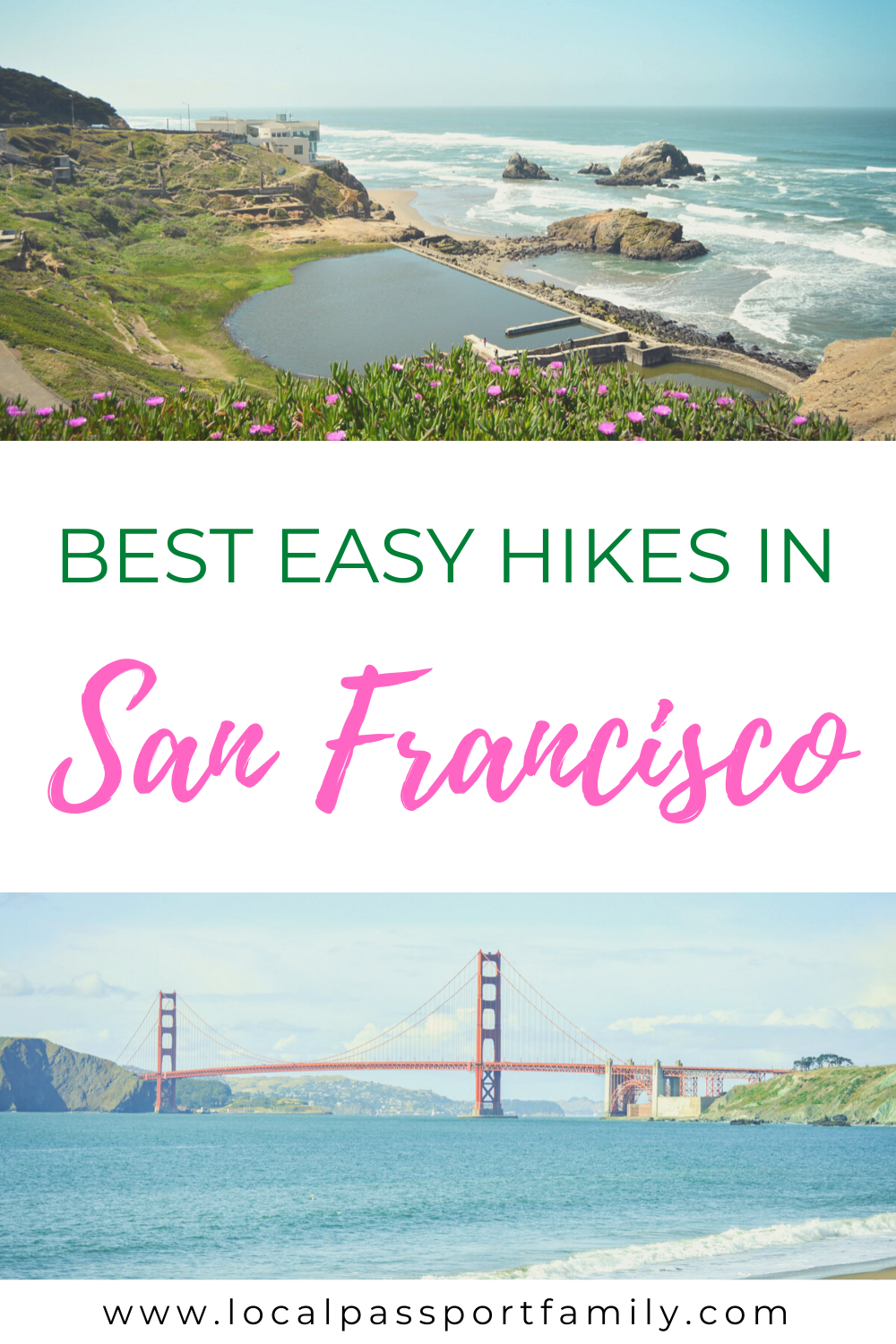 Best Easy Hikes in San Francisco: Amazing and Easy San Francisco Hikes
Distance: 1 mile
Elevation: 108 feet
Accessibility: Mostly stroller/wheelchair-friendly
This short loop rewards you with a stunning 360 degree view at the summit. A short, paved path leads to the top of the trail, where a somewhat famous swing hangs. You'll truly feel like you're flying over San Francisco! It gets a bit rocky at the top, but most of the trail is stroller-friendly. The accessibility, distance, and swing make it one of those perfect San Francisco hikes with kids!
Distance: .6 miles
Elevation: 114 feet
Accessibility: Has steps, so not wheelchair-accessible
This is another short hike with terrific 360 degree views. This one is a bit rockier and has steps, so leave the stroller behind. It's right by the renovated Randall Museum, which houses science and nature exhibits mostly geared at children, so it's fun to combine the two activities.

Distance: 2 miles for main loop trail
Elevation: 160 feet for main loop trail
Accessibility: Several paved loop paths, but the trail down to the beach is not accessible
The entire San Francisco peninsula used to be covered in sand dunes, and Fort Funston is the largest remaining remnant. While the undertow here can be extremely dangerous (not the best place for swimming and playing in the surf), the hiking is very fun. There are a number of paved paths near the top of the dunes, as well as trails down to the beach. The ones heading down are significantly more strenuous, so beware of time and effort.
Fort Funston's sand dunes are a bit further from the main tourist areas, so it attracts mostly locals (human and canine). There are gorgeous cliffs with views of the Pacific and plenty of furry of friends running around. It's also fun to do some sand tubing here!
Distance: 3.4 miles for the whole length
Elevation: 538 feet for the whole length
Accessibility: Parts are stroller-and-wheelchair-friendly
One of the most famous hiking trails in San Francisco, Land's End rewards you with truly spectacular views of the ocean and of Golden Gate Bridge. It's truly iconic. The Sutro Baths (old public bathhouse) are also nearby, which is always a fun stop.
While the entire trail goes over 3 miles, it's easy to make it a much shorter out-and-back trek depending on your interests and timeframe. Even if you only have a mere 15-30 minutes, it's worth a stop to take a quick walk out for some fantastic bridge and ocean views. When we have visitors who are on a tight timeframe, we like to park near the visitors' center and head toward the bridge from there. If you're crowd-averse, be sure to go at a non-peak time; early morning is usually very quiet.
This area of the city often gets quite windy and chilly, so be sure to pack accordingly. Still, an absolute must when hiking in San Francisco.

Marshall's Beach
Distance: 1 mile
Elevation: About 250 feet
Accessibility: Not wheelchair accessible
Marshall's Beach is one of our favorite beaches in San Francisco. The views are breathtaking, including of the Golden Gate Bridge. But it tends to not be very crowded since you have to hike down!
The trail is about a mile out and back when you park at the Langdon Court Parking lot. You'll head on part of the Batteries to Bluffs Trail before taking a spur to get down to the beach. The views are stunning the entire time!
Distance: 1 mile
Elevation: 246 feet
Accessibility: Not wheelchair accessible
While Twin Peaks is more famous, Mount Davidson is actually the highest peak in the city. Park on the street and head up less than half a mile for some really terrific views from the middle of San Francisco. This trail is not paved, so leave the wheels behind for this one. It also packs a decent bit of elevation gain into a short distance, so strap on your sturdy shoes and get in some exercise for your quads!
Distance: varies
Elevation: varies
Accessibility: varies
I love the Presidio for being extremely lush, green, and beautiful, and the hiking trails are no different. With over 24 miles of trails, you could never choose a single winner here. The Batteries to Bluffs Trail is a perennial favorite, as are the Bay Trail and Lovers' Lane Trail. You can't really go wrong here, though!
Plenty of the trails are paved, as well, so this is a great place to bring any wheelchairs or strollers. Many of the trails are quite flat, so they're great for simple strolls, as well.
Distance: 2 miles
Elevation: 154 feet
Accessibility: Not wheelchair accessible
Stow Lake is one of the most charming parts of Golden Gate Park, what with its row boats and pedal boats. The loop trail is serene and short. It takes you around the lake and surrounds you with lush foliage and plenty of chattering birds. A perfectly sweet spot for hiking in San Francisco.

Distance: 2 miles
Elevation: 495 feet
Accessibility: Not wheelchair accessible
When we first moved to the city, a friend told me about one of the trails in San Francisco that's a true oasis in the city. A true hidden gem, this is one of the best hikes in San Francisco if you really want to get off the beaten path but still have green space and beauty.
There's plenty of elevation gain in a short time here, so it's good for burning some calories, too.
Distance: 3.8 miles
Elevation: 511 feet
Accessibility: Not wheelchair accessible
Another of the truly iconic hiking trails in San Francisco. Check the weather beforehand, but don't be surprised if it's clear below and completely fogged in at the top (it's happened to us before!). But if you manage to catch it when it's clear, it's breathtaking. Sunset is crowded but worth it.
The entire loop is nearly 4 miles, but you can also drive nearly to the top and just walk up to see the views. It's beautiful either way, but I think the hike makes the summit even sweeter!

Distance: 3.9 miles
Elevation: 793 feet
Accessibility: Not wheelchair accessible
Fort Point is truly one of my favorite spots in San Francicso, and the hike from it is no exception. It goes right along the coast and is invigorating and beautiful. Either direction is gorgeous, but I think it's pretty fun to walk toward the Golden Gate Bridge and Fort Point. Definitely look up the Fort Point hours in advance to leave time to explore there!
Distance: 3.9 miles
Elevation: 32 feet
Accessibility: Not wheelchair accessible
The loop from Crissy Field to the Palace of Fine Arts and back hardly counts as a "hike" since it's so flat, but it sure makes for a lovely stroll. Paved and serene, you'll enjoy watching picnickers, kites flying, and children running while walking near the water.

I hope you enjoyed these tips for the best hiking trails in San Francisco! Please share any I missed in the comments!
IF YOU LIKED THIS POST ABOUT EASY SAN FRANCISCO HIKES, YOU MIGHT LIKE THESE POSTS, TOO:
NOT READY TO START HIKING IN SAN FRANCISCO QUITE YET? PIN THIS POST FOR LATER!