Are you searching for the perfect 3 day San Francisco itinerary with kids? Read on for our family's best recommendations of worthwhile hotspots and hidden gems for your visit to the City by the Bay!
This post may contain affiliate links, which means I may earn a small commission if you click my link but does not change your price. See my affiliate policy here.
When we first moved to the Bay Area, we lived in San Francisco for a couple of months in temporary housing. We knew it wouldn't work long-term due to commute times, so we determined to make the most of our time there by exploring as much as possible. While we no longer live in the city, we still love heading in to re-explore our favorite haunts every chance we get. Based on that, we put together our perfect San Francisco itinerary with kids – one that adults will love, too!
Whenever visiting a new place, I like finding a few local and off-the-beaten-path favorites. This San Francisco itinerary is a perfect mix of classic and famous favorite things to do in San Francisco with kids, with a few hidden gems mixed in. Whether you're coming to San Francisco sooner or later, I hope you enjoy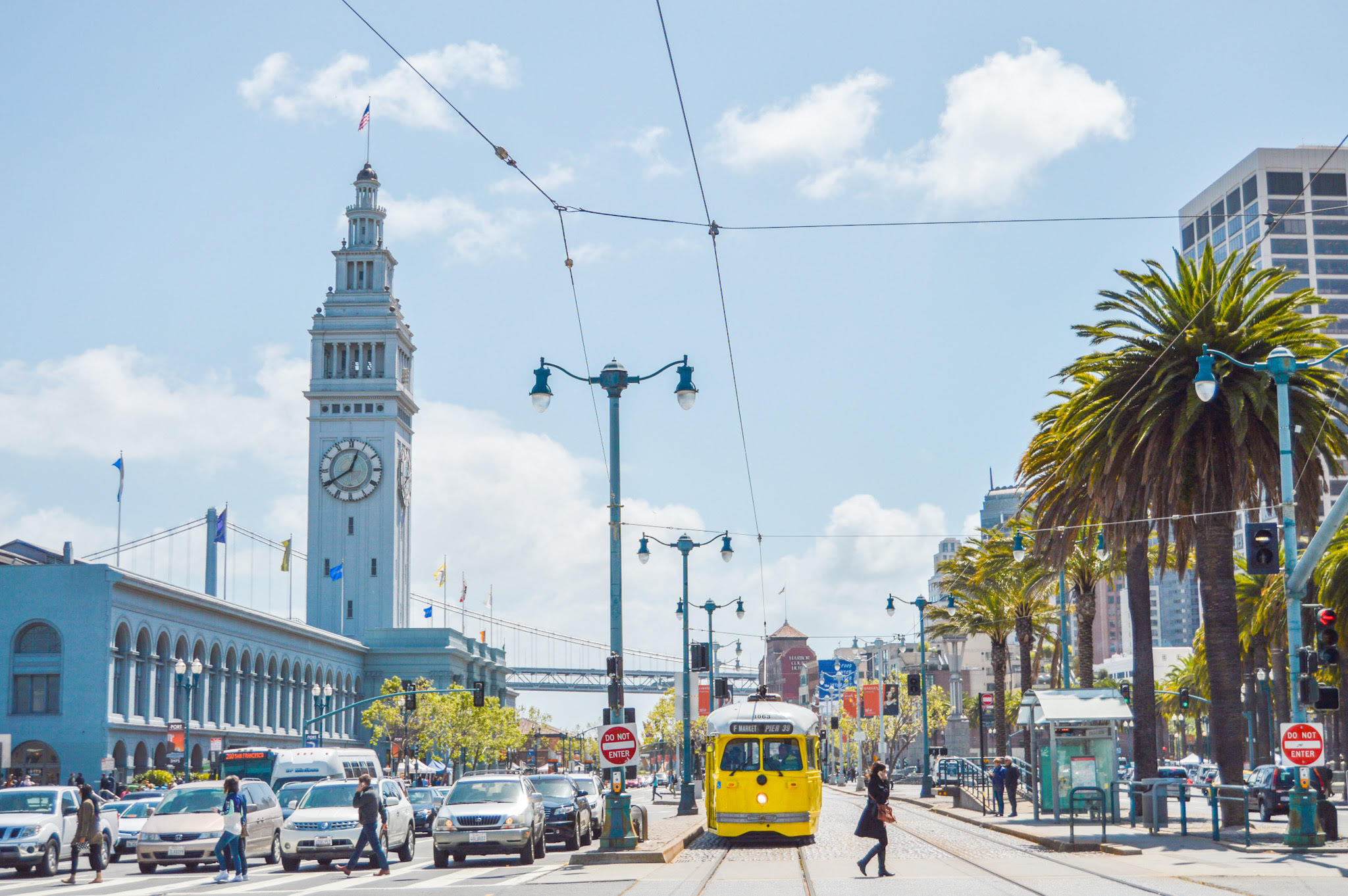 Where to Stay in San Francisco with Kids
San Francisco has a number of interesting and distinct neighborhoods. For a shorter visit, I recommend staying somewhere relatively close to some main attractions that allows a decent bit of of walkability. Some great neighborhoods are the Marina, Nob Hill, or parts of North Beach.
If you are renting a car for the duration of your trip, consider staying in a more residential and less touristy area of the city, such as Cole Valley or the Inner or Outer Richmond. You'll have easier access to Golden Gate Park, which has a number of family activities in San Francisco. You can also drive closer to the main tourist sites, and park your car for the day while you explore on foot.
Wherever you stay, try to learn a bit about the neighborhood in advance. You and your kids will love seeing some familiar sites once you arrive!
How To Get Around San Francisco
Note: Public transportation in San Francisco is spotty. The buses/trolleys/cable cars are decent when you stay in the Fisherman's Wharf, North Beach, Chinatown, or Union Square areas, but aren't convenient when trying to get further west or south.
Golden Gate Park has a number of excellent activities for any San Francisco itinerary, and the Mission is definitely worth a stop as it has some really fun things to do in San Francisco with kids. Because of this, I recommend renting a car for at least 1-2 of the days when visiting San Francisco with kids to give you a little more flexibility on activities and timing. Alternatively, both Lyft and Uber are active in the city.

This post about the perfect 3 day San Francisco itinerary with kids contains affiliate links, but all opinions are 100% my own. That means I earn a small commission if you purchase through my link, but doesn't change your price.
What to Pack for 3 Days in San Francisco
San Francisco weather is notoriously fickle. Summer, oddly, tends to be particularly chilly, with lots of fog setting in and cool ocean breezes passing through. Spring and fall tend to have some warmer days, but even they can turn chilly quickly and especially in the evening. Be sure to dress in layers each day.
It's rarely cool enough to need base layers in San Francisco. Instead, I recommend a lightweight underlayer in the event it gets warm enough to head down to the beach. Throw on a sweater on top of that, as well as some sort of wind-resistant outer layer. This will be especially useful if you head out near or on the water. Add a pair of pants and some good walking shoes and you're set for pretty much your whole trip.
San Francisco enjoys a pretty casual culture. So even if you head out to a slightly nicer dinner or theater performance, you'll most likely be fine in your normal day clothes.
Favorite Products
I really love these coats (women, men, kids) for providing a warm-but-not-too-warm outer later and protecting from the wind. I recently got these shoes, which are comfortable, versatile for travel, and great for walking around.
San Francisco is famous for its hills, so I would recommend against a heavy stroller. We love our lightweight umbrella stroller, or this baby carrier is our favorite for smaller kids. Speaking of hills, everyone is bound to get winded and thirsty, so I always make sure to take a few reusable water bottles along. (Here's my favorite for myself, my favorite toddler water bottle, and my favorite water bottle for elementary schoolers.)
3 DAY SAN FRANCISCO ITINERARY WITH KIDS
3 DAYS IN SAN FRANCISCO ITINERARY: DAY 1
(Prep the day before by picking up basic picnic stuff for this day.)
Morning: Academy of Sciences, de Young Museum, Lunch + Twirl 'n Dip
Golden Gate has a plethora of activities for families with all different interests. Start the day off strong while your kids are feeling fresh and head to the California Academy of Sciences. It's one of the best and most beautiful natural history museums, and one of our favorite things to do in San Francisco with kids. Make sure to walk through the amazing rainforest, and don't forget to check out the earthquake simulator.
Once you've finished up, head across the way to the de Young Museum. It's free to take the elevator up to the observatory for a great view of the city! if you're there on a Saturday, be sure to pop in for some of the excellent (and also free) family programming. They have terrific learning and engagement opportunities, plus some really fun craft projects.
When you've finished up with the museums, head into the park and eat your picnic (or stop into one of the museum cafes to grab some lunch). Don't forget to stop at the Twirl 'n Dip truck near the museums for a chocolate-and-sea-salt-dipped soft serve cone.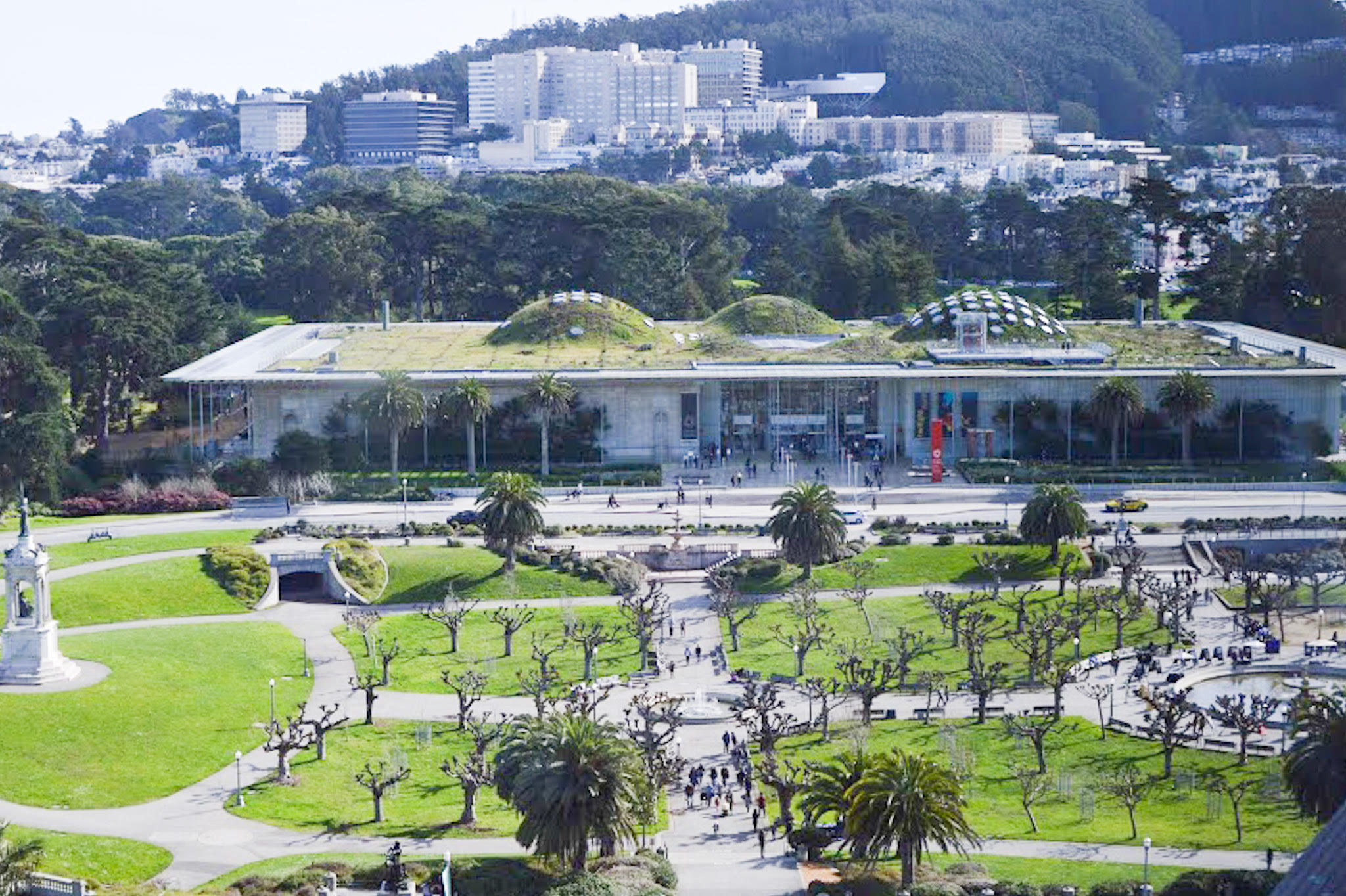 Afternoon: Golden Gate Park, Fort Point, Land's End, Sutro Baths
After you've enjoyed some sustenance, head off to check out some of the rest of Golden Gate Park's offerings. I highly recommend stopping first at the Koret Playground to burn off some energy. It has super fun concrete slides, and a beautiful carousel.
After you've played a bit, go explore the rest of the park. There is a huge variety to appeal to all interests – the Japanese Tea Garden is a peaceful haven, and the Conservatory of Flowers is good even in blustery weather. If you luck out with some sunshine, head over to do some pedal boating on Stow Lake, go hiking on Strawberry Hill, or go visit the Botanical Garden or Dutch Windmill & Queen Wilhelmina Tulip Garden. If all else fails, there's always the buffalo paddock! Truly something for everyone.
When you're finished, head over to check out the Sutro Baths and Land's End. You'll find the remnants of an old public bathhouse as well as an easy, kid-friendly hike with spectacular views.
Beach, Dinner, Wave Organ
If you still have some daylight left, pop down to play on the beach for a bit. Baker Beach and China Beach are both smaller and on the quieter side. East Beach by Crissy Field is expansive and perfect for running around.
Finally, grab some food for dinner nearby. We love Nopalito for slightly nicer Mexican, or Arizmendi Bakery for pizza. Or here's a great list of places to eat in the nearby Richmond neighborhoods! Alternatively, you can pick up some food to go closer to the Marina neighborhood and take it down the jetty from the Marina Green to the Wave Organ. Your kids (and you!) will have a blast hearing the different sounds of the water hitting the pipes while you eat.
3 DAYS IN SAN FRANCISCO ITINERARY: DAY 2
(I would recommend walking or using public transportation as much as possible this day.)
Morning: Pier 39, Fisherman's Wharf, Maritime National Historical Park
Day 2 of your San Francisco itinerary will help you learn a bit of the history of the City by the Bay, and will take you to visit some of its most famous stops. First, head to Pier 39 before it gets super crowded and check out the can't-miss sea lions. You'll hear them barking all the way down the pier! Touristy as it may be, it's also fun to wander down main section of Pier 39 for a bit and ride the carousel. Or you can pop into Magowan's Mirror Maze, which is surprisingly fun and relatively short (and almost always has a Groupon deal running).
Continue along the water and walk through Fisherman's Wharf. If you're early enough, you'll still see some fish being thrown! From there, head over to the Maritime National Historical Park visitors' center. It's not huge so won't take a ton of time, but it's worth a stop to learn a bit about San Francisco's historic waterfront neighborhoods. Don't forget to pick up free Junior Ranger booklets so the kids can earn a badge!
Once you've finished up in the visitors' center, head across the street to Hyde Street Pier to go aboard the historic ships. Entry is $15/person (free for kids 15 and under), or free with your National Parks annual pass. There are a number of demonstrations and activities on board the ships as well as on dry land. We especially love the historic exhibits aboard the Balclutha. If you have more than 3 days in San Francisco, you can even go sailing on the scow schooner Alma with advance reservations. It's such a great spot filled with fun things to do in San Francisco with kids!
Afternoon: Lunch at Boudin Bakery, Musee Mecanique, Cable Car Museum
When you've finished with the historic ships, stop into Boudin Bakery for lunch. Beware – it will likely be quite crowded. But it's worth coming to the location at Fisherman's Wharf so you can pop into the small museum upstairs. You'll find the giant mixers, huge batches of dough, and tons of animal-shaped loaves. There are also a few little exhibits that talk about the history of the bread and its connection to San Francisco. Definitely get soup in a bread bowl with your lunch order!
If you have a hankering for dessert after, Ghiradelli Square is just a short walk away. (To be honest, I think the desserts here are overhyped and overpriced, but they are certainly a classic stop when spending 3 days in San Francisco.)
When you've finished eating, head down to Musee Mecanique for a short stop. You'll find an old-fashioned arcade with everything from air hockey to coin-powered marionette dancers in a box. Give everyone a handful of quarters (they have both ATMs and coin-changing machines on site) and let them choose a couple games to wind down a bit. It's a fun and easy stop when visiting San Francisco with kids!
After you've had some fun, hop on a cable car up to the (free!) Cable Car Museum. The museum won't take long, but it's fun to see the giant cables rotating and learn a bit about how it all works. When you've finished up seeing the cables, head out on a walk of the nearby area. Take a stroll by the beautiful Grace Cathedral, and wander into Chinatown. It's the oldest one in North America and the largest Chinese neighborhood outside of Asia! Don't forget to stop by the Golden Gate fortune cookie factory, where up to 10,000 fortune cookies are made in the tiny shop in a day. Such a fun spot when visiting San Francisco with kids!
From Chinatown, hop in a vehicle to head over to Fort Point, an old Civil War fort and one of our favorite stops in San Francisco. (Note: the fort is only open Friday-Sunday in the fall-spring, but is open 7 days a week in the summer.) You'll enjoy an amazing view of the Golden Gate Bridge from beneath and hopefully some glowy, late-afternoon sunshine. Keep an eye out for whales!
After that, head back inland to dinner at the Italian Homemade Company (our favorite is the Union St location), where you can watch them making all the fresh pasta. If you still have room, pick up some fresh Bob's Donuts to take back to your accommodations.
Evening: Optional Outings for Your San Francisco Itinerary
If you're not totally exhausted, you may want to look into some special programming for the evening. The San Francisco Ballet and Symphony are both world-class (the Ballet was the first US-based company to perform The Nutcracker). Another option is the Beach Blanket Babylon revue show, a San Francisco classic (it's pretty tame, but only the matinee shows allow children ages 5+).
3 DAYS IN SAN FRANCISCO ITINERARY: DAY 3
Morning: Liguria Bakery, Coit Tower, Alcatraz
Be sure to get going early this morning and make your first stop Liguria Bakery. (Staying fueled with good food is important when visiting San Francisco with kids!) By going first thing, you'll hopefully manage to pick up some delicious focaccia before they run out. Then, head over to Coit Tower for a gorgeous view of the city. Don't forget to appreciate the beautiful Diego Rivera fresco!
After you've seen the city from above, head down to the water. Hopefully you've managed to reserve tickets to Alcatraz in advance. If you have, head over to Pier 33 to catch your ferry. Our kids were fascinated by the audio tour of the old prison, and we all loved the refreshing and salty Bay air. (If you have extra time in the city, consider doing the tour that combines Alcatraz and Angel Island. It's a wonderful, day-long outing for the whole family!)
If tickets are sold out, head straight to the Exploratorium instead. There are SO many fun and educational exhibits and activities that kids will love. The prime age for understanding the scientific concepts presented is probably 6+. Still, younger kids will love the experience (and pushing all the buttons!) even if they don't necessarily understand the hows and whys.
Midday: Lunch, Exploratorium
After a full morning, go grab some lunch. If you went straight to the Exploratorium, the Ferry Building is just down the road. Enjoy a short walk or take the trolley – not to be confused with the cable car! Our favorite place is Cowgirl Creamery, a Marin County staple. The grilled cheeses and raspberry milk are amazing! If you're heading up north after your time in the city, it's great fun to stop at the Cowgirl Creamery Factory near Point Reyes.
If you're coming back from Alcatraz, consider heading right into the North Beach neighborhood to Molinari Deli (delicious and huge hot & cold sandwiches) or Golden Boy (thick focaccia pizza). Both are easy and delicious options when visiting San Francisco with kids! When you've finished eating, head over to the Exploratorium if you haven't already.
Afternoon: Mission District: Mission Dolores, Dolores Park, Tartine, Bi-Rite
Once you've finished up at the Exploratorium, hop in your car and head to Mission Dolores, the oldest building in San Francisco. Take a quick tour, then walk over to Dolores Park. Grab a snack (or dinner) at Tartine Bakery (there's almost always a line, but it's worth it!). Get it to go and take it over to the park and enjoy the fun slides and space to run. Stay over on the playground side if you want to avoid some of San Francisco's more…pungent scents.
After playing at the park for a while, stop for some delicious Bi-Rite ice cream. Salted caramel is the most popular, and for good reason. If you're okay with just one or two flavors for everyone to share, skip the line to get a cone and go straight to the front to purchase pints. You may also want to walk around the Mission a bit to see some of the fun murals.
Evening: Giants Game + Dinner OR Twin Peaks
If it's baseball season, head over to AT&T Park in the evening to check out SF's beloved Giants play. There are plenty of cheap tickets available if you don't mind being high up. You'll still be rewarded with one of the prettiest views in baseball! Plus, there are plenty of places to eat inside the stadium, so grab dinner there.
If it's not baseball season, or if baseball isn't your thing, head over to Twin Peaks instead. If it's clear, you'll get to enjoy a spectacular view of the city. It will be crowded, but worth it. Another option is Bernal Heights, which has a short hike and a fun swing that makes it feel like you're flying over the city. Hopefully, you'll catch a glorious sunset over the Bay to round out your 3 days in San Francisco itinerary.
Extra Days in San Francisco
If you have more than 3 days in San Francisco, we love the free tours at City Hall, the Asian Art Museum (with excellent children's activities), and the Children's Creativity Museum. Or you could head to Fort Funston to do some sand sledding, or visit the Haas-Lilienthal House, San Francisco's only Victorian home open to the public.
You could also consider adventuring outside the city. Some favorites include Muir Woods, the Fitzgerald Marine Reserve for tide pooling, Point Reyes for stunning hiking and coastal views, the Stanford campus in Palo Alto, the Bay Area Discovery Museum in Marin, or the Tech Museum in San Jose. Santa Cruz is beautiful and has lots of gorgeous beaches. Monterey and Carmel aren't terribly far, and the Monterey Bay Aquarium is well worth a visit. Oakland has a number of fun museums (we love the Chabot Space & Science Center), and Berkeley has lots from terrific food to a hands-on building playground.
Basically, you could return an endless number of times and never run out of activities for a fantastic San Francisco itinerary. Enjoy your visit!!
Hope you enjoyed these tips to for the best 3 day San Francisco itinerary!
MORE POSTS
IF YOU LIKED THIS POST ABOUT THE PERFECT 3 DAY SAN FRANCISCO ITINERARY, YOU MIGHT LIKE THESE POSTS, TOO:
NOT READY TO PLAN A TRIP TO SAN FRANCISCO WITH KIDS QUITE YET? PIN THIS POST FOR LATER!