This post may contain affiliate links, which means I may earn a small commission if you click my link but does not change your price. See my affiliate policy here.
I'd heard so many things about Olympic National Park for years before we visited – its beauty, its diversity, and also how confusing it can be to navigate. All proved to be true! I just really wanted an Olympic National Park itinerary to show me exactly where to go and in what order while minimizing backtracking.
Honestly, you could happily spend a full week (or more!) exploring Olympic; there is just so much to see. However, I would recommend a minimum of 3 days for the park. Four is better. But sometimes we only have a day or two, in spite of our best intentions. I've provided options for a compressed timeline, too, and included some of the very best things to do in Olympic National Park even if you don't have much time.
Note that Olympic gets a LOT of rain. Parts of it get upwards of 12 FEET per year. July and August are the most likely to be dry, but rain isn't unheard of the, either. So it's not unlikely that you'll need to consider changing plans based on the forecast. That said, much of these Olympic itinerary is still doable in the rain if you're willing to tolerate a bit of wetness. Just pack good gear and be willing to be flexible!
I hope these options for the best Olympic National Park itinerary is helpful as your family decides what to do in Olympic National Park!
What To Pack For Olympic National Park
One Day in Olympic National Park Itinerary
If you only have one day to explore Olympic, I recommend choosing one area and sticking to it. That way, you can minimize travel time between activities and maximize time exploring on the ground.
With one day in Olympic with kids, my first choice would be to head to the coast, with a bit of rainforest.
Coastal Tide Pools & Beaches
Start out by checking the tide schedule (here's one for Ruby Beach and one for Kalaloch Beach 4) to find the lowest tide of the day, and plan to be there then if possible. The best option is a negative tide, but if the lowest tide is in the middle of the night, you should be able to see some amazing things in tide pools anytime the tide is under +1.5-2.
Plan to arrive to the tide pools about half an hour before the lowest tide if possible. I recommend wearing either sturdy water shoes or rain boots while exploring the tide pools. Be careful with your footing, especially with little ones, watch out for "sneaker waves" (surprise big waves), and avoid stepping on marine life.
These are some great tips for protecting the animals and habitats in tide pools and viewing them respectfully!
After you've spent time exploring the tide pools, find a stretch of beach to play in the sand and surf. Know that the water may be chilly, but still beautiful! Ruby Beach is our favorite for playing because of its wide, beautiful stretches of sand.
Hoh Rainforest
Once you've had your fill of beach (or perhaps before, if you go to the beach in the afternoon due to tide times), drive inland to the Hoh Rainforest. Beware that the line to get into the parking area here can take a while during busy times. Once you're parked, head to the Hoh Rainforest Visitor Center to learn a bit about this incredible area and its native peoples, and also to talk to the rangers about options for visiting. Don't forget to pick up Junior Ranger books for the kids to complete – you can turn them in once your done for a badge!
Next, choose a trail to explore through the rainforest. The Hall of Mosses trail is perfect for families – it's only 0.8 miles long but gives you a beautiful glimpse of old growth forest and club moss. The Hoh River Trail is also a wonderful option. It's a long out-and-back trail that goes out nearly 20 miles one way, but you can take it for as long as you wish before turning back. The first river access is only 0.9 miles one way, and Mineral Creek falls is 2.7 miles one way.
If you're ambitious, you can consider visiting the tide pools, heading to Hoh, and then going up to Hurricane RIdge for sunset. Keep in mind this option will involve about 4.5-5 hours of driving, assuming you stay overnight on the coast the night before and in Port Angeles the second night.
Two Days in Olympic National Park Itinerary
Hurricane Ridge
With a second day in Olympic, I recommend adding a visit to the third major ecosystem in the park (after the coast and the forest): the mountains. With this extra day, start your visit by heading up Hurricane Ridge first thing in the morning to beat some crowds and to view some morning wildlife. Note that the road is open 24/7 from mid-May until October, but only on weekends during snow months. (You can call 360-565-3131 for a 24-hour road and weather recording. Note that all vehicles must carry tire chains during winter months.)
While at Hurricane Ridge, take a hike to some stunning views of Olympic National Forest and the Strait of Juan de Fuca. I suggest either Sunrise Point via the Cirque Rim & High Ridge Trails (about 1.5 miles round trip, 200 ft of elevation gain) or the Hurricane Hill Trail (3.2 miles round trip, 700 ft of elevation gain). Consider a ranger-led snowshoe walk if you're there in winter!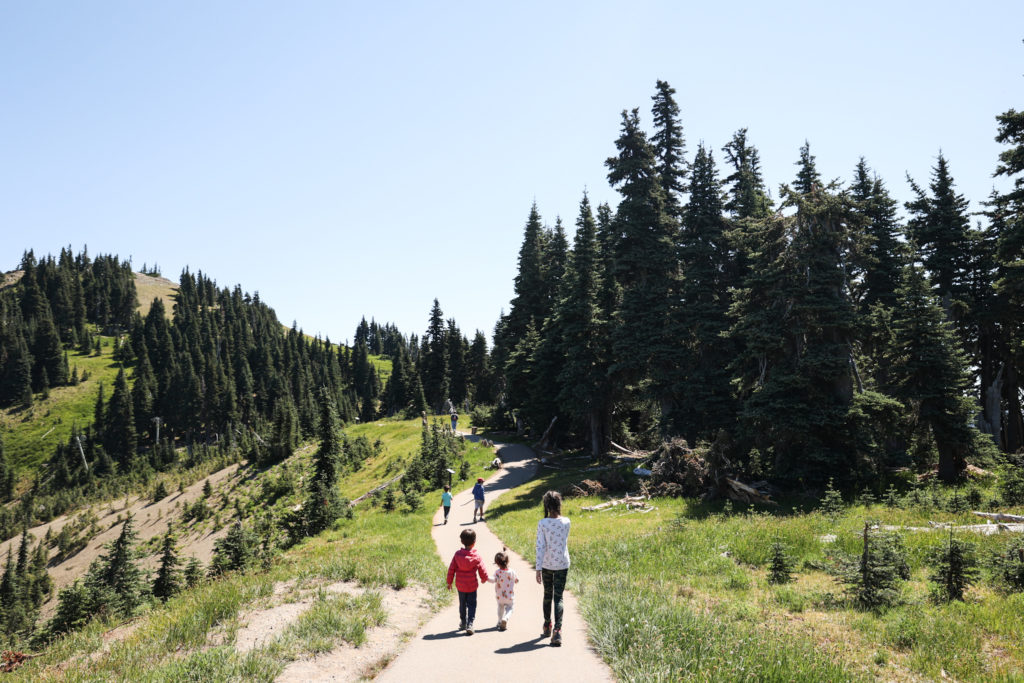 Lake Crescent Boating and/or Biking
From there, head back down to the stunning Lake Crescent. The water is impossibly blue and beautiful. Go over to Lake Crescent Lodge if you'd like to rent kayaks or canoes to get out on the water. The water is so clear that you can see down about 60 feet in some places!
If you prefer a land-based adventure, consider biking the Spruce Railroad Trail that goes along the north shore. It's a paved and relatively flat path that's perfect for even young cyclists. The whole thing is about 10 miles round trip, but you can turn back at any time. You'll follow the old railroad path and be treated to stunning views the entire ride. Don't forget to stop and throw rocks in the lake! (You can bring your own bikes, or here's a rental option in Port Angeles.)
Sol Duc Hot Springs
After your hiking and boating or biking adventures, head to Sol Duc Hot Springs Resort to rest and relax your muscles. The spring water from rain and snow melt is heated by gasses from cooling volcanic rocks to fill different temperature pools. There are four warm pools – two hotter, and one about body temperature and very shallow that is perfect for babies and toddlers.
There's also a full sized cold pool where kids will love to jump and play! Try testing out the different temperatures as you relax at the end of the day.
Three Days in Olympic National Park Itinerary
With a third day in Olympic National Park, I recommend spreading out your activities a bit and adding in a few more in similar areas.
Day 1 in Olympic National Park
Stay in Port Angeles to start and head up Hurricane Ridge your first morning, and choose one of the hikes noted in the 2 day Olympic itinerary. Then enjoy the rest of the day at Lake Crescent boating, biking, and playing as described above.
Day 2 in Olympic National Park
Start your second morning by hiking to the stunning Sol Duc Falls. It's a gorgeous trail to an incredible waterfall, and only about 1.5 miles round trip. After your hike, head over to Sol Duc Hot Springs ealier in the day before crowds pick up and enjoy some play in the pool and hot springs.
End your day by visiting the coast for sunset. Cape Flattery, the westernmost point in the contiguous United States, is a beautiful place to watch. It's also a perfect opportunity to learn more about the Makah Tribe on whose land it lies. (Note that this area is currently closed due to COVID-19; you can check tribe updates here.) A slightly closer option is to head to First Beach or Rialto Beach near La Push. Rialto in particular has lots of driftwood – perfect for playing or photography.
If you have extra time, consider taking the 3.3 mile beach hike from Rialto Beach to Mora's Hole-in-the-Wall. Note that you will only be able to go through the hole during low tide, and you should be very careful in this area during high tide.
Day 3 in Olympic National Park
For your third and final day, follow the One Day Olympic National Park Itinerary noted above, with visits to tide pool areas and the Hoh Rainforest.
Four in Olympic National Park (or More!)
With extra time in Olympic, you have time to visit some more stunning examples of the primary ecosystems and relax a bit as you explore. Here are some wonderful spots to include:
Makah Museum to learn more about the Makah people
Second Beach and Third Beach in La Push
Lake Ozette or Lake Quinault for paddling
Whale watching (during certain times of year)
Marymere Falls hike
Shi Shi Beach
Queets Rain Forest
There are just so many things to do in Olympic National Park with kids and for anyone! It's truly such a diverse, beautiful park with options for everyone. I hope these Olympic National Park itineraries are helpful for a family trip to Olympic!
IF YOU LIKED THIS POST ABOUT VISITING OLYMPIC NATIONAL PARK WITH KIDS, YOU MIGHT LIKE THESE POSTS TOO:
NOT LOOKING FOR THE BEST OLYMPIC ITINERARY QUITE YET? PIN THIS POST FOR LATER!