This post may contain affiliate links, which means I may earn a small commission if you click my link but does not change your price. See my affiliate policy here.
I'd heard of Mount Shasta pretty much since we moved to California. But in my mind, it was just a place for very experienced climbers looking to summit a high peak. I had no idea there were so many things to do in Mount Shasta with kids!
It turns out there are Mount Shasta things to do for every age and ability. It's quickly become one of my favorite parts of the state for its stunning beauty and relative quiet. I highly recommend you consider these Mount Shasta activities for an upcoming family vacation.
Here are 10 of our very favorite activities in the Mount Shasta area with kids – I hope you enjoy them as much as we do!
Castle Lake & Heart Lake Hike
If I could recommend just one activity in the Mount Shasta area, it would be this hike. Our friends recommended it to us and we were truly blown away. It starts with parking right near Castle Lake, so even if you're not up for a hike, you can go here and wade or swim or paddleboard.
From there, the hike takes you up through gorgeous meadows with views of Shasta and Castle Lake on one side, and rolling (steep) hills on the other. When you're almost all the way to Heart Lake, I highly recommend climbing the little spur to the top of a hill for incredible 360 views, including of Mount Shasta in the background.
Once you arrive at Heart Lake, feel free to take a dip in the crystal clear (and cold!) waters with a view of Mount Shasta at the end. It is absolutely stunning and picture perfect. It's absolutely one of the best things to do in Mount Shasta!
Lake Siskiyou Viewpoint
If there's one incredibly classic viewpoint of Mount Shasta, this might be it. Seeing Mount Shasta reflected in the beautiful waters of Lake Siskiyou is worth the trip on its own. Go first thing in the morning for the clearest reflection unmuddled by movement from watercraft!
Burney Falls
Is it possible to talk about what to do in Mount Shasta without mentioning what some consider the 8th wonder of the world? Honestly, I was a bit skeptical before visiting myself. Could a waterfall in Northern California really compare to so many other incredible natural features?
It turns out, yes, it can. Burney Falls is spectacular and one of the best things to do in Mount Shasta with kids. The waterfall itself is huge – it is seriously so wide. And the hike down is fun for kids and grown ups alike. We all loved hanging by the rocks at the edge and cooling our feet in the (frigid!) water while drinking in the beauty of this natural wonder. It's an absolute must for Mt Shasta things to do. Be very careful if you're wearing a child in a carrier as the footing can get a bit tricky!
Lava Beds National Monument
Are you as fascinated by lava and volcanic rock as we are? Lava Beds National Monument is such a hidden gem near Mount Shasta. The 2-mile long Cave Loop drive has a number of caves just off the road for exploration, and rock art sites and battlefields are sprinkled throughout the site, as well.
A couple of the caves do have tours provided through the National Park Service, including the Crystal Ice Cave tour. We have yet to see this one but cannot wait to visit the magical ice formations inside once it reopens!
Cinder Cone Trail
Speaking of volcanoes, have you ever climbed one? The Cinder Cone Trail at Lassen National Park is a terrific one. And at 4 miles round trip, it's a good hike for the whole family to enjoy.
With views of Painted Dunes, lava beds, and peaks all around, this is a perfect trail for views of the whole area. There's also a second trail that goes down into the crater if you'd like to extend your hike. Be sure to start this one early in the morning as it's fairly exposed and can get quite hot.
Butte Lake
After hiking Cinder Cone, cool off with a swim or boat ride in Butte Lake. The beautiful lake is right at the base of Cinder Cone near the trailhead, so it's a perfect chance to combine the two. It's perfect for swimming, kayaking, fishing, or just relaxing on the shore while cooling your feet.
The campground at Butte Lake is also gorgeous – surrounded by tall, piney trees and with mountain peaks popping through. It's perfect if you're looking for some Mount Shasta camping that has a bit more solitude. I highly recommend staying there while exploring the broader area!
McCloud Waterfalls Trail
Want a beautiful hike with not one, but three waterfalls? McCloud Falls is perfect. The Lower Falls are amazing with kids (or adults who love to play!) as it's nice and wide and perfect for swimming (though it is cold!). The Middle Falls are nice and wide, with the Upper Falls being more narrow.
The whole hike is a little under 4 miles, so if you can, try to visit all three. Each of the falls also has an overlook accessible by car and has ADA features.
Subway Cave
We mentioned some other lava tubes at Lava Beds National Monument, but if you can't make it all the way up there, Subway Cave is the perfect quick substitute. This short little lava tube is the best for families on a tight schedule who still want the lava tube experience. The whole thing is very short – only about 1/3rd of a mile – and is nice and wide and tall.
The floor is rocky and the temperatures stay at about 46F the whole year, so be sure to take headlamps and a jacket. One of those super fun and easy things to do in Shasta!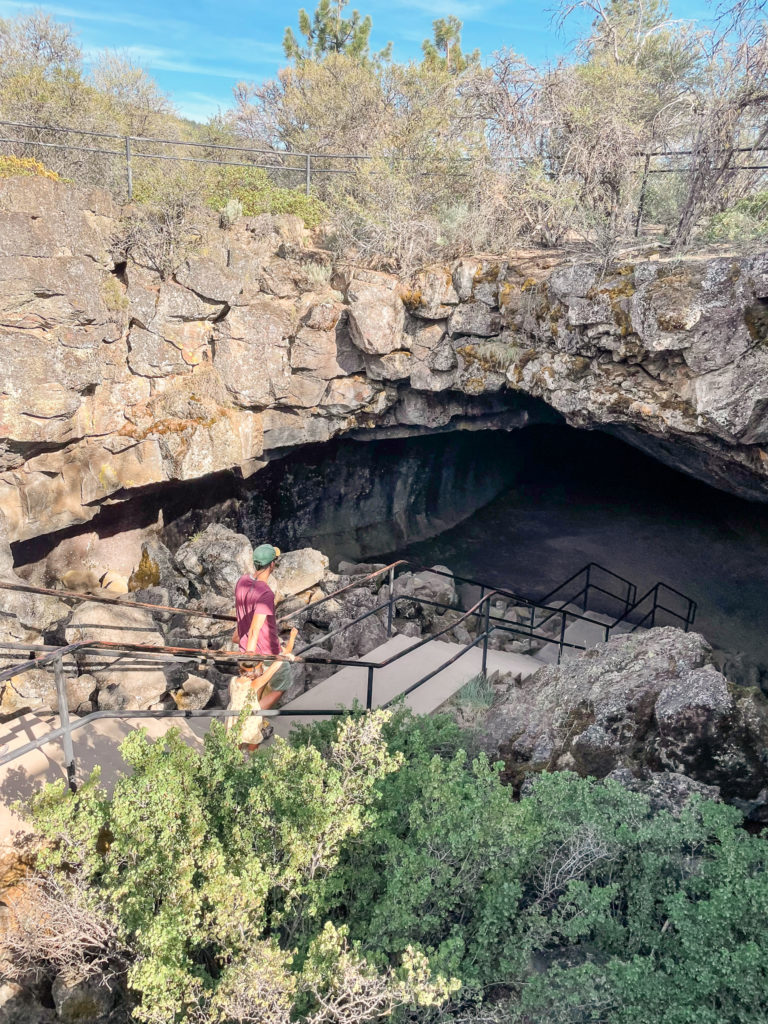 Hedge Creek Falls
Yes, another waterfall. But I promise this one is worth the .7 mile round trip trek to view it! Hedge Creek is just so pretty and is the picture perfect definition of a waterfall with its white spray and beautiful shape. And the best part of this easy hike near Mount Shasta is that you can actually walk behind the waterfall! It's such a pretty and easy trail that is unique and great for kids. It's one of the most fun things to do in Mt Shasta.
Great Shasta Rail Trail
If you're visiting Mount Shasta with teens or older kids, the Great Shasta Rail Trail is a perfect adventure. This multi-use path is great for mountain biking with slightly older kids (it might be a bit tough with really little ones due to the terrain, which is often hard-packed dirt or pine needles). These are our very favorite (and very safest) kid bikes!
If you're traveling with younger kiddos, consider hiking part of the trail. There's even an opportunity to ride horses here!
There you have it – some of the very best things to do near Mount Shasta. I hope you enjoyed this list and would love to hear any of your favorite Mt Shasta activities, as well!
MORE POSTS
IF YOU LIKED THIS POST ABOUT ACTIVITIES IN MT SHASTA, YOU MIGHT LIKE THESE POSTS TOO:
DON'T NEED A LIST OF THINGS TO DO IN MOUNT SHASTA? PIN THIS POST FOR LATER!