South and Central America week for the Global Service Advent is sponsored by Cotopaxi.
This post may contain affiliate links, which means I may earn a small commission if you click my link but does not change your price. See my affiliate policy here.
Join us as we journey to the incredible country of Guatemala! During this virtual tour of Guatemala for kids, we'll take a fun and inspiring Guatemala virtual field trip. It's a perfect way to explore and also serve the world right from home during this holiday season!
You can find the full list of countries for the global children's advent right HERE. Be sure to sign up for the email list to get all the information in advance and to receive fun extras!
Don't miss the global service opportunities, teaching moments, and giveaways with the Global Service Advent!
Here's the Global Service Advent Printable Book List!
This Guatemala virtual tour contains affiliate links, but all opinions are 100% my own. That means I earn a small commission if you purchase through my link, but doesn't change your price.
Guatemala Virtual Tour for Kids
SERVE AROUND THE WORLD
Around the world, families have been deeply affected by COVID-19. Already vulnerable communities, however, have been disproportionately affected. The pandemic has removed opportunities for work and business, and a shortage of personal protective equipment has put individuals without access at far greater risk.
Cotopaxi has partnered with Mercy Corps to provide masks to vulnerable rural communities in Guatemala. These masks help families stay safe while they begin to farm and do business again.
Mercy Corps has also provided financial assistance and is looking to provide purified water and emergency kits to evacuation shelters for those even further affected by natural disasters.
How Families Can Help in Guatemala
Supporting Individuals in Guatemala
GUATEMALA LANGUAGE ARTS
Featured Guatemala Book
Abuela's Weave by Omar S. Castaneda (Author), Enrique O. Sanchez (Illustrator)
Find it on Bookshop.org and support local bookstores.
Book Read Aloud
Abuela's Weave Picture Book Discussion Questions
What is a tradition? Can you think of any traditional crafts around the world? (Crafts important to a culture that are often passed from one generation to the next.)
Do you have any family traditions in your home?
Have you been to a market before? What was it like? Was it crowded and easy to get lost?
Are you close with any of your grandparents or any older friends? Have you ever learned anything from them?
Do you have any traditional crafts in your home?
Other Guatemala Books for Kids
Guatemala Activity Books
Languages in Guatemala
Spanish is one of the main languages of Guatemala and is spoken by 90% of the population. K'iche', Q'eqchi', and Kaqchikel are some of the 21 Mayan dialects that are spoken.
Here's some information about the history of indigenous languages.
GUATEMALA SOCIAL STUDIES: GUATEMALA VIRTUAL TOUR OF HISTORY & LANDMARKS
Guatemala History
Basic Facts
The capital of Guatemala is Guatemala City.
The official name is the Republic of Guatemala.
Alejandro Giammattei is the current President of Guatemala.
Guatemala is located in Central America.
Guatemala borders Mexico to the north and west, Belize, Honduras, El Salvador, the Caribbean, and the Pacific Ocean.
Spanish is one of the main languages of Guatemala and is spoken by 90% of the population. K'iche', Q'eqchi', and Kaqchikel are some of the 21 Mayan dialects that are spoken.
The currency in Guatemala is Guatemalan quetzal. $1 USD is about 7.8 Guatemalan quetzals.
Guatemala is warm to hot year round, and has wet and dry seasons. Guatemala's rainy season is from May to October. The dry season is from November to April.
There are important Mayan rituals still present throughout Guatemalan culture and that have been adopted into many Christian practices. About 50% identify as Catholic and 37% as Protestant.
Guatemala's main industries include coffee production, textiles, paper industries, and petroleum.
Interesting Facts
Guatemala is a leader in blue denim production.
The cacao tree is very important to the Mayans. Chocolate is known as "the food of the Gods." Guatemala is a large exporter of chocolate.
There are more than 30 volcanoes in Guatemala.
Coffee is Guatemala's biggest export.
Lake Atitlan is the deepest lake in Central America.
Guatemala celebrates All Saints Day on November 1st with a kite festival.
Map of Guatemala
Color in Guatemala on this map of Central America!
Guatamala Flag Activity
Flag from HERE
HERE is a fun printable Guatemala flag coloring sheet!
Guatemala Virtual Tour to Featured Landmarks: Tikal National Park
Tikal is an ancient Mayan fortress located in the rainforests of northern Guatemala. Temple IV inside is the tallest pre-Colombian structure in the Americas. Just the central part of the ancient city contains 3,000 buildings!
Archaeologists believe the Maya originally settled in the area of Tikal around 900 B.C. At its height, Tikal was the most important Maya city and had about 100,000 residents.
Featured Important Guatemalan Person: Rigoberta Menchú
Rigoberta Menchú, a K'iche' Mayan, won the Nobel Peace Prize in 1992 for her work advocating for the human rights of Indigenous Guatemalans, especially women. The Guatemalan Civil War lasted from 1960-1996 as rural people, including many Indigenous people, fought for rights of land ownership with the existing Guatemalan government.
In 1981, Rigoberta escaped to Mexico for safety and wrote a book about her life's experiences in Spanish (even though she had only learned Spanish three years earlier!), which brought International attention to the genocide of Native People in Guatemala. She won the Nobel Peace Prize for her work for Social Justice and the rights of Indigenous people. Rigoberta continues to use her voice for good as a UNESCO Goodwill Ambassador and travels around the world speaking to youth through PeaceJam conferences.
She is also the author of the children's book The Honey Jar, which features tales her grandparents would tell her as a child. (Find it on Bookshop.org and support local bookstores.)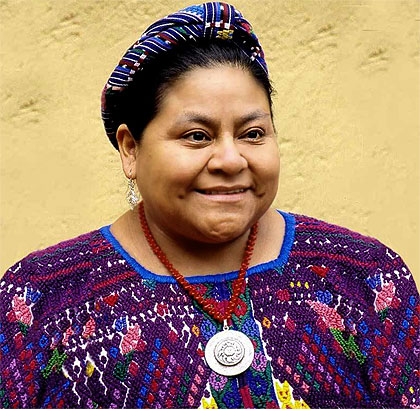 GUATEMALA VISUAL ARTS
Featured Guatemala Artist: Rina Lazo Wasem
Rina Lazo Wasem was a Guatemalan muralist who believed art could revive a Nation's history. Rina studied under Diego Rivera – after he recognized her as "the best of his students" and worked with him for ten years.
She produced frescos, murals in vinyl and stucco in Guatemala City. Another Mural she created in Guatemala is "Venceremos" (1959), which later the Guatemalan government would honor along with other murals. She learned that artists should not be isolated from society, but rather "be in the streets" and observe what is happening and ensure her art was a reflection of the people.
She reproduced ancient Mayan murals at Bonampak.
Guatemala Craft & Culture Activities for Kids: Paper Plate Weaving
The Ancient Maya were very skilled in weaving colorful cloth into beautiful designs. You can try your hand at a simple weaving project with paper plate weaving!
Materials: You'll need paper plates, a pen, a ruler, scissors, and yarn.
Guatemala Craft & Culture Activities for Kids: Quetzal Activity
You can find all the instructions for making this beautiful quetzal for Guatemala's Independence Day on September 15th right here on Growing Up Bilingual. The author, Paula, grew up in Guatemala and shares wonderful activities for a Guatemala virtual tour!
Other Guatemala Kids Activities
This stick loom weaving is super fun, and a perfect accompaniment to talking about Maya weaving practices.
GUATEMALA MOVEMENT AND MOVEMENT ACTIVITIES
Guatemala Movement Activities
Children's Games in Guatemala
Chamuscas, or street soccer, is very popular in Guatemala. Ulama is a ball game based on an ancient Mayan sport. Marbles and jump rope are also popular.
Guatemalan Folk Dance
Guatemalan Music
Sports in Guatemala
SCIENCE + MATH
Cooking activity, Guatemalan animals
Guatemalan Foods
Featured Guatemalan Recipes for Kids
Pepian is a a very traditional Guatemalan dish that combines Mayan and Spanish traditions. It's one of the oldest dishes in the country and is a spicy meat stew with vegetables. It's usually served with tortillas and rice.
Here is a recipe to make pepian at home!
Elotes locos is a popular street food in Guatemala and other Central American countries. It covers corn on the cob in mayonnaise, spices, cheese, and more.
Here's a recipe for elotes locos!
Animals in Guatemala
Guatemala's beautiful national bird is the quetzal. It is unfortunately at risk of extinction. Other birds, like toucans and Montezuma oropendola, are also common. Vampire bats, spider monkeys, and armadillos all live in Guatemala.
VIDEO + FURTHER LEARNING & DISCUSSION FOR GUATEMALA VIRTUAL TOUR
Kid Videos About Guatemala
Guatemala with Kids Discussion Questions
Is there a language in your family's history that is different from the one you speak today? How would you feel if a different language started to take over your own, and prevented you from speaking the one with which you're comfortable?
What are some things people – including you – can do to protect the quetzal from extinction?
Art has been used for purposes – sometimes to reflect the fanciest of society, and sometimes to depict everyday life. If you were an artist, which would you choose?
Indigenous peoples across the world have had land stolen from them. What are some things you can do to learn about land rights and use your voice and actions toward protecting indigenous lands and homes?
Chocolate is a big Guatemalan export. Can you name three things you can do with chocolate?
Thanks for Taking a Virtual Visit to Guatemala With Us!
We've loved putting together this resource to virtually visit Guatemala. We'd love to hear if you do any of these activities for a homeschooling Guatemala unit, or if you visit in person!
We hope to inspire curiosity and connection through exploring and learning, and we hope this guide helps you and your families. Please share any activities you do with us over on our Instagram. And we'd be delighted if you passed this Guatemala for kids virtual tour and homeschooling resource along to others, as well!
MORE POSTS
IF YOU LIKED THIS POST ABOUT GUATEMALA FOR KIDS, YOU MIGHT LIKE THESE POSTS TOO:
NOT READY FOR A GUATEMALA HOMESCHOOLING UNIT QUITE YET? PIN THIS POST FOR LATER!