This post may contain affiliate links, which means I may earn a small commission if you click my link but does not change your price. See my affiliate policy here.
There's something about red rock hiking that just speaks to me. The bright colors, the clear air, the stunning vistas. And I love how many easy Sedona hikes there are to make these jewels accessible to a wide variety of abilities!
Here are 15 incredible and easy hikes in Sedona that are perfect for kids and families, or anyone looking for a shorter adventure. They're all super high reward with beautiful views in just a short distance.
I hope these easy Sedona hiking trails inspire you to get out and explore!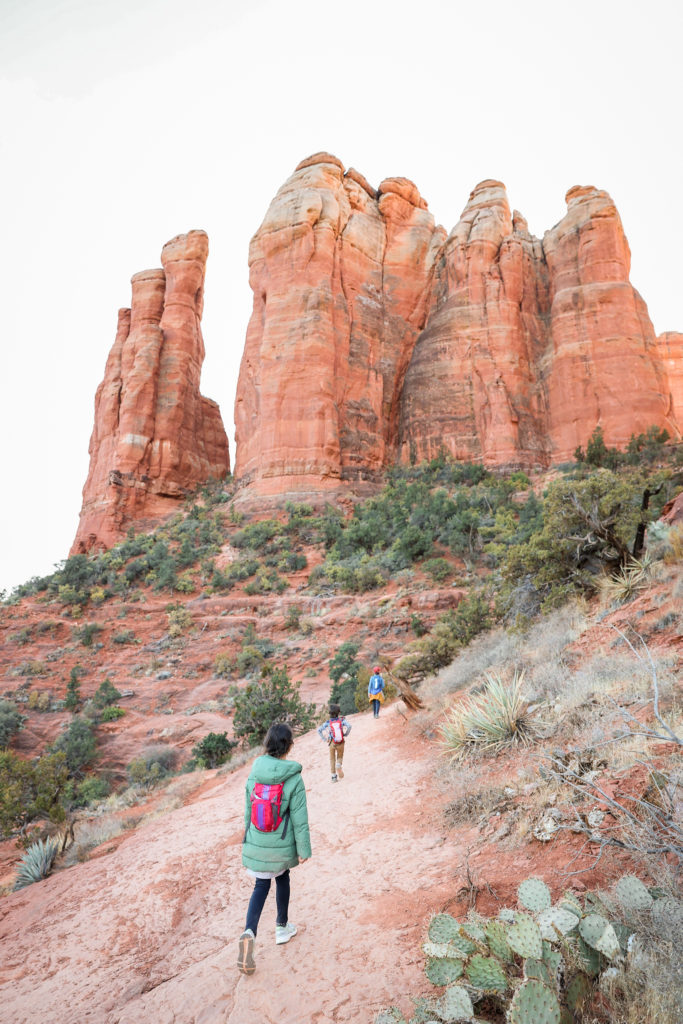 What to Pack When Hiking in Sedona
Here are my favorite items for warm and exposed hikes, which is most of the easy Sedona hiking trails/Sedona hikes with kids:
Where to Stay When Visiting Sedona with Kids
We absolutely loved RVing in Sedona because there are so many places you can camp for free! We just looked on our Campendium app and were able to find lots of free, beautiful, quiet spots. (This is one of the best places to rent an RV.)
If you're not traveling in an RV, Sedona has a number of hotels and home rentals that are perfect for a short or long stay. Here are some great ones:
EASY SEDONA HIKES WITH EPIC VIEWS: Kid Friendly Hikes Sedona
Devil's Bridge Trail Sedona
Distance: 4.2 miles
Elevation: 564 ft
There are few more popular hiking trails in Sedona than Devil's Bridge. And with good reason – this 54 foot high natural arch has beautiful colors and views coupled with a punch of adrenaline as you walk out on top. Here's a whole blog post on hiking the Sedona Devil's Bridge Trail with kids!
Fay Canyon Trail Sedona
Distance: 2.6 miles
Elevation: 383 ft
Many Sedona hikes are filled with open views with little shade, but Fay Canyon is an exception. It travels along the base of the shaded canyon, ending with a beautiful vista as you scramble up a bit.
Birthing Cave Trail Easy Sedona Hikes
Distance: 2.0 miles
Elevation: 291 ft
This one takes you right into the heart of a large but fairly shallow cave, said to be a place where Hopi women gained insight and comfort prior to giving birth. It's super fun to crawl into it and sit along the sides to relax. Adventuresome hikers can even climb up to the "belly button," although I wouldn't recommend this for young kids (mostly because they likely won't have the leg length to reach to climb up).
This easy Sedona hike gets a bit steep at the end, so I recommend wearing hiking shoes (these are my favorites for men, women, and kids; all our favorite hiking gear for families right here).
Cathedral Rock Sedona
Distance: 1.2 miles
Elevation: 652 ft.
If Devil's Bridge is the most famous hike in Sedona, Cathedral Rock is a close second. This easy Sedona trail winds you up to see the "spires" poking out. It's especially stunning at sunset! The parking lot gets extremely crowded for this one, so be sure to get there early.
There is quite a bit of rock scrambling involved with this Sedona Arizona hiking trail so I would recommend it for kids ages 6-7+.
Easy Sedona Hikes: Secret Slick Rock Trail Sedona
Distance: 0.7 miles
Elevation: 78 ft
This short little hike is a true Sedona hidden gem. At just over 2/3 of a mile, it's doable for even tiny toddlers, and you'll be rewarded with some of the best views in Sedona. It's absolutely magical at sunset, where you'll have uninterrupted views of the back of Cathedral Rock. And bonus – hardly anyone is ever there!
While the slickrock is wide and spacious, be sure to still keep a close eye on little ones.
Teacup Trail to Coffeepot Rock
Distance: 2.4 miles
Elevation: 275 ft
What this trail lacks in shade it makes up for in red rock views. Hike it in a west to east direction to take advantage of a downward path. And keep a close eye on trail markers as it's easy to get off trail!
West Fork Trail Easy Sedona Hike
Distance: varies
Elevation: varies
This stunning and family-friendly Sedona hiking trail is consistently rated one of the best in the US. While the entire trail is almost 7 miles round trip, it's easy to just do a section of it. The trail itself is an out-and-back, so you can go as far as you like and turn around. The creek is generally shallow and perfect for cooling off in warm weather!
Bell Rock Trail Sedona
Distance: 1.1 miles
Elevation: 380 ft
If you're with those who love to climb but not hike long distances, Bell Rock is one of the best easy hikes near Sedona. Still, if you do choose to ascend to the top, use caution, especially if you're with little ones as it can get quite steep in spots. Don't be afraid to use your hands to climb.
Sedona View Hiking Trail
Distance: 1.2 miles
Elevation:
The name tells you everything you need to know about this one – another one of those beautiful and easy hikes in Sedona, Arizona. You'll get great views of Coffeepot Rock and other Sedona landmarks as you walk, and all in just a very short distance. It's one of the great Sedona family hikes.
Deadman's Pass Trail Sedona
Distance: 2.6 miles
Elevation: 265 ft
If you're interested in mountain biking, this is a good multi-use trail that accommodates both. With pretty views and being relatively flat, it's definitely one of those great kid-friendly Sedona hikes.
Seven Sacred Pools Sedona
Distance: 1.1 miles
Elevation: 108 ft
While this short Sedona hike has a very small parking lot (only about 14 spots), it's super beautiful and definitely worth the minimal effort if you can manage it. You'll find several little pools of water, and the trail easily connects to others if you'd prefer a longer adventure (Soldier Pass continues from the pools).
Eagle's Nest Trail Sedona
Distance: 2.4 miles
Elevation: 331 ft
Located within Red Rock State Park, this is a perfect Sedona hike with kids. Long enough to be more than a stroll but short enough to still be fairly doable, this trail boasts incredible views and some bridges. Hike the path clockwise for the best views and some family-friendly Sedona hiking.
Oak Creek Trail/Red Rock Crossing Trail Sedona
Distance: 1.4 miles
Elevation: 55 ft
This is one of the best Sedona hiking trails with water. You'll also find incredible views of Cathedral Rock reflected in the water. If you're curious about experiencing one of the easy Sedona Vortex hikes, this is also supposed to be one of the strongest!
Templeton Trail to Oak Creek Sedona
Distance: 2.2 miles
Elevation: 300 ft
This Sedona hiking trail will take you down to Oak Creek with views of Cathedral Rock all along the way. Oak Creek is also perfect for swimming and cooling off during hot weather!
Airport Mesa Easy Sedona Hikes
Distance: 3.5 miles
Elevation: 314 ft
While this is one of the longer ones on this list of easy hikes in Sedona, Arizona, it has stunning views and is also another one of the Sedona vortex hikes. This is an especially good hike for sunrise, so you can see the sun coming up behind all the famous Sedona rock formations.
If you don't feel up to hiking, you can also park near the top and walk a very short distance to the viewing area. An even simpler one to add to the list of easy hikes in Sedona, AZ!
What is the easiest vortex to get to in Sedona?
Red Rock Crossing, Airport Mesa, Cathedral Rock, and Bell Rock are all great, family-friendly vortex hikes in Sedona.
How long of a hike is Devil's Bridge?
If you are planning to hike from the parking lot, the entire hike is just over 4 miles round trip. If you have a high clearance vehicle or rent a spot in a Jeep, the hike is only about 2 miles round trip.
Is Devil's Bridge kid friendly?
This depends a lot on your particular child! We took our five children from ages 10 down to 1 out on the bridge and felt safe. We explained precautions to them beforehand, and stressed that they could not run or jump in any way. We also didn't dawdle out there. But it felt safer than we anticipated. You can read more about our experience hiking Devil's Bridge with kids here!
What can you do for free in Sedona?
A TON! There are so many wonderful, free outdoor activities in Sedona. Some parking areas require a nominal fee so be sure to check beforehand.
What do I need to hike in Sedona?
Always be prepared for both heat and also changing weather. Be sure to pack plenty of water and light layers, including a hat and sunscreen. Don't forget a map/compass (GPS isn't always reliable). Here's a list of our favorite kids hiking gear!
How many days should I stay in Sedona?
There's so much to see in Red Rock country that you could easily spend a week or more just in Sedona. I recommend spending at least 2-3 days to experience some of the top sights in Sedona!
What is the best month to visit Sedona?
Fall is especially beautiful, when the days are warm and dry and crowds are lower. Winter and spring can also be great depending on the weather. Summer gets very hot and crowded, but is fantastic for water play.
Is it safe to hike in Sedona?
Absolutely! However, you should always take standard hiking precautions. Never hike alone, and if you must, always tell someone where you are going and when you will return. Pack plenty of food and water and location gear.
How far is Grand Canyon from Sedona, Arizona?
The South Rim of the Grand Canyon is a little over 2 hours from Sedona. It's incredible having them so close! Here's a great winter guide to the Grand Canyon.
Do I need hiking boots for these easy Sedona hikes?
They're not absolutely necessary – you can get away with sturdy sneakers with good tread. However, if you're planning on doing any rock scrambling at all, hiking boots are very helpful.
Do you have to pay to hike in Sedona?
Some trails in Red Rock Country require a RedRock Pass, but there are plenty of hikes that are totally free.
What's so special about Sedona?
The mixture of the red rock with the bright blue desert skies and evergreens is just beautiful. There are tons of hiking trails and amazing rock formations. Plus, there's a fun, laid-back vibe and healing powers of vortices.
IF YOU LIKED THIS POST ABOUT EASY SEDONA HIKES, YOU MIGHT LIKE THESE POSTS TOO:
NOT LOOKING FOR EASY HIKES IN SEDONA QUITE YET? PIN THIS POST FOR LATER!