This post may contain affiliate links, which means I may earn a small commission if you click my link but does not change your price. See my affiliate policy here.
We've visited Zion National Park a number of times before, but had never before considered hiking Angels Landing. Here is our experience doing the Angels Landing hike with kids!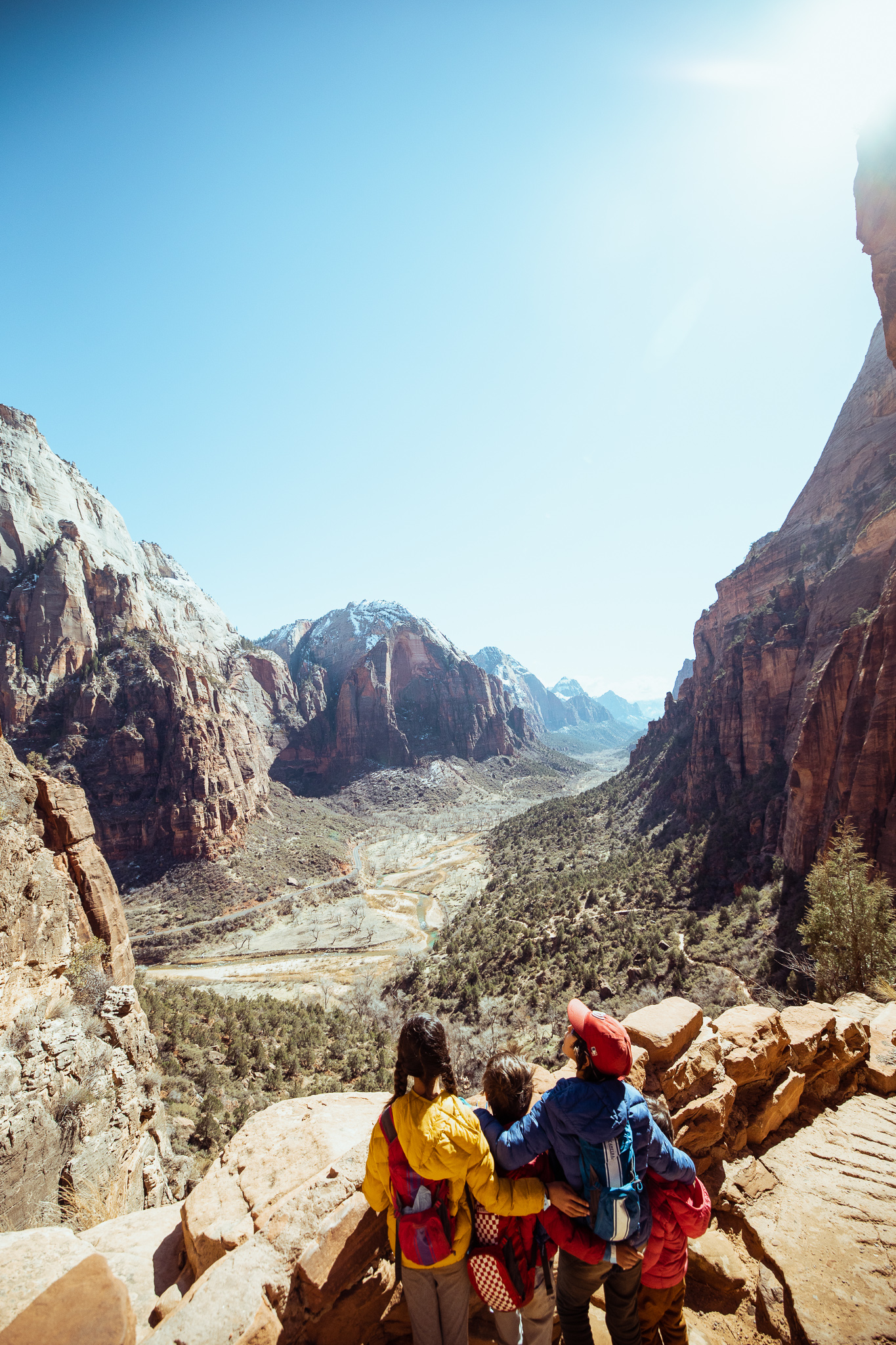 Where is Angels Landing?
Angels Landing is one of the most famous hikes in Zion National Park in Southern Utah, United States. The entire trail is beautiful, with vistas of deep red rock canyons. The hike starts from The Grotto stop of the Zion Canyon Shuttle, which operates beginning in March in 2021. The shuttle has stops all along the Zion Scenic Drive, which is closed to private vehicles for most of the year.
Angels Landing Trail Details + Scout Lookout Zion Trail Details
Angels Landing is a strenuous trail throughout, but the last half mile to the top is particularly dangerous. While the entire trail has a good bit of elevation gain, the final stretch is along a narrow ridge up to a rock overlook, and involves holding onto permanent safety chains while you walk. Here are some more details about the hike:
DIstance: 5.4 miles (2.1 miles to Scouts Lookout Zion Trail)
Angels Landing Elevation Gain: 1488 ft (1070 ft to Scout Lookout)
Shuttle Stop: #6 The Grotto
Angels Landing Hike Time: 3-5 hours (2 hours for the Scouts Lookout Trail)
Where to Stay Near Zion National Park
There are a number of truly fantastic places to stay near Zion National Park. Here are some of our favorite Zion National Park hotels!
The Marriott Springhill Suites (reviews here) in Springdale is a perfect Zion hotel for families. It's just outsidethe park (only 5 minutes from the entrance) and has clean and modern rooms. It has a great hot breakfast each morning that's very helpful for fuel before heading off on some hikes (and there's an incredible view from the breakfast area). It's one of our favorite places to stay with kids in Zion National Park!
Zion Ponderosa might be our new favorite of the kid-friendly hotels near Zion National Park. There's so much to do there that I would recommend staying a minimum of 2 nights, and spending at least one full day doing activities at the resort. This family-friendly Zion hotel has everything from mini golf to a zip line and climbing wall to organized rapelling and horseback riding activities. It's truly incredible and a perfect place to stay with kids near Zion.
The Zion Lodge Cabins (reviews here) inside the park are also great family accommodations in Zion National Park. We stayed there in the middle of a snowstorm in the winter and it was so snug and cozy. We loved the little fireplace, and it's only a few minutes to the Zion Lodge. It's a wonderful option for family accommodations in Zion National Park.
Hiking the Scout Lookout Trail in Zion National Park
While the Angels Landing hike gets a lot of hype from those visiting Zion National Park, Scout Lookout is a very worthy hike all on its own! Both follow the West Rim Trail up to Scout Lookout, and Angels Landing continues for another half mile beyond there. The hike up to Scouts Lookout, while strenuous, is very doable for most families.
The Scouts Lookout Trail Zion is just over 4 miles and ends at some pretty spectacular views of Zion Canyon. The 2 miles up have about 1000 feet of elevation gain, so it is quite steep. The Scout Lookout Trail starts with a wide and flat path near the Virgin River, progresses to some switchbacks along the side of the canyon, goes through a cool and shaded canyon (appropriately called Refrigerator Canyon), then progresses up a series of 21 short, narrow, steep switchbacks called Walter's Wiggles before arriving at the lookout. It's super fun when visiting Zion National Park with kids!
It's wonderful when hiking in Zion National Park and I highly recommend it even if you stop at Scouts Lookout before completing the final stretch to Angels Landing!
Who Should Hike Angels Landing?
Angels Landing is surely the most dangerous hike I've done and certainly one of if not the most dangerous hike in Zion National Park. While the trail up to Scouts Lookout is steep, it's very safe, wide, and doable for most families who enjoy hiking. The portion beyond Scouts Lookout to Angels Landing, however, is extremely risky. There are built in metal chains to hold onto for safety, and the path is sometimes only a couple feet wide with 1000+ foot drops on either side. There have been a dozen Angels Landing deaths in the last 15 years.
Anyone who chooses to hike Angels Landing should:
Be physically fit enough to climb another 500 feet in elevation, largely through carved steps and pulling up a metal chain
Have proper footwear with adequate traction (more info on this below under the Gear section)
Not be overly scared of heights
Have a good sense of balance and strength
Be cautious and patient so that you do not hurry and push others
Be willing to turn around at any point. As is often repeated in the climbing world, "The summit is optional. Basecamp is not."
Have an Angels Landing permit
What Age to Hike Angels Landing with Kids
We debated long and hard about whether and which of our kids hiking Angels Landing would be safe, confident, and secure. After talking with multiple friends who had hiked Angels Landing previously and who were familiar with our kids' abilities, we decided to allow our 10 year old and 8 year old attempt the climb. We did NOT feel comfortable hiking this portion of the trail with any of our younger children.
Both our 10 and 8 year olds are extremely experienced and strong hikers. We did this hike in the middle of March of 2021, and by that point, we'd hiked well over 70 miles as a family that year. We'd also done several strenuous 8-10 mile hikes, a few with 2500+ feet of elevation gain. Both are also avid rock scramblers and climbers, and are pretty sure footed. Additionally, neither is a squirrely child, and both are very good at following directions, so we knew we wouldn't have any issues with them misbehaving or not listening while on the trail.
Because of this, we felt confident in their strength and sheer ability. From there, we left it up to them whether they wanted to do it and how far they wanted to go. Both decided they wanted to attempt the hike.
How Old To Hike Angels Landing
We decided to hike to Scouts Lookout all together as a family with our 10, 8, 6, 3, and 1 year olds. From there, Daniel and I switched off to do the stretch to Angels Landing, each with one of our older children. The other parent waited with the other kids at Scouts Lookout (which was spacious enough to spread out and sit and have a snack, though does still require supervision around the long drops). We decided this way, they would each have the option to turn around without impacting a sibling, and mostly so we would have the security of one parent to one child supervision.
Hiking Angels Landing With An 8 Year Old
Daniel went first with our 8 year old daughter. She did great! They went partway, and she considered turning back a couple of times before she decided she was done. They turned around before getting to the spine, the most dangerous part of the hike.
I was really proud of her for doing her best and also for knowing her limits – it's super important to trust those instincts and turn back when you don't feel comfortable. Knowing she did this makes me MORE willing to allow her to attempt other tricky hikes because I feel I can trust her judgment.
Hiking Angels Landing With A 10 Year Old
I went next with our 10 year old. While I get VERY nervous with heights, he doesn't really at all. He was excited but very calm the entire time, and did fantastic. I felt very nervous when we approached the spine portion, but he really wanted to continue and gave me the confidence to keep going.
We were able to safely complete the entire hike, and made it to the top of Angels Landing and back safely. Before starting, I emphasized to him the importance of listening and following directions on the trail, and of keeping both hands on the chain whenever possible. He did great at following my lead with crouching low when needed (when we didn't have chains), holding on, and moving slowly and surely.
It took us about 2 hours from Scouts Lookout up to Angels Landing and back. This includes the 20-30 minutes we spent at the top enjoying the views and taking a few photos, and also the time we needed to wait for people to pass on the trail. Since it is very narrow, it's important to not push and rush, and we were happy to wait for the trail to clear for it to be safe to cross. This will vary based on time of day and how busy it is. We went in the middle of March, and started the chains section up to Angels Landing around 1pm.
Overall, I'm very glad we did it! (And never want to do it again. ;))
Should I Hike Angels Landing With Children?
In general, I think most 10 year olds are probably physically capable of doing this trail. The chains section is not significantly more strenuous than the rest of the hike, and the actual hike is fun.
HOWEVER, I don't think most 10 year olds are mentally prepared and have the hiking preparation to do this trail. I would ONLY do this trail with a child who:
Has had a LOT of hiking and rock scrambling experience
Is very calm and who you are certain will be 100% obedient on the trail
NOT easily distracted
Is not very afraid of heights
WANTS to do the trail.
Without ALL of these things, I would not even consider taking a child up to Angels Landing. The risk is just too great, and the consequences of one misstep could be devastating. I would not recommend it for any child who does not fulfill each of these things. Once you are on the spine, it is difficult to turn back, and you do not want a child freezing once you're up there, so be very certain before heading up. The first part of the chains trail is a pretty good proxy for the rest with lesser risk, so it's a great time to see how your child does and turn back if you're not 100% sure.
With that said, I think a very experienced and calm 10 year old would generally be capable of this trail. I think some 8-9 year olds may be if they are especially confident, experienced, and calm. I would not even consider hiking this trail with a child younger than 8 years old. My 6 year old is very capable, an extremely good hiker/scrambler, and was anxious to do it, but that was a flat out NO for us.
Should I Hike Angels Landing With A Baby?
While on the trail, I did see one family hiking with a 2 year old in a baby hiking backpack. While they were fortunately safe that day, I would NOT recommend completing this trail with a child in a baby carrier or baby backpack. Balance is extremely important on the dangerous part of this trail, and having a child in a pack throws off your center of gravity.
While I hiked up to Scouts Lookout with our baby in a carrier, and have done many other hikes with children in packs, I would strongly recommend against wearing a baby on the Angels Landing Trail.
What Gear for Hiking Angels Landing?
You don't need any specialty gear in order to hike the Angels Landing Trail. However, there are a few things I would recommend bringing along:
Hiking Shoes. You'll definitely want really good grip while hiking the Angels Landing Trail, so if possible, I recommend hiking shoes with traction over regular sneakers. These are the hiking shoes we really like for men, women, boys (or these), and girls.
Water. This is definitely a strenuous hike due to the elevation gain, especially in warm weather. You'll definitely want to carry plenty of water with you. These are our very favorite kids hydration backpacks. They fit great on our 10, 8, and 6 year olds, and it makes it so they can go much farther hiking without constantly stopping to take a drink. (You can find them direct or on Amazon or Backcountry.)
Jacket. It gets quite windy up at the top and along the trail since it's so exposed. Since we were hiking in cooler weather, I brought my insulated layer and was very grateful for it. I love how lightweight but warm this jacket is. My kiddos all use this inexpensive lightweight insulated jacket and it's perfect for them.
Should We Harness Together?
This final piece of gear is definitely optional, and I would ONLY recommend it with one parent going with one child. This via Ferrata type system allows both the parent and child to wear a climbing harness, and then connect to each other with a lanyard with metal carabiners.
We briefly considered truly doing it in a via Ferrata style and locking onto the permanent chains with two carabiners (so that one is always connected even when unlocking the other). However, we decided against this for a number of reasons.
Firstly, doing this would cause a major bottleneck as we tried to unhook and rehook our system across the chains. It just wouldn't really be feasible or reasonable to do while up there. It would also take significantly longer going across the chains (and unhooking each time we came to a bar). Finally, a number of the chains are spaced out, so you have several feet up to 20-30 feet to walk without chains at all at times. I believe it would actually make it LESS safe to worry about unhooking everything properly instead of just securely holding onto the chains with your hands.
That said, I did still want a bit of extra security while hiking Angels Landing with a child. So we decided to harness to each other. I would NEVER recommend this with two adults; one misstep could mean that you would BOTH go over the edge. However, with a child, who I wanted to give a bit of extra security and who also weighs significantly less than me, I felt it was worth the risk to harness together. We never needed that extra security, but it didn't get in the way really at all (just needed to step over it a couple times) and I was glad to have it. Feel free to decide for yourself what seems most reasonable.
Tips for Hiking Angels Landing with Kids
Overall, here are a few tips if you're considering hiking the Angels Landing trail with kids:
Practice beforehand. Go on other strenuous hikes, climb rocks, do a rock climbing wall. Be sure your child has the physical stamina to complete the hike and to not get tired halfway up.
Be willing to turn around. Doing any portion of this hike is an accomplishment! Don't feel bad at all if you turn around before the end.
Check the weather. It snowed the day before we did this hike up on the east side of Zion National Park, so we weren't sure what conditions would be like at Angels Landing. We talked to several people coming down who said there was no snow or ice. We would not have attempted this with an adult OR a child if there were any snow, ice, wind, or storms of any kind.
Eat snacks and drink water at Scouts Lookout. You want to make sure you have enough gas left in the tank to finish.
Have a frank discussion about the risks and ensure your child is willing to listen fully. Ensure they know they must hold onto the chains whenever possible. Then be calm and confident once you start!
Take your time. There will be people in a hurry, but most will be extra courteous when they notice a child hiking. Take your time and don't worry about being snow. Rushing and passing people is when mistakes happen!
Stay on trail. Almost all the accidents have happened either when people have gone off trail or stepped too close to the edge for a photo. Don't take unnecessary risks.
Enjoy! It's easy to get caught up in summit fever. Enjoy the hike up, including the trail to Scouts Lookout. The whole thing is spectacular!
Other Zion National Park Hikes with Kids
While nerve-wracking, Angels Landing is surely one of the best hikes in Zion National Park. Still, it's not for everyone, and that's okay! If you're not feeling up to the Angels Landing hike in Zion, there are some other fantastic and kid friendly trails in Zion National Park. You can find some great Zion hikes for families in this post!
Do you have any questions about hiking Angels Landing with kids? I'm happy to help in any way I can!
How long of a hike is Angels Landing?
Angels Landing is a 5.4 mile hike with nearly 1500 ft of elevation gain. It typically takes between 3-5 hours to complete. It took our family with 5 kids 1 hour to hike to Scouts Lookout, and 1 hour to hike back down from Scouts Lookout. It took an additional 2 hours for my 10 year old and me to hike to Angels Landing and back from Scouts Lookout, including time at the end to enjoy the view and waiting for congestion on the trail.
Do I need hiking boots for Angels Landing?
While they are not 100% necessary, I would strongly recommend anyone hiking Angels Landing to wear a sturdy pair of hiking shoes with excellent traction. I've shared our favorites in the post!
What is the best time to hike Angels Landing?
Spring and fall are the best times of year as summer gets very hot and winter can be slick, snowy, or icy. If possible, start as early as possible, taking the first shuttle in the morning. If not, wait until after the mid-morning rush when the trail gets quite crowded.
How should I prepare to hike Angels Landing?
Angels Landing does not require any specific training. However, you should definitely be sure to wear shoes with good grip, do some practice hikes with elevation gain to make sure you are physically fit enough to complete it, work on your balance, and absolutely check the weather. Do not attempt this hike in stormy, wet, or windy conditions!
Is Angels Landing a difficult hike?
While quite dangerous, Angels Landing is not an intensely difficult hike. While there is a good bit of elevation gain (~1500 ft), it is relatively short at 5.4 miles. It is mentally difficult due to the danger and risk in the chains portion up to Angels Landing.
How long is Scouts Lookout hike?
Scouts Lookout is a wonderful hike in and of itself and stops just before the chains section up to Angels Landing. Scouts Lookout is about 4 miles round trip with over 1000 feet of elevation gain. It typically takes about 2-3 hours.
What are the best hikes in Zion National Park?
Angels Landing is definitely on that list! Some other fantastic ones are Canyon Overlook, the Narrows, Riverside Walk, Emerald Pools, Observation Point, Hidden Canyon, and many more.
How much does it cost to enter Zion National Park?
It costs $35 for a single vehicle or $20 per person. You may also purchase an annual National Parks pass for $70, or get a free 4th grade National Parks pass.
Pin to Pinterest to plan your trip to Zion National Park with kids!
IF YOU LIKED THIS POST ABOUT HIKING ANGELS LANDING, YOU MIGHT LIKE THESE POSTS, TOO:
NOT READY TO HIKE ANGELS LANDING IN ZION QUITE YET? PIN THIS POST FOR LATER!