There are so many off the beaten path things to do in San Francisco that you'll never run out of activities. Here are 101 San Francisco hidden gems that will keep you exploring with your family!
Whether we're living in or visiting a city, I love finding off the beaten path activities. I love seeing the inner workings and history of a city, the people and minor events that give it character and vibrance. For the two months that we lived in San Francisco in temporary housing, I made it my mission to stop at all the San Francisco hidden gems that I could. Now I'm excited to share them with you!
A few notes: this guide to off the beaten path spots in San Francisco only includes San Francisco itself, and not in the greater Bay Area. This also does not include food; that is a whole post in and of itself.
Do you have any other favorite San Francisco hidden gems? I'd love to include any of your off the beaten path San Francisco sites at the bottom. Keep scrolling for all my suggestions on the best unusual things to do in San Francisco!
San Francisco Hidden Gems: 101 UniqueThings to Do with your Family
SAN FRANCISCO HIDDEN GEMS: MUSEUMS & ART
1. American Bookbinders Museum – interesting bookbinding equipment accessible by guided tour
2. Bank of California/Museum of the Money of the American West – small exhibit downstairs near the vault with various forms of money
3. Beat Museum – It's about the Beat Generation, so it's obviously a bit kooky.
4. Cable Car Museum – one of the more well-known items on the list, it's a fun little (free!) museum where you can see how all those cables work
5. California Historical Society – honestly, this one depends a lot on what exhibit is currently there, and there was a really terrible one when we went
6. Chinese Cultural Center – fairly small
7. Chinese Historical Society – When we went, there was an interesting exhibit about the Chinese being pushed out of SF Chinatown, as well as mini dioramas of an artist's memories from growing up in SF Chinatown
8. Contemporary Jewish Museum – Some interesting exhibits, a nice little children's area, and a very cool lobby area (the last time I checked, it was free the first Tues of the month)
9. Diego Rivera fresco at the Art Institute – A massive and beautiful fresco within a fresco.
10. Diego Rivera Pan American fresco at City College of SF – This one is just giant, and aos insightful. We were the only ones there when we visited, and the very kind docent spent 45 minutes explaining it to the kids and me. Definitely a prime off the beaten path San Francisco site.
11. Walt Disney Family Museum – All about the history of Disney. Lots of sketches, early videos, and a model of Disneyland.
12. Fortune Cookie Factory (Golden Gate Fortune Cookies) in Chinatown – This hardly qualifies as a "museum," as it's about the size of a postage stamp, but it's still fun to see how the cookies are made. Be sure to pick up a big bag for $5!
13. Gulf of the Farallones National Marine Sanctuary – cute little nature center with crabs, sea stars, fish, baleen, etc., as well as a little bin to search for shark teeth
14. Haas-Lilienthal House – The only Victorian-era home that is open to the public. Has original, pre-1906 earthquake period pieces. This was beautiful and the employees were SO nice.
15. International Art Museum of America – free children's art class every 3rd Saturday
16. Italian American Museum of San Francisco – This was a small gallery but had some nice pieces
17. Levi Strauss Visitors' Center – basically one room, but an interesting little timeline of Levis/Dockers, as well as a few little some displays
18. Maritime Museum – in the cool Aquatic Park Bathhouse building, some interesting maritime exhibits
19. Mexican Museum – a relatively small gallery with some nice Virgin Mary artwork
20. Musee Mechanique – More arcade than museum, with tons of old games to play for cheap. Give your kid $5 here and they'll think you're the most fun parent alive. One of the most fun off the beaten path San Francisco activities out there!
21. Museum of Craft & Design – in the growing Dogpatch area, I've been told by a friend that it has a fantastic gift shop
22. Museum of Performance & Design – when we went, it had the second part of the exhibit we hated from the California Historical Society, so we were not the very biggest fans, but I imagine it would be different based on the exhibit
23. Museum of the African Diaspora – interesting exhibits dedicated to the impact of Africans migrating throughout the world
24. Pier 24 Photography Exhibit (needs reservations) – a fun room on music with guitars, interesting photos of SF bridges
25. Precita Eyes Murals Visitors Center (and walk around to see murals in the Mission, especially at Clarion Alley & Balmy Alley)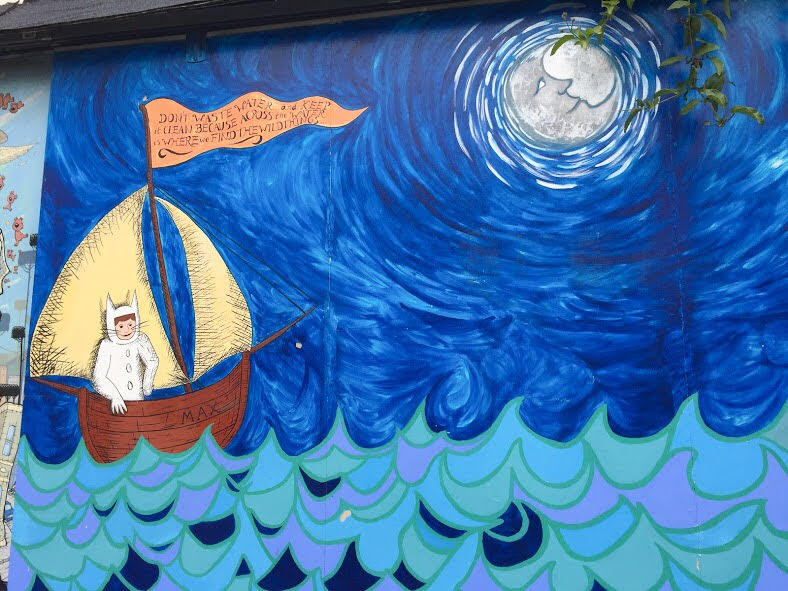 26. Presidio Visitor Center – a few exhibits on the park's history
27. Randall Museum – just recently renovated with a focus on natural history and art; be sure to hike up Corona Heights for a great view while you're here
28. Rincon Center – an unassuming public space that has some murals by Anton Refregier depicting scenes from SF's history
29. San Francisco Fire Department Museum – old fire rigs, they gave my kids fire hats, old extinguishers, pretend fire horses/dog…basically toddler heaven
30. SF Railway Museum (free) – you learned about the cable car, now you can learn about the streetcar! Be sure to hop on one at the stop outside while you're at it.
31. Tenderloin Museum – Not huge but interesting learning about all the craziness that stays in the Tenderloin…there also happened to be a drag show the evening we were there, so, you know, maybe leave the kids at home 😉
32. Wells Fargo History Museum (free) – We went on bring your child to work day and there were lots of activities, and we could learn about and ride in old stagecoach. Plus, we accidentally got out at the wrong floor on the elevator and some very kind employees redirected us and sent us off with some Wells Fargo pony stuffed animals.
33. Yerba Buena Center for the Arts – A contemporary art museum that had some permanent exhibits and some cool and interactive temporary displays. The kids danced with some long bendy stick things when we were there, which was very fun.
OFF-THE-BEATEN-PATH SAN FRANCISCO HISTORIC SITES
1. Brannan Bank – Samuel Brannan's (a California Mormon settler who founded the first newspaper and who sent news of gold via the Pony Express) bank with his own currency
2. Brannan Home – Sam Brannan's 1st home in SF
3. City Hall Tour – Gorgeous and informative. I wrote a full post about it
here
.
4. Columbarium – a beautiful, non-denominational burial area with a gorgeous dome and light
5. Mission San Francisco de Asis (Mission Dolores) – most people tend to head to the park and to get food in the Mission (which you should absolutely do), but miss touring the oldest structure in SF and 6th California mission. One of the most worthwhile off the beaten path San Francisco sites.
6. Palace Hotel – US President Wilson gave speeches in the Garden Court in support of the Treaty of Versailles and League of Nations, President Harding died there, and it hosted the banquet to mark the opening session of United Nations – a gorgeous place to do afternoon tea
7. Phelps House – the oldest unaltered residence in SF
8. Pony Express Western Headquarters – in the California National Bank Building, where Mormon battalion members left for Pony Express and carried news of gold being discovered
9. Portsmouth Square – 1st raised the flag to start the city of SF, site of 1st public school house in California, site of 1st cable car in the world, Sam Brannan announced gold by running down Montgomery Street to here and showing gold to a crowd
10. Sherman's Bank (NE corner of Jackson & Montgomery) – William Tecumseh Sherman founded and succeeded with this bank before going east (and later helping Union forces win the Civil War)
11. Society of California Pioneers – Gold Rush exhibit, and some others on the settlement of California
12. SS Jeremiah O'Brien Liberty ship – a rare ship that survived the storming of Normandy on D-Day
13. USS Pampanito – a US Navy WWII submarine on Pier 45 – fun to go down inside. Our kids loved visiting this San Francisco hidden gem.
BEST SAN FRANCISCO BOOKSTORES
1. Alexander Book Company – a cute independent bookstore in SOMA with a good children's section
2. Book Bay Bookstore (Readers Bookstore) – great used bookstore in Fort Mason
3. City Lights Bookstore – a San Francisco icon that was influential in the Beat Generation
4. Green Apple Books – TONS of new & used books near the Presidio
SAN FRANCISCO HIDDEN GEMS: BEST OUTDOOR ACTIVITIES
1. Alma (scow Schooner at SF Maritime Park) – sailing around the Bay. Runs from June-Nov and is led by a National Park ranger who shares stories from San Francisco history. One of the coolest things we've done in the city, and is for sure the cheapest way to sail on the Bay. They teach you a bit about manning the sails, as well. Kids under 6 are free.
2. Bernal Heights Hill Swing (plus hike) – amazing views, nice hiking trail + Bernal Slides (top at Winfield & Esmerelda). Such a fun San Francisco hidden gem!
3. Billy Goat Hill Swing – this one is intermittent and was gone when we went
4. Bison Paddock in Golden Gate Park – did you know San Francisco has the American buffalo and has for over 100 years? A little random but such a cool off the beaten path San Francisco tip!
5. Moraga Steps – gorgeous tiled mosaic steps at 16th Avenue that end with a terrific view of the Golden Gate Bridge and Park.
6. Corona Heights Park Hike – if you start near the playground, this hike is super short (like 10 minutes), but results in an amazing view of the city and the Bay. Goes up and around the newly-reopened Randall Museum, so be sure to stop in there, as well. Such an easy and beautiful San Francisco hidden gem to visit.
7. Filbert Street – the actual steepest street in SF (steeper than Lombard but on the same hill, just a couple blocks over)
8. Filbert Street Steps (down from Coit Tower)
9. Fort Funston – Such a fun area for kids. Tons of sand dunes to climb up or slide down, beach access, and tons of friendly pups. A bit of a hike in to the dunes.
10. Little Giants Fan Lot – Inside AT&T park with a couple big slides and a mini baseball field for the youngest baseball fans. Open to the public for free on non-game-days.
11. Lyon Steps – gorgeous views of the Bay and the Palace of Fine Arts, plus some fun steps to run up
12. Mount Davidson Peak Hike – Twin Peaks tends to be pretty crowded, but this is actually the highest in SF and is an easy half mile with great views
13. Presidio Veteran's Cemetery
14. Queen Wilhelmina Tulip Garden/Dutch windmill – a beautiful little corner of Golden Gate Park near the Ocean Beach fire pits. Such a lovely San Fransico hidden gem.
15. Rose Garden in Golden Gate Park
16. San Francisco Sundial (largest of 3 big ones) – Tells time with a decent amount of accurately (except during Daylight Savings, when it's an hour behind…it showed 4:45 when we were there at 6pm) – in Ingleside Terraces neighborhood. Not a ton there, but it has a cool history.
17. Seward St Slides – I feel like these have made it onto so many "hidden SF" lists that they've become super well known. Still, fun to go sliding down a giant concrete slide (although I still prefer the ones at the Koret Playground in Golden Gate Park, which is thought to be the nation's first public playground)
18. Spire Sculpture in Presidio – a tall, outdoor sculpture by Andy Goldsworthy that symbolizes forest rejuvenation
19. Strawberry Hill – the highest hill in Golden Gate Park with beautiful sunset views. An easy little hike, and in the middle of Stow Lake, where you can go paddle boating
20. Sutro Forest – you've been to the Sutro Baths, now check out the forest – a series of trails right in the middle of the city
21. Telegraph Hill Steps – historically, there've been wild parrots here, but I've heard they mostly live elsewhere in the city now
22. Treasure Island Flea Market – one of just a couple things on this list I haven't done, but supposedly has lots of antiques and a fun vibe
23. Sausalito Ferry from Pier 41 – a great – and cheap – way to get out on the water. A short 30-minute ride to Sausalito.
24. Wave Organ – makes different sounds based on the waves hitting the pipes built into the jetty. A really fun San Francisco hidden gem for little ones to hear.
SAN FRANCISCO HIDDEN GEMS: RELIGIOUS SITES
1. Calvary Presbyterian Church
2. Congregation Emanu-El – Influenced by Haggia Sophia, the American Institute of Architects selected this building in 1927 as finest piece of architecture in NorCal. It has a beautiful dome and is one of the two oldest Jewish congregations in California. America's first female cantor served here.
3. Holy Virgin Russian Orthodox Cathedral – The largest Russian Orthodox outside of Russia. This was amazingly intricate and elaborate. A really stunning San Francisco hidden gem.
4. Notre Dame des Victoires church – a Roman Catholic church founded to serve French Catholic immigrants during the Gold Rush
5. Old St. Mary's Cathedral – the first cathedral in California to be built for the express purpose of serving as a cathedral, was tallest building in SF/CA when it opened, first Asian church in North America, free lunchtime concerts
6. Tin How (Tien Hau) Temple – oldest Taoist/Buddhist temple in the US
7. Saint Ignatius Church – gorgeous chapel for the University of SF
8. Saints Peter & Paul Church – pretty church across from Washington Square in North Beach and near the Joe DiMaggio playground
9. Sherith Israel (beautiful Jewish synagogue) – one of the oldest synagogues in the US and was established during the Gold Rush. Housed the city's courts for 18 months after the 1906 earthquake. Has a spectacular dome in the Sanctuary. My favorite stained glass here is of Moses presenting the 10 Commandments, except instead of standing at Sinai, he's in Yosemite, with Half Dome and El Capitan in the distance. Such a cool San Francisco hidden gem that's really specific to the area!
10. St. Dominic's Church – a gorgeous and huge church in lower Pac Heights
11. St. Francis of Assisi Church – the national shrine of St. Francis of Assisi, after whom the city was named (in Chinatown)
12. St. Paul's Catholic Church – near Mitchell's ice cream, and where Sister Act was filmed
13. St. Patrick's Cathedral – red brick by the Jewish museum
14. Trinity St. Peter's Episcopal – the oldest Episcopal church on the west coast, and the second oldest congregation in the cit of SF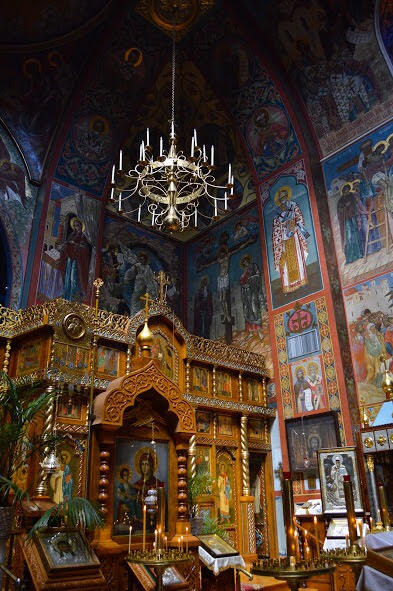 BEST SAN FRANCISCO PERFORMANCES
1. Audium Performance – A show about sound/space/music with sound "sculptures" being broadcast across many speakers. Adults only. Honestly, I thought it was rather unimpressive, but I know others who really enjoyed it. One of the few San Francisco hidden gems that wasn't actually a gem, in my opinion.
2.
Beach Blanket Babylon show
– Though this revue is a San Francisco classic, it seems most tourists don't get around to it. Funny and relatively clean.
3. Fleet Week (October) – not exactly unknown, but if there is an opportunity to include the Blue Angels in a list, how can you not?
4. Golden Gate Park Band Concert at Spreckles Temple of Music – While the Stern Grove concerts tend to be much bigger and totally overrun, this was smaller and very fun. Super family friendly, with lots of twirling kids and picnics. You could also combine this with free Sunday Swing Dancing in the park on the JFK Drive sidewalk between 9th & 10th Avenues. A great San Francisco hidden gem with little ones.
5. Marrakech Magic Theater – a pretty darn good magic show
6. North Beach Festival – a fun and a bit crazy street fair
7. Yerba Buena Gardens – lots of lunchtime concerts and performances. Good off the beaten path San Francisco activity for kiddos to run around.
OTHER SAN FRANCISCO HIDDEN GEMS: UNIQUE THINGS TO DO
1.
Flower Mart
– one of only 5 wholesale flower markets in the country. It's so fun wandering around this off the beaten path San Francisco site.
4.
Magowan's Infinite Mirror Maze
– on Pier 39 but actually pretty fun to go through. There's usually a groupon going. We were surprised by how much we enjoyed this San Francisco hidden gem.
5.
Top of the Mark
for a cocktail or mocktail with a beautiful view of the sunset over the city. A perfect San Francisco hidden gem for a date night.
6.
Westin St. Francis at Union Square
– Technically, the glass elevators up to an amazing view of the whole city on 3 sides was closed to the public several years ago. However, we've managed to go up several times (to the Imperial Floor in the Tower Building – 32nd floor). Try it at your own risk.
What are your favorite San Francisco hidden gems? I'd love to hear about any off the beaten path San Francisco sites that I missed!
IF YOU LIKED THIS POST ABOUT SAN FRANCISCO HIDDEN GEMS, YOU MIGHT LIKE THESE POSTS, TOO: