This post may contain affiliate links, which means I may earn a small commission if you click my link but does not change your price. See my affiliate policy here.
One of the great things about living in the Bay Area in California is there are so many different towns, each with super unique activities and attractions. We live just over an hour from Monterey, so it's wonderful to go down for a weekend in Monterey to explore all the things to do in Monterey with kids.
Monterey is unique in that there are actually a number of nearby towns and cities so it's easy to expand this Monterey itinerary into a week or much longer. Some nearby cities with amazing activities on the Monterey Peninsula are Carmel-by-the-Sea and Pacific Grove. You could also head a bit further to Big Sur, Santa Cruz, or San Jose. I'll share a few ideas for each below!
Here are all our tips for spending a wonderful weekend in Monterey, with or without kids!
Native Peoples of Monterey
The Monterey area is the ancestral homeland of the Ohlone Costanoan Esselen Nation, historically known as the Monterey Band of Monterey County. The Esselen were the smallest tribe and least known in California. By way of the California Missions, Spanish missionaries surrounded and dispersed tribal peoples, separating cultures and families and forbidding usage of native languages. The lands were eventually given to the soldiers and the indigenous peoples of the Big Sur area were left landless. (Source)
As part of your visit, consider supporting the Esselen Tribe here.
How To Get to Monterey: Weekend in Monterey Travel
Monterey does actually have its own smaller airport (MRY) but it tends to be fairly pricey (though sometimes there are good flight deals, so be sure to double check! Here are our favorite places to look for cheap airfare for families). Otherwise, I recommend flying into either San Jose (SJC, about 1h15m away) or San Francisco (SFO, about 1h45m away).
You might be wondering, "Do I need to rent a car in Monterey?" I personally recommend renting a car to get around Monterey and the surrounding area. While downtown Monterey itself is very walkable, there's so much to see nearby that doesn't have great (or any) public transportation access that it's really worthwhile to see.
Best Time of Year to Visit Monterey: Monterey Weather
Monterey weather tends to be fairly temperate year round. It never gets too cold but also doesn't get very warm. The winter is usually much wetter but don't arrive thinking the summer will be hot! It will likely still be fairly cool and often foggy.
The best time of year to visit Monterey is generally in the late spring and fall. The months of May and June tend to be mild and dry but without the crowds of summer, and have gorgeous coastal blooms. September and October in Monterey tend to send out the fog and bring clear skies and warm sun.
Monterey Packing List: What to Pack For Monterey CA
Layers
Sturdy shoes

If you'll be doing some Monterey hikes, pack some sturdy hiking boots for rocky trails. I like these hiking boots for women

and

men

, and these hiking sandals for

women

and

men if you're heading close to water. We love these hiking boots for kids.
If you're mostly walking around, regular walking shoes will do just fine. These are my VERY FAVORITE women's shoes for everyday and travel – so comfortable, cute, and go with everything. For kids, I like these and these sneakers because they're also waterproof.

Versatile bag
First aid kit and my favorite bandages
Sunscreen
Sunglasses – this is my favorite pair that works for narrower faces, too.
Quick-Dry Towel

We like to have one of these quick-dry towels on hand in case of rain or any spills, or to head to the beach.

Swimsuits – good to have on hand, especially for kiddos who may want to splash in the waves. Just beware that it can get chilly, and make sure you head to a beach with safe currents for little ones.
Hat
Camera equipment (see below)
Water/snacks
Packable picnic blanket – this is convenient for quick picnics out and about, especially if the ground is wet as it has a waterproof underside. It packs up super small so it's great for heading out on hikes.
Child hiking carrier – The Monterey area has a number of wonderful hikes, and we love having a carrier to pack along a baby or toddler when visiting Acadia with kids. This is our favorite backpack hiking carrier for visiting Monterey with toddler that also has plenty of room for snacks and even our big camera. We also love this soft structured carrier for younger babies.
Where to Stay in Monterey: Best Places to Stay for a Weekend in Monterey
The Monterey area has a number of lovely little hotels and guest houses that are perfect for either a Monterey weekend getaway or for a longer trip to Monterey with kids. Here are some recommended family-friendly hotels in Monterey and the surrounding area:
Where to Eat in Monterey with Kids: Best Places to Eat in Monterey
Here are some suggestions for the best Monterey restaurants!
Best Things to Do With Kids in Monterey: Top Things in Monterey, CA with Kids
The number one top thing to do in Monterey with kids (or without!) is to visit the Monterey Bay Aquarium. Though pricey, the exhibits and mission centered around education and conservation make it well worth the hefty price tag.
One of the very best aquariums in the country, if not the world, Monterey Bay Aquarium is filled 80,000 plants and animals, with species ranging from sea otters to penguins to jellyfish. The aquarium is also renowned for showcasing local creatures, and leading in research efforts to protect them.
Monterey Bay is famous for its wildlife, and heading out for a whale watching tour is a must-do on a weekend in Monterey. Keep in mind that even during warmer months, it can get quite chilly out on the water, so be sure to dress in layers. Some times of year can also have rougher seas, so if you tend to feel seasick, consider taking some non-drowsy Dramamine or Bonine in advance.
Our family absolutely loved this half-day whale watching tour with Discovery Whale Watch that leaves right from Fisherman's Wharf. The marine biologist and naturalist guides were incredible and we saw probably close to 3 dozen whales, as well as otters and dolphins. It was a magical afternoon with Discovery Whale Watch.
Stroll at Lovers Point Park
Though it sounds exclusive to romantic couples, Lovers Point Park is actually a wonderful family-friendly activity in Monterey, as well. (It's also technically in the next town, Pacific Grove, though it's only a few minutes from the aquarium.) It's a beautiful spot right on the water. If you go in April/May, you're also likely to spot the "purple carpet," a magical display of purple ice plant blooms. Take a picnic and enjoy the ocean breeze!
Go For A Hike at Point Lobos State Natural Reserve
Just when you think the Northern California coast can't possibly get more beautiful, head down about 15 minutes to Point Lobos. You're sure to be taken aback yet again.
Truly one of the most scenic California state parks (and that's saying quite a lot!), Point Lobos offers so much in terms of natural beauty and also outdoor recreation. Don't miss the short (0.8 miles) and flat Bird Island Trail, which will take you past the scenic China Cove and also give you access if you want to take the stairs down to Gibson Beach (just be sure to check the tide – you don't want to get caught when the water washes over the whole beach!). And keep an eye out for the many birds and other types of wildlife!
Explore the Tidepools at Asilomar State Beach
Monterey is an amazing place to go tidepooling – there's such a huge variety of marine life! Plus, tidepooling is a great Monterey activity with kids that's super fun for all ages. Asilomar State Beach is one of our favorite spots for this!
Drive to Big Sur on a Weekend in Monterey
The drive along the California coast is truly one of the most spectacular in the world. And the stretch of Highway 1 from Monterey to Big Sur captures some of the most spectacular parts in a short stretch!
The drive takes about 45 minutes to an hour one way, without stops. But there's plenty to see along the way so you can easily make a whole day trip of it. Point Lobos and Garrapata State Park, other recommended stops above and below, are along this route so it's perfect to add them in along the way. Don't miss Pfeiffer Beach with its purple sand, McWay Falls at Julia Pfeiffer Burns State Park (a waterfall that drops directly into the ocean), and Bixby Creek Bridge. Leave time to eat at Nepenthe and/or Big Sur Bakery, as well!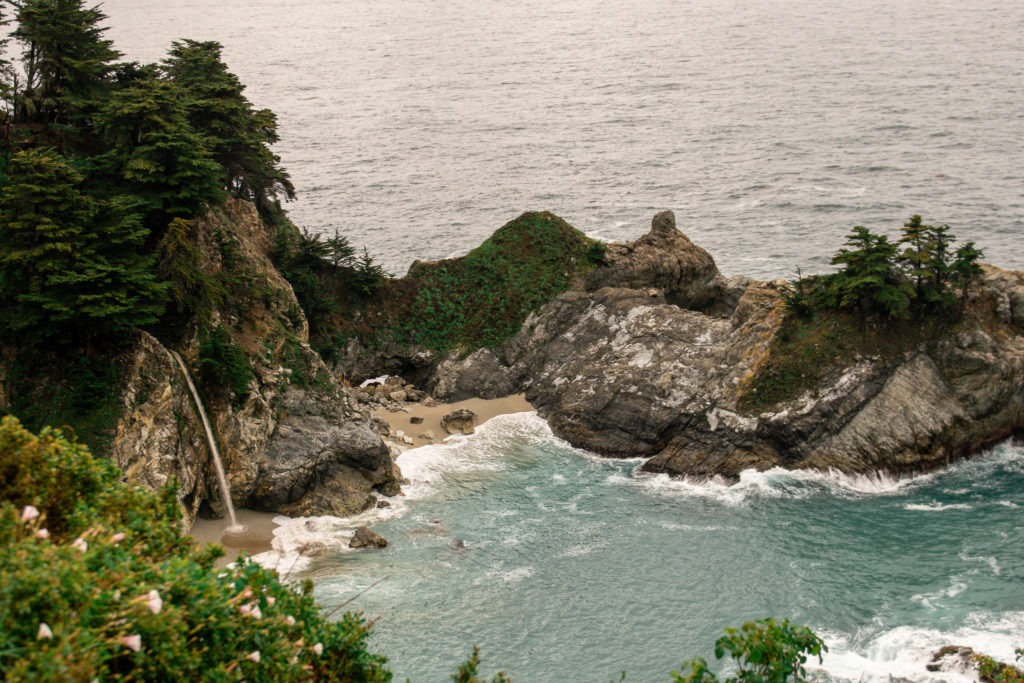 Explore Calla Lily Valley at Garrapata State Park in Spring
The first time we visited here, I was expecting a few calla lilies here and there. I had no idea this short little mile round trip hike would bring us to an area filled with blooms! It is absolutely stunning. This spot within Garrapata State Park isn't well marked on the side of the road, but it is relatively easy to find. You can work your way down to a small canyon filled with flowers from about the end of January until April, and continue on a few more minutes to Garrapata Beach. It's a perfect Monterey activity with kids.
Stop In To Earthbound Farm Stand
We love visiting all sorts of side-of-the-road stands when out exploring, and this is an especially lovely one. This Monterey farm stand is especially family-friendly; in addition to the market, the stand boasts beautiful grounds and gardens that visitors are welcome to explore. Little ones will especially enjoy the Kids' Alphabet Garden, or you can look into a seasonal tour or event.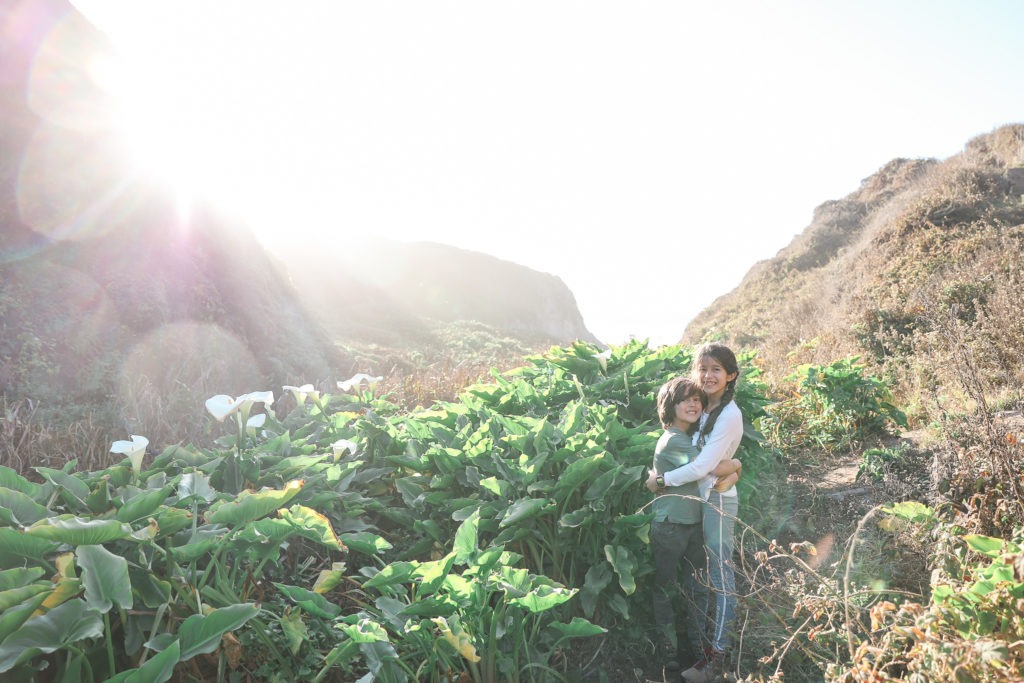 Play at Dennis the Menace Park
There are plenty of good playground opportunities around the area, but the Dennis the Menace playground is especially fun for little ones. Kiddos will love everything from slides to a climbing wall to a suspension bridge to simple space to run around.
Bike the Monterey Bay Coastal Recreation Trail
There are few things more beautiful and relaxing than biking along the coast. The Coastal Recreation Trail is beautiful and paved and filled with spectacular views, making it perfect for families to bike, scooter, or ride on a surrey. You could even consider a family bike tour!
Did you know that thousands of monarch butterflies spend the winter on the Monterey peninsula? November to February is typically a great time to visit the monarch sanctuary in Pacific Grove to see these beauties clustered on the trees there. Try to go on a sunny day if you'd like to see them flying around; otherwise they'll spend most of their time closed up and huddled together on trees.
Here's where I get honest – despite its popularity, I don't actually think 17 Mile Drive is as great as its fame makes it seem. While the coast is certainly beautiful, all the fancy houses and golf courses actually detract from its natural beauty for me rather than add to it. Unpopular opinion, I know!
That said, plenty of people do really enjoy it. If you're one of them (and zero judgment if you do!), you may want to consider a bike tour instead of driving. It'll give you plenty of time to explore and take in the beauty!
Stroll Cannery Row
Historic Cannery Row is the heart of town and a must do while spending 3 days in Monterey. The expanding fishing industry in the early 1900s led to the creation of canneries and Cannery Row. It's still fun to wander amongst shops and restaurants and learn a bit about the area's history.
Explore Fisherman's Wharf
Monterey's Fisherman's Wharf is a fun place to wander and explore for a few hours. Stop into candy shops and get ice cream, sit down for a meal, explore various souvenirs, or just watch people and wildlife.
Weekend in Monterey: Perfect Monterey Itinerary
1 Day in Monterey: Monterey Weekend Itinerary Day 1
For your first day in Monterey with kids, start out at the Monterey Bay Aquarium. Little ones will love exploring and learning about all the marine life, as well as the conservation work led by the center.
After the aquarium, grab lunch along Cannery Row. It's fun to explore this old area so leave some extra time for wandering and learning about the history!
Once you're done, get out to explore some of the natural wonders of the area. Head to the nearby Monarch Butterfly Sanctuary if you're visiting in winter to see some of these magical creatures huddled together! The Pacific Grove Museum of Natural History is another fun little stop near here.
Next, consider heading to Asilomar State Beach for some afternoon/evening tide pooling if the tide is sufficiently low. (If the tide is higher later in the day, you can switch this to the morning if the tide is lower at that time, and then head to the aquarium later in the day.)
2 Days in Monterey: Monterey Weekend Itinerary Day 2
For your second day in Monterey, start out by heading over to Fisherman's Wharf to take a morning whale watching tour. The half-day adventures are perfect with elementary aged kids to witness tons of local wildlife! While you're equally likely to see whales in the morning or afternoon, morning waters tend to be a bit calmer, which can be helpful with kiddos. Be sure to take motion sickness precautions if you or your little ones tend to feel sick.
Explore Fisherman's Wharf for a bit after your tour and choose a spot along the way to get lunch – and preferably ice cream, as well.
From there, head south along the coast to Point Lobos State Park for a short hike and some spectacular views. Consider adding in a drive to Calla Lily Valley, Big Sur, or along 17 Mile Drive if you have time. Pack food to picnic in a beautiful spot at sunset!
3 Days in Monterey: Weekend in Monterey Day 3
Start your morning with something active and either rent kayaks or bike along the Coastal Recreation Trail. Or consider doing a family bike tour, or if you have older kiddos, perhaps an e-bike tour! Surreys are also a great way to involve little ones and enjoy the views. This company is excellent and has bike rentals for kids as young as about 6 years old.
When you're done, head to the Dennis the Menace Playground for a bit to play. The kids will love some time to run around and have fun! Grab some lunch, and consider doing some more shopping or exploring for the afternoon. Or head to the Earthbound Farm Stand, or a bit further north to Santa Cruz or down to Big Sur if you didn't make it the previous day. Finally, end your day and visit to Monterey with kids by picking up dinner and heading over to Lovers Point Park for a gorgeous sunset stroll and picnic.
I hope that's helpful for planning a wonderful family trip to Monterey, CA. I'd love to hear if you go to visit or have any other spots you love!
IF YOU LIKED THIS POST ABOUT A WEEKEND IN MONTEREY WITH KIDS, YOU MIGHT LIKE THESE POSTS, TOO:
NOT PLANNING A WEEKEND IN MONTEREY WITH KIDS JUST YET? PIN THIS POST FOR LATER!