This post may contain affiliate links, which means I may earn a small commission if you click my link but does not change your price. See my affiliate policy here.
When I was pregnant with our oldest, Dan had a work trip to San Diego and I tagged along. It was such a delightful little babymoon and we loved exploring the city. But even after living in the Bay Area for over 6 years, we realized we'd never actually taken our kids to visit! It was high time that we planned a 3 day San Diego itinerary to explore the area.
It turns out, San Diego with kids is SO fun. There are countless activities, beautiful weather, and it feels more manageable and accessible than some other huge cities. We loved it so much that we returned a couple months later for an extended weekend in San Diego! So I knew I needed to put together a San Diego family vacation itinerary.
There's certainly plenty to fill one week in San Diego, but 3 days in San Diego is a great start if you're visiting for a shorter period of time. I'll also share some ideas for a 4 day San Diego itinerary and a 5 day San Diego itinerary below if you have a bit more time.
Here we go – the best San Diego 3 day itinerary for families (plus a great San Diego with toddlers itinerary)!
How to Get Around San Diego with Kids
The blessing and curse of San Diego is that a lot of the "main" attractions are fairly spread out. That means that there's a good bit of flexibility for where to stay, but it also means you should plan on some time getting between locations. When visiting San Diego with kids, I highly recommend having a car. There's some public transit but it's not particularly frequent or efficient, and it's tricky to get to a number of the spots. Here's our favorite place to find reasonably priced car rentals.
Where To Stay in San Diego with Kids
As I mentioned above, there are a number of areas that would make a good home base. Some areas that I think work well are Downtown, Gaslamp Quarter, Mission Valley, Coronado, and La Jolla. Here are a few highly-rated properties in great areas that I recommend:
Where to Eat in San Diego: Best Casual Dining in San Diego
I'm always hesitant to tell you where you should eat when visiting a place because everyone's tastes are so different! And when you're eating in San Diego with kids, those preferences can vary even more, or can change just depending on how you're feeling on a particular day. So instead of including specific recommendations for where to eat in San Diego on specific days, I'm sharing some spots we love in a list (highlighted) and a few others that were recommended to us. You can either map them out to see what is near where you'll be, or see what you're feeling like!
The Taco Stand
City Tacos
Moo Time Creamery
Fig Tree Cafe
Holy Paleta
Wayfarer Bread
Puesto
Casa de Reyes
El Indio
The Pad Thai Stand
Little Lion
Nectarine Grove
Craft & Taco Lounge
3 Day San Diego Itinerary Day 1: Zoo + Balboa Park
Visiting the San Diego Zoo with Kids
The San Diego Zoo is famous across the country and world, and rightly so – it's fantastic! One of the best zoos in the country, it's well worth a visit. The zoo actually has two branches – the main location in Balboa Park, and the Safari Park, which sits a bit northeast of the city. For first-time visitors with limited time, I recommend visiting the main zoo. It has a broader variety of animals, and is closer to other attractions in the city.
Be sure to take the 35-minute guided bus tour for a great overview; first thing in the morning when the animals tend to be active is generally a good time. The Australian Outback area with koalas and wombats is so fun, and we were delighted by the giraffes, too. The elephants and penguins are always fun, too! And don't miss the Aerial Tram, which will give you a great view of the park and also allow you to rest tired feet. It's a must do for a family trip to San Diego.
San Diego Balboa Park with Kids
While you can easily spend the entire day at the zoo, I recommend leaving in the early afternoon to check out some of the other sites in Balboa Park. There are a number of museums that are especially fantastic for kids, like the science center, Natural History Museum, the Air & Space Museum, or the Museum of Us. Or you can just wander around and enjoy a variety of outdoor performances, green space, playgrounds, carousel, and more. Enjoy wandering and either grab food at one of the spots in the park or bring a picnic along. (Note: The Taco Stand isn't far and is delicious and cheap!)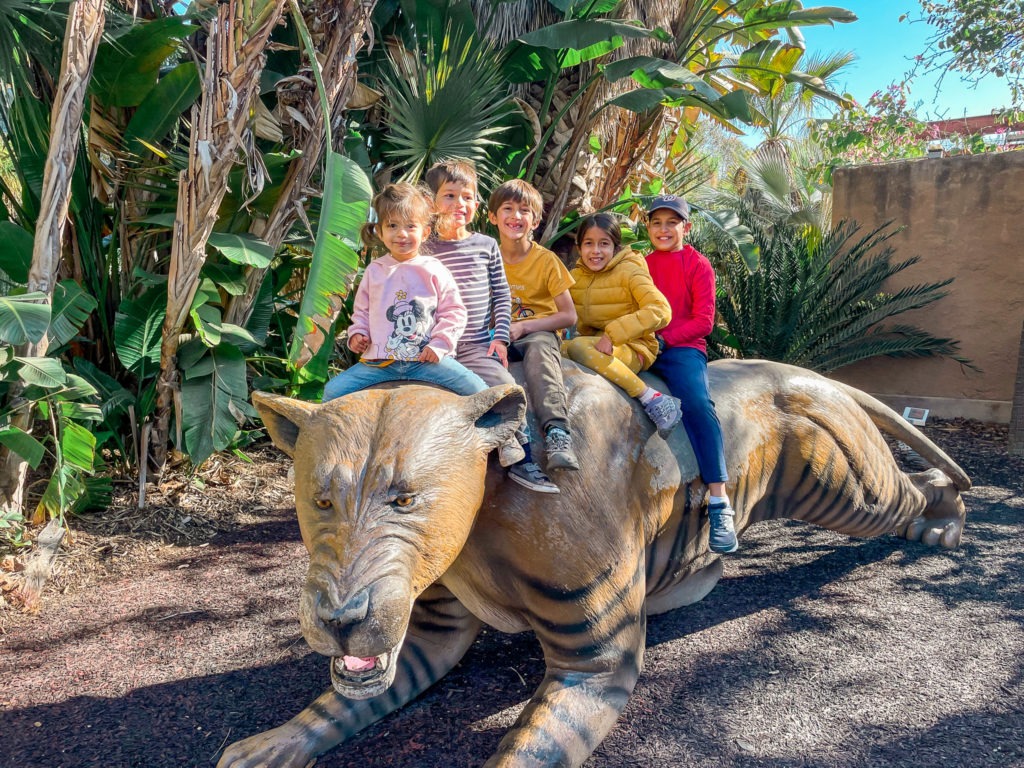 3 Day San Diego Itinerary Day 2: Annie's Canyon, Torrey Pines, La Jolla
San Diego Hikes with Kids: Annie's Canyon
For your second day, start out by driving north to the Annie's Canyon Trail. This trail features a sandstone slot canyon that is SO fun for kid (and adults!) to climb through. Be sure to hold hands with little ones (or keep them in a carrier) as it can get slippery, and make sure to only head up, not down the canyon.
Visiting Torrey Pines with Kids
From there, head south a bit to Torrey Pines State Park. Either pack a picnic lunch to eat there or grab food in the cute town of Del Mar on the way (there's no where to buy food in the park, so come prepared). There are several trails in the park (Guy Fleming and Parry Grove are beautiful), either up to gorgeous viewpoints or down to the beach. Look out for the namesake Torrey pine trees, play in the sand (just leave any shells or rocks you find there), and enjoy the spectacular scenery.
What to Do in San Diego with Kids: La Jolla
Finally, continue down to La Jolla. Head over to the Children's Pool Beach (Note: not safe for swimming!) to check out the adorable and hilarious seals. Or head to the beautiful La Jolla Cove beach to see the sea lions and find a safe spot to play in the waves. After playing, consider sitting down for dinner at one of the beautiful places along the water or nearby. If you'd prefer something more casual, Wayfarer Bread serves pizza on weekends (if you go earlier in the day, their sandwiches and pastries are fantastic).
Here is more info on tons of fun things to do in La Jolla with kids.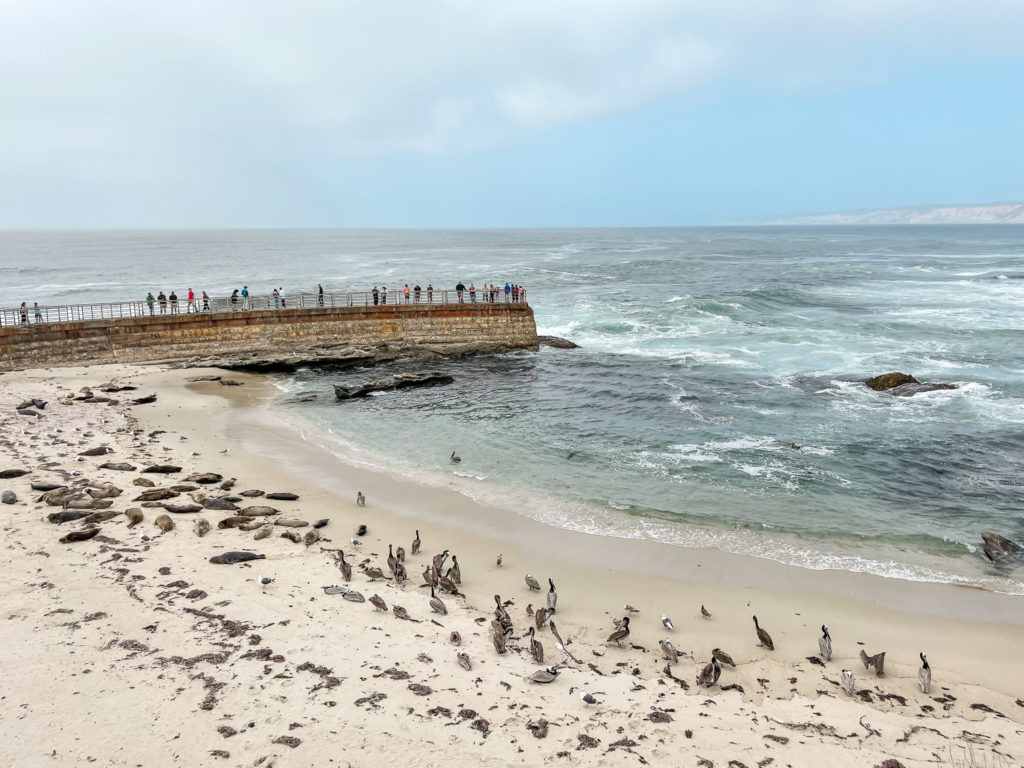 3 Days in San Diego Itinerary Day 3: Cabrillo or USS Midway + Coronado
Things to Do in San Diego with Kids: Cabrillo National Monument or USS Midway Museum
For the final of your 3 days in San Diego with kids, start out at Cabrillo National Monument. You'll find stunning views of the water, fascinating history, and be sure to make time to visit the tide pools. Kids love exploring here!! Be sure to check the tide schedule in advance – you want to go at a low (or better, negative) tide time so consider switching your day around if the morning isn't good for this.
Alternatively, if the weather isn't cooperating or you have some airplane buffs, consider visiting the USS Midway Museum instead. This historical naval aircraft carrier-turned-museum showcases tons of aircraft, many of which were constructed locally. There are a number of ones where kids can climb inside so it's perfect for all ages.
San Diego Itinerary: Coronado
After visiting Cabrillo, drive over the bridge to beautiful Coronado. Coronado Central Beach in front of the historic Hotel del Coronado is beautiful and calm. There are also tide pools here during low tide. Silver Strand State Beach is also lovely with wide expanses of sand, so it's perfect with little ones. There's also a Junior Ranger Program here!
It's also really fun to rent bikes to get around – the whole town is pretty quiet and small, so it's a great way to explore. Don't forget to stop for ice cream at the iconic Moo Time Creamery!
Here are some more ideas for what to do in Coronado with kids.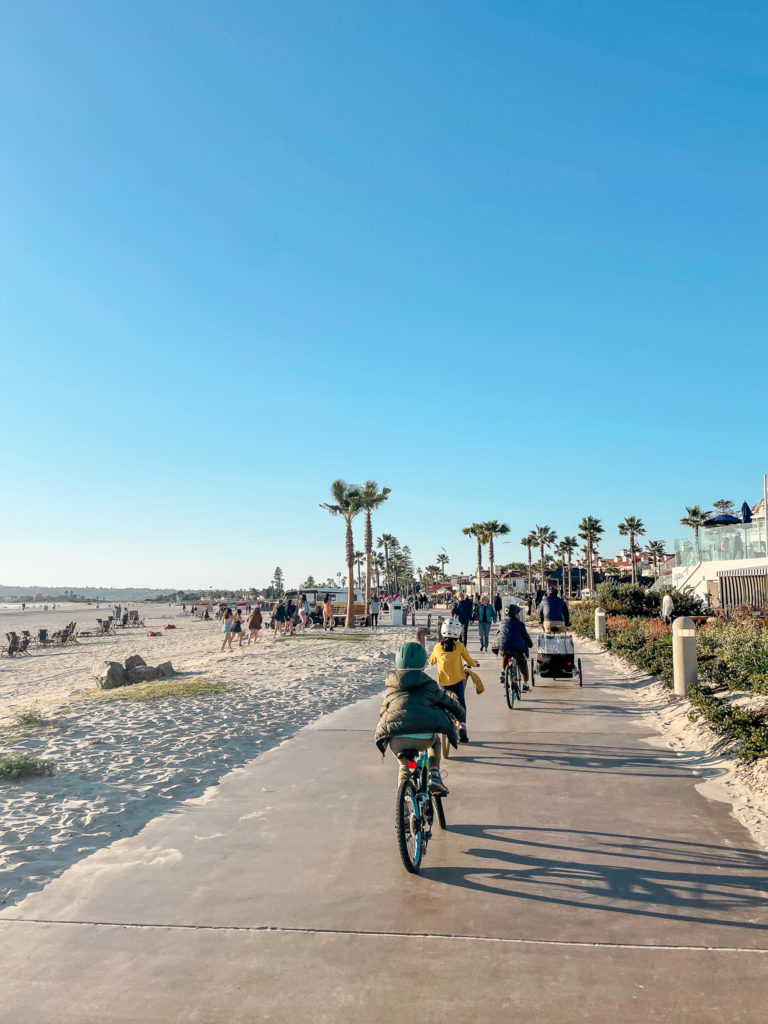 More Time Here are suggestions for a 4 Day San Diego Itinerary or San Diego Itinerary 5 Days
Day trip to Mexico – Ensenada (stroll through the Malecon, the main Avenida, markets), La Bufadora, Rosarita)
Balboa Park Museums (Model Railroad Museum, Fleet Science Center, Natural History Museum, the Air & Space Museum, Museum of Us)
Boat tour – there are several whale- and dolphin-watching tours that are so fun!
Kayaking in La Jolla (visit the sea caves)
San Diego Zoo Safari Park
Legoland
Belmont Park
Mission Bay Beaches
Old Town San Diego
Botanic Gardens
Old Town Trolley Tour
Aquarium
Maritime Museum
New Children's Museum
Living Coast Discovery Center
Baseball game at Petco Park
One Day in San Diego
If you're short on time and only have a day in San Diego with kids, I recommend stopping by the zoo and walking through a bit of Balboa Park, heading over to Coronado, and then going up to La Jolla for dinner and wildlife viewing. It's a great overview for a day trip to San Diego! If you need a 2 day San Diego itinerary, be sure to add in Torrey Pines and Cabrillo, with perhaps a walk along the historic waterfront.
Have you visited San Diego before? What were some of your favorite stops? I'd love to hear!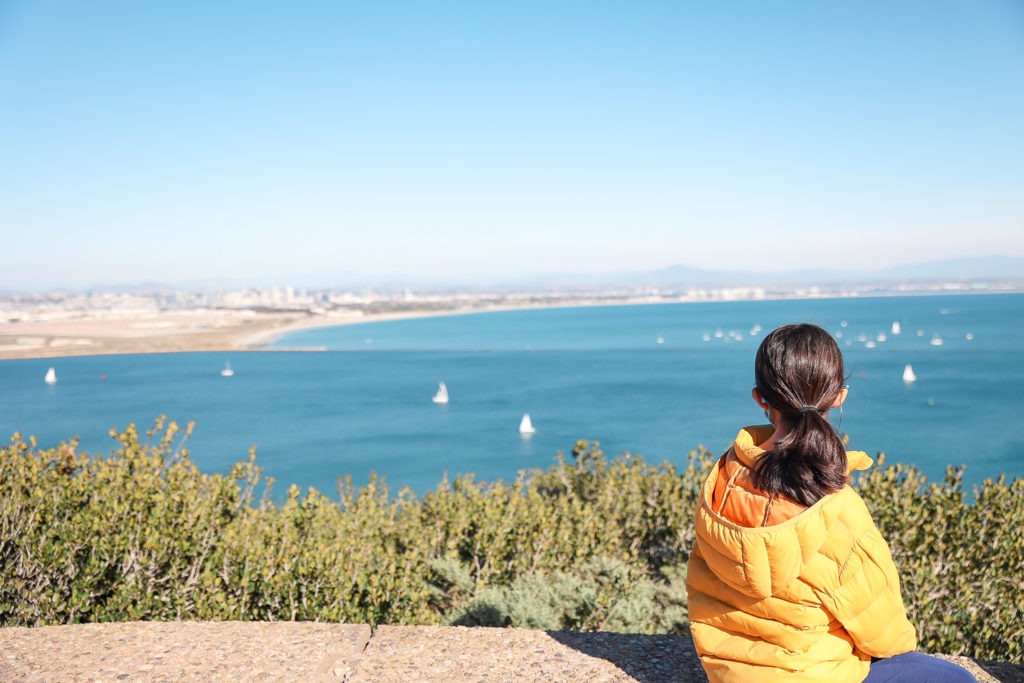 MORE POSTS
IF YOU LIKED THIS SAN DIEGO 3 DAY ITINERARY, YOU MIGHT LIKE THESE POSTS TOO:
DON'T NEED IDEAS FOR THINGS TO DO IN SAN DIEGO WITH KIDS JUST YET? PIN THIS POST FOR LATER!