This post may contain affiliate links, which means I may earn a small commission if you click my link but does not change your price. See my affiliate policy here.
I am SO excited about this Passport to the Parks free National Parks coloring book printable for families! Each park includes a coloring page plus 5 short & simple activities to go along with it, with a focus on indigenous history. That way, you can learn about the park and to enjoy some of its treasures, right from home. The beautifully illustrated coloring page for each park was designed by Devon Blow.
Plus, the whole thing is completely FREE!
Whether you're planning to explore some National Parks with kids in person soon, or whether you just want to do some fun activities at home (with or without kids!), this is a perfect fun summer activity to get you learning, moving, and helping protect our public lands.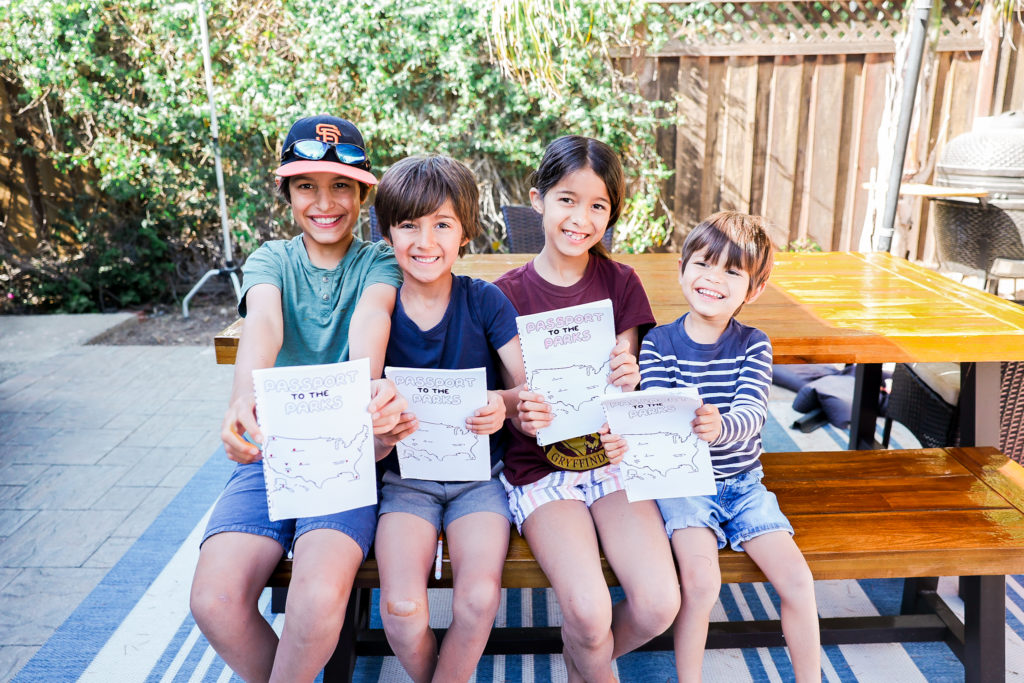 What is Passport to the Parks?
Each of the 10 National Parks has 5 simple activities. Each activity is short and should only take 5-30 minutes. You could easily feature one park per day, one per week, or at whatever pace works best for you! The resources will be here whenever you're ready.
Each park has the following 5 activities:
Picture book (with a free read aloud included)
Brief paragraph on indigenous history
Art or STEM project
Conservation project
Outdoor activity
It's the perfect way to learn about and appreciate some of the best US National Parks for families, whether you're visiting in person or learning from home!
I hope you love it and share with a friend!
How Do I Get the FREE Printable Passport?
I'm just so thrilled with how this beautiful passport turned out. Just pop in your email below and a PDF download will come straight to your inbox!
FREE NATIONAL PARKS PRINTABLE COLORING BOOK + NATIONAL PARKS ACTIVITIES FOR FAMILIES
YOSEMITE NATIONAL PARK ACTIVITIES WITH KIDS
Yosemite Picture Book
Two Bear Cubs: A Miwok Legend from California's Yosemite Valley by Robert D. San Souci (Adapter), Daniel San Souci (Illustrator)
Available on Amazon, Bookshop, Target, Walmart, Thriftbooks
Yosemite Indigenous History
The Ahwahnee people were a group of Sierra Miwuk who lived in the Yosemite area. Sometimes the ending "chee" is added when referring to the people, which simply means they are from that place ("Ahwahneechee"). One of the most important foods in the Ahwahnee diet was the black oak acorn, especially to make acorn mush. Some accounts say the black acorn made up over 60% of the Ahwahnee diet!
Yosemite Art/STEM Project
Long before Ansel Adams began photographing Yosemite, he visited with his family. Think of a place you've visited with your family – it could even be somewhere right in your neighborhood! Try photographing this spot from different angles and at different times of day.
Yosemite Conservation Project
Did you know that fossil fuels help power the power plants? When we leave lights on unnecessarily, it uses up more of this energy, and uses more fossil fuels. You can help by practicing turning off as many lights as possible for the day!
Yosemite Outdoor Activity
Yosemite is filled with amazing trails to enjoy the outdoors. Go on a hike or a walk today to enjoy the outdoors right near your home!
OLYMPIC NATIONAL PARK ACTIVITIES WITH KIDS
Olympic Picture Book
Raven: A Trickster Tale from the Pacific Northwest by Gerald McDermott (Author, Illustrator)
Available on Amazon, Bookshop, Walmart, Thriftbooks
Olympic Indigenous History
In the late 1970s, researchers found the bones of a mastodon that had lived on what is now the Olympic Peninsula. This mastodon had a spear tip embedded in it, and after much dating, scientists figured out that it was from over 13,000 years ago! It's amazing that this proves not only that humans lived in that area that long ago, but also that they were hunters.
Olympic Art/STEM Project
There's a great diversity of plant and animal life in Olympic National Park. Create a rainforest terrarium to mimic this incredible biodiversity!
Olympic Conservation Project
The Hoh Rainforest gets tons of rain in a year – nearly 12 FEET! This rainwater can easily carry pollutants to other areas. Create a miniature watershed to see how pollutants can travel from this area of heavy rain to rivers and oceans.
Olympic Outdoor Activity
Water is the lifeblood of Olympic National Park. Find some outdoor water play today at a pool or splash pad!
MESA VERDE NATIONAL PARK ACTIVITIES WITH KIDS
Mesa Verde Picture Book
Fry Bread: A Native American Family Story by Kevin Noble Maillard (Author), Juana Martinez-Neal (Illustrator)
Available on Amazon, Bookshop, Target, Walmart, Thriftbooks
Mesa Verde Indigenous History
Ancestral Puebloans had fixed-location communities, many on the sides of cliffs! They often used retractable ladders to access these high up dwellings. This was special and important because until then, many communities had been nomadic, and these were built to remain in one place.
Mesa Verde Art/STEM Project
The cliff dwellings of Mesa Verde are of prime importance in its cultural history. Create a model cliff dwelling by molding aluminum foil and clay! start by molding the outside concave area using aluminum foil. Then, using air dry clay, create home areas, people, tools, or anything else you'd like!
Mesa Verde Conservation Project
Litter can easily get caught inside the dwellings when left behind by visitors or not secured. Go on a litter walk in your community, either at your local park or in your neighborhood.
Mesa Verde Outdoor Activity
Petroglyphs, or images engraved into rock, are common in indigenous cultures and often help with sharing oral histories. Petroglyph Point Trail at Mesa Verde has a petroglyph that may share a story of two clans (the Mountain Sheep Clan and the Eagle Clan) separating from other people and returning to their place of origin. Go on a walk or drive around your city to see if you can find any street art, and see if you can interpret what it means.
YELLOWSTONE NATIONAL PARK ACTIVITIES WITH KIDS
Yellowstone Picture Book
Volcano Dreams: A Story of Yellowstone by Janet Fox (Author), Marlo Garnsworthy (Illustrator)
Available on Amazon, Bookshop, Walmart, Thriftbooks
Yellowstone Indigenous History
The Tukudika tribe of Mountain Shoshone were nicknamed the Sheep Eaters. They live for thousands of years in what is now Yellowstone National Park. They were amazing hunters and the bighorn sheep was their main source of meat, along with lots of plants and nuts. They also used the bighorn sheep bones to make weapons. They were forced to leave the land in the late 1800s and moved to reservations. The name itself means "eaters of the mountain sheep."
Yellowstone Art/STEM Project
Yellowstone is filled with incredible wildlife. You can make your own Yellowstone paper bag puppet, like this bear or this bison!
Yellowstone Conservation Project
The hot springs at Yellowstone are incredibly beautiful, but can also be dangerous and toxic. They can destroy some things that don't normally break down, and it's very bad for the pools to then have those materials in them.
Here's a fun recycling project to learn about some types of trash that are biodegradable (naturally recyclable) and some that are not.
Yellowstone Outdoor Activity
Yellowstone is filled with wide open spaces, and often has animals chasing each other – sometimes in play, sometimes in hunt. You can play a friendly version with some outside tag!
EVERGLADES NATIONAL PARK ACTIVITIES WITH KIDS
Everglades Picture Book
Marjory Saves the Everglades: The Story of Marjory Stoneman Douglas by Sandra Neil Wallace (Author), Rebecca Gibbon (Illustrator)
Available on Amazon, Bookshop, Target, Walmart, Thriftbooks
Everglades Indigenous History
The Calusa were likely the dominant tribe in this region. Since they lived along the Gulf Coast, they were genius at using the large amount of shells available to them. Archaeologists have found shell mounds, where the empty shells were discarded after they were emptied and used. The Calusa also used shells to create gathering places, barriers from tides, weapons, and more. The Calusa were sadly largely eliminated by the mid-1700s due to European diseases.
Everglades Art/STEM Project
The Everglades is the largest subtropical wetland ecosystem in North America. To help understand what wetlands are, how they help maintain clean water, and how they help prevent flooding, you can create this fun wetland in a pan!
Everglades Conservation Project
Did you know pollution can easily get into our water, and then into our food? This is especially dangerous for a place like the Everglades, which is so heavily filled with and reliant on water. You can learn more with this water pollution project using celery!
Everglades Outdoor Activity
Everglades is another place very dependent on water. Have some water fun yourself with water guns or water balloons outside, or even just playing with cups in the bathtub!
DENALI NATIONAL PARK ACTIVITIES WITH KIDS
Denali Picture Book
Up on Denali: Alaska's Wild Mountain by Shelley Gill (Author), Shannon Cartwright (Illustrator)
Available on Amazon, Bookshop, Walmart, Thriftbooks
Denali Indigenous History
The Koyukon were called after the Russian name for a river in this area. In their own language, they actually call themselves Denaakk'e, which means "the people," but many refer to themselves as Koyukon today, too. The Koyukon heavily used moose for subsistence, and had a large vocabulary for moose. They used the moose not just for food, but for lots of other uses, as well – including to create moose-hide canoes or to make a moosehide strap to create a baby belt to carry babies on their backs.
Denali Art/STEM Project
Did you know there are hundreds of glaciers in Denali National Park? You can learn more about the process by which glaciers are created with this glacial pressure project with marshmallows!
Denali Conservation Project
The country's windiest and highest spot is actually in Denali National Park. Did you know you can catch the wind to store energy? Here's an easy and fun way to make a pinwheel wind gauge!
Denali Outdoor Activity
Perhaps you can't climb to the highest point in North America today, but you can find somewhere else high to climb! Look for a tall playground structure, or a safe outdoor feature, like a big rock or a tree (but check with your grown up first!).
ZION NATIONAL PARK ACTIVITIES WITH KIDS
Zion Picture Book
Sand to Stone: And Back Again by Nancy Bo Flood (Author)
Available on Amazon, Bookshop, Thriftbooks
Zion Indigenous History
Long before modern agriculture in the deserts of Utah, the Fremont and Ancestral Puebloan peoples were amazing farmers. There wasn't a lot of freshwater available to them but they managed to thrive. They typically grew the "three sisters" crops – corn, beans, and squash. The Fremont people actually built irrigation ditches to control the flow of water. They coupled these with slopes and streams to get water to their fields!
Zion Art/STEM Project
Zion is an International Dark Sky Park. That means that this is an incredible place to view the night sky unobstructed by light pollution or other barriers.
You can create your own scratch art like this. Once you've done so, scratch off a Zion landmark (perhaps Angels Landing or the Narrows?) and fill in some bright night stars in your dark scratch art sky!
Zion Conservation Project
Unlike some other parks that have an abundance of water, large parts of Zion are semiarid desert. This means that water is at a premium and it's even more important to conserve it! You can practice conserving water at home. Time the length of your shower today, and see if you can reduce the length tomorrow!
Zion Outdoor Activity
In honor of the incredible dark skies at Zion, consider going stargazing tonight to see what you can recognize. If you'd rather nog stay up late, you can look at a star chart instead!
ACADIA NATIONAL PARK ACTIVITIES WITH KIDS
Acadia Picture Book
Blueberries for Sal by Robert McCloskey (Author)
Available on Amazon, Bookshop, Target, Walmart, Thriftbooks
Acadia Indigenous History
The Wabanaki people were known as the "People of the Dawnland." The Wabanaki lived in and around Mount Desert Island and specialized in managing the area with birchbark canoes. They heavily used them for fishing and transportation. The Wabanaki canoe is actually the ancestor of all modern canoes! The canoes take a very long time to build, however – about 200 hours to find the materials in the woods, and about 500 hours to build a single canoe. The bark is naturally waterproof, and then the seams are sealed with pine pitch and animal fat. Source, Source
Acadia Art/STEM Project
Sand Beach is one of the best places for families to play at Acadia. You can make your own kinetic sand to make a replica of Sand Beach!
Acadia Conservation Project
Oil spills can be extremely dangerous, and potential drilling off the east coast can put places like Acadia in harm's way. Here's an oil spill activity to help you understanding the damaging impacts one can have on surrounding communities, plants, and wildlife.
Acadia Outdoor Activity
Birdwatching is renowned on Mount Desert Island in Acadia, and 308 types of birds have been encountered in and around the park. Go out in your backyard or to a nearby park to see what birds you can see and hear!
GRAND CANYON NATIONAL PARK ACTIVITIES WITH KIDS
Grand Canyon Picture Book
Grand Canyon by Jason Chin (Author)
Available on Amazon, Bookshop, Target, Walmart, Thriftbooks
Grand Canyon Indigenous History
Water is of utmost importance for survival in the desert, and the Grand Canyon is no different. The Havasupai people call the canyon home, and their name means "people of the blue-green waters." They've managed to use the water they have extremely well, especially the Havasu spring in Havasu Canyon. This spring is integral to the Havasupai people for having water deep in the canyon and growing crops. The Havasupai are the only tribe that continues to live in the canyon and are its guardians. Source
Grand Canyon Art/STEM Project
The Grand Canyon is filled with colors of every hue in its various stripes and depths. It's incredible to see the variations and striations! In some ways, it looks like a mosaic, or different colored pieces arranged together to create an image.
You can create your own mosaic art out of construction paper. Find a picture of the Grand Canyon that you like and identify 4-5 different colors that you see. Get a sheet of construction paper in each of those colors and tear them into small bits. Then arrange those pieces onto a sheet of white paper in the design of your Grand Canyon image and see how the image comes to life!
Grand Canyon Conservation Project
The sun has always been an important part of the environment at the Grand Canyon, especially for indigenous communities. It helps tell time and day, helps with managing crops and wildlife, and serves communities. You can use the sun for your benefit, too – and the sun is a great way to use renewable energy that doesn't harm the earth – all for free!
Here's a really fun way to make a solar oven to cook your own s'mores – using the sun!
Grand Canyon Outdoor Activity
Have you ever considered climbing into the Grand Canyon? The hike from "rim to rim" (or from the North Rim of the Grand Canyon to the South Rim, or vice versa) is just over 22 miles and very steep and strenuous. But it gives an amazing view into the colors, rocks, and history of the canyon!
You may not be climbing for 22 miles but go find some other rocks to climb – the more colorful, the better!
GREAT SMOKY MOUNTAIN NATIONAL PARK ACTIVITIES WITH KIDS
Great Smoky Mountain Picture Book
The Troublesome Cub by Lisa Horstman (Author)
Available on Amazon, Thriftbooks
Great Smoky Mountain Indigenous History
The Cherokee people had an incredible alphabet and reading/writing system that was developed by Sequoyah. He was raised by his Cherokee mother and never learned English at all. But he was convinced that white people had power from writing their language, and he was determined to figure out a system of the same so that his people wouldn't solely be dependent on memory and word of mouth. Because of that, he developed the Cherokee writing system, which had 86 symbols, one for each of the syllables in the Cherokee language.
Great Smoky Mountain Art/STEM Project
There are hardly any places more beautiful in the fall than the Great Smoky Mountains. The leaves turning colors is absolutely stunning! Even if you can't go visit in person, you can create some beautiful leaf art in fall colors right at home to mimic what you'd see in the park.
Great Smoky Mountain Conservation Project
Reusing is an important part of protecting our environment. You can reuse an old t-shirt into a farmer's market bag to carry produce! Perfect for thinking of collecting some amazing fall fruits growing in the Smokies.
Great Smoky Mountain Outdoor Activity
The Smoky Mountains have some incredibly beautiful bike trails that are perfect for viewing vistas. You can go on a bike or scooter ride right at home with a loved one!