This post may contain affiliate links, which means I may earn a small commission if you click my link but does not change your price. See my affiliate policy here.
For the last decade, we've spent the month of December doing Christmas family advent activities each day. Some of these Christmas advent activities have been religious in nature and some are just for fun. All of them, including scriptures, simple and kid-friendly acts of service, books, music, and treats help us connect as a family during a busy time of year.
Last year, I shared our 2020 Christmas advent activities, so I thought it would be fun to share what we're doing this year, too.
Christmas Service Advent For Kids
There are so many magical parts of Christmas with kids, and our kids get to do lots of fun things that they don't normally get to do during the year. With all that, it's important to me that they recognize their privileges and consider ways to pass them on and show kindness to others. I want them to participate in creating joy and magic for others instead of just focusing on themselves!
This year, we're keeping things simple and using this children's service calendar created by our church. It has simple and kid-friendly ideas to think of others each day and it's perfect for even my little ones. It also has a color by number sheet to go along with it so you can fill in a bit each day. Or you can even create a custom service calendar with service prompts you choose from the list.
I printed out the page with all the service ideas and cut them into little pieces to include in this beautiful wooden advent calendar. My kids take turns pulling one out each morning so we know what to think about each day.
At the start of each advent evening, we light a new candle in this beautiful spiral wooden advent candle holder. It's so simple and so lovely. This is one of our newer Christmas advent traditions and I love the symbolism.
For years, we did this simple alphabet scripture advent. I made little baggies and we put one little piece of paper in each one, and the kids took turn pulling them out. We read the scripture and discussed. It was the perfect family Christmas advent advent activity for toddlers!
Since some of our kids are a bit older now, and since we've done that scripture advent activity so many times, we switched things up last year and started this 25 Days of Christ advent that has an ornament representing Christ each day (that are each stored in their own beautiful little bags). Each ornament also goes along with a short story. It is so special and helps us as we study the life and ministry of Christ and the circumstances of His birth.
You can use the code PASSPORT20 for 20% off!
Picture Book Advent for Kids
For years, I've wrapped up 25 of our favorite Christmas picture books at the beginning of the season. Then each evening, the kids take turns opening up the book fo the day. It's one of my favorite traditions for advent! We all love seeing what favorite book appears each day! It also ensures we definitely read all of our favorites aloud.
My friend Janssen had mentioned this beautiful digital interactive advent calendar for years. This year's is set in London, so I knew we had to finally get it. And it's delightful!! There's a daily short animation on an aspect of Christmas in London, and there are lots of little interactive activities, like decorating a tree, playing festive games, and more.
The music is gorgeous, it's so twinkly, and it's just been such a fun addition to our advent activities each evening. Well worth $5 for the whole family to enjoy all season.
Advent wouldn't be advent for our kids without a daily little piece of chocolate. We always get each of them the $0.99 chocolate advent calendars from Trader Joe's.
This year, Dan and I decided to do a nicer chocolate advent calendar for the two of us. Trader Joe's used to have a beautiful dark chocolate one a few years ago but they haven't had it for several years.
So we decided to pay a bit more and get an incredible bean-to-bar chocolate advent calendar from Bar and Cocoa. It's pricey, but we loved being able to support this incredible small shop and sustainable and ethical chocolate production. We only purchased one, which has been plenty because most days have a full-sized thin bar of chocolate so there's more than enough to share. It's been a delight and the chocolate is exquisite.
Finally, one addition to our advent activities this year is this Harry Potter LEGO advent calendar. I just got one for my kids to share, so they just take turns opening up the tiny cubbies with a new addition to the Harry Potter scene each day. Each little addition takes about a minute to assemble and whoever's turn it is just does it while we're reading the scripture. Very fun!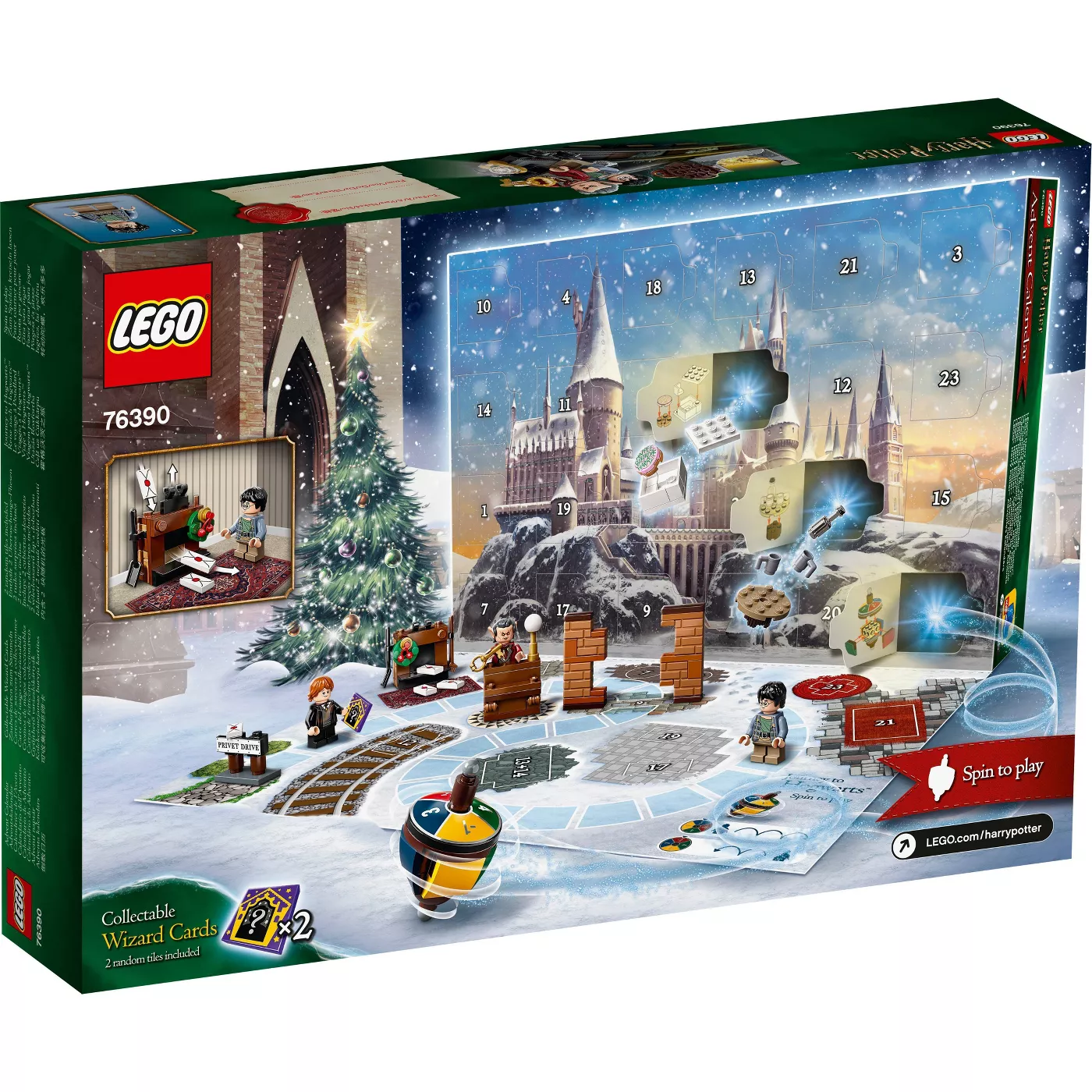 Family Advent Schedule: 10-20 minutes a day of Scriptures, Service, Books, and Music
Here's what we do each day:
Morning (2 minutes):
Evening (15-20 minutes):
In addition to that, the grown ups read a Christmas devotional each evening (here's our list).
Fun Christmas Advent Activities
In addition to the daily advent activities, we love doing a few fun family holiday activities on various days through the season. Nothing stressful or overblown, but just some simple and sweet advent activity ideas to enjoy time together with some fun traditions. Here's what we're doing!
Christmas movies. All the Christmas movies.
Open Christmas jammies on Thanksgiving weekend and decorate the tree
Assemble neighbor gifts
Attend a Handel's Messiah sing/play along
Go caroling and hand out cider to raise money for a charity organization
Decorate snowpeople doors
Holiday high tea (plan a fancy family afternoon tea at home)
Decorate gingerbread houses
Watch a recording of the Christmas Spectacular with the Rockettes
Have a hot chocolate bar and watch the First Presidency Christmas devotional
Make and decorate gingerbread cookies
Attend the San Francisco Ballet Nutcracker
Donate at the giving machines
Watch a virtual Rockefeller tree lighting
Participate in orchestra and choir concerts
Make clementine candles for La Fete des Lumieres
Make paper snowflakes
Have a Christmas "song off" – we each go around naming Christmas songs and the last one continuing to remember the names of songs wins
Visit a live nativity
Go ice skating
"Polar Express" night

This is always one of our favorite family Christmas activities. We surprise the kids with a golden ticket under their pillows, play a recording of a train whistle, and everyone hops in the car with thermoses of hot chocolate to drive around and look at Christmas lights.
Christmas Eve Traditions and Christmas Day Traditions
I love being home on Christmas Eve and Christmas Day. It's so cozy and I love feeling the peace of the season and spending the days together. Here's what we do!
Christmas Eve Family Program
Bethlehem Dinner: We dress up in nativity clothing and sit on the floor to eat food by candlelight that Jesus may have eaten. For dinner, we eat things like hummus, olives, pita, dates, grapes, fruit, cheese, cucumbers, etc. We also usually make homemade falafel.
Read & act out the nativity story
Look at photos of our trip to the Middle East
Family Christmas Morning
Open presents in the morning in our Christmas pajamas and stay in jammies all day long
Open stockings last! This is one of my best Christmas morning hacks. My kids used to always get so excited by stockings and hopped up on sugar that they weren't as excited for their real gifts, which was disappointing to us. Now we end with stockings and it's the best. They're still excited until the end and they can spend as long as they want on all the little fun things in there.
Sibling Secret Santa gift exchange
Watch Christmas movies all day after presents
I'd love to hear your family advent traditions!
IF YOU LIKED THIS POST WITH FAMILY ADVENT ACTIVITIES, YOU MIGHT LIKE THESE POSTS TOO:
DON'T NEED ADVENT ACTIVITY IDEAS QUITE YET? PIN THIS POST FOR LATER!