This post may contain affiliate links, which means I may earn a small commission if you click my link but does not change your price. See my affiliate policy here.
For as many times as I've been pregnant, you'd think I'd have some cute maternity swimsuits I really love. But somehow I don't! I have one plain navy one that I got several pregnancies ago that's just very blah. I do have one cute pregnancy bathing suit from a couple pregnancies ago, but the bottom coverage is…not awesome so it's always riding up and generally annoying me.
So I decided to actually find a maternity swimsuit this last time around that's comfortable and cute and flattering. Turns out maternity swimwear has evolved significantly in the 12 years since I was pregnant with my first baby and there are tons of great options. Check out some of my favorite pregnancy bathing suits below!
I just bought and love this one piece maternity swimsuit. I love that it has a small ruffle on the shoulders to balance proportions better with an expanding midsection, and there are tons of colors available (I got the coral). Good coverage and fits perfectly.
Other Amazon Options: I also found a couple other great maternity bathing suits on Amazon. There's this one that looks just like one of my normal favorite swimsuits, but just in a maternity swimwear version. This two-piece maternity swimsuit is also very cute, although the top was too big on me. Oh, and this is my very favorite cover up that easily works for maternity swimwear, too.
ASOS Cute Maternity Swimwear
Asos has some of the cutest maternity clothing items, and maternity swimwear is no different. My only issue with some of their pregnancy swimsuits is that they sometimes slide around on the bottom, but I think that's more of an issue of me having a short torso.
Here are some of my favorites Asos maternity swimsuits:
Gathered Plunge Maternity Swimsuit in Palm Print
Blue Gingham Ruffle Maternity Swimsuit
Blue Floral Frill Maternity Swimsuit
Maternity Bikini Top & High Waist Bottom in Textured Stripe
Red Gingham Tie Shoulder Maternity Swimsuit
Target has really stepped up their swimsuit game, including for maternity. There are so many cute maternity swimsuit styles! Here are some Target maternity swimwear that I love:
One-Shoulder Leopard Print Maternity Swimsuit
Tie-Shoulder Multi-Colored Striped Maternity Swimsuit
Black Flounce One Piece Maternity Swimsuit
Blue Animal Print Tie-Front Maternity Swimsuit
I cannot get enough of tie shoulders this year, and this basic bandeau style maternity one piece from Pink Blush is pretty much perfect. I love the different colors and sleek silhouette. This tie-waist maternity swimsuit is also a winner. Pink Blush also has one of the widest varieties of maternity swimwear that I found anywhere, both for one piece maternity swimsuits and two piece maternity swimsuits.
Old Navy usually has some good basic maternity bathing suits. I'm liking the cheery print of this yellow floral one! They also have a maternity rash guard available if you're looking for some extra sun protection.
Ruffles are popular this year, and I think they work especially well on maternity swimsuits. I super love this hot pink floral ruffled shoulder suit from Gap! This maternity bathing suit also comes in several other colors, like black daisy, animal print, a couple solids (including black), and a lighter colored floral.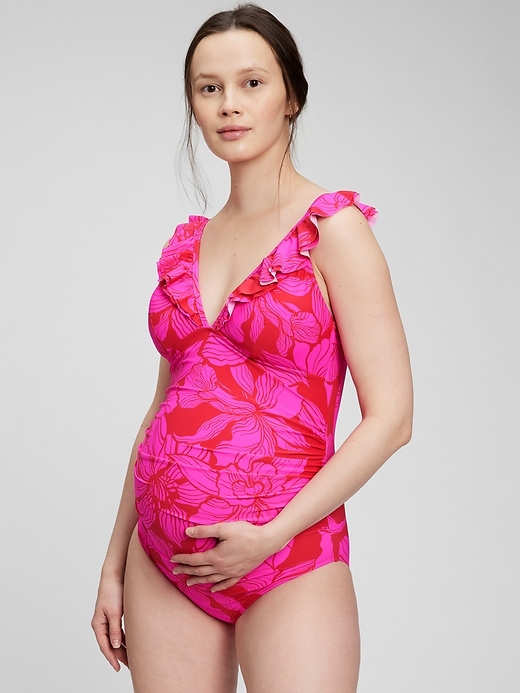 Nordstrom always has a huge selection of items, and I'm impressed with their maternity swimsuit collection, as well. I especially love this scalloped maternity swimsuit that comes in several bright colors – so cute. This poppy printed maternity one-piece is also darling. Both of these pregnancy bathing suits are from Cache Coeur.
It doesn't get more classic than a sleek black swimsuit with a feminine shoulder ruffle. This maternity swimsuit from H&M is an excellent price and well-cut.
I remember over a decade ago when I was pregnant with my first baby thinking that A Pea in the Pod didn't really have anything modern or cute looking. I'm happy to see they've updated their styles! I found a number of cute maternity swimsuits there, but I especially loved this ruffled zebra print maternity swimsuit, this rib knit orange striped maternity swimsuit, this navy and white striped maternity swimsuit with tie shoulders, and this lightly chevron-striped maternity swimsuit.
My sister mentioned she loved her maternity swimsuit from here, so I peeked and found this cute and functional one-piece maternity wrap swimsuit. I'm a sucker for the seersucker stripe!!
Those are some of the best cute maternity swimsuits in 2022 that I found! How about you? Are you hunting for a maternity swimsuit, and if so, have you found any great ones? I'd love to see!
IF YOU LIKED THIS POST ABOUT THE BEST CUTE MATERNITY SWIMSUITS, YOU MIGHT LIKE THESE POSTS TOO:
Don't need Flattering Maternity Swimsuits just yet, pin this post for later!