This post may contain affiliate links, which means I may earn a small commission if you click my link but does not change your price. See my affiliate policy here.
Visiting Acadia National Park with kids is definitely a bucket list trip. It has such a diversity of landscapes, habitats, and wildlife, and is an incredible place for families of all ages and abilities. Acadia with kids is magical!
Learn About Acadia National Park
Acadia National Park History & Natural Features
The area now known as Acadia National Park has been populated for over 12,000 years.
Mount Desert Island is the main area of the park.
Both the Wabanaki and European colonists used the seas as means of transportation in the area.
The Wabanaki used the land for much gathering and used the resources of the area to create tools, such as birchbark canoes and porcupine quill baskets.
Farming, shipbuilding, and quarrying became widespread with European colonization, and contributed to roads and construction in the area.
Acadia was first established as Sieur de Monts National Monument.
Peregrine falcons essentially disappeared from Acadia, but were reintroduced through a historic nesting program.
Wealthy tourism became a big industry in the area in the late 1800s, when many rich wanted to vacation there and wanted comfortable retreats. Many "cottages" (truly mansions) were established to house some of the wealthiest families in the country.
Acadia National Park was the first national park created from private lands gifted to the public through the efforts of conservation-minded citizens, though those lands were originally stolen from indigenous tribes.
Acadia Indigenous History
"Today people from the four tribes—the Maliseet, Micmac, Passamaquoddy and Penobscot—collectively known as the Wabanaki, or "People of the Dawnland" live throughout the state of Maine."
The collective Wabanaki people came starting thousands of years ago overland and via birchbark canoes.
They originally set up temporary camps and hunted and gathered food. While the Wabanaki spent time on Mount Desert Island during all seasons, they did not typically live year round at a single site.
The Wabanaki people knew Mount Desert Island as Pemetic, "the sloping land."
The Wabanaki remained in the area throughout European colonization and resisted attempted forceful eviction, disease, and genocide.
The federal government eventually prohibited the Wabanaki from harvesting sweetgrass on their ancestral homeland until 2015, when some areas of the park were reopened to indigenous tribes. This is also important for including indigenous practices and knowledge in the scope of park science.
In November 2021, US President Biden issued a memorandum recognizing and committing to incorporating indigenous-led science, citing the Acadia National Park sweetgrass study. (Source) (Source) (Source) (Source)
As part of your visit supporting the Wabanaki peoples here.
---
Featured Acadia Picture Book: The First Blade of Sweetgrass
Acadia Packing List: What to Pack For an Acadia Family Vacation
Acadia National Park Packing List
Layers
Sturdy shoes

I'd recommend either sneakers with good tread or hiking shoes when exploring Acadia trails with kids. My kids love either hiking sandals, hiking boots, or regular sneakers depending on the type of hike. (I like these and these for kids because they're also waterproof.)

First aid kit and my favorite bandages
Sunscreen
Insect Repellent

It can definitely get buggy around here, especially in the summer. We like this bug repellent in areas that don't have a high prevalence of disease-carrying mosquitos (we use Deet in Zika/dengue/malarial areas).

Quick-Dry Towel

We like to have one of these quick-dry towels on hand in case of rain or any spills, or to head to the beach.

Hat
Camera equipment (see below)
Water/snacks
Packable picnic blanket – this is convenient for quick picnics out and about, especially if the ground is wet as it has a waterproof underside. It packs up super small so it's great for heading out on hikes.
Child hiking carrier – Acadia has a number of wonderful hikes, and we love having a carrier to pack along a baby or toddler when visiting Acadia with kids. This is our favorite backpack hiking carrier for visiting Acadia National Park with toddler that also has plenty of room for snacks and even our big camera. We also love this soft structured carrier for younger babies.
How To Get to Acadia National Park
The closest large airport is in Boston, about a 4.5 hour drive.
You may also fly from Boston to Hancock County Airport, 10 miles outside the park.
Bangor airport is about an hour drive from the park.
How Many Days Should I Spend at Acadia National Park?
While you can certainly experience Acadia in a day or a week (or more!), I recommend 2 days in Acadia or 3 days in Acadia National Park. That will give you time to experience the highlights of Acadia with kids without cramming it all into a single day, including a couple hikes, playing by the water, and eating some local food.
Where to Stay Near Acadia National Park with Kids: Acadia Lodging for Families
Camping in Acadia National Park
Bar Harbor, ME Lodging with Kids
Where to Eat in Acadia National Park
Jordan Pond House Restaurant – the most famous food in the park, and the only restaurant. Even if you don't do a full meal, be sure to stop to try the storied popovers.
Ted's Takeout
Mount Desert Island Ice Cream
Blue Hill Co-op
Sweet Pea's
Side Street Cafe
Geddy's
The Thirsty Whale Tavern
2Cats
IslandBound Treats (famous Maine blueberry pie)
How to Get Around Acadia: Acadia Transportation
Best Time of Year to Visit Acadia National Park: Acadia National Park Weather
Spring in Acadia tends to be pretty wet, so be sure to pack along waterproof gear on your Acadia National Park family vacation.
Winter in Acadia National Park means that many facilities and restaurants won't be operating, but it can be a great time if you love winter sports. It's a great time for cross-country skiing and snowshoeing.
Day Trip to Acadia: Top Acadia Checklist
Drive part of the Park Loop Road
Go on an Acadia hike (we love the Beehive Trail!)
Visit the top of Cadillac Mountain
Play at Sand Beach
Eat popovers at Jordan Pond House Restaurant
Best Things to Do in Acadia National Park with Kids: Acadia National Park Itinerary
1. Visit the Abbe Museum in Bar Harbor
Before heading into the park, consider visiting the Abbe Museum in Bar Harbor, focused on educating about the Wabanaki Nations. The first and only Smithsonian Affiliate in the state of Maine is a wonderful, accessible, and immersive way for adults and kids alike to learn about the native peoples of the land before enjoying and recreating on it. It's sure to make your Acadia National Park family vacation even more meaningful.
2. Guided Ranger Programs: Talks, Walks, Bike Tours, Boat Tours
Acadia National Park has a whole host of incredible and free ranger programs, from campfire talks to guided walks to nighttime astronomy to peregrine falcon watch times. There are also guided bike tours available during the peak season. Be sure to stop into a park visitor center or check the online park calendar to get more info about the various free and paid programs available – they're for sure one of the best things to do in Acadia National Park. There's tons of information about the various park ranger programs right here.
There are also paid guided tours led by park rangers available, including a scenic and historic boat tour. Here are some of those options:
Islesford Historical and Scenic Cruise – Explore the connections between people and the sea on a ranger-led boat tour of Great Harbor and Somes Sound, with a visit to the Islesford Historical Museum on Little Cranberry Island
Baker Island Cruise – Spot seabirds and marine mammals on a cruise along coastal Acadia. Explore beautiful Baker Island, its homestead, lighthouse and history for a one hour, 1.0-mile walking tour. Terrain requires good mobility and footwear. Not recommended for young children. No pets or strollers. No restrooms on island.
3. Junior Ranger Program & Children's Centers/Activities
There are also special programs geared to younger visitors. Pick up a wonderful Junior Ranger booklet at a park visitor center to learn more about the park, its history, ecology, and conservation. The Sieur de Monts Nature Center is an excellent place to not only stop to pick up your booklet, but to also explore gardens and exhibits about the park.
And don't miss the Carroll Homestead Drop-in Program to explore an 1800s farm, and there are touch tanks and ranger talks to explore and learn about intertidal creatures in the Schoodic district.
4. Hike An Acadia Trail: Best Hikes Acadia National Park
If you're interested in some of the best Acadia hikes with kids, here's a list of 13 easy Acadia National Park hiking Trails, and just some of the overall best Acadia National Park hikes.
5. Biking the Acadia National Park Carriage Roads
John D. Rockefeller wanted a way to travel on motor-free roads through the beautiful and peaceful Mount Desert Island. He thus developed the carriage road system for horses and carriages to traverse the area. The crushed rock surfaces of the old carriage roads make for perfect biking with kids in Acadia National Park and it's one of the best things to do in Acadia National Park. Here's a map of the carriage roads to direct you.
Keep in mind that these roads often get muddy during the wet spring, so they're best used in the summer and fall. Be sure to stay on public carriage roads, and keep an eye out for horses and pedestrians!
6. Climbing and Scrambling in Acadia National Park
Acadia has so many wonderful opportunities for rock climbing and scrambling – it makes for such fun and easy Acadia National Park family activities! You can take advantage of one of the official climbing tours based out of Bar Harbor, or you can just do some low-key scrambling on your own with the many rock formations available.
7. Enjoy Food & Picnicking in Acadia National Park
There are so many beautiful spots to simply relax and enjoy a picnic in Acadia National Park. Set up in an established picnic area, or simply perch on a rock to enjoy the views around while you eat. Be sure to pack out everything you pack in (including any peels!), and refrain from feeding or interacting with wildlife. This is our favorite packable picnic blanket that folds down super small and is waterproof on the underside. Great to throw in a backpack for the day.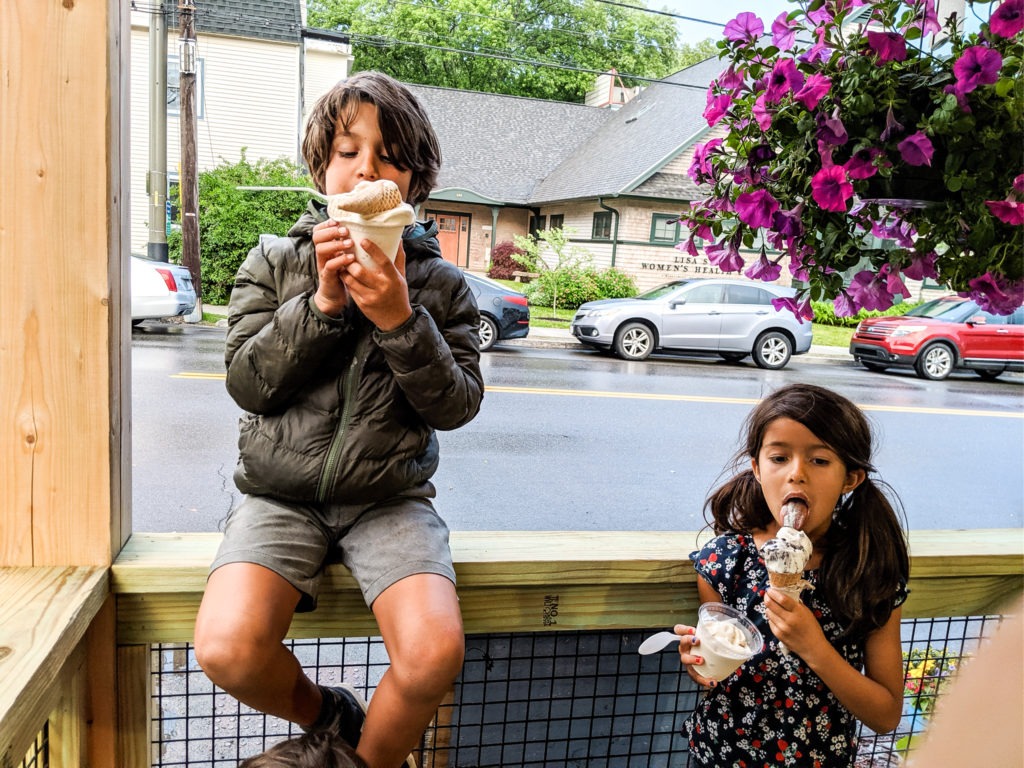 8. Take A Driving Tour of Acadia National Park's Iconic Spots
The scenic 27-mile Park Loop Road is a wonderful way to experience the landscapes of Acadia National Park with kids from the comfort of your vehicle. You'll be able to access some famous spots, such as Sieur de Monts, Sand Beach, Otter Point, Jordan Pond, and Cadillac Mountain (great for sunrise/sunset; advance reservations required during the peak season). You can also take the free Island Explorer shuttle during peak months.
Be sure to stop at Thunder Hole, a small inlet where the water makes a loud noise by hitting the rocks and can shoot 40 feet up in the air.
9. Swim & Play at the Beach At Acadia National Park
Sand Beach is Acadia's only sandy ocean beach and is very popular with families. While the water is chilly year round, little ones will love splashing and playing regardless. You can also consider swimming at Echo Lake Beach or Lake Wood. This is a perfect activity when visiting Acadia National Park with toddlers!
10. Explore Acadia National Park Tide Pools
Here is more information on tide pooling at Acadia, including tide charts for different locations.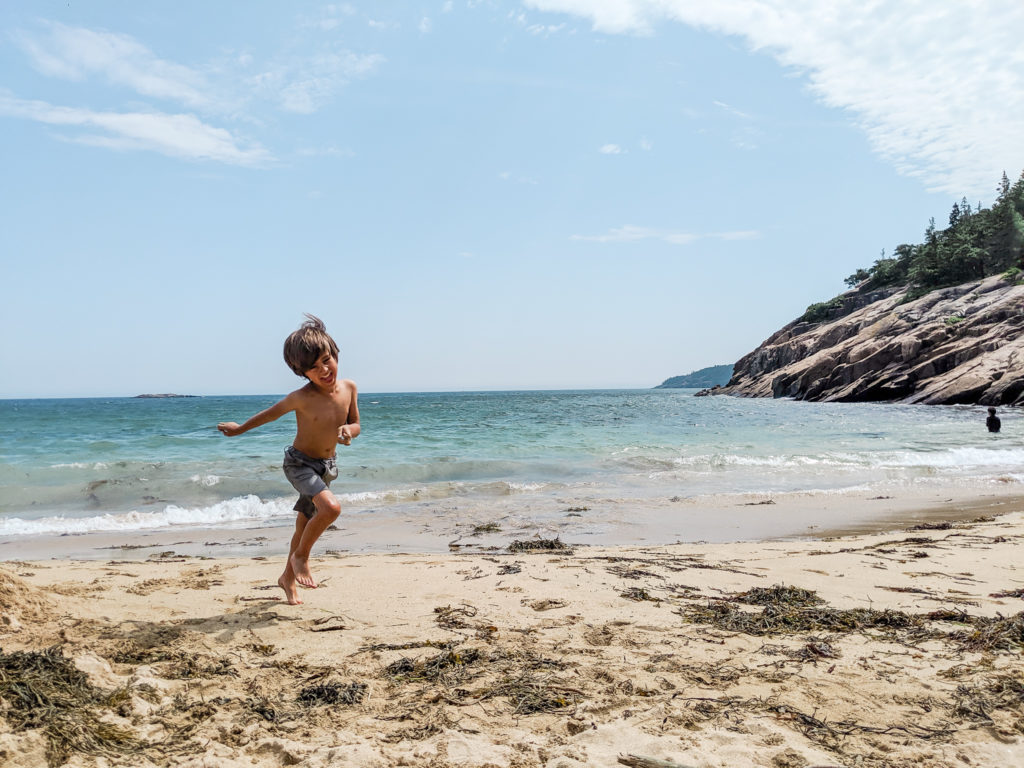 11. Wildlife Viewing & Birding
12. Paddling and Boating in Acadia
13. Fishing in Acadia National Park
Did you know you can go fishing within Acadia National Park? The park works with the state departments to create regulations to protect the lands and requires fishing licenses. It's a wonderful way to connect with the land in Acadia. Here's more information about fishing in Acadia.
14. Carriage Ride in Acadia National Park
It's true – you can take a horse-drawn carriage ride within the park! Such a treat. Contact Wildwood Stables if you'd like to set this up. You may also go on a horseback ride, but must bring your own horse as the stables do not provide horses for riding. This is a really fun activity when visiting Acadia National Park with a toddler!
15. Stargazing at Acadia National Park
There are several incredible spots perfect for stargazing in Acadia National Park, including Cadillac Summit and Sand Beach. Here's more information about stargazing in Acadia.
16. Photography in Acadia National Park
Acadia National Park Video
Enjoy Your Visit to Acadia National Park with Kids!
MORE POSTS
IF YOU LIKED THIS POST ABOUT VISITING ACADIA NATIONAL PARK WITH KIDS, YOU MIGHT LIKE THESE POSTS TOO:
DON'T NEED A LIST OF THINGS TO DO IN ACADIA NATIONAL PARK QUITE YET? PIN THIS POST FOR LATER!