This post may contain affiliate links, which means I may earn a small commission if you click my link but does not change your price. See my affiliate policy here.
Pinnacles National Park is both the newest and smallest national park in California, but it packs a punch as one of the most underrated national parks in California! Visiting Pinnacles National Park with kids brings the opportunity to explore talus caves, spot one of the rarest birds in the world, try rock climbing, and so much more. Pinnacles with kids is a blast! And thanks to its small size, you can easily get away with a weekend in Pinnacles.
We loved exploring this park with our kids, and want to share some tips, tricks, and things to do in Pinnacles National Park with kids whether you're taking a day trip to Pinnacles or spending a longer time.
Whether you're camping, picnicking, hiking, or bird watching in Pinnacles, or even just learning about the history of the park from home, I hope this Pinnacles National Park guide is helpful and informative. You'll find info on Pinnacles activities, lodging, and food, as well as indigenous history of the lands, book recommendations, and more – perfect whether you've never visited or whether you've been 100 times.
I hope you enjoy this Pinnacles travel guide!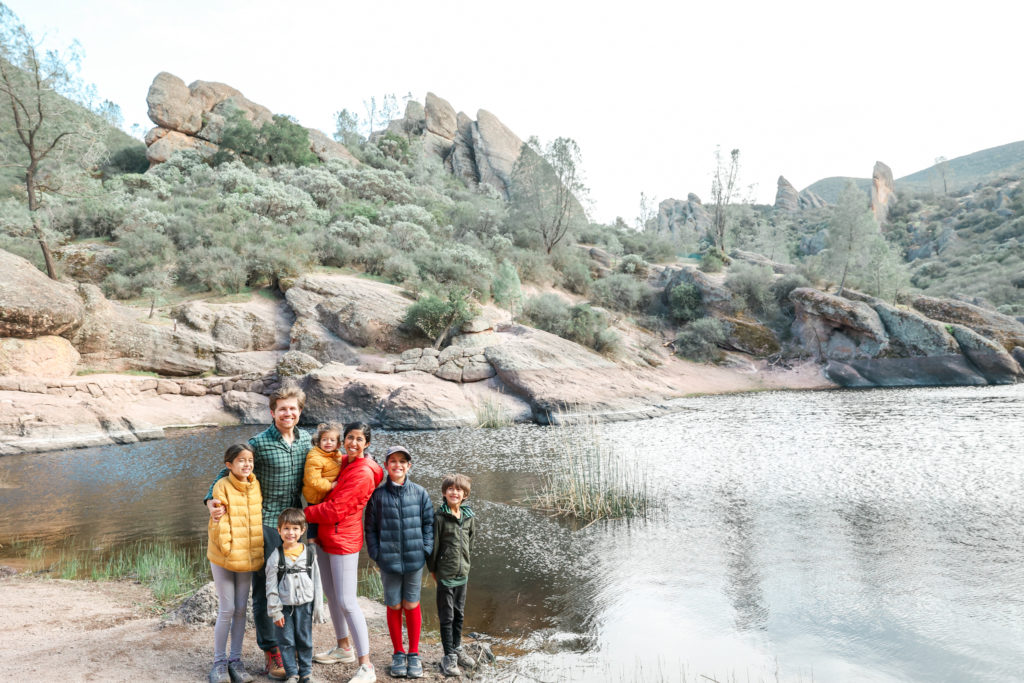 Learn About Pinnacles National Park
Before we visit a national park, our family loves learning about it! It helps us enjoy it more and appreciate the people who have stewarded it well before us. We love learning about the indigenous history, as well as about wildlife and ecosystems.
Here are a few ways to learn about the park either before a visit or as part of a Pinnacles virtual tour!
Pinnacles National Park History & Natural Features
A series of volcanic eruptions 23 million years ago formed the pinnacles and kicked off the geologic changes that formed the central California landscape we see today.
The area now known as Pinnacles National Park has been populated for over 10,000 years.
The area is rich in cultural resources, and Native peoples seasonally gathered plants and other resources for housing, food, tools, and medicine. For example, acorns collected in the fall were an important food source.
The arrival of Spanish missionaries in the late 1700s had a significant impact on the area, as well as the Native peoples who gathered resources in Pinnacles.
Homesteading and mining were the primary draws to the area beginning in the 1800s, and in the late 1800s and early 1900s, tourism began.
Pinnacles was first established as a national monument by President Roosevelt in 1908.
California condors are the largest land bird in North America and are among the rarest birds on the planet. They went extinct in the wild in the 1980s and extensive rescue efforts made it possible to re-introduce the species back into Pinnacles in 1992. Condors play an important cultural role for the Amah Mutson Tribe.
Pinnacles Indigenous History
Ancestors of the Amah Mutsun and Chalon peoples gathered resources within what are now the park's boundaries.
Today, members of the Amah Mutsun Tribal Band and Chalon Indian Nation partner with Pinnacles National Park to manage the land through eco-cultural restoration.
One of the tools ancestral Native peoples used to manage the land around Pinnacles was fire. Controlled burning was used to both limit and encourage growth of different plants.
Native peoples established villages that shared religious and cultural practices. Language was, and remains, an important factor in both distinguishing and uniting tribes.
Though villages were occupied year-round, seasonal migrations were not uncommon for Native peoples in the area. Food and other resources were important determinants for migration.
Pinnacles may have served as site for gathering basket weaving materials, acorns and pine nuts, as well as other plant materials.
The Amah Mutsun and Chalon remained in the area throughout European colonization and resisted attempted forceful eviction, disease, and genocide.
For the Amah Mutsun, condors serve as escorts for "spirits of deceased relatives to the next world across the sea". Condor ceremonies are held to "honor and communicate with the dead."
As part of your visit, support the Amah Mutsun Tribal Band here.
Watch this video about the Chalon peoples' connection to Pinnacles National Park. Next, watch the video below about the Amah Mutsun peoples' relationship with Pinnacles and the endangered condors.
---
Featured Pinnacles Picture Book: Condor Comeback
Available on Amazon, Bookshop, Target
Watch a video about the author and what she learned about these magnificent birds.
Pinnacles Packing List: What to Pack For a Pinnacles Family Vacation
Pinnacles National Park tends to be on the warmer, drier side year-round. Although higher elevations can get a bit of snow in December and January, you can pretty much count on needing sun protection and extra water no matter when you visit. Here are some of my favorite all-season essentials to pack when traveling to Pinnacles National Park with kids.
Pinnacles National Park Packing List
Kids hiking backpacks
Sturdy shoes

I'd recommend either sneakers with good tread or hiking shoes when exploring Pinnacles trails with kids. My kids love either hiking sandals, hiking boots, or regular sneakers depending on the type of hike. (I like these waterproof sneakers for kids)

First aid kit and my favorite bandages
Sunscreen
Insect Repellent

It's not especially buggy around Pinnacles, but it's always wise to have some repellent on hand. We like this bug repellent in areas that don't have a high prevalence of disease-carrying mosquitos (we use Deet in Zika/dengue/malarial areas).

Quick-Dry Towel

We like to have one of these quick-dry towels on hand in case of rain or any spills.

Hat
Camera equipment (see below)
Water/snacks
Packable picnic blanket – this is convenient for quick picnics out and about, especially if the ground is wet as it has a waterproof underside. It packs up super small so it's great for heading out on hikes.
Cooler – Pinnacles doesn't have any food service in the park nor very nearby, so be sure to pack a cooler with all the food your family will need. This one or this one would be great for a day trip, and this one would be good if you're camping in or near the park.
Child hiking carrier – Pinnacles has a number of wonderful hikes, and we love having a carrier to pack along a baby or toddler when visiting Pinnacles with kids. This is our favorite backpack hiking carrier for visiting Pinnacles National Park with toddler that also has plenty of room for snacks and even our big camera. We also love this soft structured carrier for younger babies.
How To Get to Pinnacles National Park
Pinnacles does have a seasonal public shuttle bus within the park, but it only serves the the east side of the park on weekends and doesn't run year-round. It's recommended you travel by car to and within the park, especially if you want to explore both the east and west sides.
The closest airport is in San Jose, about a 1.5 hour drive to the east entrance.
You can also fly into San Francisco or Oakland. Both are about 2-2.5 hours away from the park.
Note there is no road connecting the east and west sides from within the park! The drive between entrances is approximately 1.5 hours. The road into the west side is extremely windy. I do not recommend driving an RV to the west side.
How Many Days Should I Spend at Pinnacles National Park?
This park is relatively small, so while you could spend just 1 day in Pinnacles, I recommend 2 days in Pinnacles National Park. Given the two sides are about a 1.5 hours drive apart, it would be tough to see all this park has to offer in a single day. Spending 2 days at Pinnacles will give you time to experience the highlights of Pinnacles National Park with kids, including a couple hikes on each side and some time to observe the rare California condors.
Where to Stay Near Pinnacles National Park with Kids: Pinnacles Lodging for Families
Camping in Pinnacles National Park
There is one established campground at Pinnacles National Park. It is located on the east side of the park. The campground can accommodate tents and RVs and also has glamping tent cabins. Most RV sites have electrical hookups available. Backcountry, wilderness, and dispersed camping is not permitted inside Pinnacles National Park.
Pinnacles Area Lodging
East side
The closest town to the east entrance is Paicines, about 20 minutes away. Paicines has a couple of hotel options. Hollister is about 35 minutes away and has more options. Here are some recommended places to stay near the east side of Pinnacles National Park for families:
West side
On the west side, the closet lodging is about 30 minutes away in Soledad. Salinas is 45 minutes from the west entrance and will have some more options. Monterey and Carmel are about one hour away. Here are some recommended places to stay near the west side of Pinnacles National Park for families:
Where to Eat in Pinnacles National Park
There are no restaurants or grocery stores in Pinnacles National Park. You'll want to pack your own food whether camping or just spending a day. Here are some cooler options to bring along for carrying while hiking, a picnic, or stashing in the car.
Here are options for eating in towns in the vicinity of Pinnacles National Park:
Windmill Restaurant
Country Rose Cafe
Miyako Japanese Restaurant
Cocuyo's Restaurant
Taqueria Casa del Palmar
Heavenly Bakery
Rancho Cielo
First Awakenings
How to Get Around Pinnacles: Pinnacles Transportation
It's most convenient for families to have a car to get into and around Pinnacles National Park. There is a seasonal, weekend shuttle that only serves the east side of the park during warmer months. If you are visiting outside spring or summer and/or during the week, your only option will be to drive. Additionally, there is no road connecting the east and west sides from within the park. The drive between entrances is approximately 1.5 hours.
Here's my favorite place for discount car rentals.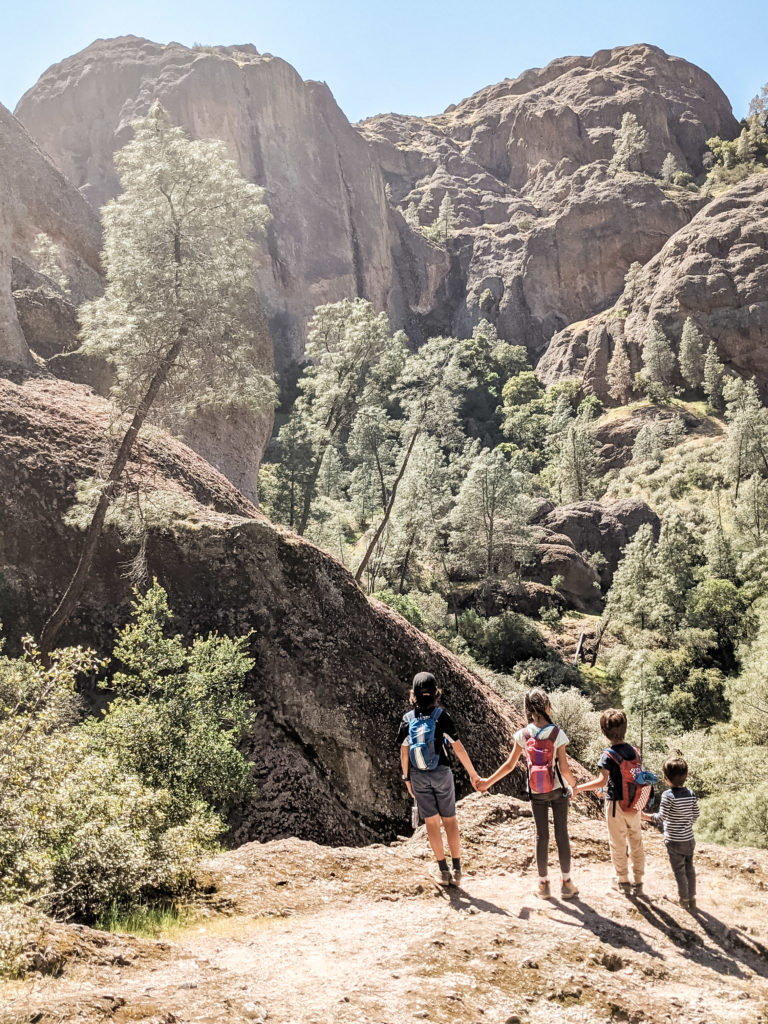 Best Time of Year to Visit Pinnacles National Park: Pinnacles National Park Weather
Any time of year is a special time to visit Pinnacles and most of the park remains fully open throughout the year. Rock climbing closures are in effect January to July to protect raptor nests during breeding season. Bear Gulch Cave is closed mid-May to mid-July to protect mother bats and their young.
If you're wondering when to visit Pinnacles National Park, spring in Pinnacles National Park and fall in Pinnacles National Park are popular, and with good reason! Spring tends to be warm and pleasant (though it can get toasty!), and presents opportunities for gorgeous wildflower viewing. It is, however, the busiest time in the park. Fall tends to be less crowded, and offers hiker-friendly temperatures. It's a wonderful time of year to visit Pinnacles National Park – just be sure to pack layers as temperatures can get quite chilly overnight.
Summer in Pinnacles National Park draws fewer crowds as temperatures soar. If you visit during summer, be sure to bring plenty of sun protection and always carry extra water.
Winter in Pinnacles National Park brings cooler temperatures and fewer crowds. While higher elevations can get some snow, it's not really a big concern here. It would be a beautiful time to explore!
Day Trip to Pinnacles: Top Pinnacles Checklist
If you have limited time and are wondering about what to see in Pinnacles National Park, here are some of our favorites for a day trip to Pinnacles. These would all be wonderful as part of a Pinnacles National Park itinerary and are the top things to do in Pinnacles National Park.
East side
Bear Gulch Cave
Condor Gulch Overlook
Bear Gulch Nature Center
West side
Balconies Cliffs-Cave Loop
Juniper Canyon
These activities will give you a wonderful overview of the best things to do in Pinnacles, including its wildlife and ecosystems, in a short period of time.
Best Things to Do in Pinnacles National Park with Kids: Pinnacles National Park Itinerary
If you're still not convinced and are wondering, "Is Pinnacles National Park kid friendly," here's more detail for a Pinnacles family vacation:
1. Visit a Talus Cave
There are two talus cave systems in Pinnacles National Park – Bear Gulch Caves and Balconies Caves. Talus caves are formed by piles of boulders. In Pinnacles, faults and fractures in volcanic rock resulted in canyons. It is believed that during the most recent ice ages, those canyons were then filled by rockfall from the cliffs above. A colony of Townsend's big-eared bats calls Bear Gulch Cave home and raises their young there in spring and summer.
Be sure to double check timing – the Bear Gulch Cave is closed mid-May to mid-July each year for pupping season. The lower half of the cave is typically open for the entire year other than those months, while the upper half of the cave is only open for a few weeks in March and October. You can check the status of the caves here.
2. Visit the Bear Gulch Nature Center
Located on the east side in the Bear Gulch Day Use Area, Bear Gulch Nature Center provides an opportunity to chat with rangers, get questions answered, and learn about the Pinnacles National Park history, geology and ecosystems. Want to know how the pinnacles formed or how the park's talus caves got there? Bear Gulch Nature Center is the place to go!
3. Guided Ranger Programs
Pinnacles National Park hosts free ranger programs for much of the year, from weekend talks and evening programs to guided hikes and stargazing. There are special events throughout the year, including Star Parties and night hikes. Ranger programs are limited in the winter months. Information about the various park ranger programs right here.
4. Junior Ranger Program
Pick up a wonderful Junior Ranger booklet at a park visitor center to learn more about the park, its history, ecology, and conservation. The Bear Gulch Nature Center is an excellent place to not only stop to pick up your booklet, but to also learn more about the unique geology of the park. You can even download the booklet here!
5. Hike A Pinnacles Trail: Best Hikes Pinnacles National Park
This park offers hiking trails of different lengths and for some diversity of abilities, but Pinnacles National Park hikes do tend to be in the more moderate and strenuous range. That said, we've been able to enjoy a number of hikes at Pinnacles with five of our children (our youngest isn't quite ready for independent hiking yet!), including those rated strenuous. We love hiking in Pinnacles National Park!
If you're interested in some of the best Pinnacles hikes with kids, here's a list of 12 Pinnacles National Park hiking trails, and some of the overall best Pinnacles National Park hikes.
Easy/Easy-Moderate Hikes in Pinnacles National Park: Easy Trails in Pinnacles
Moses Spring to Rim Trail Loop (including Bear Gulch Cave): 2.5 miles; 524 ft elevation gain. This one gets up close and personal with the rock formations and includes Bear Gulch Cave and is an absolutely fantastic trail. This one is our top recommendation for an east side Pinnacles trail.
Balconies Cliffs-Cave Loop: 2.4 miles; you get to enjoy the talus cave and the the amazing pinnacles views in a single loop. This is our top choice for a west side Pinnacles trail.
Prewett Point Trail: 0.9 miles; providing great views of the Main Wilderness, this trail has little shade and is best done in the earlier hours.
Jawbone Trail: 1.2-2.4 miles; this trail is a connector from Prewett Point Trail and would be a great add-on to see more of the west side of Pinnacles National Park. From parking to Prewett Point or vice versa is 1.2 miles; or do 2.4 miles as an out and back.
Pinnacles Visitor Center to Bear Gulch Day Use Area: 2.3 miles; walk along Chalone and Bear Creeks to the main day use area. Have a picnic or connect to other trails from there.
Moderate Hikes in Pinnacles National Park:
Juniper Canyon Loop: 4.3 miles; a steep climb to the High Peaks. This is a spectacular trail that also includes some of the short ladder sections in the High Peaks. We did this one with our kids and loved it, and managed to spot a couple California condors! I'd rate it between moderate to strenuous – it has about 1200 feet of elevation gain, but felt manageable for us and has incredible views. (West Side; West Chaparral Parking)
Condor Gulch Trail: 2-3.4 miles; with spectacular views, this trail offers the option to hike 1 mile up to Condor Gulch Overlook for a 2 mile round trip, moderate hike. Or, continue on for additional 0.7 miles (1.4 round trip) of strenuous hiking for a total of 3.4 miles. It's worth making the trek to Condor Gulch Overlook!
Old Pinnacles Trail to Balconies Cave:

5.3 miles; this moderate trail includes both a talus cave and fantastic views of the pinnacles.

Pinnacles Visitor Center to South Wilderness Trail: 6.5 miles; this trail is great for birders and other wildlife viewing.
Pinnacles Visitor Center to Balconies Cave: 9.4 miles; follow Chalone Creek to Balconies Cave and Balconies Cliffs. This trail travels from the east side of the park to the west side of Pinnacles National Park and back!
Strenuous Hikes in Pinnacles National Park:
Condor Gulch to High Peaks Loop: 5.3 miles; this trail is all about the pinnacles!
High Peaks to Bear Gulch: 6.7 miles; traveling through meadows, this hike is wonderful to experience the spring wildflowers. You also get spectacular views hiking through the high peaks.
High Peaks & Balconies Cave Loop: 9.4 miles, 2,076 ft elevation gain. Stunning views of the pinnacles with time to explore the Balconies cave.
6. Climbing and Scrambling in Pinnacles National Park
Pinnacles has so many wonderful opportunities for rock climbing and scrambling – it makes for such fun and easy Pinnacles National Park family activities! You can take advantage of one of the hundreds of climbing routes for a range of abilities, or you can just do some low-key scrambling on your own with the many rock formations available. Note that some climbing routes are closed January-July to protect raptor nests. For more climbing info go here.
7. Enjoy Picnicking in Pinnacles National Park
There are so many beautiful spots to simply relax and enjoy a picnic in Pinnacles National Park. Set up in an established picnic area, or simply perch on a rock to enjoy the views around while you eat. Be sure to pack out everything you pack in (including any peels!), and refrain from feeding or interacting with wildlife. This is our favorite packable picnic blanket that folds down super small and is waterproof on the underside. Great to throw in a backpack for the day.
8. Birding in Pinnacles National Park
With one of the rarest bird species in the world – the California condor – calling Pinnacles home, birdwatching is a must! In addition to condors, Pinnacles hosts Yellow-billed magpies, Greater roadrunners, Canyon wrens, California thrashers, and Prairie falcons. Check out this birding page for more information about the best spots for bird watching in Pinnacles National Park.
9. Wildflower Viewing
Spring can be an especially magical time of year to visit Pinnacles National Park because the majority of the park's plants are blooming. A variety of colorful blooms put on a show beginning as early as January and as late as June or July. Check out this wildflower photo album and see how many you can spot!
10. Swimming
Perhaps one of the more surprising activities the park has the offer, Pinnacles National Park has a swimming pool! Located on the east side next to the visitor center and campground, the pool is open mid-April through September. The perfect place to cool off after a long day of exploring and hiking in Pinnacles National Park.
11. Stargazing at Pinnacles National Park
There are several incredible spots perfect for stargazing in Pinnacles National Park, including South Wilderness Trail, the Jawbone and Chaparral parking areas, and the Peaks View picnic area. The park also occasionally hosts stargazing events. Be sure to check the ranger program calendar before your visit!
12. Photography in Pinnacles National Park
Pinnacles National Park Video
Enjoy Your Visit to Pinnacles National Park with Kids!
MORE POSTS
IF YOU LIKED THIS POST ABOUT VISITING PINNACLES NATIONAL PARK WITH KIDS, YOU MIGHT LIKE THESE POSTS TOO:
DON'T NEED TO PLAN A FAMILY TRIP TO PINNACLES NATIONAL PARK QUITE YET? PIN THIS POST FOR LATER!