This post may contain affiliate links, which means I may earn a small commission if you click my link but does not change your price. See my affiliate policy here.
We obviously love to travel. And we know a lot of others who love to travel. And we love gifting them things they'll actually use and love. But so many gifts for travelers mostly include things like $400 pieces of luggage, which isn't really in our budget. (Gotta save that money for the actual travel!)
Here's a list of really excellent, useful gifts that travel lovers will love but won't break the bank. All of them are under $10, so they're perfect for a sister, friend, neighbor, or coworker. They're tried and true items we've loved in our travels, so you can be sure they'll be used for years to come!
Suitcase covers are awesome to help you locate your luggage quickly and easily (and keep it from getting mistakenly picked up by someone else). I love these with bright, solid colors and the price is just right. (These with fun patterns are just a couple dollars more.)
There is nothing worse than walking a ton when traveling and getting blisters, but having no other shoe options available. Blister patches are a must to stay comfortable and to protect in the event you do get a blister. They're a perfect gift for a traveler or outdoor lover.
We have and love this exact passport holder. It makes it so much easier to keep track of all of them, along with boarding passes, luggage tags, vaccination cards and more. A perfect family travel gift.
This universal travel adapter is a must for us whenever we go abroad. I love that we don't need different plug adapters based on where we're going because they're basically all contained in one item.
Sanitizer is a must when traveling and I can never have too many mini bottles hanging on all my bags. I have and love this darling little sanitizer holder, but there are TONS of other options available out there from pandas to fruit.
These metal straws that come with their own case and cleaner are perfect travel gift for someone who cares about the earth.
Speaking of travel utensils, this 3-in-1 spoon / fork / knife is convenient and easy to clean. And nicer to the earth!
These are the BEST hair ties that hold even my very thick hair. I always have a couple on my wrist or in my bag when traveling. Good for separating out into stockings, too!
These are great if you're traveling somewhere that won't have reliable soap at sinks but you need more cleaning than just sanitizer. Tiny and easy to pack (and this little pack is so cute, too). Perfect for outdoors or travel lovers.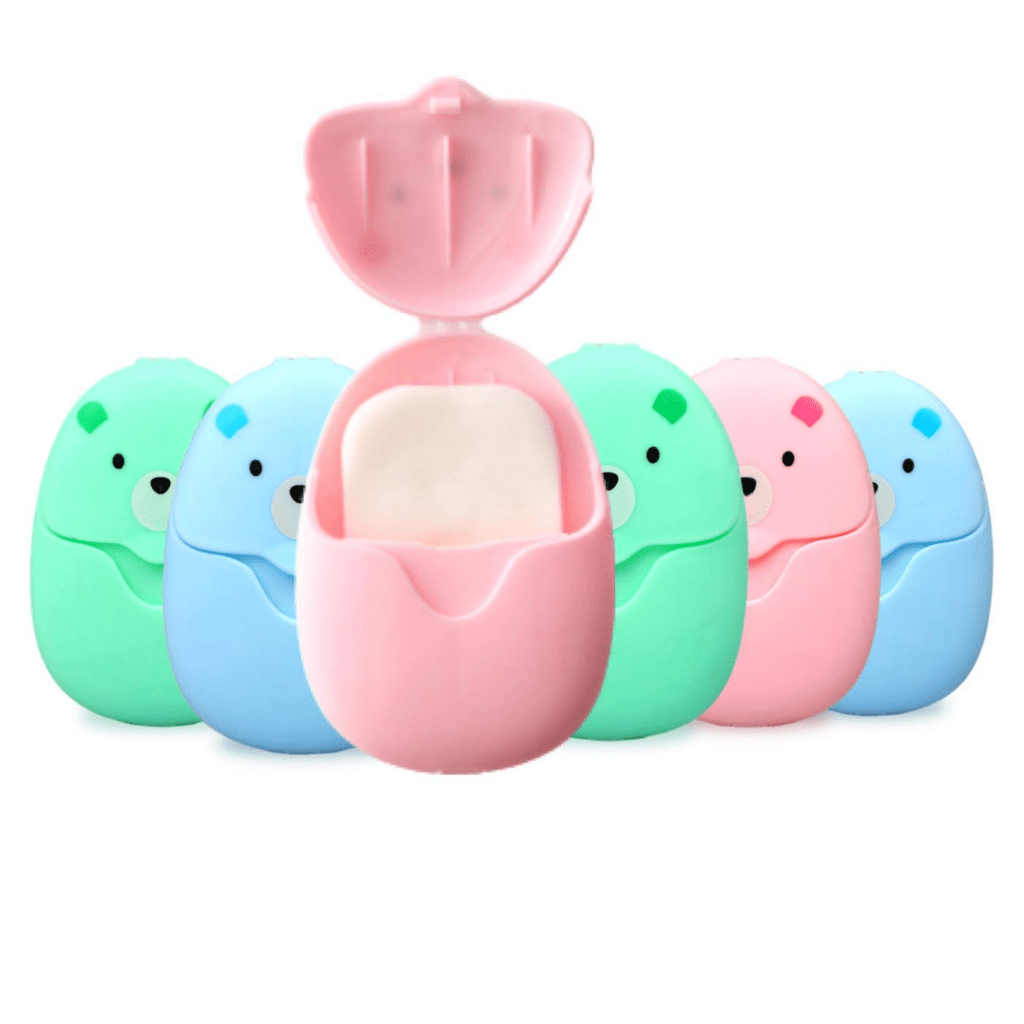 If you know a road trip lover, this digital tire pressure gauge is so useful to have on hand. We've had ours for years and it works great.
Know a tiny traveler? These are the only bibs worth using and especially helpful when traveling when laundry is trickier. They also pack down super small and weigh almost nothing.
If you're traveling somewhere buggy, you definitely want to take this thing along. It sucks venom out to minimize irritation and swelling. Dan swears by it!
We've had and loved these lined notebooks as travel journals for years and we keep returning to them over and over because they're excellent. (Whoever heard of a notebook having 27k 5-star reviews??) Sturdy with nice, lined pages, and a strap to hold it closed. My kids record our activities and draw pictures in them.
Ever had a "waterproof" jacket or shoes that got totally damp? It's especially miserable when traveling. This spray is perfect for touching up their performance and will be appreciated by the travel lovers in your life.
If you know a young traveler, this is an EXCELLENT gift that will for sure get used. We love these and lots of them are on sale here and here.
These are great, especially if you'll be spending time outdoors. They pack really small and plump up when you add water. Sturdy and helpful for cleaning.
These are great for not rolling around even when in a moving vehicle. Fun for young and old!
My phone battery always dies quickly, especially if I'm looking up maps when road tripping. This little adapter is great for charging in the car whether going on a road trip from home or renting a car at a destination.
An activity book is always a winner and we really love this one about the human body. Fun and also educational. An amazing deal right now!
This tiny little kit is perfect to have a few basics on hand. Plus, it's cute!
These toothbrush covers will ALWAYS get used and it's always nice to have fresh ones. A perfect little gift that's a travel essential.
Card Game
A small card game is always welcomed when traveling – they're perfect for long rides, waiting in airports, sitting at restaurants, and more. Here are a few family favorites that are under the $10 mark right now!
I always like to have one of these quick dry towels on hand when traveling, even if we're not planning on being around water. Helpful for rain, cleaning up babies, or showering in a pinch. The smaller ones especially take up very little room.
This is a great staple to have in a travel pack – equally helpful when hiking and when walking through dark streets and trying to find your hotel.
Perfect for kiddos or for grown ups to sleep despite kiddos.
It seems ridiculous to pay for a strap but I promise it's one of our most used travel items. So helpful to easily attach a car seat to a suitcase, especially when wheeling it through the airport.
We don't like to use melatonin regularly but it is a game changer for travel. We really like this kind because it's fast acting and the dosage is the same as kid-specific ones but isn't gummy (and takes less space) than kid versions. Good for both adults and kids.
Like carabiners, these gear ties hold all kinds of things in place. Really helpful to have on hand and a perfect useful, under $5 gift for a travel lover.
I don't know what it is about these little wax sticks, but they're SO fun for all different ages. I'm talking about my toddlers up to my teenager all love fidgeting with them. They're quiet, non-messy, and take up almost no room. A gem of a travel toy.
These are absolutely indispensable when we travel. Split them out and add in some cute packaging to keep the gift under $10.
Slim and packable, these stay put and are perfect for reading on the go.
Stick with me – painter's tape has sooo many uses. Covering Outlets. For babies to easily pull off and play on a tray table. Holding curtains down to make it dark to sleep. So many uses!
Just might be my favorite travel accessory of all time. Attach water bottles and jackets, hook stuff on a suitcase or stroller, or a whole bunch of other uses. (An S-biner is also great.)
These wet bags are great for containing swimsuits or any other wet items when traveling, especially if you need to pack up before hitting the road.
We love this repellent, especially in areas with disease-carrying mosquitoes. This travel-sized one is great to tuck in a bag.
IF YOU LIKED THIS LIST OF INEXPENSIVE GIFTS FOR TRAVEVERS, YOU MIGHT LIKE THESE POSTS TOO:
NOT QUITE READY TO PURCHASE GIFTS FOR TRAVELERS? PIN THIS POST FOR LATER!