This post on travel tips for Morocco with kids contains affiliate links, but all opinions are 100% my own. That means I may earn a small commission if you purchase through my link, but it doesn't affect your price at all. Thank you for supporting this blog!
This post may contain affiliate links, which means I may earn a small commission if you click my link but does not change your price. See my affiliate policy here.
Morocco was truly one of the most kid-welcoming and kid-friendly places we've visited. In planning our trip, though, I didn't find a ton of resources on what to do with kids, or travel tips for Morocco as a family. I didn't really have any idea of what to beware of, what potential pitfalls would be, and what to not miss.
Here are 10 travel tips for Morocco that I hope are useful if you're considering visiting with kids.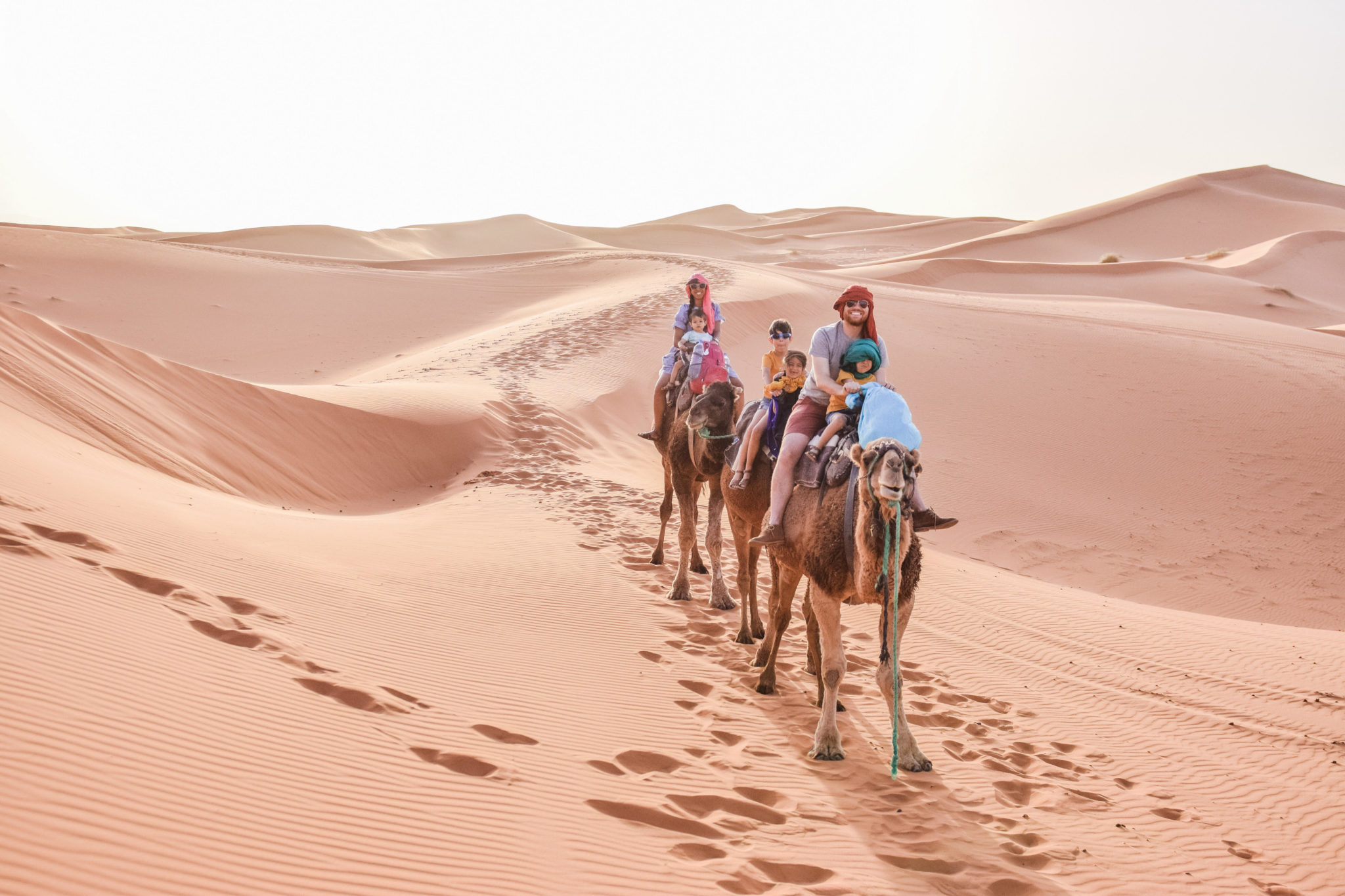 Top 10 Travel Tips for Morocco with Kids:
1. Get Ready for Lots of Touching when taking kids to Morocco.
In general, we found that Moroccans LOVED kids, especially babies. I lost count of the number of random strangers who kissed Baby A's cheeks and rubbed his head. We never felt threatened, and it can make family travel to Morocco feel super welcoming. But it's also something to consider, especially if you have kiddos who are slow to warm up. I will say that A is our only baby to have had any real stranger danger. Before we left on our trip, he screamed bloody murder for many minutes whenever we left him in the church nursery. Since we've returned? He's happily waltzed in and begs to stay at the end. So. I'd say Morocco cured him of any fear of strangers!
2. Don't Drink the Water, but Juices are (Usually) Safe.
Many advised us to purchase bottled water everywhere we went. It was cheap and readily available around the country. The fresh juices, on the other hand, were cheap, delicious, and safe. We always made sure to confirm that they were 100% juice (and not mixed with water – or "pas melangé avec de l'eau" if you want to ask in French). Our driver did advise us that sometimes in the souks, they may mix with water. They also may use poorly washed cups, so we avoided those, but juices were fine in restaurants. They were also completely safe in the main market in Marrakech, where they have a whole row of juice trucks who are accustomed to tourists.
3. Pack Layers for the Whole Family
In my head, Morocco would just be hot, hot, hot. Imagine our surprise when it was cold and rainy for the first several days of our trip! Fortunately, I had checked the weather and we were traveling in some cooler places in southern Europe, as well, so we had items we could layer. Our base layers were hugely helpful – we wore them as pajamas and left them on under our clothing for one very chilly day. We also had lightweight, water-resistant down jackets plus one sweater each, so we just rewore those and wore alll the clothing on the cold days.
4. Hire a Driver for Simplicity when on Family Travel in Morocco.
We rarely, rarely hire a driver. We've driven on the opposite side of the road in places with no English signage and few driving rules. We don't scare easily at tricky driving situations. Our original plan was to rent a car in Morocco, as well, but neither of us drives a manual transmission. It also turned out we couldn't rent an automatic transmission vehicle that was big enough for our family.
So while I wouldn't normally give a travel tip for Morocco to hire a private driver, that's exactly what we did and we are SO GLAD. We hired a driver through a tour company (which ended up costing about the same as a rental, anyway). It was one of the best decisions we could've made.
While rural driving was very straightforward, driving and parking in cities was pretty nuts. We stayed in several places inside the medinas (old city), where parking was extremely limited. It was so nice to not have one of us drop the other off with kids and stuff, and to have to deal with finding a spot and coming back. Our driver got us places much faster because he knew what driving rules to follow and what to push. He knew exactly where speed traps were, and was a great resources for negotiating or discussing. He was also just so fun and interesting. We had a much more authentic experience because of the great deal of time we spent chatting with him in the van. The whole experience made family travel in Morocco so much smoother.
That said, driving on your own is absolutely doable, especially if you know how to drive a manual and don't require a larger car. If you're considering that, this is an excellent Morocco self drive itinerary!
5. Bring a Debit Card.
Morocco is a largely cash culture. Except in nicer sit-down restaurants, we very rarely used our credit card. We used cash for everything from food to tips to entrance fees. ATMs were fairly easy to come by, and were the easiest way to get a reasonable amount of cash. Look for one that doesn't have foreign exchange fees. You'll likely still need to pay a foreign bank fee on the other end, but it's nice if you can avoid it from your home bank.
6. Dress Somewhat Conservatively.
Being a Muslim country, I wasn't really sure what to expect in terms of dress. Turns out Morocco is very open and I never felt uncomfortable in my clothing. However, in order to stand out less, I'd avoid wearing particularly revealing clothing. I stuck to pants and sleeved tops, or midi skirts and dresses. Men tend to not wear shorts, but our adult and kid boys did and no one ever made them feel uncomfortable.
7. Try to Avoid Guide-Recommended Restaurants.
Any guides and drivers you hire will typically take you to predetermined restaurants. These are are common for tourists and places where they will typically receive a free meal. Not only will these be expensive, the food will also often be sub-par. If at all possible, push them to take you to a local establishment. It may take several times of asking or searching the Internet on your own, but it will be worth it.
8. Don't Cram Too Much into your Visit. Also, the desert is FAR.
It's tempting to think you can see everything from the Blue City to the Sahara to Marrakech in a few days. But remember the Morocco travel tip that everything tends to take quite a long time. There was also a lot of distance to cover. The pace of life tends to be slower, so meals took us longer than we anticipated. Road conditions also tended to slow things down more than Google maps said.
Also, so many people go to Morocco wanting to visit the Sahara (I know we did!) without realizing how dang far it is. It takes at least a day of driving to get to the Erg Chebbi sand dunes, and at least a day of driving back (if not more). Plus, then you'll need at least a whole day IN the desert. It's wonderful and I'm so glad we did it. But don't expect to be able to zip in and out in a day. In general, when visiting Morocco as a family, be sure to leave plenty of extra time for transport and just for taking in the fascinating culture.
9. Don't Worry about Kids being Kids.
Morocco is such a kid-loving culture that we really felt that having ours along helped form bridges and invite conversation and goodwill. We never once felt anyone was bothered by our kids acting like normal kids (this post has some thoughts on that) or being loud. Obviously, we try to have them act like normal respectful humans and not run around like banshees, but still, kids can be nuts. But the locals loved and welcomed them just the same. It was one of the very best travel tips for Morocco with little ones!
10. Be Aware, especially in Big Cities.
The big cities in Morocco are like those in many other places – it's wise to keep your money close and keep your eyes open. However, the craziness of it adds a whole other dimension. It's easy to get lost or distracted in the confusion. Just keep your wits about you – stay alert, have money tucked inside, and keep a close hold/watch on kiddos. It worked better for one of us to wear the baby. Several times, we even stuck our 4 year old in the stroller just so he'd be well contained.
At one point, our daughter was standing on the edge of a sidewalk on a tiny alley that we thought was closed to traffic. But a motorcycle driven by what looked like two 10-year-olds came whizzing by and knocked her over. Thankfully, she was fine. But it was a good lesson to us to be EVEN more aware and always keep our kiddos on the wall side of even a tiny alley.
Bonus Travel Tip for Morocco with Kids: Immerse Yourself!
Morocco is seriously such a crazy welcoming country. The people were kind and warm. In general, Moroccans welcomed tourists to their country and cheerfully shared their culture. It made it easy to get to know people, ask questions, and learn about similarities and differences in ways of life. While a decent number of people spoke English, French was MUCH more common. So if you have some French background, be sure to brush up. We had a much easier time communicating because of that. Either way, take advantage of a place that loves visitors and delight in their warmth and sense of community. You and your kids will love it!
IF YOU LIKED THIS POST ON TAKING A MOROCCO FAMILY HOLIDAY, YOU MIGHT LIKE THESE POSTS, TOO:
Was this post on travel tips for Morocco with kids helpful? Pin it for later!