Welcome to Z is for Zimbabwe for the Global Children's Book Club! Today we'll be going on a virtual tour of Zimbabwe with kids. Get ready for a fun and inspiring Zimbabwe virtual field trip – perfect for global education at home or for a Zimbabwe homeschooling unit.
You can find the full list of countries for the book club right HERE. Be sure to sign up for the email list to get all the information in advance and to receive fun extras!
This Zimbabwe virtual tour contains affiliate links, but all opinions are 100% my own. That means I earn a small commission if you purchase through my link, but doesn't change your price.
Z is for Zimbabwe: Zimbabwe Virtual Tour for Kids
Featured Zimbabwe Book
This post may contain affiliate links, which means I may earn a small commission if you click my link but does not change your price. See my affiliate policy here.
Zandi Finds Ubuntu by Tererai Trent (Author), Lori Grainger (Author), Diane Lucas (Illustrator)
Author Read Aloud
Zandi Finds Ubuntu Picture Book Discussion Questions
Questions About the Book

Zandi said "thank you" to the Baobab tree. When was the last time you felt grateful to something or someone? What were you grateful for?
The friendship between the herds of Zebra and Wildebeest remind Zandi of her village. Who is in your "village"? Who helps care for and look out for you?
How do you achieve Ubuntu?
Part of achieving Ubuntu is never giving up. What is a hard thing that you have done in your life? What is a hard thing someone in your "village" has done?

Questions About the Author

Do you know someone in your life who was the first in their family to go to college?
What level of education would you like to achieve? What would you like to do with what you learn?
Do you believe in Tererai Trent's mantra: "Tinogona!" ("It is achievable!")
Other Zimbabwe Books for Kids
Zimbabwe Facts
Basic Facts
The capital of Zimbabwe is Harare.

The official name is Republic of Zimbabwe.

Emmerson Mnangagwa is the current President of Zimbabwe.

Zimbabwe is located in south central Africa.

It borders 4 countries: South Africa, Botswana, Zambia, and Mozambique.

Zimbabwe has 16 official languages, namely Chewa, Chibarwe, English, Kalanga, Koisan, Nambya, Ndau, Ndebele, Shangani, Shona, sign language, Sotho, Tonga, Tswana, Venda, and Xhosa. English, Shona and Ndebele are most widely spoken in the country.

The currency in Zimbabwe is Zimbabwe dollar. $1 USD = 361,900 ZWD. Due to economic instability, the value of the Zimbabwean dollar dropped so sharply in 2008. The largest bill the Reserve Bank of Zimbabwe printed is a $100 trillion note! Fortunately, the economy has stabilized since then.

The two main seasons are the rainy season from November to May and the dry season from June to October.

About 70% of Zimbabweans are Protestant Christians, 8% Roman Catholics

The major industries in Zimbabwe are mining, forestry and agriculture.
Interesting Facts
Robert Mugabe was president of Zimbabwe for almost 30 years, from 1987 – 2017. He was an incredibly dictatorial leader.
Zimbabweans usually call every kind of toothpaste "Colgate" and every kind of soda pop "Coke."
Zimbabwe has 16 official languages!
"Zimbabwe" means "Large Houses of Stone." This refers to some 11th century ruins found in the Southern part of the country.
Kids in Zimbabwe often walk 6 mi. each way to get to school!
Maybe that's also why Zimbabwe has one of the highest literacy rates in all of Africa: more than 9/10 of adults can read.
Zimbabwe has some of the biggest platinum and diamond mines in the world.
Unity Day is an annual holiday that commemorates the joining of two of the largest tribes in Zimbabwe.
Color in Zimbabwe on this map of Africa!
Zimbabwe with Kids: Flag Activity
The Zimbabwe bird in the flag is based on a statue of a bird from the ruins of the ancient Great Zimbabwe.
Flag from HERE
HERE is a fun printable Zimbabwe flag coloring sheet!
Zimbabwe Virtual Tour to a Featured Landmark
Mosi-oa-Tunya ("The Smoke" or "The Smoke that Thunders" in Southern Sotho) / Victoria Falls
Victoria Falls on the Zambezi River is one of the world's largest waterfalls at 5,604 ft. wide! You can see the mist (or "smoke that thunders" from its name in Southern Sotho) from the water crashing across the Basalt rocks from 12 mi. away. The mist is so powerful and tall that even in the dark night, the light of the moon creates a rainbow (or "moonbow") from sunset to sunrise.
David Livingstone was the first person of European descent to see the falls in 1855 and named them after his Queen, Victoria. From September to December, the water level of the Zambezi River becomes low enough to create a calm pool at the top of the falls. But don't be fooled! The pool is named "Devil's Pool" because it obviously is still at the edge of a 300+ ft. waterfall! Victoria Falls is one of the Seven Natural Wonders of the World.
Great Zimbabwe National Monument
The Shona lived in the ancient city called Great ZImbabwe from the 11th century until the 15th century. It was once the capital of the Kingdom of Zimbabwe. Up to 18,000 people could lived there, making it one of the largest cities in the world during that time (London had an estimated 15,000 people in the 12th century). It is a UNESCO World Heritage Site.
Featured Zimbabwean Artist:

Stella Chiweshe
The "Mbira" is an iconic instrument, originating in ancient Zimbabwean culture and musical tradition. It is traditional to the Shona people. The Shona used it to make ritual music for communicating with the ancient ancestors, celebrate festivals, and to entertain.
Stella Chiweshe learned the mbira at a time when it was very uncommon for women to learn to play it. She still one of only a few femails who play the mbira. She become a pioneer of the genre on the international stage. With a deep, emotive voice, Stella wowed audiences in Mozambique, Luxembourg, Paris, and many of the major cultural capitals of the world. Her songs have influenced younger generations of musicians and mbira players.
Featured Important Zimbabwe Person: Tererai Trent
Tererai Trent is one of today's most internationally recognized voices for quality education and women's empowerment. Distinguished as Oprah's "All-Time Favorite Guest", Tererai is a scholar, humanitarian, motivational speaker, educator, mentor, and founder of Tererai Trent International.
Rooted in humble beginnings, Tererai grew up in a cattle-herding family in rural Zimbabwe, in a country known as Rhodesia under colonial rule, where cultural practices and a war that liberated her country charted the course of her life.
Tererai dreamed of getting an education, but was married at a young age and had three children by the time she was eighteen. Undeterred by a colonial regime that oppressed her people, and cultural norms, Tererai determinedly taught herself to read and write from her brother's schoolbooks.
As a young mother without a high school diploma, Tererai met a woman who would profoundly impact her life: Jo Luck, president and CEO of Heifer International. She told Tererai, "If you believe in your dreams, they are achievable". With Jo Luck's inspiration and her mother's encouragement, Tererai wrote down her dreams of going to America for higher education, sealed them in a tin can, and buried them under a rock, ultimately redesigning the blueprint of her life.
Despite facing many obstacles, she never lost sight of her dreams for an education. Tererai could not have imagined that her steadfast determination, hard work and belief in her dreams would eventually earn her multiple degrees, and a prominent global platform with world leaders and international audiences where she advocates for quality education for all. A two-time guest on The Oprah Winfrey Show, Oprah donated $1.5 million to rebuild her childhood elementary school in Zimbabwe and in recognition of her tenacity and never-give-up attitude.
Tererai's Continued Work
With a desire to give back to her community and the firm belief that education is the pathway out of poverty, Dr. Trent founded Tinogona Foundation, now known as Tererai Trent International (TTI), whose mission is to provide universal access to quality education to children regardless of their gender or socio-economic backgrounds, and also to empower rural communities.
Through strategic partnerships with Oprah Winfrey and Save the Children, Tererai's Foundation has rebuilt twelve schools in Zimbabwe and educated more than 38,000 rural children so far. In October 2013, Dr. Trent was a keynote speaker at the UN Global Compact Leaders' Summit where she used her growing voice to appeal to international businesses to invest in equal access to quality education. Dr. Trent is invited to speak all over the world, to share her remarkable story and the valuable lessons she has learned along the way.
Tererai continues to lead the global charge in the fight for quality education for all children and for women's rights. She has become a symbol of hope, and living proof that anything is possible. Her favorite motto is "Tinogona," meaning, "It is achievable!" Tererai has been appointed Global Ambassador for Education and Peace by the United Nations Global Diplomatic Council and is named one of the World's Top 10 Most Inspirational Women Sculptured for Equal Rights in NYC. The Statues for Equality project was unveiled in New York City's Rockefeller Center on August 26, 2019.
Tererai received her doctorate in interdisciplinary evaluation from Western Michigan University and teaches courses in Global Health at Drexel University. She has published two highly acclaimed children's books and is the author of the award winning, The Awakened Woman – Remembering & Reigniting Our Sacred Dreams (Atria/Enliven Books).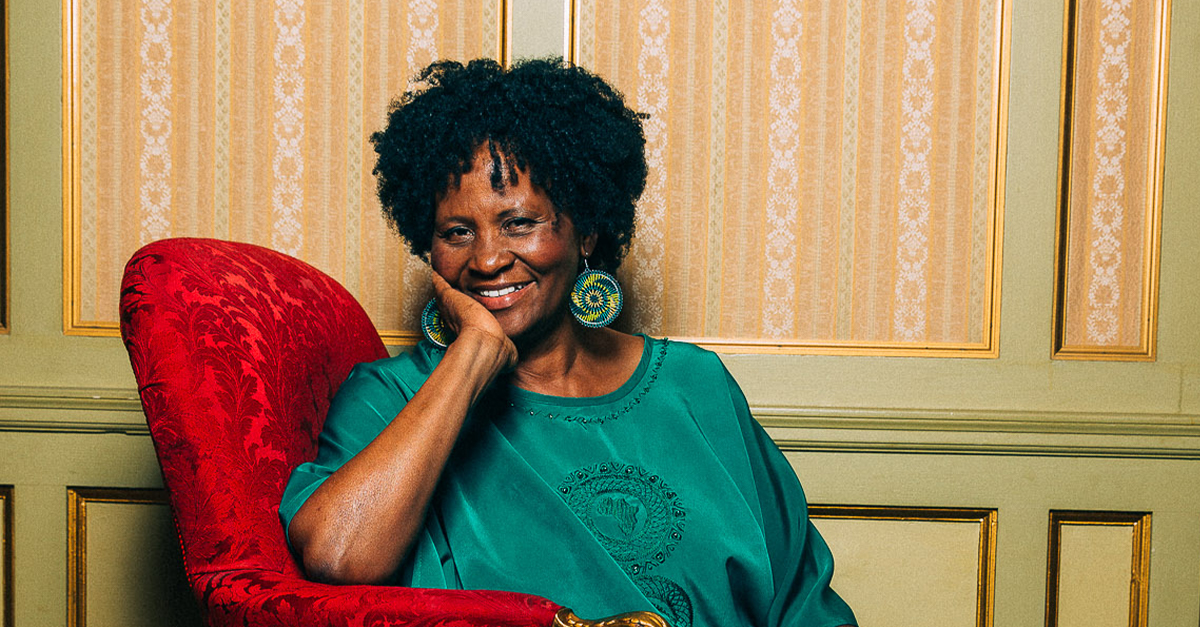 Featured Zimbabwean Food: Zimbabwe Recipes for Kids
Things like peanuts, butternut squash, and cornmeal are popular in Zimbabwean food.
Sadza is a staple food and also the national dish. It is like a cornmeal porridge, like ugali in Kenya. Zimbabweans eat it with nyama (meat) or vegetable stew.
Dovi is a spicy vegetable and peanut stew.
Zimbabwean Craft & Culture Activities for Kids
Create Your Own Schoolhouse
Some Zimbabwean schoolchildren must travel long distances to go to school. Some, like Dr. Trent, were not able to attend school as much as they wanted – fortunately, that has begun to change significantly! What are some things that have helped girls especially go to and stay in school?
Create a mini school and society that allows and encourages all children to attend school. How would you design your school? Would you have one schoolroom for multiple ages? Or would you have separate classes? Would you have a football field, a playground, or a library? What other features would you include?
Build your school out of cardboard, then paint it!
Materials
Toilet paper or paper towel roll
Pencil
Completely paint your toilet paper roll in yellow paint. Let dry completely.
Tear the brown paper into small pieces of varying sizes about 1/2″ – 1″ wide. Glue them randomly on the yellow roll.
Trace a head on the yellow paper and cut out. Draw on a eyes and a mouth with the Sharpie. Cut out horns out of brown and glue on. Glue the whole face on the top front of the roll.
Zimbabwean Art Books
Other Zimbabwe Kids Activities
Animals in Zimbabwe
Sable Antelope – the National Symbol of Zimbabwe. A compact, powerful, beautiful animal with a vertical mane on its back and another mane on its neck. Males use their long horns to establish dominance over other males in the heard, but have also successfully killed predators like lions using their horns.
African wild dogs – endangered, with probably fewer than 250 in the whole world. They can run faster than 44 mph and gather in packs of 10-40.
Brown Hyena or Strandwolf: is the rarest hyena, with as few as 4,000 remaining on earth. Male and Female brown hyenas pair off and then live in clans of 4-6 adults. Every adult helps to raise the babies of the clan.
You can learn more about Animals in Zimbabwe here.
Zimbabwe Movement Activities
Zimbabwe Traditional Dance
Sport in Zimbabwe
Cricket, rugby, and tennis are all very popular in Zimbabwe. Like many other countries, football (soccer) is by far the favorite!
Kid Movies About Zimbabwe
I haven't found any movies about Zimbabwe that are great for kids. Please let me know if you find any!
Zimbabwe Conversations with a Local: Culture, History, & Food Discussion Video
Zimbabwe with Kids Discussion Questions
How big of a currency would you make? One trillion? 100 trillion? Or would you start using a different country's currency?
Would you walk 6 miles to school?
Why do you think supporting women and girls can help overall communities?
Why do you think several eastern and southern African countries rely heavily on corn in their diets?
If you had the chance to earn degrees in anything you'd like, what would you choose?
Thanks for Taking a Virtual Visit to Zimbabwe With Us!
We've loved putting together this resource to virtually visit Zimbabwe. We'd love to hear if you do any of these activities for a homeschooling Zimbabwe unit, or if you visit in person!
We hope to inspire curiosity and connection through exploring and learning, and we hope this guide helps you and your families. Please share any activities you do with us over on our Instagram. And we'd be delighted if you passed this Zimbabwe for kids virtual tour and homeschooling resource along to others, as well!
MORE POSTS
IF YOU LIKED THIS POST ABOUT ZIMBABWE FOR KIDS, YOU MIGHT LIKE THESE POSTS TOO:
NOT READY FOR A ZIMBABWE HOMESCHOOLING UNIT QUITE YET? PIN THIS POST FOR LATER!