Are you considering becoming an Airbnb host? Hosting on Airbnb can feel overwhelming and scary at first. Here are 10 tips for Airbnb hosts that have helped through our 10 years of hosting!
This post may contain affiliate links, which means I may earn a small commission if you click my link but does not change your price. See my affiliate policy here.
Hosting on Airbnb can feel a bit daunting – at least, it did for us before we started doing it nearly 10 years ago. We had so many questions – how do we start? Is it safe? What are the requirements? Are there any safeguards and protections? I wish I'd had these tips for Airbnb hosts to help us feel more comfortable hosting on Airbnb.
I wrote a whole post on our routine to get ready for a guest, but I also wanted to share a set of Airbnb host tips, especially if you're new to hosting. These are things that are helpful to us to keep things streamlined and smooth, so it's not more headache than it's worth. (And if you haven't used Airbnb before, you can use this link to get $40 off your first stay!)
I always get so many questions about hosting, especially with kids – do we put away our stuff? Have a locked closet? Have different sheets? What are our Airbnb house rules? Hopefully these tips for Airbnb hosts will help minimize anxiety about having others in your home, and let you focus on the income that supports your own travels.
This post with tips for renting your home on Airbnb contains affiliate links, but all opinions are 100% my own. That means I may earn a small commission if you purchase through my link, but doesn't increase your price. Thank you for supporting this blog!
10 AIRBNB HOST TIPS WHEN RENTING OUT YOUR HOME
TIPS FOR AIRBNB HOSTS #1: VET YOUR GUESTS
The only times we've ever had (minor) issues with guests are the very few times we've accepted guests who didn't perfectly align with our predetermined criteria. For us personally, that means we typically only accept families, or the occasional business travelers. We've had good experiences with providing lodging for extended family groups.
We are NOT, however, interested in providing general large group accommodations, such as for a big friend group. I'm sure there are some friend groups that are respectful and cautious. However, we've found that more often, there's too much diffusion of responsibility and lack of rule-following.
There have been one or two times when we've accepted them because it was for a longer stay and we were worried we wouldn't have other guests. We should've stuck to our guns.
Does that mean YOU shouldn't accept friend groups? Of course not. Just figure out where your comfort zone lies and stick to it.
TIPS FOR AIRBNB HOSTS #2: HAVE A LOCKED SPACE, and PHOTOGRAPH BELONGINGS
Set aside a locked space
People are most often worried about security when they consider becoming an Airbnb host. Hosting on Airbnb can definitely feel scary when you've never had a stranger stay in your home before! Having some sort of locked space is great for keeping private things private.
The space size depends on what you need to store. We don't have many valuables so we have a very small locked area for paperwork (tax docs, etc.). We also take my violin over to a trusted neighbor's house. Other than that, we're not so worried about someone running off with our $300 Amazon couch.
If you have more valuables, you may want to consider locking a closet or perhaps even a whole room. Having that separate space, no matter how small, will give you peace of mind.
Making a claim with Airbnb
Also, Airbnb has a $1 million host guarantee. We've found for the slight issues we've had that didn't involve physical damage (e.g., someone left a pack of cigarettes and smoked outside our house, despite our very clear no-smoking rules – details below), Airbnb was pretty much useless. However, another time when a minor cord was damaged, we had no issues submitting a claim and they took care of everything very promptly.
Because of this, we feel comfortable leaving out electronics like our TV/DVD player. We don't have anything fancy or brand new when it comes to those items, so we wouldn't be heartbroken if they had to be replaced, and we trust Airbnb to take care of it.
We do take pictures of our home before leaving, so it's clear what belongings were there and what condition they were in. Unlike some other Airbnb host tips, this one takes minimal effort and is great security. If we ever need to submit a claim, these photos will be helpful. We've never needed to use those, but it's nice for peace of mind should anything ever come up.
TIPS FOR AIRBNB HOSTS #3: PACK UP SPECIAL ITEMS, BUT NOT YOUR WHOLE HOUSE
Items don't have to be expensive to be special. So another of our tips for Airbnb hosts is to just put aside those special items.
We have a couple of plastic bins in which our kids can put any special stuffed animals, LEGO creations, or play jewelry. It helps them feel better knowing another kid won't accidentally break something that's important to them.
That said, Airbnb hosts do NOT have to pack away the entire house. For the most part, we leave our clothes in closets and drawers. We clear out some space for guests, but certainly not the entire closet. There's also a shelf in our bathroom cabinet that we leave clear. We make it clear in our listing that it is a family home and that personal items will still be around.
Also, figure out as Airbnb hosts what is actually special or valuable to you – will you be devastated if an heirloom sofa gets a stain on it? We figure, people aren't going to care one whit about my $10 Target t-shirt or basic sewing machine. We leave the kids' craft supplies in that area of the playroom, and just ask guests to replenish anything they've used heavily.
TIPS FOR AIRBNB HOSTS #4: HAVE SEPARATE SHEETS AND COOKWARE
It will make your life infinitely easier as Airbnb hosts if you have
guest sheets
 separate from your own. We set our 
personal ones
 aside in a bin under the bed and leave a note for the cleaners to put those on before we return. Then they're for sure clean and ready to go, and stay nice and fresh.
We also recently purchased a second set of inexpensive nonstick cookware. We're vegetarian and don't like guests to cook meat on
our pots and pans
. We also don't want to risk guests scratching them if used improperly. So instead of being anal about telling guests what to use and how they can use it, we spent $50 and got
a whole set of nonstick cookware
just for guests. It's perfectly functional and works very well, but it's not our beloved set.
Same with knives – we actually had 2 of 
my favorite chef's knife
and left one out for guests. Unfortunately, one guests chipped the blade. We didn't realize until a while later so didn't contact Airbnb about it. It's still perfectly functional, but not quite as nice. Sometimes when hosting on Airbnb, little things like that happen. I'm just glad we didn't leave out our
whole set of favorite knives
.
TIPS FOR AIRBNB HOSTS #5: HIRE CLEANERS
I know some Airbnb hosts clean their own places – we were those people for a few years. But I am someone who really appreciates a SPOTLESS Airbnb rental, and like to leave my home the same way. It caused so much stress to scrub everything super thoroughly while also preparing to leave on a trip. Then when we returned, we'd again have to thoroughly scrub and sanitize before we felt comfortable settling into our home, even if we were exhausted from traveling. It was just too much.
Now we are the Airbnb hosts who very happily pay cleaners to come after we leave, in between guests, and before we return. Airbnb makes it very easy to build in the price of cleaning, so one of my Airbnb host tips is to outsource that part. Just remember that Airbnb fees get removed from your income, so factor that into all your costs.
We have a checklist for the cleaners to ensure everything gets done. We also list out each date of cleaning and which beds need to be made up each time. That way, they don't make up unnecessary beds or have to wash unused sheets after.
TIPS FOR AIRBNB HOSTS #6: MAKE YOUR AIRBNB HOUSE RULES CRYSTAL CLEAR
You want no smokers? As Airbnb hosts, it's up to you to detail in your listing what exactly that means. Can they smoke outside? Away from your home? Or absolutely 100% no smokers at all? That's what our rule is – we don't want anyone with smoke on their clothing staying in our home and sleeping in our beds, especially with kids. So we repeat that about 5,000 times in our listing. Annoying, probably, but you'd be surprised what people miss (or conveniently ignore).
In addition to having it in the listing, we also make sure the guest understands when we are messaging after they make the booking. As far as general Airbnb host tips, it's always easier to clarify details of rules, lodging, duration, etc. before the booking begins.
Food is another one that can sometimes be unclear – can guests use whatever food is available in the cupboards or fridge? Or just spices and oils? Or nothing at all? Again, it's easier to communicate this as Airbnb hosts in advance than to be frustrated later.
Basically, figure out if you have a hill to die on, and communicate it – clearly and repeatedly.
TIPS FOR AIRBNB HOSTS #7: CREATE A HOUSE MANUAL
In the same vein of communication from Airbnb hosts, I recommend putting together a house manual. Include things like how to run the dishwasher/oven/washing machine, which doors and windows to lock, the WiFi password, and checkout requirements. Some Airbnb hosts only require you to lock the door, while others ask you to take out trash, run the dishwasher, strip the beds, etc. Be clear about your expectations.
In our manual, we also like to include a list of things to do in the area, restaurants, and grocery stores. I always appreciate receiving a few local tips from Airbnb hosts when we're staying somewhere else! The house manual should also include those same Airbnb house rules that were in your listing, as well.
TIPS FOR AIRBNB HOSTS #8: SET OUT TOILETRIES
Airbnb guests will inevitably forget something or the other. Also, Airbnb now requires that you provide basics such as soap and a hair dryer and such. If you don't want folks rifling through your personal cabinets for these items, then leave a nice basket on the counter with the things they may need.
Some things we leave out include towels/washcloths, mini soap/shampoo/conditioner/mouthwash (if we have some from hotels, we'll put them in there), maybe a spare toothbrush, a hair dryer, etc. It makes things easier for everyone if the stuff they need is in plain sight.
We also usually like to leave a little treat or special drink for our guests. It's definitely not a requirement, but it's one of those nice airbnb host tips to make your home feel even more special. We set out a simple bottle of Trader Joe's sparkling cider and maybe some chocolate and call it good.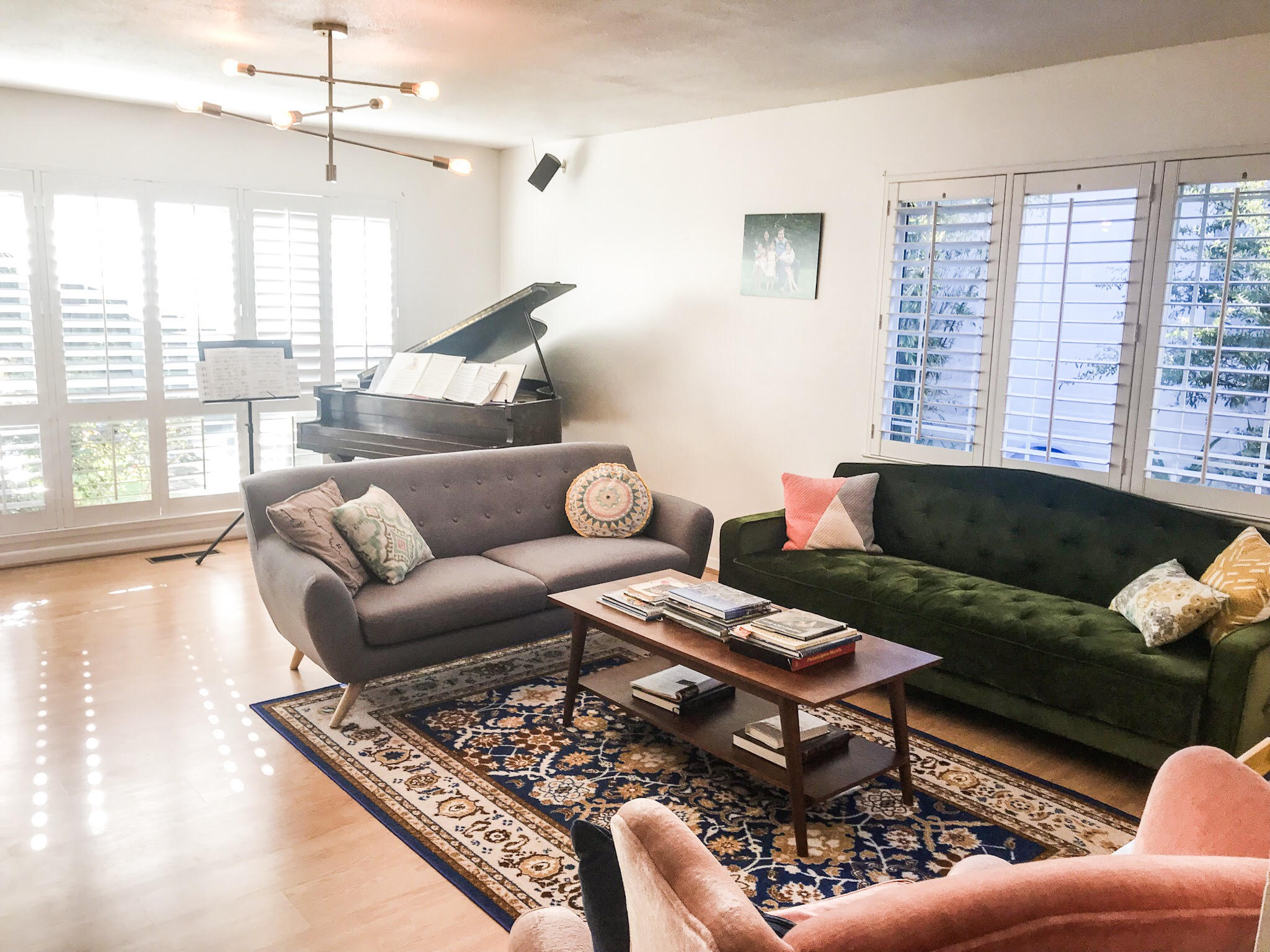 TIPS FOR AIRBNB HOSTS #9: BE RESPONSIVE
The best Airbnb hosts are responsive both before the guests arrive and also while they're there. That doesn't mean you have to be online 24/7, as guests understand that you sometimes need to sleep or don't have service. But as much as possible, try to respond quickly to resolve any issues.
When hosting on Airbnb, quick responses show show that you're a professional and care about their experience. Once they check in, be sure to message them and make sure they're settling in all right. And if you can, have someone on the ground who can respond to any emergencies for you should they happen.
TIPS FOR AIRBNB HOSTS #10: MAKE IT SIMPLE
When hosting on Airbnb, we like to keep things as simple and straightforward as possible. We keep check in simple with an electronic door lock with a pass code (or you could just use a lockbox with a key). Spell everything out in the house manual – even the simplest of things. If guests need airbeds, set them out in the room so they don't have to search through closets.
As much as possible, keep everything as simple, straightforward, and streamlined as possible.
BE LEGAL WHEN HOSTING ON AIRBNB
One final note – be sure to check the rules and regulations in your city/state, as well as your home insurance/HOA, as some don't actually allow you to rent out your home. Make sure you're familiar with what is legal!
What did I miss? Have you hosted on Airbnb, and if so, what has been helpful to you?
MORE POSTS ABOUT TRAVEL ACCOMMODATIONS
IF YOU LIKED THIS POST WITH TIPS FOR AIRBNB HOSTS, YOU MIGHT LIKE THESE POSTS, TOO:
NOT QUITE READY TO BEGIN HOSTING ON AIRBNB? PIN THIS POST FOR LATER!