This post may contain affiliate links, which means I may earn a small commission if you click my link but does not change your price. See my affiliate policy here.
Have you ever considered visiting Morocco with kids? With incredible hospitality, vibrant colors and foods, and beautiful landscapes, Morocco is a perfect place for family travel a little beyond the norm. This Morocco travel guide has everything you need to know when planning a family trip to this incredible country.
Visiting Morocco with kids had been on our bucket list for a couple of years. Everything from the designs and crafts to the music to the diverse topography fascinated us. We didn't know how many opportunities for Morocco holidays we'd get, so we chose to include a wide variety of cities, activities, and foods in our itinerary. Although we weren't entirely sure what to expect, Morocco with kids was was safe, clean, vibrant, and beautiful! Plus, we experienced some of the most welcoming hospitality of any country we've visited. The 9 days that we spent were magical, and we'd highly recommend Morocco as a wonderful family travel destination.
Keep reading for a complete travel guide for visiting Morocco with kids!
This post on visiting Morocco with kids contains affiliate links, but all opinions are 100% my own. That means I earn a small commission if you purchase through my link, but doesn't increase your price. Thank you for supporting this blog!
Why Go to Morocco with Kids
Do you feel like everyone you know has Morocco holidays on their radar lately? It's with good reason – Morocco is incredible. Our interest was first piqued with all the stunning architecture and gorgeous tilework. The colors in the ceramics fascinated me, and I thought it would be pretty incredible to see them up close. Plus, it seemed like one of the more accessible places to visit the Sahara Desert, which has always been a dream. Even though we knew it would still take a good bit of travel to get to the desert, it felt easier than with many other countries.
Moroccans are Very Welcoming to Kids
One of the best reasons to travel to Morocco with kids is that Moroccans love them! It's not uncommon to have a larger family in Morocco, and children are very much included in day-to-day life. We never felt unusual for having our kids along on activities, and they were always warmly welcomed and even indulged. This was even true in settings that would normally be more adult-friendly, including our desert camp and restaurants. No one ever batted an eye when we brought our crew of 4 crazy kids in with us. 😉
Moroccans tend to really love children and babies, and we often had tour guides offer to hold our baby for us. They loved to bring them food and drinks, feed them treats, pinch their cheeks, and show them interesting sights. It often felt like we had many extra pairs of hands helping with our kids – because we did! It's probably the best reason in my mind that Morocco holidays are perfect for families.
Morocco Was Straightforward and Easy
Morocco also felt like a great "entry point" for Africa. While we'd visited Africa once before, we'd only been to southern Africa. Northern Africa, Berber culture, and its influences on southern Europe have long fascinated me, and Morocco definitely felt like a good starting point. For one, Morocco holidays don't require any major vaccinations (no yellow fever, like many East African countries). Mosquito-borne illnesses such as zika, dengue, and malaria are not issues in Morocco, so we didn't have to worry about prophylaxis. Many people speak English, and those who don't often speak French (which I speak), so the language felt easy.
In many ways, Morocco with kids felt very similar to visiting Europe in terms of ease of entry and travel. If you'd like to get to the continent but feel a bit apprehensive about diving into the unknown, Morocco felt fairly straightforward.
Morocco was Also Unique and Vibrant
On the other hand, Morocco holidays are also unique in many ways. The colors, bustle, crowds, traffic patterns, food flavors, and scents are all very different from much of western Europe, and were a welcomed new experience. The culture is also extremely welcoming to children, so we never felt uncomfortable bringing them anywhere. In fact, locals often welcomed our kids before they even said hello to the adults. Moroccans weave kids into their everyday going-about culture, which suited us just fine.
Additionally, being in a primarily Muslim country is certainly different from traveling in Western Europe in terms of clothing and public affection (although fortunately or unfortunately depending on who you're asking, we experience very little PDA ;)). While we didn't feel the need to be overly covered and felt comfortable in our normal (fairly conservative) clothing, we definitely considered longer hemlines, I avoided shorts, and we ensured sleeved clothing. We never received any comments one way or the other, but we also didn't want to draw undue attention.
Overall, Morocco with Kids Was Familiar and Welcoming, But Unique
In general, Morocco holidays are "easy" enough to pull together a short-notice visit, but unique enough that we felt we were broadening our travel experience significantly. The country is also incredibly welcoming to families and children. Visiting Morocco with kids really is a wonderful adventure for a family looking for a trip a bit beyond the norm, but still fairly straightforward, easy to plan, safe, and clean.
(CHECK OUT THIS POST WITH 7 REASONS TO TAKE A MOROCCO FAMILY HOLIDAY)
Is It Safe to Visit Morocco with Kids?
One of the biggest questions when traveling to a new location with kids is, "Is it safe?" We were delighted by how safe and secure we felt throughout the country.
As I mentioned previously, children are warmly welcomed by most locals. Because of this, having kids with us helped us feel almost even more safe. There were only a couple of times when I was by myself as a woman (without the others), and I never felt seriously uncomfortable then. But I did receive a look or two, especially if I was wearing something that didn't fully cover my arms and legs. This never happened when I was with the kids – they were all too focused on smiling at them. Of course, take normal travel precautions like not carrying money in your pockets. Pickpockets exist in Morocco just like anywhere else. But if you use good judgment, you'll most likely be just fine.
The one safety concern I will mention is traffic. While some cities are very calm, others are not. Marrakech, in particular, is extremely hectic. One morning, we were standing off to the side on a small side street. Out of nowhere, a motorcycle (driven by kids who couldn't have been older than 12) came barreling through and knocked over our daughter. It was scary! Fortunately, she was fine, but it was definitely not the most pleasant experience. Other times, we narrowly missed being hit by motorbikes and other small vehicles driving through the streets of the medina. Be sure to keep little ones close (and wear smaller children – easier than a stroller), and always have them walk on the side closer to the wall when possible.
Health in Morocco
As I mentioned before, Morocco is clean, doesn't require any special vaccinations, and is virtually free from mosquitoes. Because of this, we did not take any sort of prophylaxis while we were there, nor did we get any specific vaccinations before travel. I would recommend getting up to date on all routine vaccinations, including tetanus and Hepatitis A. Be sure to check the CDC website for vaccine recommendations in advance. You can even input any special considerations, such as being pregnant or traveling with children.
Is Morocco Expensive?
A few months before traveling to Morocco with kids, we visited India and Southeast Asia. If you've ever visited those countries, you know that food and accommodations can be extremely inexpensive. It was so nice! Western Europe, on the other hand, ranges from being quite expensive (ahem, Norway and your $35 USD veggie burger, I'm looking at you) to relatively inexpensive (Greece, parts of Portugal). Our travels through southern Africa varied widely – Cape Town was quite expensive, while Zimbabwe cost barely anything at all. We weren't really sure what to expect from Morocco!
Turns out Morocco fell just about in the middle of being expensive and cheap. While accommodations and food were certainly reasonably priced, I wouldn't call them super inexpensive. Like anywhere, there are more and less expensive options, but here's a general idea of where prices ranged.
Cost of Food in Morocco
Sit-down meals, especially in big cities and near tourist attractions, usually came to about $40-60 USD for our family of 6. This was less than we would pay in the US (where $60-100 is common), but not by a ton. Markets, on the other hand, were quite cheap. Fresh orange juice stands were often under a dollar, and street food was quite inexpensive when we felt it was trustworthy. (Near Jemaa el-Fna, for instance, we figured there were enough tourists that we took the risk. And we were fine.) The markets and street food felt much more comparable to Asian countries, although not quite as inexpensive. (We often had meals there for less than $10 for our whole family! Ah, those were the days. ;))
Cost of Accommodations in Morocco
Accommodations also fell around the middle of the spectrum. Again, there's obviously a wide range of places to stay. We chose places that were nice, clean, had great reviews, and spacious enough for our family. In Morocco and in general, we don't usually reserve places that are opulent or overly luxurious. We were willing to pay more for places that were authentic/historic and helped us experience the culture. Finally, accessibility is important to us. So we reserved places in great locations that allowed us the freedom to get to sites by foot, or to wander historic areas.
With that in mind, we generally paid between $80-120/night for our lodging expenses. For accommodations at a similar level of luxury in the US, we would generally pay between $120-200/night, depending on the area. As a comparison, we found places like this in India/Southeast Asia for between $30-60/night. So again, Morocco fell near the middle. Keep reading for more details on the accommodations we chose!
The Best Books to Inspire You to Visit Morocco
We love reading books before we visit a new place to learn a bit about the history, culture, food, and people. Then when we return home, we love revisiting our trip through the books, as well! Wherever we travel, we try to pick up a children's book about the place – it makes a fun souvenir that we can enjoy as a family and use to remember our trip.
These are some of our favorites books to get inspired and prepared for Morocco with kids (or not!):
Children's Books About Morocco
This one is a beautiful story of a boy clever boy who prevents his town from being overtaken by a personified Moroccan sandstorm. The images are stunning.
Super cute book for younger children that goes through several sites in Marrakech. It follows a few cats as they explore the city. My littlest one (who was obsessed with all the cats there) loves this one!
Adult Books About Morocco
Lonely Planet makes some of my favorite guidebooks – thorough, well laid-out, good photos. This one is great as an overview of the country.
This one is specific to Marrakech if you'll be spending more time there. Goes into much greater depth about the culture, food, and sites. Great for delving into a specific area.
How stunning is even the cover of this book? It's perfect for not only visualizing all the colors, patterns, and textures you'll experience, but also understanding some of the symbolism behind them. This is one I'd love to have live on my coffee table.
I sent this book to a friend and she said the short stories were delightful and felt very authentic to the vibe of the country. This one is definitely on my list to read soon!
This book provides more than just recipes – it has historical context, spice lessons, and beautiful photos. It is an absolute tome of Moroccan cooking and perfect for those who want to bring the flavors of Morocco into their own homes.
This book shares the journey of an Australian couple that visits the ancient medieval city of Fez and decides to buy an old and run-down riad. It shares their restoration journey, as well as insights they glean from their new life in Morocco. Perfect for reading before staying in a riad on your own visit!
When to Visit Morocco
I'd imagine there's no terrible time to visit Morocco. The country has such varied landscape and climate, that you could visit any time of year and find good weather and enjoyable activities. However, to get a full overview of the country as we did, I would recommend middle-to-late spring.
Visiting Morocco in High Season
We visited in April, which is a popular tourist time for a reason. It was warm enough that we could comfortably visit mountainous towns without worrying about extreme layers and snow. We could also visit the desert in comfort; although it got quite cool at night, it was definitely tolerable. Desert winds also tend to be fairly mild at this time of year. While the big cities were crowded (although I suspect they almost always are!), the other places didn't feel jammed with tourists.
When you're planning when to visit Morocco, keep in mind that parts parts of the country, including the mountains and the desert, can get extremely cold in the winter. Especially if you are planning on a desert camp, I would not recommend going in wintertime. This is true for visiting the High Atlas mountains, as well as hilltop cities such as Chefchaouen.
Likewise, summer can be unbearably hot in the desert. Several main cities also get roasty, although coastal areas will remain pleasant. I'd advise looking into weather when deciding when to visit Morocco. Springtime is a great time to visit Morocco if you'd like to travel to a wide variety of cities and landscapes.
Visiting Morocco with Kids in Off-Season
That said, springtime is also high tourist season, so traveling will be a bit more expensive. Especially for Morocco family travel, it's nice to be able to save a little money, and to also have fewer crowds. If that appeals to you when deciding when to visit Morocco, off-season can be terrific. Consider limiting your visit to one or two regions instead of doing a highlights tour through the whole country, and focus on good-weather areas.
For instance, coastal and mountainous regions (Essaouira, High Atlas Mountains, Chefchaouen) will be perfect to cool off during the hot summer. Similarly, bustling cities will still be exciting and fun even during the cooler winter months. While the desert will be roasting in the summer, it's very pleasant during the spring and fall. Think about the weather in the different and diverse regions and plan your travel to Morocco with kids around that instead of traveling through the whole country.
There's not just one perfect choice for when to visit Morocco, so it's wise to consider which activities, cities, and price points are most important to you and plan around that!
How to Get to Morocco
Coming from California, the most inexpensive way we found was to fly to Barcelona first. It was definitely possible to fly directly to Morocco (most of those flights arrive to and depart from Casablanca). But that proved quite a bit more expensive than flying to Spain, then purchasing flights on a budget airline to Morocco.
Previously, we had only visited Madrid in Spain, so we were excited for the opportunity to add another bucket list city. As we were flying both in and out of Barcelona, we decided on about 4 days there total (two at the start of our trip and two at the end) there. We also added in about 5 days in Portugal.
We found a number of different options for how to get to Morocco from Barcelona:
How to Get to Morocco from Barcelona
Take the train to Tarifa/Gibraltar, then take the ferry to Tangier
Drive to Tarifa/Gibraltar, then take the ferry to Tangier and drive ourselves around Morocco
Take the ferry from Malaga, Barcelona, or another port to Tangier
Fly from Barcelona to Tangier, Fes, Marrakech, or Casablanca
I'm sure there are other options, but these were the most common ones we found for how to get to Morocco from Spain. We found that taking the train to southern Spain, then taking the ferry would eat up more time than we wanted. That would take nearly a full day on the train, then we'd need stay the night, then cross on the ferry the next morning. The drive from Spain to Morocco had the same issue, although that had the advantage of allowing us to rent a car big enough for our family (we were not able to find any self-drive 6+ seaters available for rent in Morocco for our timeframe). The ferry rides from other ports in Spain to Morocco were quite a bit longer.
Flying from Barcelona to Morocco was Fast and Cheap
Since we wanted to maximize the amount of time we spent in the country, and since we were not exploring other cities in Spain on this trip, we wanted a relatively fast way of getting from Spain to Morocco. Because of this, we opted to fly from Barcelona to Tangier. The cost was comparable to train + ferry or overnight ferry, and had the advantage of saving us quite a bit of time and hassle. We found flights to Tangier to be much more cost-effective and frequent than flights to either Fes or Marrakech. In total, it cost us just over $300 USD to fly our whole family (5 seats + infant) one-way from Barcelona to Tangier.
Flying from Spain to Morocco also allowed us to start our Morocco trip in the city of Chefchaouen, which is only about a 2 hour drive from Tangier. Chefchaouen is further from Fez, Marrakech, and Casablanca, so I'm not sure we would've traveled all the way up there otherwise. And I'm so glad we did! We loved the Blue Pearl and it was a highlight of our visit.
Flying out of Casablanca to Lisbon was Convenient and Inexpensive
Flying also allowed us to arrive and depart from different cities. This way, we din't need to backtrack at the end of our journey and increase our drive time. The driving distances surprised me, so I'd definitely recommend flying in and out of different airports if possible. We chose to end our journey in Casablanca. We spent our last night in Marrakech, then drove the ~1.5 hours to Casablanca the next morning. Our flight was not until evening, so we had time to see a couple of things in Casablanca. We were able to briefly visit the beach, as well as tour the King Hassan II Mosque.
From Casablanca, we chose to fly to Lisbon, Portugal. Our one-way flights from Casablanca to Lisbon for our whole family were about $350 USD. In total, that means we spent about $750 on open-jaw (in and out of different airports) flights for our family from Europe. That felt reasonable, and was comparable to what train + ferry would've cost.
How to Get Around Morocco with Kids
Like with our arrival, we considered a few options for getting around the country. We don't typically love tours, especially in larger groups, so we knew we wanted something either self-catered or private.
Should We Hire a Driver in Morocco?
We were originally planning to drive ourselves around the country, but we couldn't find a single vehicle to rent that would fit our family of 6. So that pushed us to look into a number of private tour companies.
We ended up going with the Transkech Tourist Transport Agency, and we couldn't have been more pleased. Omar was amazing right from the start; we emailed back and forth dozens of times coming up with a completely customized itinerary. I told him which cities we wanted to visit and how much time we had, and he made suggestions for the entire route. It made it so easy, and really minimized the heaviest load of research on our end (which we especially appreciated, since we were planning the trip on a short timeline).
In the end, we were SO GRATEFUL we decided to go with a driver instead of driving ourselves. While driving in Morocco is fairly straightforward, there were a number of reasons why we were really happy to have a driver:
Why We're Glad We Hired a Driver in Morocco with Kids
Speed traps and road issues. For the most part, the country maintains its roads very well, but a few areas had quite a bit of rerouting happening. It was confusing even for our driver, and he had to ask people (in Arabic) where to go. There are also lots of speed traps, and times when the police would pull you over just to check all documentation. It was really nice to not need to worry about any of this.
We could focus on the kids and the scenery. There's so much to absorb in this amazing country that it was nice that both of us could focus on that, without having to worry about navigation or driving.
No need to park. Many places had places to pull over and drop off visitors, but required parking elsewhere. This was especially true in the old medinas. It was SO NICE to not have to have one of us wait with the car, or one of us have to go find parking. We loved both being able to take the kids and luggage without having to do drop offs with one person managing the stuff AND the kids.
Our driver knew exactly where to go, what sites to see, what to point out, where to stop for food before long stretches of nothing, what was worth seeing and what we should skip, and how long everything would take. He knew the tiny roads backwards and forwards, and we were able to see much more, much more quickly thanks to his driving.
Our driver knew the people, and had so many fascinating insights into the country. He and I conversed mostly in French, although he spoke enough English that he and Dan could have basic conversations.
A Driver Added Convenience and Authenticity to our Visit
Overall, we were very happy we decided to go with a tour company instead of driving ourselves. It was easier and more convenient. We also had a more authentic experience thanks to his insights and recommendations. Plus, the van was spacious and comfortable, and had plenty of room for our family and luggage (with some space to spare).
How Long Should I Spend in Morocco?
For first time visitors to Morocco, I recommend staying for anywhere from 1-2 weeks. This will allow you to get a good feel for the country, and experience some of its diversity. While shorter visits are possible, especially with flights from Europe being as short and cheap as they are, they will really only allow you to get a taste of one region. Spending a week or two will allow you to experience a few regions, topographies, and lifestyles.
For our first visit to Morocco with kids, we spent a total of 9 days. In that amount of time, we were able to tour through many of the major cities, visit the Sahara desert, see hilltops and souks, and even visit the ocean. A quick tour through the country like we did, however, does not allow time for relaxing. So if you are hoping to spend a day lounging on the beach or by the pool in a riad, you'll want to plan for a longer trip to Morocco with kids.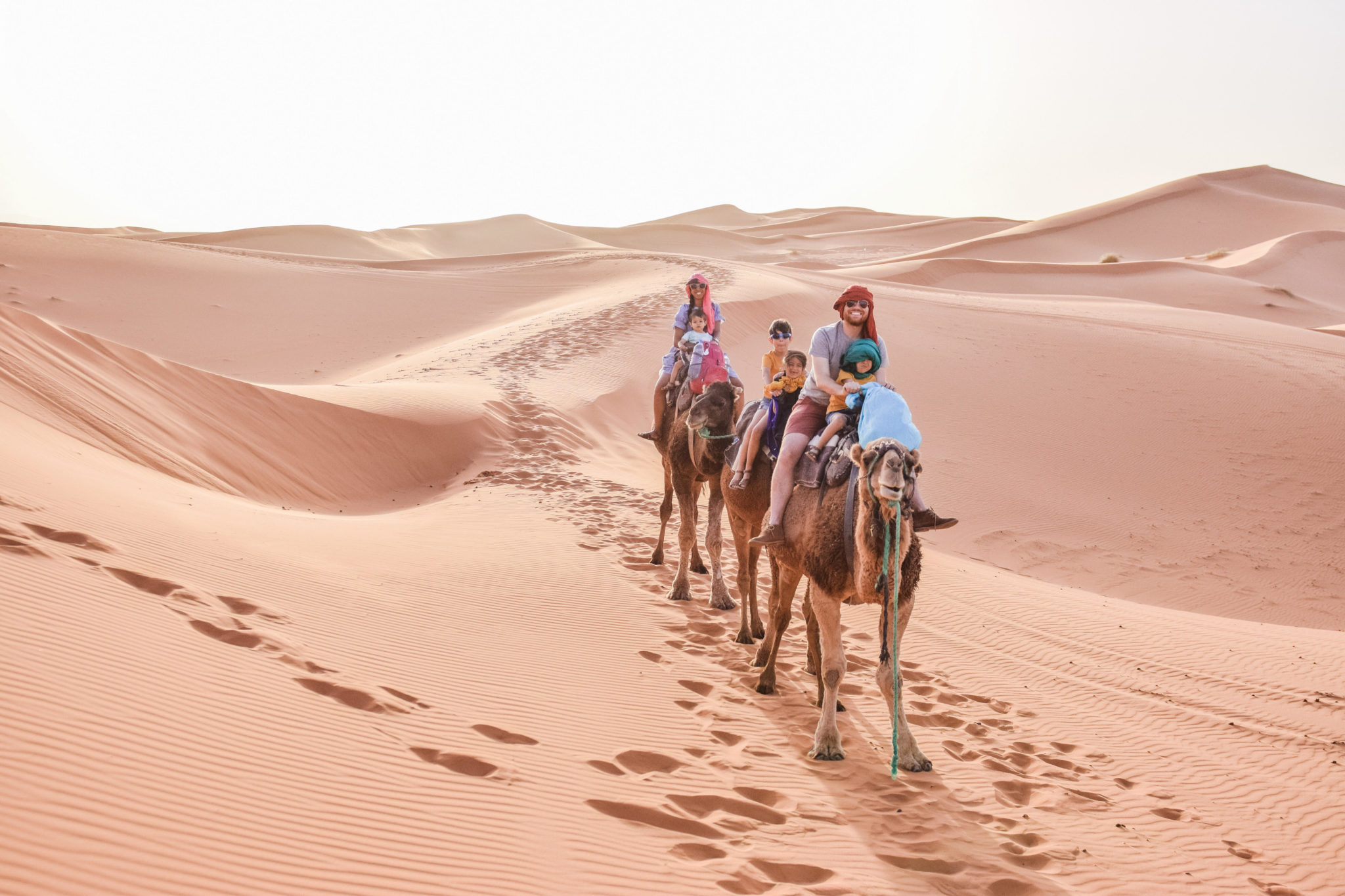 Language in Morocco
It seems that most Moroccans speak at least 2 languages – and many speak bits of up to 5 or 6! The official language of Morocco is Arabic, but many also speak fluent French due to once being a French colony. Especially in larger cities, French is the language of commerce and communication. English is also widely spoken, although many will not speak it completely fluently. We found that lots of people who worked in the tourism industry also spoke bits of Spanish, Portuguese, or even German.
As I speak French, we found it easiest to communicate that way. Our van driver did speak enough English to communicate for any needs. However, when we asked questions about culture or history, it was definitely easiest to communicate in French. We don't speak Arabic, but it's always nice to learn a few words in the native language, such as hello (salaam) and thank you (shukran).
What to Pack for a Trip to Morocco with Kids
Packing for Morocco can vary greatly based on what part of the country you're planning to visit. Assuming that, like us, you're touring through many diverse regions, there are a few things I highly recommend taking along:
Wool Base Layers.
We love traveling with wool because it keeps you warm when it's chilly but isn't usually too hot if the weather is warm. Since they have self-cleaning properties and rarely smell, they can be reworn multiple times without washing. They're especially great for somewhere like Morocco that has great temperature variations, even within the same spot. (When we were in the Sahara Desert, daytime temperatures were around 80F, and nighttime temperatures were only about 40F. It got chilly!) They're perfect to use as pajamas, and can also be layered under other clothing if it's cold. (We were surprised by how chilly it got in Chefchaouen and Volubilis, so we were really grateful to have these layers!) Here are our favorites for ADULTS (Top, Bottom) and for KIDS.
Lightweight Down Jacket.
It's difficult to travel with something super puffy and warm, and Morocco doesn't often require that. A lightweight down is a perfect for layering with other items if it's cold, or to use on it's own if it's just slightly chilly. It also works for keeping off a bit of rain. Here are our favorite, inexpensive jackets (WOMEN'S, MEN'S, KID'S).
Clothing.
Morocco is a Muslim country where most people, especially women, will be very covered. Even men will rarely wear shorts or short sleeves, usually opting for sleeved shirts and pants. While we did wear short-sleeved shirts, we did take clothing that covered our knees (I preferred midi-length skirts and dresses when warm, or jeans when cool). It felt fine for kids to wear shorts. As far as shoes, we each brought two pairs – one pair of sandals, and one pair of sturdy walking shoes. (My favorite sandal, travel or otherwise.) And don't forget to pack sunscreen! That Moroccan sun is quite strong.
Car Activities.
If you're touring through the much of Morocco with kids, be sure to bring some activities for the little ones – and for you! We had coloring sheets, a few small books, a bit of school work, and our kids' tablet. We also brought an auxiliary cable so we could plug in our phones to the car sound system to play music and audiobooks.
Child Restraints.
I did a lot of hunting beforehand for Morocco car seat laws, and it turns out they were rather difficult to come by. From what I could tell from most forums, it seemed like car seats aren't required. HOWEVER, we went through multiple random police checks that happen at different intervals while on the freeway. They just check license/registration/etc., and each time, the officer checked for our kids' restraints. Our driver mentioned that they are actually required. We were really glad we had packed our car seats in Morocco!
If you're planning to stay mostly in cities, or are taking the train between cities, you may not need car seats or boosters. If, however, you're planning to hire a driver or do a self-drive tour of Morocco, I'd recommend bringing the appropriate child restraints along. I'm still not totally clear on exactly what the Morocco car seat laws are, but I know that they checked for some form of restraint. We were glad to not have to cause a fuss.
(CLICK HERE FOR A THE ULTIMATE FAMILY PACKING LIST)
What to Eat in Morocco
Moroccan food is both beautiful and flavorful. We loved experimenting with some different local foods. These were our favorites. (Note that the things we enjoyed were all cooked. I would recommend avoiding fresh vegetables and fruits without a peel unless you wash them yourself with bottled water.)
Tagine
A tagine is the name of both the clay pot in which the food is cooked, as well as the style of preparation. Tagines often involve some mix of meat and vegetables, but can also be prepared with just vegetables. Most people eat tagines with Moroccan flatbread, mix them with couscous, or just eat them on their own. You'll find tagines of many styles everywhere you go, so be sure to sample a few with different preparations. Every region (and frankly, every family) has its own vegetables and spices it likes to add. Some add nuts, so be sure to check is that's an issue. As we don't eat meat, we always got the vegetarian option. Even with only one choice, it was fun seeing the different ways people prepared it.
Couscous
Couscous is also ubiquitous and served with most meals. It's also a perfect food when visiting Morocco with kids. It's usually very mildly spiced, and can be mixed with a variety of other things. All our kids enjoyed all the fluffy, piping hot couscous we ate while there!
Soup
Finally, many places have some sort of soup. Harira, a Berber lentil soup, is very common, as is a standard Moroccan vegetable soup. We loved both of these. One of our kiddos still regularly talks about a Berber lentil soup we ate the night we stayed in the desert – it was her favorite meal of the whole trip!
Drink
The water can be suspect in Morocco, so I'd recommend sticking to bottled. It's easily accessible, though, and you'll find plenty of bottles for purchase on every corner and in every restaurant. Also, while you should avoid the tap water, the fresh juices are typically safe. And they are delicious (not to mention cheap). Orange was the most common and freshly squeezed OJ was served pretty much everywhere. Lots of places had other juices, as well, such as watermelon, avocado (we like it with a bit of sugar), and even banana.
Where to Stay in Morocco with Kids
Transkech had the option of either arranging our accommodations for us, or allowing us to choose our own. As we wanted more control over where we stayed, we mostly chose the latter. We wanted mostly traditional riads over hotels, and we're so glad we chose this option. We stayed in some of the best places we've ever chosen and had really terrific experiences. While we've only visited once, we really loved these accommodations, and recommend them without hesitation.
Chefchaouen
This was our first stop in the country, and this riad did not disappoint. A kindly local man managed the riad, and it was just stunning. The tilework inside was gorgeous, and we loved the indoor courtyard. The rooms felt so authentic. It was also very spacious, with 4 bedrooms, plus a kitchen. The only downside was that it was quite rainy and chilly for the couple days we were there, and the heat didn't work quite as well as we would've liked. We do tend to run quite cold, though, and with the provided extra blankets and room heaters, even we were fine.
Fez
As I was booking this riad, I was really nervous that it allowed smoking. I definitely didn't want to stay anywhere that had any scent of smoke, so I messaged with the hosts quite a few times to make sure. They assured me it was thoroughly cleaned, and that they didn't believe anyone had smoked there, even if it was technically allowed. Still, I was nervous until we arrived.
But it was totally worth the risk!! The tiles were probably the most gorgeous of anywhere we stayed. The huge main room felt like a palace – in fact, it was a separate suite for a newly-married couple. It even had a traditional small hammam inside, as well as a small upstairs room. We opted to all sleep on one floor as it was plenty spacious, and we didn't want kids on a completely separate floor with a separate door (with narrow, concrete stairs in between), but it was available to us.
We did have a couple of very minor issues – the sink and tub backing up, but the lovely hosts (who arranged a public hammam experience for the adults) and beautiful rooms made up for it. I'd absolutely recommend it for its beauty and location.
Marrakech
This may, in all honesty, be the best place we've EVER stayed. Everything about it was amazing. It was in a wonderful location on a quieter end of the medina in Marrakech, but still within walking distance of many main sites. (The riad was about a 15 minute walk from Jemaa el-Fnaa, the main, bustling square.) It was a traditional riad, but completely renovated – so it had all the old-world charm of an indoor courtyard and stunning tilework, but also had completely modern bathrooms, beds/linens, heat, kitchen, etc. With 3 bedrooms, 3 bathrooms, a living room, kitchen, and courtyard, it was more than enough space for our family (and more).
We added on breakfast for a whopping 5 Euros per person, and it was enormous and incredible. The lovely housekeeper, Suade, came at the requested time and prepared it fresh and hot right in our kitchen. She was so so sweet and incredibly kind to the kids. She truly made the stay!
Honestly, we would not change one single thing about this stay. If you're visiting Marrakech and it's available, do not hesitate to book this riad. I wish we could go back just to stay there! It very well may be the best place to stay in Marrakech with kids (or without).
Morocco Desert Accommodations with Kids
The exception to choosing our own accommodations was for the desert. Again, we were short on planning time, and I didn't feel we had time to thoroughly research the different options. So we opted to let the tour company arrange the 3 days surrounding the desert for us. We loved the guest houses where we stayed the first night just outside the Sahara in Merzouga (a beautiful 2-bedroom cottage!), as well as the 3rd night on the way to Marrakech (where we had two separate and beautiful family cottages).
Morocco Desert Camp with Kids
As for our desert camp, we enjoyed that, as well, although it was not our favorite for families. The tents all shared (fabric) walls, so we were concerned about our children making a single peep in the silence and bothering other travelers. (That said, the beds were plenty comfortable and warm, which was a concern of mine, and we settled in and slept just fine.) Dinner also was not served until nearly 10:30 at night, which was just much too late for our family.
The camp was lovely, the staff was kind, and the food was good (once it came, the Berber soup we had is the meal our daughter still talks about from that trip). The staff organized the camel ride very well (though it was much longer than we anticipated – it took nearly 2.5 hours with stops). There were a couple of other kids there, the staff and other travelers were perfectly welcoming, and our kids ended up eating and sleeping fine. And really, it was just one night, and still a pretty magical experience to be in depths of the Sahara Desert. Still, I imagine there are more family-friendly camps out there, so I'd encourage you to do your research.
Which Cities to Visit in Morocco
One of the most incredible things about Morocco is the diversity of activities, regions, and topography within the country. It is so hard to decide where to go in Morocco when there is so much to see, especially for a first visit! There are too many amazing Morocco tourist attractions to name, and many of them are available in multiple cities. But these are the places to go in Morocco that I think provide diversity and the best overview for a first-time visit.
(CLICK HERE FOR A FULL RECAP OF OUR 9-DAY ITINERARY FOR MOROCCO WITH KIDS)
Chefchaouen, the Blue City
Chefchaouen came on our radar after seeing dozens of Instagram pictures of this stunning town swathed in blue. But it was the warmth of the people and the smaller, more accessible historic area that made it one of the best places to go in Morocco and had our hearts wanting to stay longer. The city is, in fact, as vividly colored as the photos make it seem. Every corner is shrouded in a different shade of blue. Be sure to wander the medina – it's small and much more manageable than those in some of the bigger cities. And don't forget to hike up to a viewpoint to see all the blue from above.
Sahara Desert Tour
We visited a desert camp in Jordan a few years ago, and we've wanted to see the Sahara ever since. While getting to the Moroccan Sahara takes a decent bit of effort, it's absolutely worth it. It's such a magical experience, and is absolutely one of the top places to go in Morocco.
Staying in Merzouga
After spending a day in Fes, our driver took us from there to Merzouga, just outside the Sahara. While Google Maps says it takes just under 7 hours to make the drive, it definitely took us longer (and not just because of extra stops with kids). We found when driving in Morocco in general, things took longer than the estimated times based on maps – road work/construction, slow-moving traffic, or long restaurant stops (even when we wanted to eat quickly, the food culture in Morocco is much slower than in the US – which can be a wonderful thing).
After spending a full day driving, we arrived at our darling guest house in Merzouga around dinnertime. The guest house coordinated everything for the next few days, including the lodging, food, and transport.
The morning included a driving tour of the sand dunes, which our kids thought was enormously entertaining. We went to visit an oasis, and saw how irrigation supports gardening in the desert. We visited a traditional nomad family, and then rested for a bit before preparing to head out to our desert camp.
Entering the desert
The camel ride out to the camp was pretty incredible (if uncomfortable…or maybe I'm just a wimp ;)). It took about 2.5 hours with time to stop and get photos on our own, as well as a stop to climb a high dune and watch the sun set. It was pure magic.
We had a late dinner/music at the camp and slept there that night, then headed back the next morning. I wondered if we'd want more time to explore the desert, but there weren't really many other activities to do out there.  While it was incredible being in the dunes, we didn't need an extra day there. We did wake up in the middle of the night and stargaze, which was an absolute highlight of the trip.
If you choose to go to the desert, which I would highly recommend, be sure to allocate enough time. It is absolutely one of the best places to go in Morocco, but takes time and effort to get there. I initially thought we could go one day and leave the next. There's no way that would've been enough time, however. Even if we'd done tons of driving back and forth, we would've missed out on the peaceful desert experience. Three days with travel was a great amount of time to visit the desert in Morocco with kids.
Fez
We visited 3 of the 4 Imperial Cities of Morocco (we didn't have time to get to Rabat), and Fez was our favorite of the bunch. Fes wasn't quite as chaotic as Marrakech – it was a little quieter and calmer. But it was still plenty big enough to experience the bustle I anticipated in when deciding where to go in Morocco. The medina in Fez felt much more pedestrian-friendly than the one in Marrakech (there weren't motorcycles zipping through every minute), but felt more lively than the smaller-scale version in Meknes.
We also loved all the history in Fez. It seemed every corner held some ancient building, and the tilework was truly stunning in every direction. We loved learning about the history of tanning leather, and it was fascinating seeing all the food stalls.
One of our very favorite stops was the Bou Inania Madrasa – an ancient school for the study of Islam. It was more peaceful than many other sites, and felt like a haven within the busy city center. Plus, the architecture and tilework were some of the most incredible I've seen in my life. Do not miss this stop.
There's a lot of debate on Fez vs. Marrakech when wondering where to go in Morocco. For families, if you can only pick one, I'd definitely recommend Fez. It was one of our favorite places to go in Morocco.
Aït Benhaddou
We didn't know much about this UNESCO-protected site before our arrival, and it wasn't really even on my radar for where to go in Morocco. Our driver recommended it, however, and it turns out we were fascinated walking the steep old town and learning of its history. It has a remarkable history of defense and innovation. It's also been the backdrop for a number of movies (ask any local to share a dozen names). It was one of the most fascinating places to go in Morocco!
Marrakech
I know I just said I'd pick Fez over Marrakech with kids. While that's true, I really would recommend both if you can. Nothing else came close to matching my mental image of bustling markets, intense colors, and crazy traffic than Marrakech. While Marrakech with kids can be a bit overwhelming (and I would recommend limiting your stay to 2-3 days, and staying in a peaceful riad while there if possible), it felt like a key piece of our Moroccan adventure. It's famous for a reason and is definitely one of the best places to go in Morocco to experience the vibrancy of life there.
Volubilis
If you're anything like us, you weren't necessarily expecting to find ancient Roman ruins in Morocco. And yet this Berber city near Meknes is exactly that, and is such a fun place to go in Morocco. Considered the ancient capital of Mauretania, it's now a UNESCO World Heritage Site. We loved walking through the well-preserved ruins and imagining Roman life at the furthest corners of the Empire.
Dades Gorges
When I say that there is tons of diversity in terms of Morocco tourist attractions, this is a perfect example. You can a few hours from the sandy, dune-covered Sahara to incredible, dramatic cliffs. These river-carved gorges are some of the steepest and most impressive in the whole country. It's amazing to see the different striations and and colors, and we loved walking along the riverbed.
Top Things to Do in Morocco with Kids
Morocco has a long history of handicrafts, natural beauty, and architecture. We loved experiencing as much authentic natural and handmade beauty as possible. The country is also extremely family-friendly. Because of this, we felt all of the highlights of things to do in Morocco were doable with kids. There are so many Morocco tourist attractions that are colorful and fun and engaging for little ones. Whichever cities you visit, these are the tourist activities for Morocco with kids that we recommend as must-dos, especially on a first visit.
Wander the souks of an old medina
There's nothing that felt more quintessentially Moroccan than walking through the souks, or the markets, in the historic towns.  Even if you're not into shopping, it's one of those things to do in Morocco that you just can't miss. You'll find these walking market whether in both small towns and bustling cities. Regardless of size, you'll find a mix of rugs, lamps, spices, treats, clothing, ceramics, and more. The colors and scents will be intense, but inviting and descriptive of the country's culture.
Eat lots of Moroccan food
There are few better ways to experience how vibrant and textured the country and culture are than through sampling the food. From the savories to the sweets, Moroccan food has a plethora of flavors, spices, and heat levels. It's not just nourishment here – eating the food is delving into the rich cultural heritage of the country.
Check out a madrasa (medersa)
Several cities have these schools for the teaching of Islam and, unlike most mosques, they're typically open to the public. Our favorite was the Bou Inania madrasa in Fez, but there are many that are beautiful. This isn't a typical Morocco tourist attraction, and probably isn't on most lists of things to do in Morocco with kids, but it was one of our favorites.
Stay in a riad
There are plenty of hotels, hostels, and guest houses in Morocco. But by far the most beautiful and authentic experience will be in a riad. Often, they're not just a place to stay. Instead, it's a full experience and one of the top things to do in Morocco. Our Marrakech riad may be the best place we've EVER stayed on our travels. If you can swing it (and it's worth paying a little extra for), absolutely do.
Visit a bathhouse
Not a tourist spa, but a local bathhouse. If you've ever visited a hammam in Turkey, you know how extravagant those can be. While you can certainly find those options in Morocco, as well, the public bath houses are quite different. I was surprised by how different it was – this was much more utilitarian in terms of just getting clean. Instead of being just a Morocco tourist attraction, visiting a local hammam was a unique cultural experience. I loved experiencing how the women interacted with each other and with their children, and to see the connections that were clear amidst the steam. It wasn't the most luxurious experience of my life, but it was definitely a Morocco cultural opportunity that I'd recommend.
Our riad host in Fez offered to arrange the bath for us, and provided the materials (foot scrubber, soap, shampoo, etc.). If you want to do it on your own, many shops will sell little baggies that have all the supplies. Be sure to bring a swimsuit and a towel. Even though you won't feel quite as spoiled by going to a local bathhouse, you can't beat the cultural immersion. I really recommend it as one of the top things to do in Morocco.
Visit a mosque, if you can
You may be wondering, Can I visit a mosque in Morocco with kids? Only two mosques in the country allow non-Muslim visitors, and neither is in the biggest tourist cities. King Hassan II Mosque in Casablanca (the largest in Morocco) and Tinmel Mosque in the High Atlas Mountains both welcome visitors, but require a bit of planning. If you can get to one of these two, though, absolutely do. We visited the King Hassan II mosque and it was fascinating seeing the inside; learning about prayer rituals, times, and meanings; and hearing of the symbolism in the architecture. It wasn't so much a Morocco tourist attraction as it was a beautiful way to understand a bit more about a different belief system and way of life.
Walk through dunes
Of course, not everyone will make it out to the desert, but it sure is amazing if you can. This was, for sure, one of our very top things to do in Morocco. There's nothing like moving through the desert, surrounded by only dunes as high as houses, and watching the changing light on the quiet sand. It's certainly an experience in and of itself to ride a camel or an ATV. But there's something different about moving through the vastness on your own two feet.
Learn about Berber History
I'll admit I knew very little about Berber history, or current lifestyle, before we traveled to Morocco. As our driver grew up in a traditional Berber household, we loved asking him tons of questions about his family life, belief system, and upbringing. Fortunately, he was very open and willing to share. We loved learning from him and sharing similarities and differences from our own culture. In general, we found Moroccans to be very open and willing to share about their varying cultures, which made it easy to learn. Definitely do your best to get to know some locals if you can.
Best Souvenirs from Morocco
I have to admit we're not huge on souvenirs. I generally hate knickknacks, tchotchkes, and toys that just take up room. However, we do have a couple of things we like to pick up in every new place we visit. The first is a children's picture book. These aren't just for younger kids! They're so fun for the whole family to read together and remember our trip. The second thing is an ornament for our Christmas tree. Depending on the place or time of year, these can sometimes be tricky to find. So often, we'll pick up a keychain instead (since those are ubiquitous). Then once we return home, we remove the chain part and tie on a ribbon instead.
Morocco, on the other hand, has some beautiful, useful, fun things to bring home. It ended up being a place we picked up quite a few more things than we usually do. Keep in mind that haggling is part of the culture and absolutely expected. Never pay the initial price stated, and don't be shy about offering sometimes even half of the originally stated price. That said, it's a very fun place to shop and wander. Here were some of our favorite souvenirs:
Our Favorite Useful Moroccan Souvenirs
Pottery. Morocco is rightfully famous for its stunning, multicolored ceramics. We brought home a gorgeous serving bowl that is so fun to use in our kitchen at home. Just be sure you have enough weight allowance and pack it really well.
Mint. Mint is everywhere in Morocco, and we loved bringing a pack home. It's great for cooking or making herbal tea.
Argan oil. Morocco is the only place the argan tree grows, and we loved watching some women make the oil. Mini bottles of this made perfect gifts for friends.
Head scarves. You'll see these pretty frequently when you get near the desert. They are perfect for keeping your hair out of your face and sand out of your mouth while on a camel ride. Plus, they're beautiful and make for great photos.
Tea set. I have a dear friend who is obsessed with tea, so this was fun to bring back to her.
Some other fun options are leather bags, Berber woven baskets, colored glassware, and soaps. We didn't purchase any of those, but it was sure fun to look!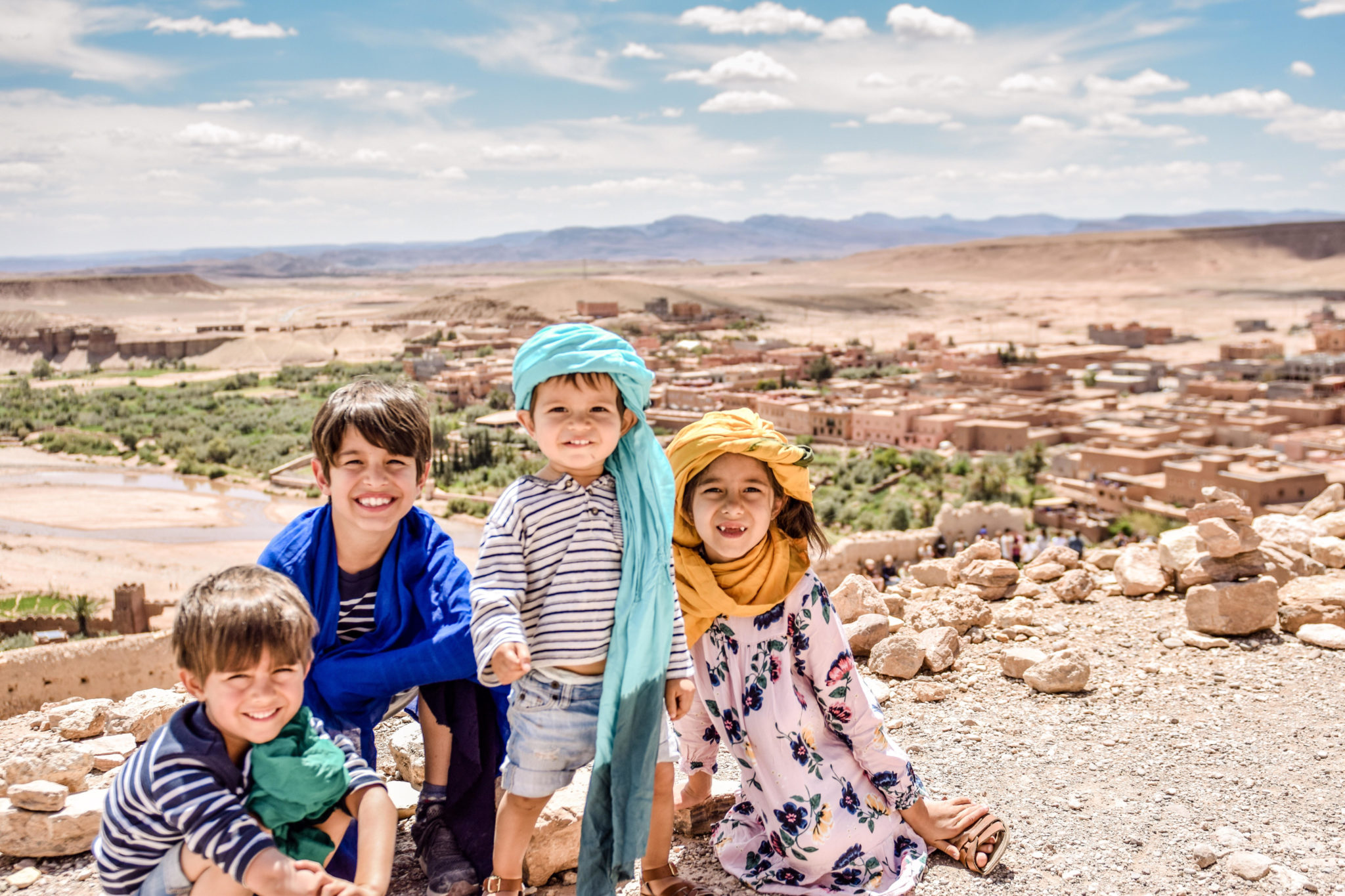 Have a wonderful trip to Morocco with kids!
I hope this Morocco travel guide helps you plan an amazing trip with your family! It's such an incredible country with so many aspects that make it perfect for family travel. Please always feel free to reach out if you have questions or need help with planning. You can connect with me on Instagram or Facebook!
MORE POSTS ABOUT MOROCCO
IF YOU LIKED THIS TRAVEL GUIDE TO MOROCCO WITH KIDS, YOU MIGHT LIKE THESE POSTS, TOO: