This post may contain affiliate links, which means I may earn a small commission if you click my link but does not change your price. See my affiliate policy here.
We Have you ever thought of taking a Morocco family vacation? Are you wondering whether Morocco is a good place to travel with kids, and how family-friendly it is? Here are 7 reasons you should absolutely consider taking a family vacation to Morocco!
When we talk to friends about our Morocco family vacation, one of the most frequent reactions we get is, "Wow! That's adventurous!"
It's true that traveling to Morocco as a family feels far-off and mysterious, but it also has conveniences, learning opportunities, and an extremely welcoming culture that make it very family-friendly. Here are seven reasons you should absolutely consider taking a Morocco family vacation!
Morocco is Extremely Welcoming to Families
There are few places where we've traveled where kids have been so welcomed into and engrained in the everyday out-and-about culture. In France, kids are expected to behave as mini adults. On the other hand, in Italy, many people treated our kids almost as little dolls and as a novelty in a culture that isn't having quite as many. In Thailand, many pinched their cheeks and cooed over them. These were all wonderful and friendly ways of including our kids! In Morocco, however, it was a new type of inclusion for us – locals tended to welcome our kids warmly into everyday Moroccan culture and life.
It's not uncommon for Moroccan families, especially traditional Berber ones, to have large families, either, so with our 4 little kids, we felt like we fit right in and they loved welcoming us. It immediately felt like we had something in common with a culture that is extremely family-centric, and it felt like it opened all kinds of doors for us. Being able to engage with locals on a personal basis so easily really tops the list of why a Morocco family holiday is an amazing choice.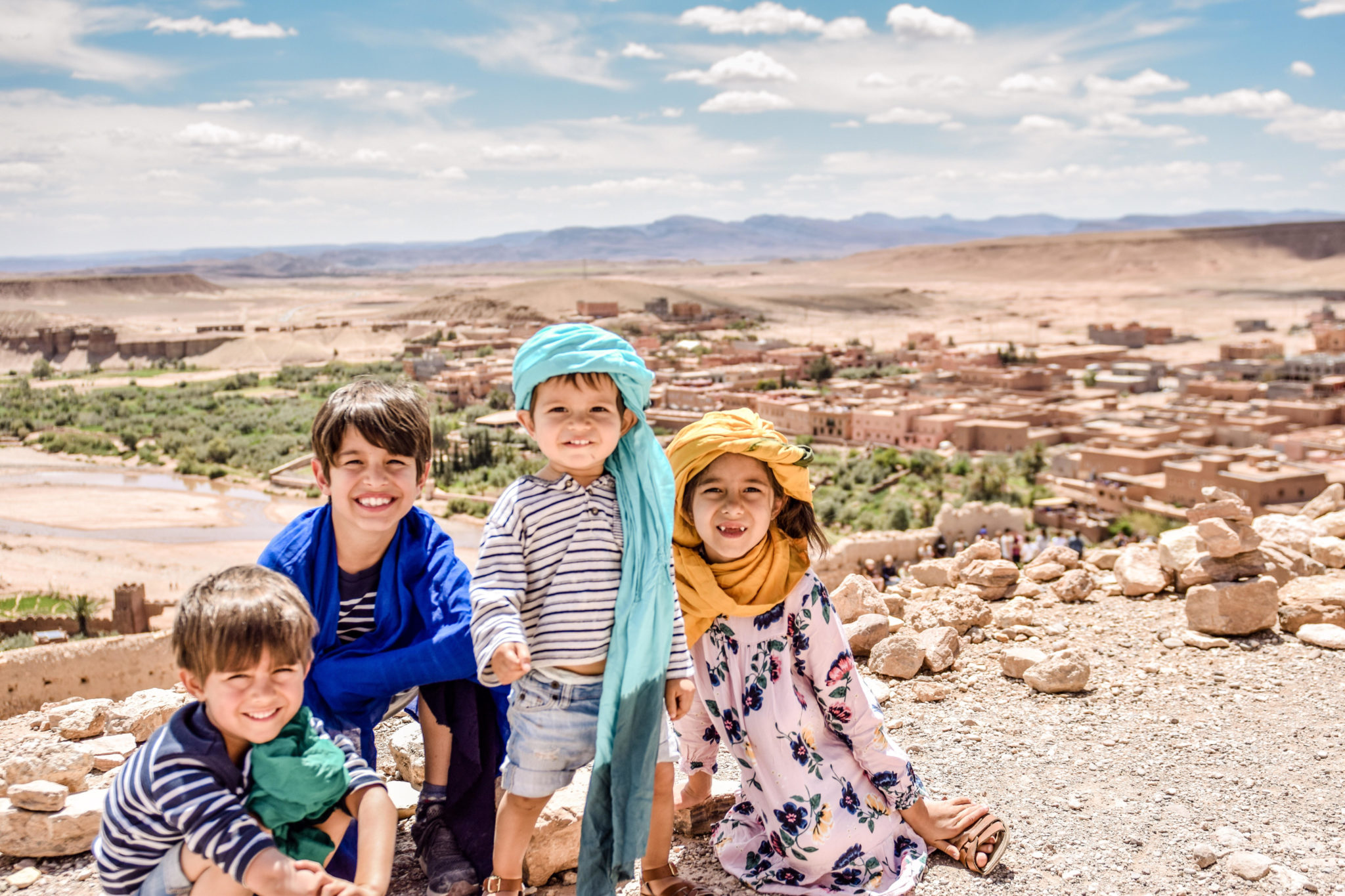 (HERE ARE SOME TIPS SPECIFICALLY FOR VISITING MOROCCO WITH LITTLE ONES)
Mystery and Allure Fill a Morocco Family Holiday
My mental image of visiting Morocco as a family included seductive lamps and sunset camel rides across sand dunes. That was not wrong! Morocco has an amazing, and somewhat mysterious, allure to it that makes it fascinating for kids and adults alike. Everything from the food to the language to architecture and general vibe were unique to that country.
In these ways and more, Morocco is quite different from common tourist destinations in North America and Western Europe. Since it's so different from the more frequented travel spots, it felt very exciting and enticing.
Morocco is Modern, Clean, and Safe
Despite being seductive and unique, Morocco felt very modern. Bathrooms were clean and had seated toilets and running water, and the food was safe to eat. We didn't need to worry about mosquito-borne illnesses, and didn't need any special vaccines to travel there.
Morocco also felt quite modern. We had better cell and data service than in many parts of the US, and the roads were smooth and well-maintained. Electricity was always completely reliable.
As especially health and safety concerns can often be annoyances or bigger concerns when traveling with kids, it was nice to not need to worry about them. Morocco felt like an easy place for a family vacation in terms of cleanliness, safety, and health.
A Morocco Family Holiday is Easily Accessible
Despite feeling far away and mysterious, Morocco as a family is very accessible, both in terms of getting there as well as once you're in the country. There are multiple options for arrival, especially from Europe. There are many direct flights into several different cities, and there are budget options including flights or taking the ferry from Spain. It felt no more difficult getting there than to any country in western Europe.
Morocco was also very accessible for a family holiday once we arrived. While we did not drive ourselves, the roads were generally very smooth and had clear signage. In my opinion, it would be very doable to do a self-drive Morocco family holiday. (Here's a great post if you're considering driving yourself!)
On the other hand, there are plenty of inexpensive tours and private driver services available. We chose to hire a private driver for our trip. The cost ended up about the same as if we would've rented a large vehicle and paid for gas. (And we didn't need to worry about parking or navigating speed traps.) Having a driver made it smooth and easy to get around, and it felt luxurious to not need to play chauffeur or navigate. Finally, while we did not use the train, Morocco has a great intercity rail system. There are many options for easily getting around during a Morocco family vacation!
Morocco is Incredibly Vibrant
There are few more colorful places we've visited than Morocco. Entire cities, like Chefchaouen, are swathed in shades of a single color. The ancient Islamic architecture relies on tiles of seemingly endless colors. The pottery comes in every imaginable hue.
And it's not just the colors that are vibrant and rich when touring during a Morocco family vacation. The people are warm and welcoming, and the food touches all the senses. It's extremely flavorful, and also scented and colorful and textured. The music and sounds coming from the streets are penetrating and add to the overall atmosphere.
Kids can certainly appreciate quieter, more demure destinations. But there's something about all the colors, shapes, sounds, and textures that's really appealing to little eyes and ears. Our kids did everything from playing I Spy in a ceramics store to counting the number of colors in a meal. They loved visiting a whole town that was covered in one of their favorite colors. We all enjoyed eating with hands out of communal dishes. The entire country is spirited and filled with with an energy on which many kids tend to thrive. It can definitely be a bit overwhelming at times – there's a lot to take in. But if you have kids who enjoy a bit of flamboyance, I think a Morocco family holiday would really appeal to them.
Morocco Has Stand-Out Family Experiences
It's always fun to visit somewhere that has something so iconic that kids really look forward to and back at it. For us in Morocco as a family, that was riding camels through the Sahara desert, and camping under the stars for a night. Of all our plans, our kids probably looked forward to this the most for our Morocco family vacation. It's definitely the one they discuss most regularly after. Even though camels are not particularly comfortable, and camping is never the warmest or cushiest, it was still a highlight of our time there.
Lots of countries have stand-out experiences, but this one felt particularly iconic and participative. It's definitely one our kids will treasure for years to come.
Morocco Provides Families Opportunities to Learn
So many western history books focus on North American and European experiences, people, and events. For us, coming from the US, it was so fun to travel somewhere that was relatively unfamiliar to us. We knew very little about Morocco's history, culture, and even religion before visiting. Once there, it was absolutely fascinating talking to locals to learn more about their incredible country.
(READ OUR MOROCCO LEARNING GUIDE FOR KIDS HERE)
Before visiting, our kids were very unfamiliar with Islam and Islamic architecture, as well as Berber way of life. We loved using this as an opportunity to learn more about the country in advance, while we were there, and after. We loved replicating a Berber meal we ate in the desert was so fun after we returned home (RECIPE HERE). It was also fun to listen to various types of Moroccan music. All of us asked our van driver a million questions about his upbringing and cultural norms. We learned about family life, art, famous monuments and people, and religious traditions. Our Morocco family holiday provided us with an opportunity to open our minds and hearts to a unique and truly special country and way of life.
Have you ever taken a Morocco family holiday? Or would you consider visiting Morocco as a family? I'd love to hear!
IF YOU LIKED THIS POST ON TAKING A MOROCCO FAMILY HOLIDAY, YOU MIGHT LIKE THESE POSTS, TOO: