Are you considering a visit to Prince Edward Island with kids? Here's the ultimate guide to PEI with children, with all the tips and logistics you'll need. There is such a diversity of things to do in Prince Edward Island that you're sure to find something to suit every taste and age!
This post may contain affiliate links, which means I may earn a small commission if you click my link but does not change your price. See my affiliate policy here.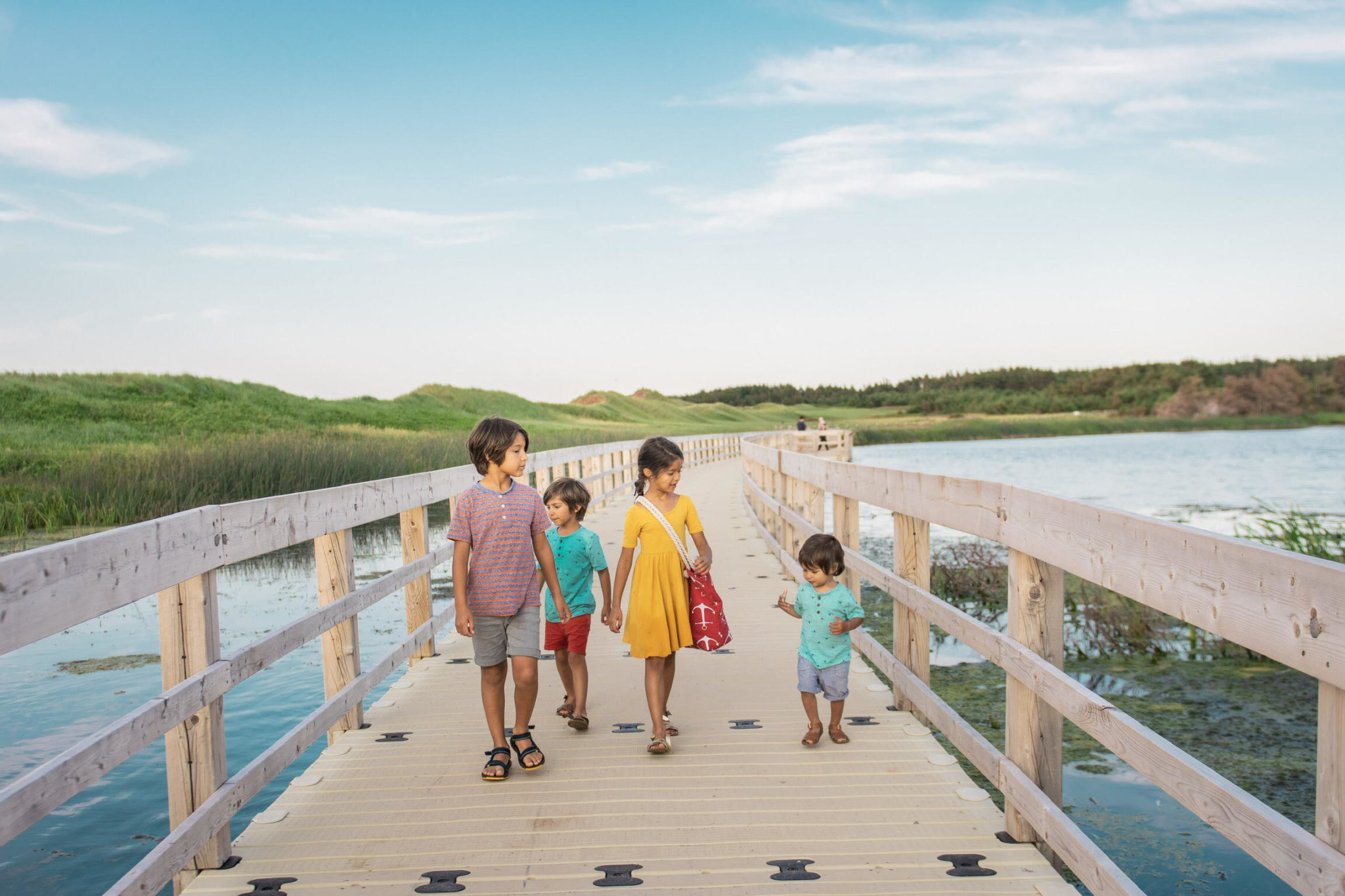 Our trip to Prince Edward Island with kids a few weeks ago was nothing short of magical. I'm a longtime Anne of Green Gables fan, and have wanted to visit for years. We read the first Anne of Green Gables book with our kids last year, then reread it just before our trip as a refresher. (My original plan was to listen to the whole series with them, but I remembered how much older the other books are – not the best for my young kids.) The Anne of Green Gable sites were some of our favorite things to do in Prince Edward Island!
What surprised me, though, was how dreamy the rest of the island was, and how there are tons of things to do in Prince Edward Island aside from those Anne sites.
Here's a complete guide for things to do in PEI with kids!
This post on visiting Prince Edward Island with kids may contain affiliate links, but all opinions are 100% my own. That means I may earn a small commission if you purchase through my link, but doesn't increase your price. Thank you for supporting this blog!
Why Should I Visit Prince Edward Island with My Family?
As I mentioned, Anne of Green Gables sites are pretty high up on the list of reasons to visit Prince Edward Island. But there are so many other things to do in PEI! I was surprised by the diversity of experiences there. Charlottetown manages to have excellent food and a good downtown/historic area, while maintaining a small-town vibe. It's charming.
As PEI is, of course, an island, there are huge stretches of coastline with everything from beaches to water sports to waterfront hikes to lighthouses. There are unique ecosystems created by the interaction of land and water, and they're beautiful and fascinating to explore. Prince Edward Island with kids feels especially carefree and relaxed. PEI really is a fantastic destination for families, with enough activities to keep little ones occupied, but not so much that you feel harried or surrounded by other tourists. While I love big cities like Washington DC with kids, they definitely have challenges with crowds and transportation. PEI felt much more relaxed and has a wonderful balance of rugged and scenic mixed with historic small-town charm.
When Should I Go to PEI with Kids?
We visited PEI at the beginning of July, the start of their tourist season. While summertime in the US starts a bit earlier, it can be cold and windy and wet in Prince Edward Island through the month of June (and, in fact, was super rainy and cold the weekend before we arrived). If you want warm and sunny days and would like to take advantage of the beach, I'd recommend waiting until July to visit. July and August have the best weather to visit PEI. Prince Edward Island in the summer is pretty magical!
While we haven't personally traveled there in the fall, I imagine it's gorgeous then, as well. There's lots of foliage that turns intense hues, and calm, warmer days tend to linger through the end of September/part of October. Plus, autumn will have the advantage of lower prices.
Although it's likely beautiful, I would not recommend visiting Prince Edward Island in the winter or spring. Many PEI sites will be closed during the winter. Green Gables Heritage Place is only open from May-October.  And while the National Parks are technically still open, they are not staffed or managed outside of tourist season.
How do I Get to Prince Edward Island?
Charlottetown does have an airport that has flights from Halifax, Montreal, Toronto, and a few other major cities that are fairly close. It's a fairly expensive and small airport, though. Since you'll want a car once there, anyway, I would recommend driving to the island. Halifax is about a 3.5 hour drive, and Boston is about 10.
We chose to fly into Boston, then drove up through Maine and stopped at Acadia National Park for a couple of days. It was a spectacular stop, one I'd highly recommend if you have extra time. From there, Charlottetown is about 7 hours – long, but easily doable in a day. On the way back, we drove the entire 10 hours from Charlottetown to Boston in a single day. Again, long, but definitely doable. The long drives are worth the beauty of Prince Edward Island.
Getting Around Charlottetown with Kids and PEI
While Charlottetown is very walkable, the rest of the island requires a car. Driving is easy and is on the right side of the road like the US. The roads when we were there were smooth and uncrowded with clear lane lines. Super simple driving around Charlottetown with our kids!
How Long Should I Stay for a PEI Family Vacation?
I imagine you could spend a lifetime dreaming and exploring a million hidden nooks on PEI. However, assuming you're not actually looking to move there, I'd recommend anywhere from 3 days to 1 week on the Island. 3 to 7 days is the perfect amount of time to explore Prince Edward Island. It will provide sufficient time to explore and relax, while still having everything be new and magical. There are plenty of things to do in PEI to keep the whole family occupied and happy for several days, and having a few extra will allow you to drink in the Island atmosphere a bit more.
Where Should I Stay on PEI with Kids?
We stayed in Charlottetown at the Delta Hotels Prince Edward, a Marriott hotel. We really enjoyed having our home base in Charlottetown. I'd recommend staying in Charlottetown, PEI for other first-time, short-stay visitors. It has a great mix of cute streets and good food, while still being very accessible to different sides of the PEI (although you'll need a car to get to those parts).
The hotel is in a prime location in Charlottetown, so we could walk pretty much anywhere in the historic center and also to the waterfront. It was beautiful and clean. The room was perfectly laid out for our family of 6 – 2 queen beds, one window bed, and a portable crib for the baby. Plus, there was a little living area, so it felt very spacious and comfortable.
Some of our favorite aspects of the hotel were the 24 hour pool (so many hotel pools close early, so we were thrilled that this one stayed open late – especially since we were still operating on West Coast time!), the laundry facilities (as you may remember we try to pack very light, and having laundry facilities is much more convenient than washing undergarments in the sink ;)), and the breakfast. It was hot and included an omelet bar and made sure our bodies were filled and ready to explore. Plus, the staff was so helpful and kind! Highly recommend staying here when visiting PEI.
What to Pack for Visiting Prince Edward Island with Kids?
Canada has the same voltage and plugs as the United States, so it's easy if you're traveling from there. If you're visiting from further afield, be sure to bring a power adapter.
Beyond that, for a family PEI trip I'd recommend packing in layers for the unpredictable weather of the island. Be sure to have a dress or light pants if the weather is warm and breezy, but also a sweater or jacket for cooler weather. Bring a good rain coat as rain is not unheard of even in the summer months, and the weather can change quickly. It's even better if the rain coat doubles as a wind breaker, because the island can get quite windy. Be sure to bring sandals for the beach, as well as some sturdier shoes if you plan to do some hiking.
You can find a full family packing list right HERE!
The Best Prince Edward Island Things to Do with Family; Kids Activities PEI
There are lots of family activities in Prince Edward Island for every age and interest. Here are some our very favorite things to do in PEI with kids:
Visit the Anne of Green Gables sites.
Green Gables Heritage Place is the biggest and most exciting of the Anne of Green Gables sites in Prince Edward Island. It houses the house that inspired the Anne books, as well as some exhibits on the history and background of the author and the land. You can tour the house, walk down Lovers Lane and through the Haunted Woods, have an Anne storytime, drink raspberry cordial, and even see the famous puff-sleeved dress gifted to Anne by her beloved Matthew. 🙂
Aside from the Parks Canada sites, there are several other Anne of Green Gables sites in Prince Edward Island. You can visit Lucy Maud Montgomery's home in Cavendish, stop into Avonlea Village for some Anne-themed treats and lunch, or visit the Anne of Green Gables Museum. Tourism PEI has lots of fun Anne adventures, as well as other ideas for the Island.
Prince Edward Island National Park.
Green Gables Heritage Place is actually within the National Park, but there's much more to it than just historic sites. There are kilometers of beaches and beautiful, sandy dunes, as well as hikes, bike rentals, and more. There are often events and performances held within the National Park during summer months. If I had to pick one of the top things to do in Prince Edward Island, this (along with the Anne sites) would be it!
Greenwich Dunes Trail.
Amazingly, PEI's National Park extends almost the length of the island, and the other end is just as beautiful. The Greenwich Dunes Trail takes you over a lovely pond with a floating boardwalk. Here, too, there are incredible beaches and a parabolic dune system – perfect for ecology lovers. There are so many outdoor things to do in Prince Edward Island and this National Park really showcases them.
Cape Tryon Lighthouse.
This was a hidden gem if we've ever seen one! We were driving on the dirt path out there unsure whether we'd get our car stuck or drive off the edge of a cliff. But lo and behold, the path stayed clear and ended at a tiny parking lot near one of the beautiful lighthouses of PEI. This one was almost completely deserted, with sweeping cliff views, and showcasing the famous red (sand), blue (sky/water), and green (grass/trees) of Prince Edward Island. Just be careful when you visit this area of PEI with kids – while there is fencing, it's not the sturdiest, and the cliffs can be unstable.
Go to the Beach.
Does it seems crazy to head to the beach in Canada? It did to me because I'm a major cold-water wimp. But it turns out PEI has incredible beaches. Soft, clean white sand with waters that were warmer than our Pacific ones back in California. Cavendish Beach on Prince Edward Island had super nice facilities with clean bathrooms, very well-maintained flooring, and even a shower to rinse off with WARM water! Way nicer than any of our beaches back home. Even though it might be surprising, it's definitely a must to go to the beach when visiting Prince Edward Island with kids.
Plus, the Cavendish Dunelands trail on PEI is stunning with a boardwalk that meanders through white sand dunes. Plus, the pond over which it crosses? We were thrilled to see is the Lake of Shining Waters!! These Anne fans were thrilled.
Victoria Park.
This public park in Charlottetown, PEI is beautiful and SO kid-friendly. There are bike paths, tennis courts, ball courts, a swimming pool + splash pad, and plenty of open space to run free. Perfect for a low-key day in Prince Edward Island with kids.
Victoria Row.
When visiting PEI with kids and you need a break from hiking and keeping your toddler from eating sand, spend some time in the charming historic area of Charlottetown. Victoria Row is a great pedestrian-only street – perfect for walking with little ones. There are cute shops, art galleries, music, and great food.
Get Out on the Water.
There are so many opportunities for water activities in PEI – everything from swimming to kayaking to parasailing. Plus, there are lots of opportunities for fishing. Learn to fish for lobster, try crabbing, or head out for some deep-sea fishing while you watch for seals. Whale watching in PEI is also prime season between May and October.
Visit some Small Towns.
There's something so charming about PEI's rolling fields and lighthouses and farms. Be sure to stop in a few small towns and wander through, meeting kind locals and sampling treats. We loved the historic fishing village of Victoria by the Sea – it's darling and tiny and has a stunning lighthouse. These small and hospitable towns are perfect when visiting Prince Edward Island with kids!
Get ice cream at Cows Creamery.
Does it seem silly to give a whole section to an ice cream shop? Well, Cows is a PEI institution, and for good reason. It's so creamy and delicious! Plus, every scoop is served in a freshly-made waffle cone and all the ice cream is made with PEI milk. We LOVED the PEI blueberry and the Cownadian triple maple, and the Royal Cownadian Mint was super decadent. This is another unique thing to do on PEI. Check out more of their flavors here.
Watch a Performance.
This is something we didn't get to experience while in Prince Edward Island with our kids, but really wish we'd had time. Anne of Green Gables – The Musical runs throughout the summer and is Canada's longest-running musical (this is the 50th anniversary!). It sounds delightful and I think our kids (and we!) would've loved it. If you are looking for unique things to do in PEI, this one fits the bill.
Have you been to Prince Edward Island with kids? What were some of your favorite activities? Overall, there's such a great mix of things to do in Prince Edward Island from nature to history to the arts that it really appeals to a wide range of ages and interests. I'd love to hear if it's somewhere you'd consider visiting!
IF YOU LIKED THIS GUIDE TO VISITING PRINCE EDWARD ISLAND WITH KIDS, YOU MIGHT LIKE THESE POSTS, TOO:
Not ready to plan a trip to Prince Edward Island just yet? Pin this post for later!