This post may contain affiliate links, which means I may earn a small commission if you click my link but does not change your price. See my affiliate policy here.
When flying from the US to India, we knew we'd likely need a layover or two. One day in Dubai with kids seemed like a wonderful option! We'd never been to Dubai before but had been wanting to go. Plus, we had a couple kiddos (and adults!) who were absolutely fascinated by the Burj Khalifa and had hoped to go to the top for years. It seemed like the perfect opportunity! Here's everything we included in our Dubai itinerary.
Flying Through the United Arab Emirates with Kids
We flew from London to Abu Dhabi, then Abu Dhabi to Delhi on Etihad Airways. We'd never flown Etihad before and we all LOVED it! Our kids keep asking if we can fly them again and saying it's their new favorite airline. 🙂 They had wonderful kid activity bags, great food, baby meals, and incredibly kind and helpful flight attendants. Highly recommend, especially for a long-haul flight with kids!
Since we arrived to our Airbnb SO late, we all definitely needed to sleep in a bit. We finally woke everyone by around 11:30am so we could get up and going. The nice thing with getting a late start is we could also stay out late and see some night attractions in Dubai!
We had hired a driver to take us around the city, which felt easier than driving ourselves and needing to figure out parking. However, our driver was really inexperienced and honestly pretty bad, both in terms of driving skill and knowledge of the city (he took us on a 45 minute unnecessary detour at one point), so I sadly wouldn't recommend him. However, if you find a good recommendation, hiring a driver could be a great option – especially if you're short on time.
Packing for Dubai with Kids
We didn't have a specific packing list for Dubai because we were on an extended trip with many stops. You can see what we packed for our toddler here. But after visiting, I have some recommendations for what to pack for Dubai.
Backpack
We love this backpack to carry our food and extra clothing, as well as any baby items. (It's also terrific as a travel carry on.) We wore the baby in this baby carrier, but if you're spending a longer time or have an older/bigger baby, we absolutely love this baby and toddler hiking carrier. It also has plenty of storage room to carry all your gear in there without needing. a separate bag.
Layers
This is especially important if visiting in shoulder seasons. I highly recommend packing along waterproof layers – it's no fun walking around when sopping wet. I like this rain jacket (here's the version for men, kids, toddlers). If you're confident in rain happening, we really like using rain pants to keep everyone dry and happy when outside for extended periods. (Here are the rain pants we have for women, men, kids, toddlers, and a one-piece.)
Water
Always important when out hiking. THIS and THIS are great travel water bottles for younger kids when out hiking.
For older kids and adults, we love this water bottle for hiking and anything else – it's a great size, fits in a side pocket, and keeps drinks cold for forever. We also love THIS one and THIS one. (You can often find them on sale here.)
This is my personal favorite mineral facial sunscreen (use code LPF15 for 15% off). I also love this sunscreen for my kids. It's a mineral (zinc-based) sunscreen, so it protects the skin on top instead of soaking in, and rubs in so easily (so many zinc suncreens don't). I also love this mineral sunscreen that smells amazing (or here is the spray version).
Hat
I love this hat for babies, and this one for myself.
Footwear
Since we knew we were going on a day that didn't have rain planned, I took a chance and wore my beloved white tennis shoes and was totally fine. All the paths are on boardwalks, so you definitely don't need super rugged hiking shoes. If there were a quick, light drizzle, I think they would've held up fine.
Still, if there's a chance of consistent or heavier rain, I highly recommend wearing something a bit sturdier or waterproof. For traveling, I love these boots because they're cute with regular clothing but also hold up well for walking and are also quite water resistant. If you're doing any more serious hiking, I really love these hiking boots – super sturdy, really comfortable, and waterproof.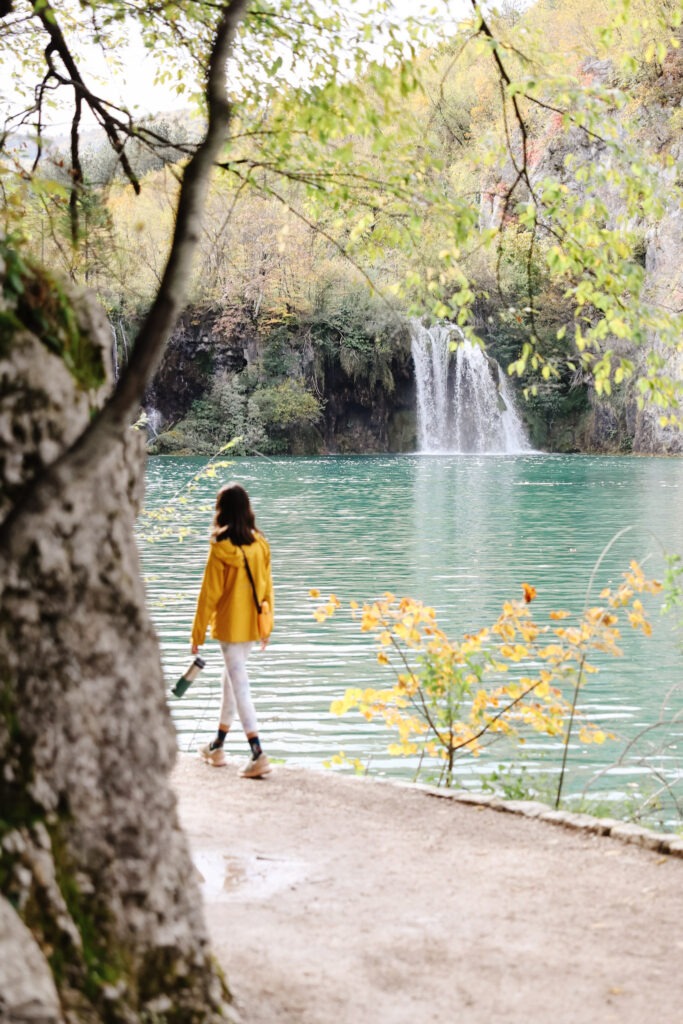 Where to Stay for a Family Plitvice Lakes Trip
Since we were only doing a day trip to Plitvice Lakes, we opted to stay in Split. This allowed us to spend a couple days in Split, a day trip in Plitvice Lakes, and then leave Split the next morning for Dubrovnik more easily. Especially when traveling with kids, it made it much easier to not need to move around to different hotels. When staying in Split, I highly recommend staying as close to the Old City as possible – we loved being able to easily walk into town.
Split Lodging Options with Kids:
And here are some wonderful apartment and home rentals if you need more space:
If you'd like to stay closer to Plitvice Lakes, here are some good options:
How to Get to Plitvice Lakes National Park
Walking Shoes
Walking in Dubai is one of the best ways to see the city! You'll want to bring sturdy shoes. I used my favorite walking shoes and my beloved hiking sandals.
Other Dubai Packing Essentials
Here are a few other items that may be helpful to include on your Dubai packing list:
What To Do in Dubai with Kids: One Day Dubai Itinerary
Here are all the things we managed to squeeze into one short day in Dubai with kids, including Dubai activities for families. We didn't go overboard with trying to do a million things since we were pretty tired from traveling, but we loved being able to explore the city a bit during our 24 hours in Dubai.
Jumeirah Mosque on a Dubai Layover
Our first stop for the day was visiting the beautiful Jumeirah Mosque. This one is unique because visitors are welcomed and it embraces the mindset of 'Open Doors. Open Minds.' It was really special to be able to go and learn here! Everyone registers at the Majlis (reception area) before entering the mosque itself. We were fortunate to arrive just in time to join a Jumeirah Mosque tour. The tour guide was excellent and so informative.
The mosque also offers full-covering clothing in the event that you're not already wearing appropriate clothing. I was wearing short sleeves and my skirt didn't quite reach to the ground, so I was grateful to borrow an Abaya and Sheila (head scarf), while Dan borrowed a Kandoora. They aren't very strict with the kids, but did have smaller sizes for the older kids and the younger ones who wanted to wear them.
After the tour and explanation, they offered some delicious Emirati treats in the Majlis, which our kids loved. They also had some games – I was so excited to see carrom (which I played in India many times as a kid) – as well as a photo gallery and a small museum exhibit with artifacts.
Gold Souk & Spice Souk
When planning our Abu Dhabi itinerary, we knew we wanted to include the souks in Dubai. After the mosque, we went over to the Gold Souk. Although we're not big shoppers, nor am I particularly into jewelry, it was still really fun to see. This is such an iconic, historic part of the city that it's definitely worthwhile to walk around even if you're not planning on buying anything!
From there, we were planning to walk over to the Spice Souk, which is only a few minutes away. However, our driver (who I mentioned previously was very inexperienced) would not take no for an answer to drive us and insisted on pulling up at the gold souk. We felt bad sending him away so just got in the car, at which point he took a 45 minute detour all around. We were so frustrated! At this point, we were worried we'd miss being able to go to the top of the Burj Khalifa, so we asked him to skip the souk and drive straight to the Burj.
Visiting Dubai Mall & the Burj Khalifa with Kids
Visiting the Burj Khalifa was at the top of our itinerary for Dubai! Since we only had one day in Dubai, we decided the best time to visit the Burj Khalifa would be after the souk. (See Burj Khalifa visiting hours here.) We'd been told getting to the top of the Burj could take quite a while and that was accurate! From the time we were dropped off by our driver to when we actually arrived at the very top was over 2.5 hours.
Our driver, again, was unfamiliar with the best spot and dropped us clear on the other side of the mall from the ticket entry. Still, that did mean that we got to walk through practically the entire Dubai Mall, which is an experience in and of itself. We weren't actually planning to visit the mall (again with the not being interested in shopping in Dubai) but I'm glad we did. I've never seen so many fancy stores together (or even knew they existed)!
After walking for over half an hour quickly across the mall (and picking up some food along the way), we got to the ticket booth, which had about a 20 minute line. We debated which tickets to purchase but our kids were actually super excited for this and we figured it was a once-in-a-lifetime sort of experience, so decided to go big or go home. (Spoiler alert: if you're wondering "is Burj Khalifa worth it," the answer is a resounding "yes!")
Which Burj Khalifa Ticket with Kids?: Burj Khalifa Tickets Price
We knew we wanted to go very high, so we debated between:
"At the Top, Burj Khalifa SKY" – includes levels 148, 125, 124 (399 AED at time of writing, or about $109 USD)
World's Highest Lounge – Includes level 154, 153, 152 + the other levels (769 AED at time of writing, or about $210 USD)
I honestly didn't think there would be a huge difference between 148 to 154, and it turns out there wasn't. 148 actually had the outdoor deck and observation terrace, which I thought was cooler than the view from 154. The more expensive version did include some snacks and treats at the top lounge, which was fun, but probably not worth an extra $100 USD.
However, purchasing the more expensive ticket means we saved probably close to two hours of waiting in line after purchasing tickets. We blew right past a VERY long line to go straight to the elevator. I'd say it was worth it for that alone, especially since it was already 9pm by the time we got to the top and we were all jet lagged and exhausted. Plus, my kids just thought it was so fun being up that high and knowing it wasn't possible to go any higher. Just the mental feeling of knowing we'd gone as high as possible was really cool! A couple of them are into buildings and architecture and this was a favorite activity from the entire summer of travel.
So in the end, I suppose I'm glad we chose the more expensive option! That said, if there's not a big line, I think the "At the Top" version is plenty and you get the best views.
There's also an "At the Top, Burj Khalifa" option that only goes to levels 124 + 125 – I would definitely NOT do that. It was not nearly as cool as going to the deck on level 148, and 148 was significantly less crowded, as well.
Is the Dubai Aquarium Worth It?
After the Burj, we came down and popped into the Dubai Aquarium & Underwater Zoo, which is inside the mall and was included in our ticket. It was fine! My kids liked walking through the water tunnel with sharks swimming overhead. But it was small and honestly not that special. I wouldn't pay for it separately!
After that, it wasvery late, so we went back to our apartment and crashed. It was a really fun day and a great stopover in Dubai with kids!
IF YOU LIKED THIS POST ABOUT ONE DAY IN DUBAI WITH KIDS, YOU MIGHT LIKE THESE POSTS, TOO:
Don't need tips on a Dubai itinerary with kids just yet? Pin it for later!